Creating a DIY patriotic table runner is a wonderful way to add a touch of patriotism and a red, white and blue festive spirit to your home decor for special occasions like the Fourth of July, Memorial Day, Labor Day or any event celebrating the United States. Here's a step-by-step tutorial on how to make a striped table runner with acrylic paint and make your own stencil with painter's tape.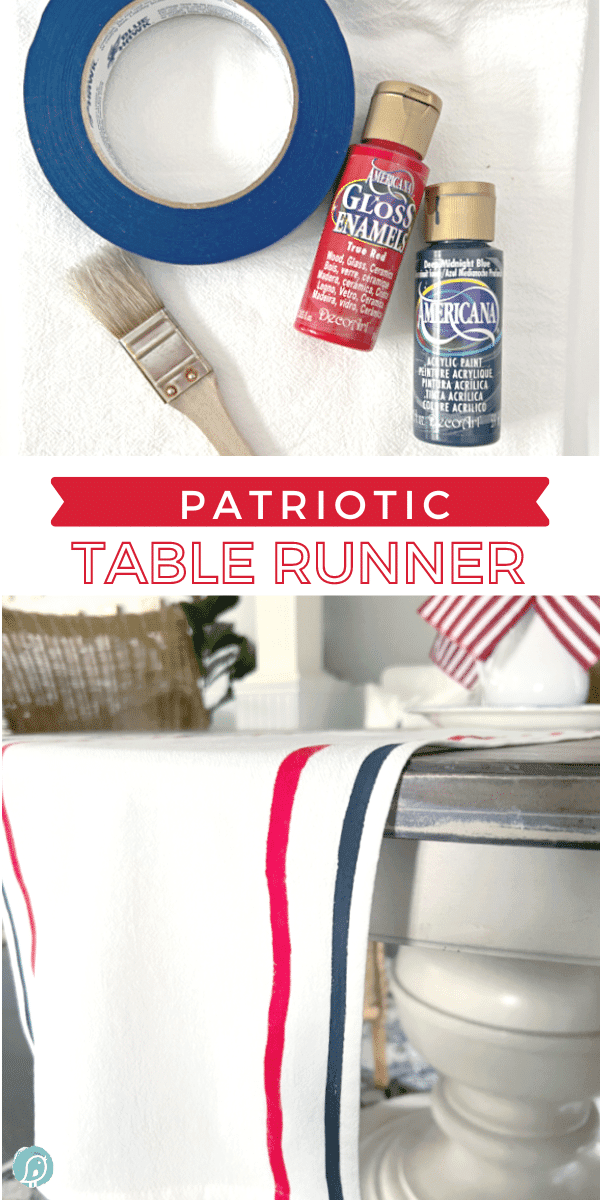 DIY Fabric Painted Patriotic Table Runner
I love decorating my home with DIY projects for any holiday and season. I like to keep it simple but stylish with easy-to-make DIY holiday ideas. This fabric-painted patriotic table runner couldn't be easy easier with no sewing and simple supplies.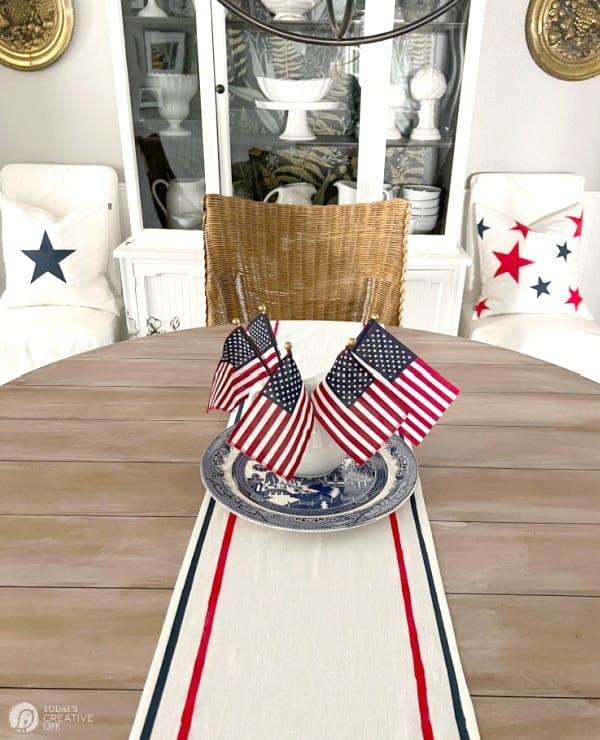 Supplies Needed for Making a Fabric-Painted Patriotic Table Runner
This idea has a lot of wiggle room however you want to make it. I wanted to keep it very simple with a rustic charm so I added stripes. You can hand paint stars or use a stamp, paint the American flag or red, white and blue dots. Anything! Let your creativity guide you.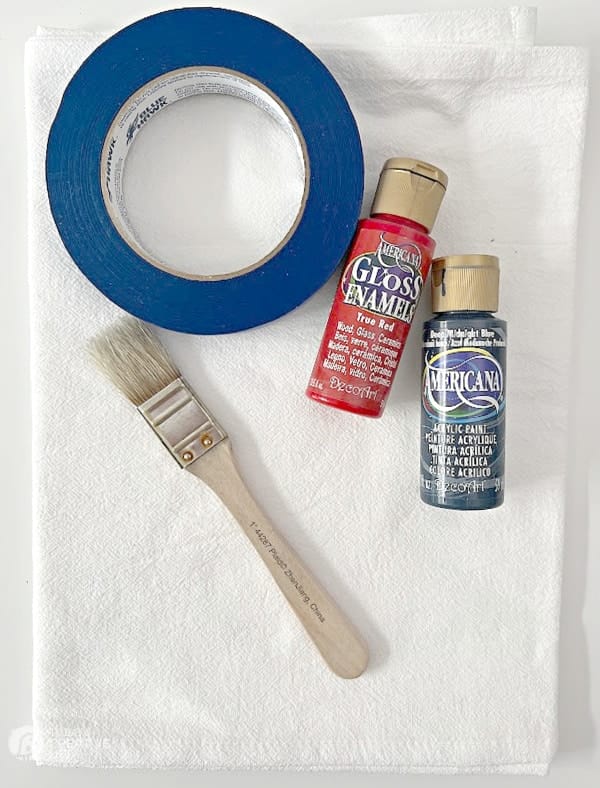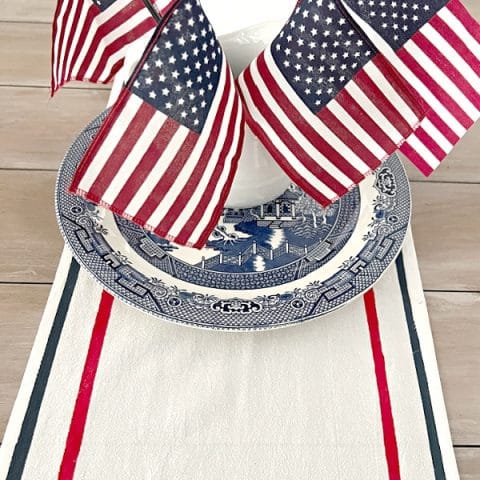 How to Make a Patriotic Table Runner
Yield: 1
Prep Time: 15 minutes
Active Time: 15 minutes
Additional Time: 30 minutes
Total Time: 1 hour
Difficulty: Easy
Estimated Cost: $15
Learn how to use acrylic paint to create a striped patriotic table runner for the 4th of July, Memorial Day, Labor Day or any patriotic celebration.
Instructions
Gather your supplies.
Prep your space. Just in case the paint may bleed through, I always line my space with freezer paper or a poster board.
Decide what stripe pattern you want and start adding your painter's tape. I did 3 lines of tape and painted in between them.
If you're not using acrylic fabric paint, mix together the fabric medium and acrylic paint in a 1:2 ratio. Check the fabric medium instructions as they may be different than mine.
Start applying the paint to your stenciled areas.
Allow to dry. If you pull the tape off too soon, the wet paint on the tape will be messy, and couldn't accidentally mark your runner.
Peel the tape off to reveal lovely stripes.
Iron with a hot no steam iron to set the paint.
Wash normally with cold water. Dry on low.
Notes
For more stripe variations, try using painter's tape in different widths.
Create your own design and style by adding hand-painted designs or using foam stamps.
Total cost is a rough estimate since I only had to purchase the table runner.
Can You Paint on Fabric?
Yes! You can paint on fabric! I use regular acrylic paint and a fabric medium. My directions on my bottle say to add a 1:2 part ratio of fabric medium to acrylic paint. I have only painted on cotton, or cotton blend fabrics like tea towels, pillow covers, and table runners. You can also paint on T-shirts.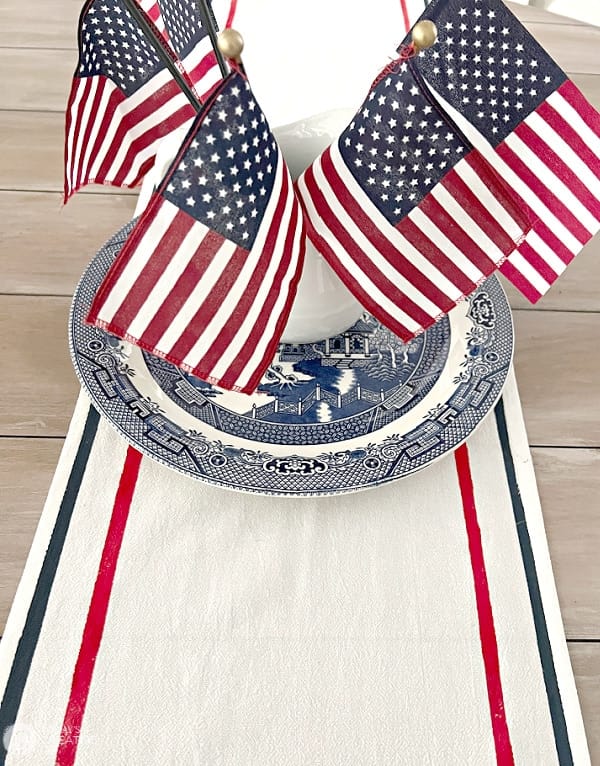 Can You Wash Painted Fabric?
Yes, you can wash painted fabric. If you've used fabric paint or a fabric medium, you can wash normally and on cold. Before washing, set the design by ironing with a hot iron, no steam. I usually place parchment paper or a tea towel over the painted sections when ironing.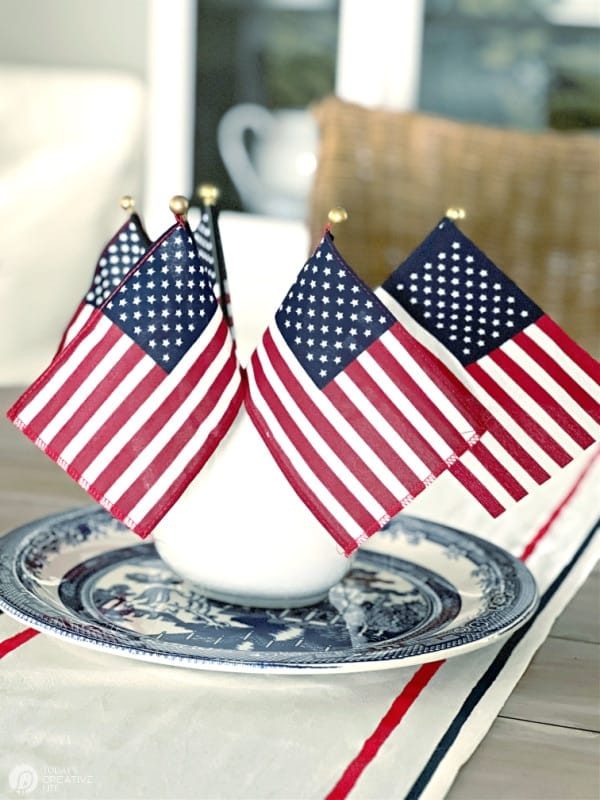 How to Decorate with Your New Patriotic Table Runner
Table runner with a centerpiece: Obviously you can use it down the center of your table. Add something to the middle like I did. Just a simple platter, plate or tray and a bouquet of flowers (like this patriotic flower centerpiece) or mini American flags. Adding a bowl of fruit like red apples is always a simple ideas.

Table runner crisscross: Run one table runner down the center and then a second one the other direction making a crisscross.

Table runner backdrop: Hang the patriotic table runner as a backdrop behind your table. You can affix it to a wall using removable adhesive hooks or tape. This creates a patriotic focal point that serves as a backdrop for food displays, dessert tables, or photo booths at your patriotic-themed event. You can add paper stars, a patriotic banner, or medallions for easy 4th of July decor.

Table runner chair sashes: Cut the patriotic table runner into long strips and use them as chair sashes. Tie them around the backs of your dining chairs to instantly add a patriotic flair to each seat. You can tie them in a simple knot or create decorative bows for an extra touch.

Table runner buffet display: If you're setting up a buffet table, use the patriotic table runner as a decorative accent. Run it along the front edge of the table, allowing it to drape down slightly. This adds a pop of color and pattern to your buffet display while tying it to the patriotic theme.
Remember, the versatility of a table runner allows you to experiment with different ways to incorporate it into your table decor. Feel free to mix and match these ideas or come up with your own unique ways to use the patriotic table runner to suit your event and personal style.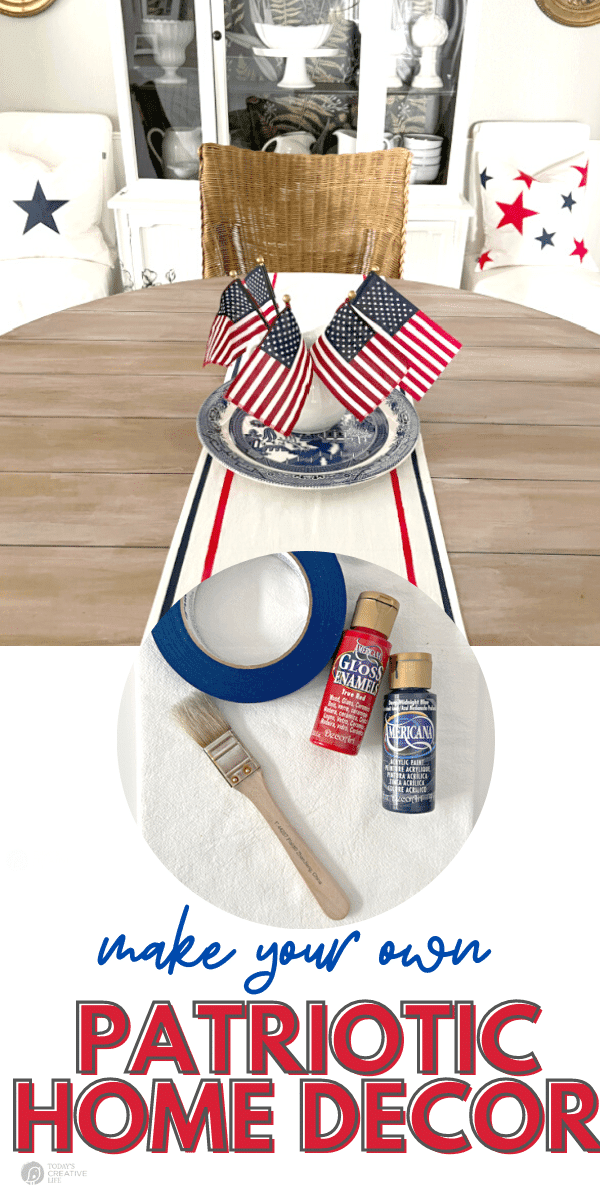 Patriotic Holiday Ideas
Creative ideas for celebrating patriotic holidays.
Free printables for your 4th of July celebration.
Print and hand these sparkler holders out to party guests or at a parade.
Printable cupcake toppers or food picks.
Easy to make colored rice for quick table decor.
Easy to make star garland for quick decor.
This DIY project will last years!
Perfect 4th of July sweet treat!
Patriotic Table Runners for Purchase
If you don't have the time or desire to make your own, but you'd still love decorating for the 4th of July, here are a few options I found.
Photo Credit: Amazon
Red, white and blue plaid table runner.
Photo Credit: Amazon
Bold red stripe table runner for seasonal decor.
Photo Credit: Amazon
Rustic linen blue table runner with white stripes.
Photo Credit: Amazon
Classic ticking fabric for a patriotic table runner.
Photo Credit: Amazon
One of my favorite designs!
Photo Credit: Amazon
Red, white and blue for easy table decor.
Photo Credit: Amazon
Patriotic Stars for your table!
Photo Credit: Amazon
Photo Credit: Amazon
Another simple and rustic table runner.