Using DIY patriotic door decorations can be a great way to show your patriotism, express your creativity, and add a personal touch to your front porch. I'm going to show you how to create DIY patriotic decor for your home by using a free printable you can grab from the Printable Vault, and how to make a moss-covered frame for the perfect touch. Sign up here to gain access to free printables.
Being part of the Lowe's Creative Ideas Team, we're given a few topics to choose from for our monthly challenge. This month I chose Patriotic Decor. These DIY Patriotic Door Decorations were pretty easy and I think it's pretty original. I haven't seen anything like it in my neighborhood.
DIY Patriotic Door Decorations
You won't find the perfect porch with that pinterest perfect look when you walk up to my front door. My husband planted petunias in a couple of pots that were meant to be taken to Goodwill, I've got spilled dirt from the squirrels that insist on burying their peanuts in my flower posts and I have my two main box woods that have completely different personalities.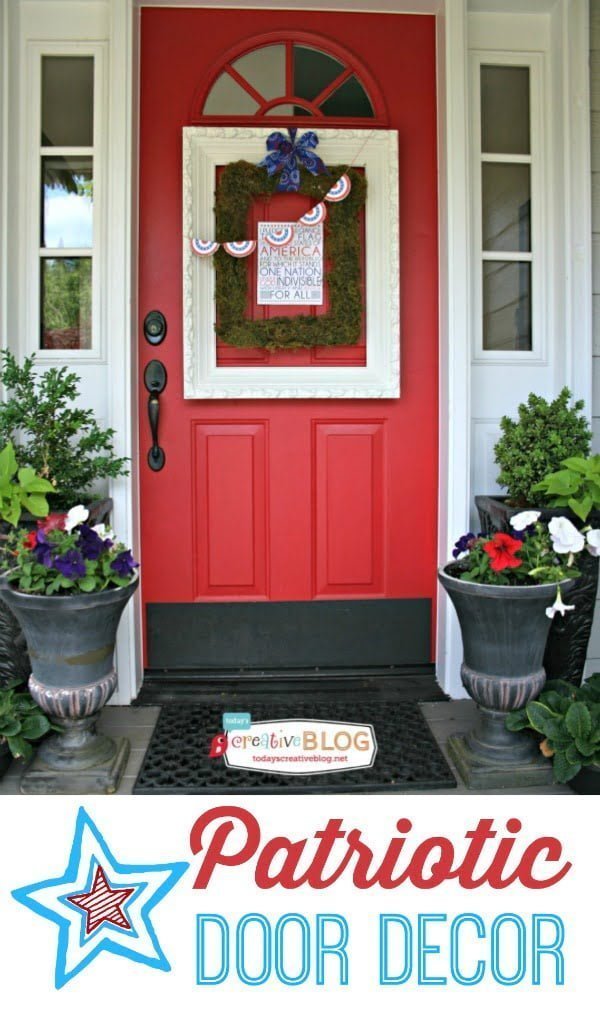 My door is not my style, but it IS my color. If Better Homes and Gardens were showing up…….these are all things I'd want or need to fix. But they aren't and I'm fine with the imperfect mess.
My entry makes me happy, and hopefully, it's as welcoming as I want it to be.
Before you think I'm having a pity party……believe me I'm not. It's just a message to give up the need for perfection. Enjoy what you have, make do with what you've got.

How to Make a Moss-Covered Frame for a Patriotic Door
I love moss and I love empty frames, so putting the two together only seemed natural. (yep, I used an empty frame last month too……I'm obsessed)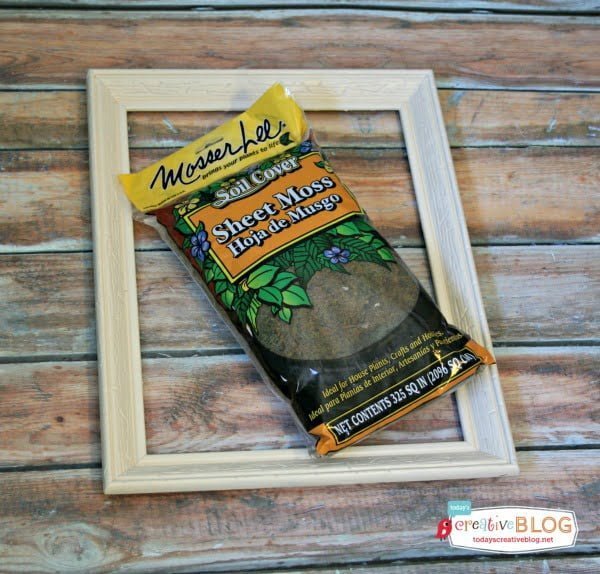 I grabbed some sheet moss from the garden area of Lowe's and thought I'd use it on an old frame I'd had that I wasn't using. I'm sure there's a more efficient way to attach the moss, but I just grabbed craft glue and doused my frame with it, then basically took large chunks of moss and pressed it on. Why overthink it?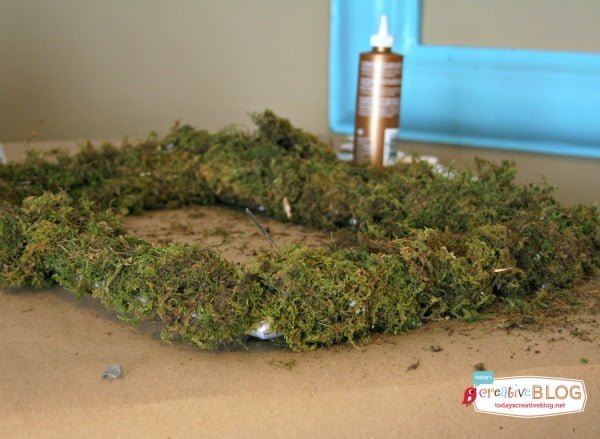 I let it dry overnight, before deciding how I would incorporate it into something fabulous for my front door.
I realized it would fit perfectly inside yet another frame, with the Patriotic Printable from last year inside. (designed by the talented Kim at 733Blog)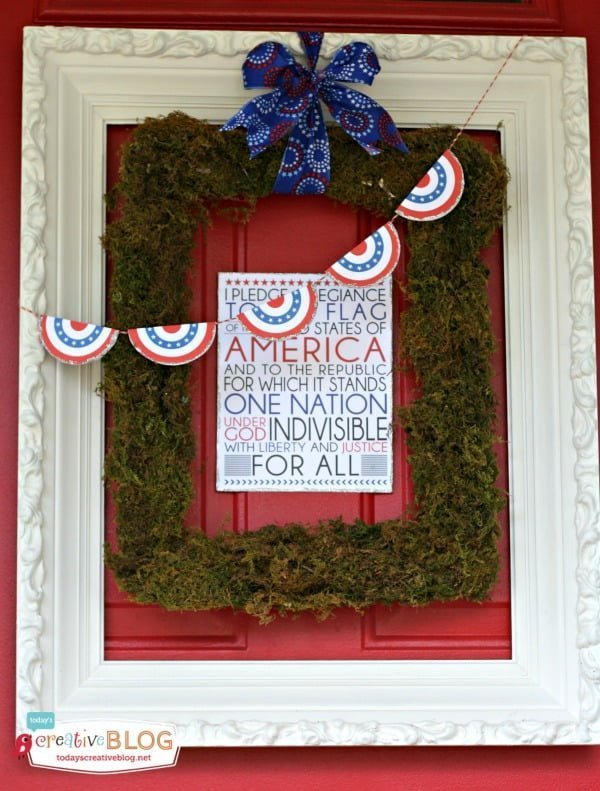 I added an extra touch to the printable by rubbing glue around the edge and dipping in glitter. Everything's better with glitter, right?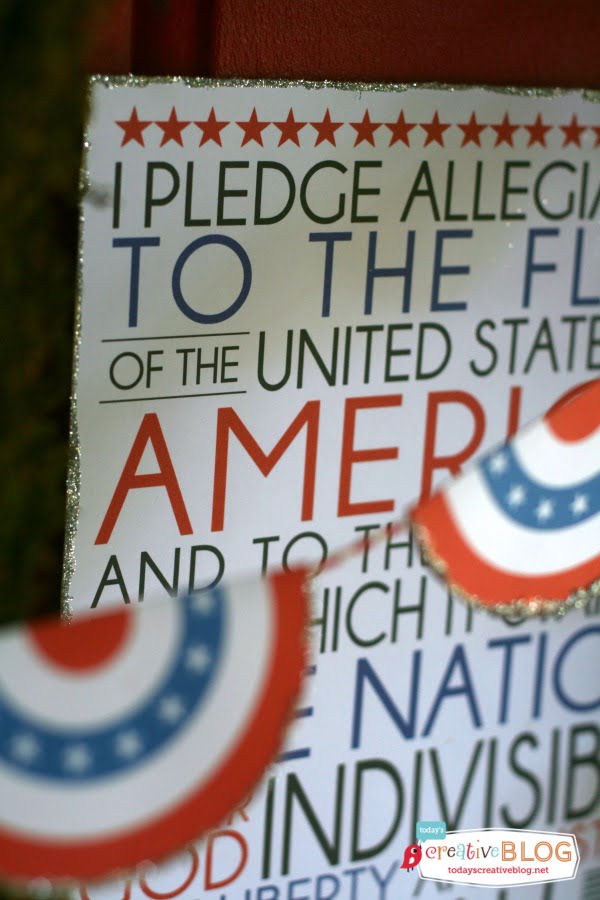 I taped it to my door with painters tape, because I'm classy like that. I downloaded that adorable Patriotic bunting from Piggy Bank Parties, and added glitter to its edges as well.
Turned out pretty cute I think.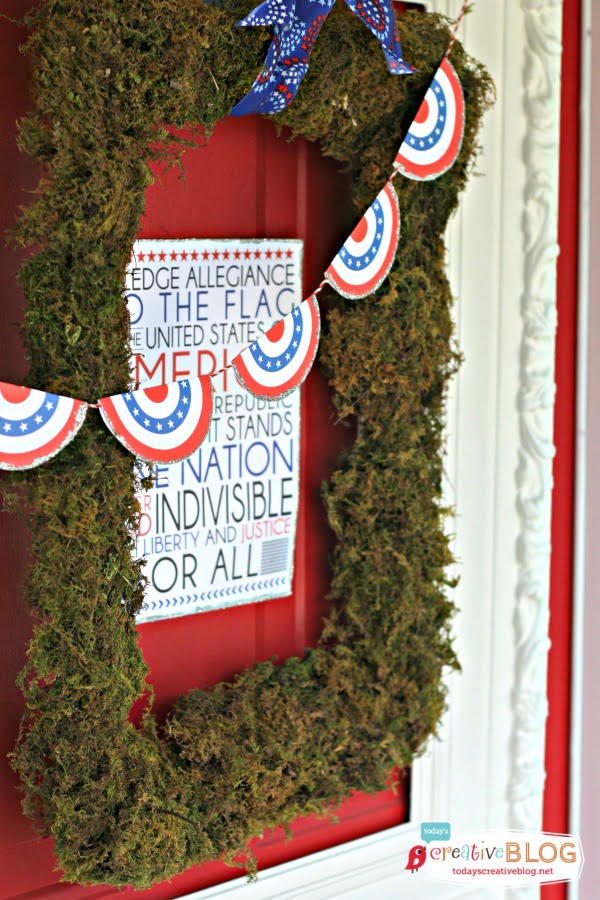 So before you think you need to spend a bunch of money to create a welcoming, patriotic door, think again. Simply download and print off the printable, grab some inexpensive sheet moss from Lowe's and let your imagination unfold.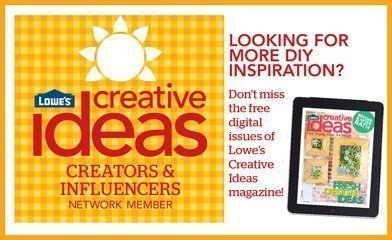 I am compensated for my time and effort by Lowe's. All opinions and challenges come from my pretty little head. 100% me!