Please welcome my darling friend Kim from A Night Owl – You'll love her recipe for Dole Whip Popsicles, a copycat recipe for the Disney Dole Whip. Pineapple popsicles made with cool whip, pineapple, lime juice and more.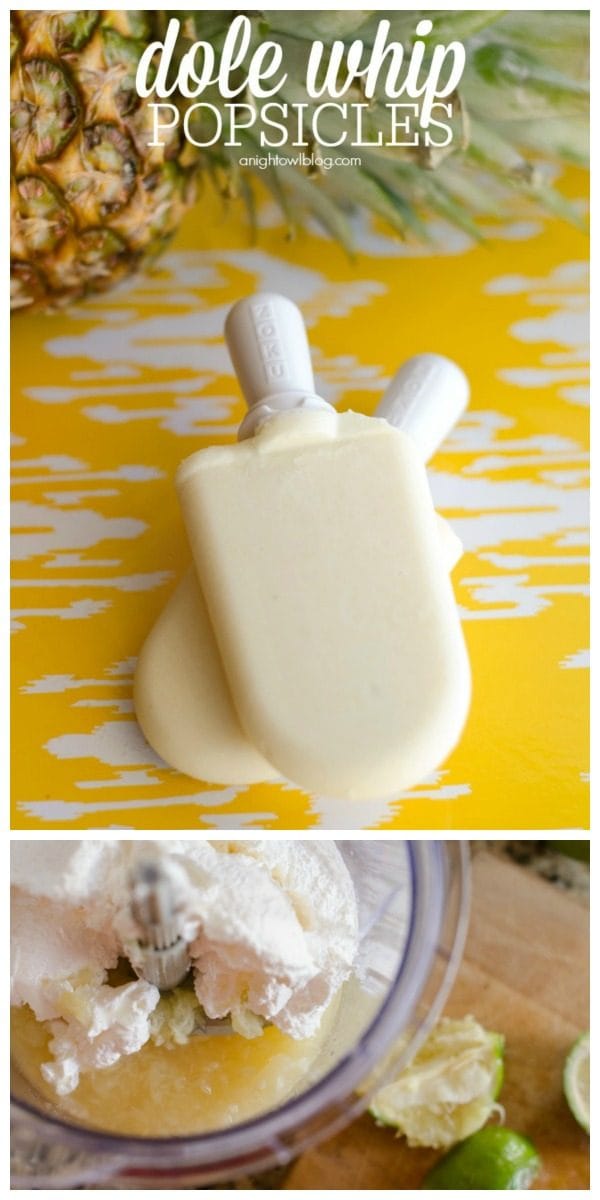 Dole Whip Popsicles Recipe
Hello, Today's Creative Life readers! I'm Kimberly from A Night Owl – a blog where we share all sorts of creative endeavors like crafts, recipes and more! I am truly am a night owl, working full time and am a mom of two adorable little boys. So whatever creative things I can get up to, are typically after hours! One thing you can be sure of when you stop by is that whatever we're sharing you can create as well! And today is no exception. We live in sunny Arizona, so come Summertime we are obsessed with anything frozen, especially popsicles! And nothing says Summer more than tropical recipes, right? And today we're sharing a yummy Dole Whip Popsicles recipe!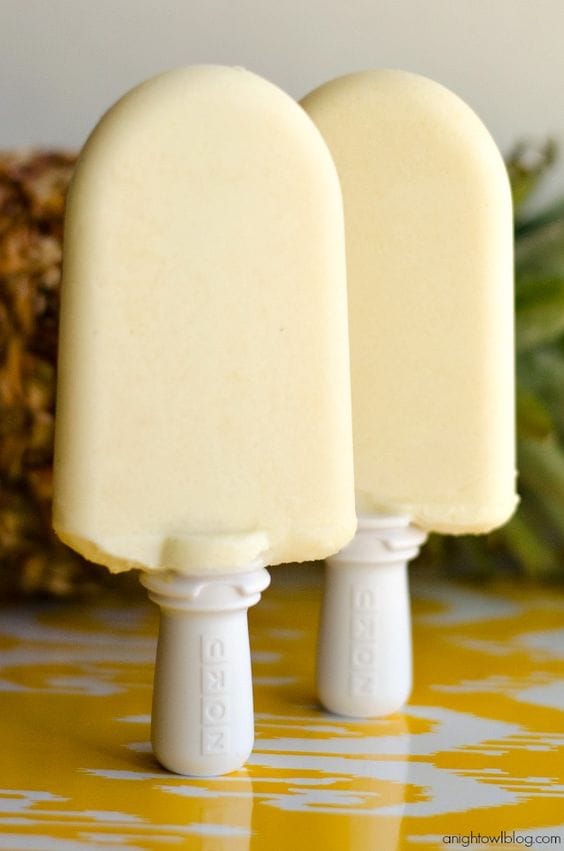 Copycat Dole Whip Recipe from Disney
Just amazing. And just the creamy pineapple taste of a Dole Whip takes me back to my childhood; to Summers spent riding Space Mountain and the Matterhorn.
Have you tried the copycat Dole Whip recipes out there? I have to admit that I totally have and just love being able to enjoy them at home. But recently I thought – I bet that would make a fantastic popsicle, and I was right!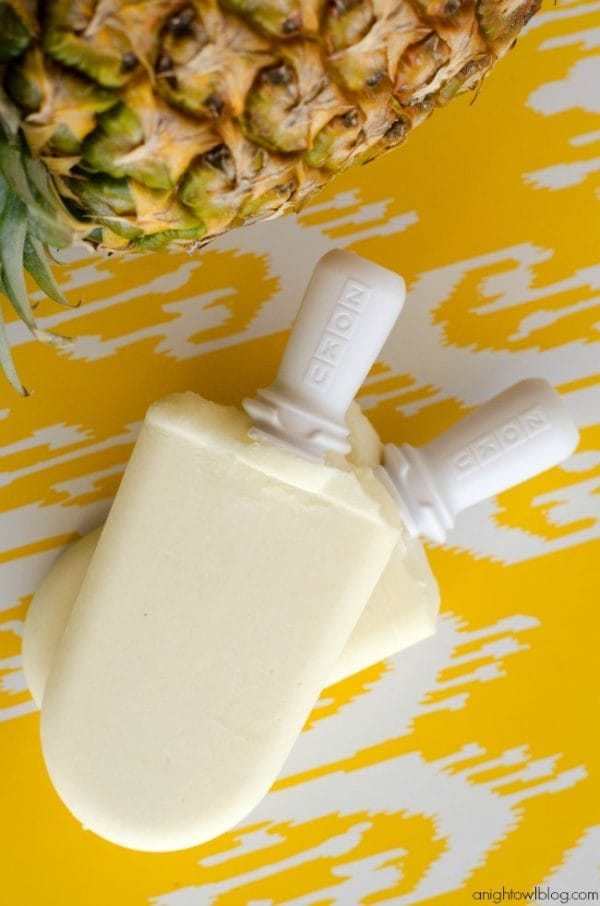 One of my favorite popsicle recipes to date is our Orange Julius Popsicles. Kind of the same concept – a yummy tropical drink that we turned into a tasty popsicle! The ingredients for this popsicle are just as easy. I simply grabbed a can of crushed pineapple, a tub of Cool Whip, some sugar and the juice of one lime and blended it all together.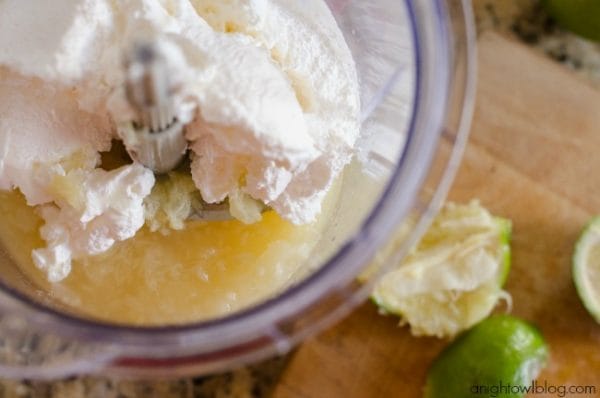 Then I simply poured that tasty pineapple-y concoction into our popsicle molds and let those babies freeze!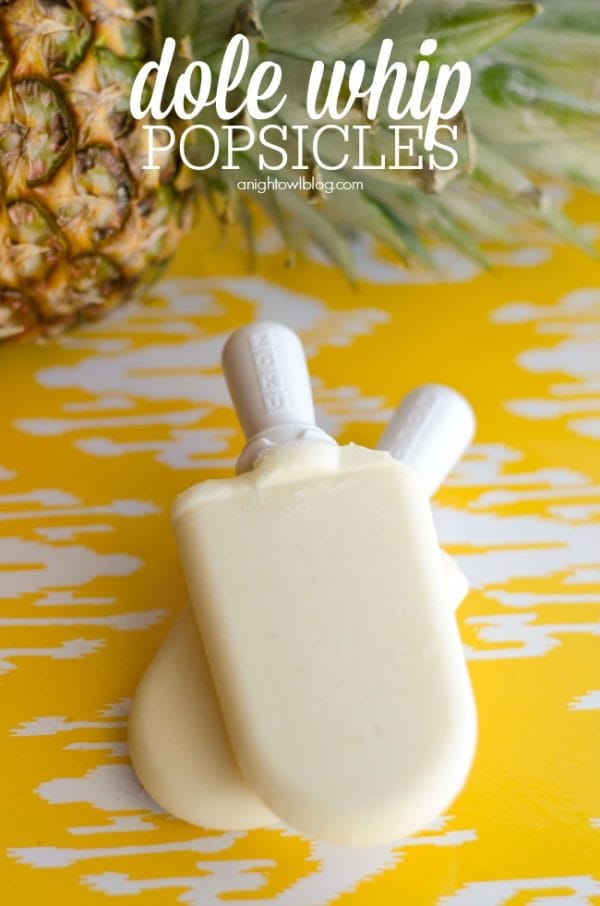 How to Make Dole Whip Popsicles
Yield: 6 popsicles (depending on the size of popsicle mold)
Ingredients Needed
crushed pineapple
Cool Whip
lime juice
sugar
Instructions
Blend together crushed pineapple, Cool Whip, lime juice, and sugar.
Pour mixture into popsicle molds and freeze.
Printable version below
—-
Once they were ready, we devoured them right away. Now my kids are little so there weren't any Dole Whip memories for them, but they loved them all the same! And for me – they were Dole Whip perfection in a pop! Amazingly easy and just so very tasty. And even if you've never had a Dole Whip – if you love the taste of pineapple you're going to LOVE these popsicles! If you're a fan of popsicles, you must stop by and check out our growing list of easy and delicious popsicle recipes!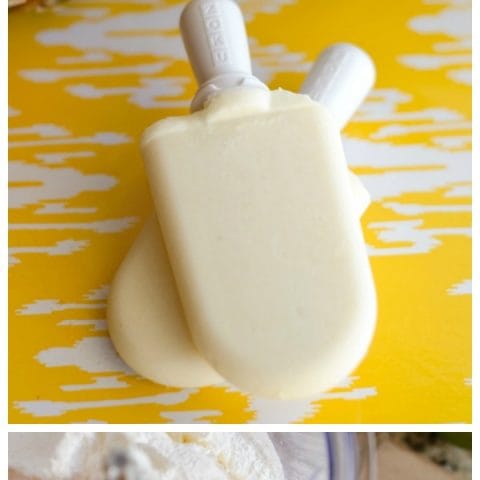 Dole Whip Popsicles Recipe
Yield: 6
Prep Time: 5 minutes
Cook Time: 2 hours
Total Time: 2 hours 5 minutes
A copycat Disney recipe for a creamy and delicious frozen treat.
Ingredients
1 (20 oz) can crushed pineapple (juice and all)
1 (8 oz) tub Cool Whip, thawed (about 3 cups)
juice from 1 lime
2 tbsp sugar
Instructions
Place all ingredients together in a blender and blend until smooth.
Pour mixture into popsicle molds and freeze.
Notes
Recipe by Kimberly at A Night Owls Blog
Recommended Products
As an Amazon Associate and member of other affiliate programs, I earn from qualifying purchases.
Nutrition Information
Yield 6
Serving Size 1
Amount Per Serving
Calories 47
Total Fat 0g
Saturated Fat 0g
Trans Fat 0g
Unsaturated Fat 0g
Cholesterol 0mg
Sodium 1mg
Carbohydrates 11g
Fiber 0g
Sugar 11g
Protein 0g
We do our best to calculate, however, nutrition information may not be accurate.
Can I Omit the Sugar?
If you're trying to lower the sugar content, you can use unsweetened pineapple, as well as omit the sugar. Please keep in mind that this recipe is not a sugar-free recipe because of the cool whip.
Can I Use Whip Cream instead of Cool Whip?
I have not tried doing this for this particular recipe, however, I've had success on other recipes. To make the whipped cream more stable, whip 1 1/4 cups cold heavy cream (whipping cream), 1/2 cup powdered sugar with 3/4 tsp vanilla. This will keep up to 5 days in the fridge.
Can I Make This Recipe with Other Fruit?
Peaches, bananas, and Mandarin oranges all make refreshing frozen desserts.
Enjoy!
Recipes Made with Whipped Cream
Desserts made with Cool Whip or Whipped Cream are always good!
Peanut Butter Whipped Cream is rich, creamy and easy to make.
Cool & refreshing dessert great for spring and summer! Creamsicle in a pie!
Layered desserts are simple and always look amazing.
Cookies and Cream sweet treats are always a flavor favorite.
This easy fruit salad goes well with spring holidays or summer bbqs.
When you're short on time and want a nostalgic taste, this is your recipe.
Creamy, fresh and light, making it a perfect summer dessert
This flavor combo never gets old.
A spring holiday favorite.