This Oreo Fluff Recipe with cool whip and vanilla pudding is the best creamy and delicious no-bake dessert with everyone's favorite flavor combo Cookies and Cream.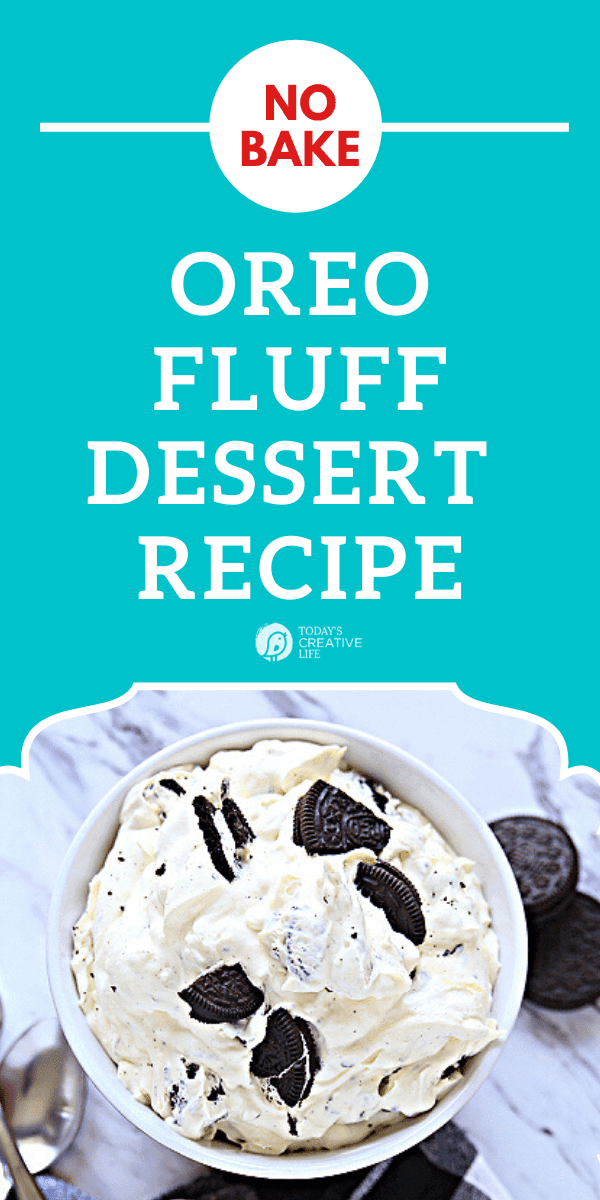 Oreo Fluff Recipe No-Bake Dessert
Fluff recipes like this and my Pineapple Fluff Pretzel dessert are very popular for any summer gathering. People love fluff desserts. Or creamy desserts like this coconut fruit salad! Those are also a favorite.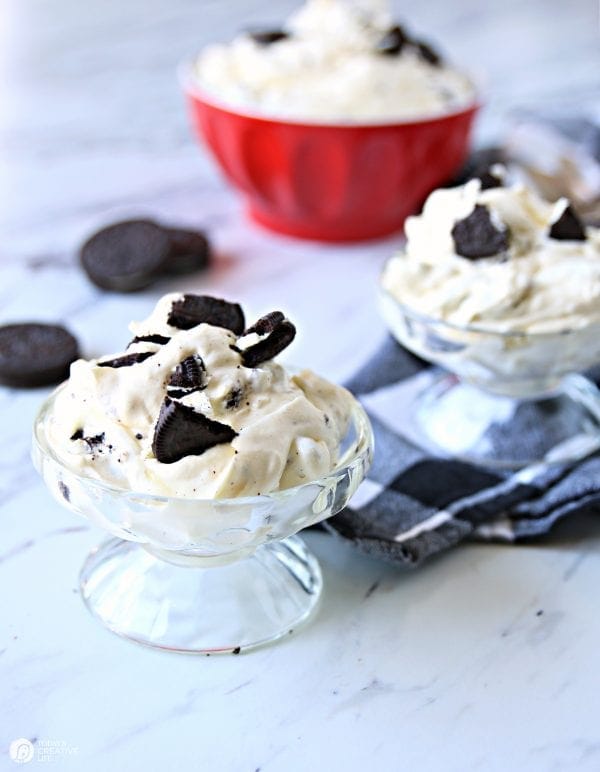 I'm not completely on board with them, but I don't judge. They're easy to make and people love them. I prefer Oreo Cupcakes, which would be a delicious decadent addition to this recipe. I've also had a couple of readers ask if I had a cookies and cream dessert. Ask and you shall receive.
My son loves this Oreo Fluff dessert and says it's like eating an ice cream sandwich without the teeth sensitivity from a frozen treat.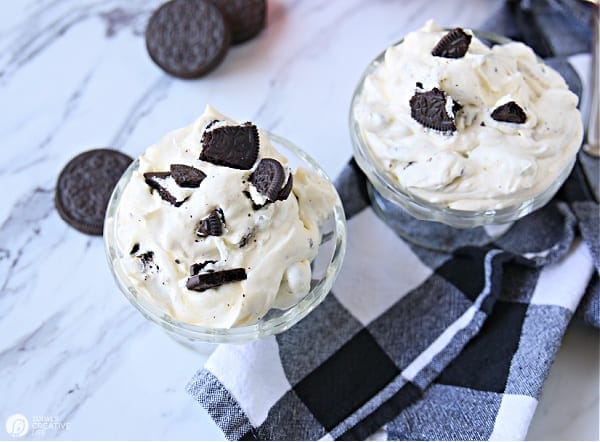 How to Make Oreo Fluff Dessert
This no-bake recipe is great when you have limited time.
All you need is a non-dairy whipped topping like Cool Whip, a box of instant vanilla pudding, milk, and chocolate cream-filled cookies.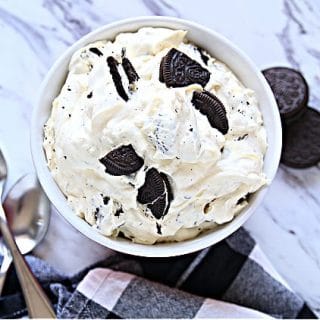 Oreo Fluff Cookies & Cream Recipe
Yield: 6
Prep Time: 10 minutes
Additional Time: 20 minutes
Total Time: 30 minutes
Inspired by Taste Of Home
Ingredients
2 cups milk
1 package instant vanilla pudding mix (3.4 oz)
1 carton frozen whipped topping, thawed
20 Oreo Cookies, broken into chunks
Instructions
I used my electric mixer and a medium-sized bowl.
Whisk or mix milk and pudding mix for a couple of minutes or until it starts to thicken.
Fold in whipped topping and cookies.
Serve right away, or chill for about 20 min.
Add additional cookies if desired.
Notes
If you're taking to a potluck, add the cookies before serving.
Recommended Products
As an Amazon Associate and member of other affiliate programs, I earn from qualifying purchases.
Nutrition Information
Yield 6
Serving Size 1
Amount Per Serving
Calories 294
Total Fat 10g
Saturated Fat 4g
Trans Fat 0g
Unsaturated Fat 6g
Cholesterol 7mg
Sodium 436mg
Carbohydrates 48g
Fiber 1g
Sugar 32g
Protein 5g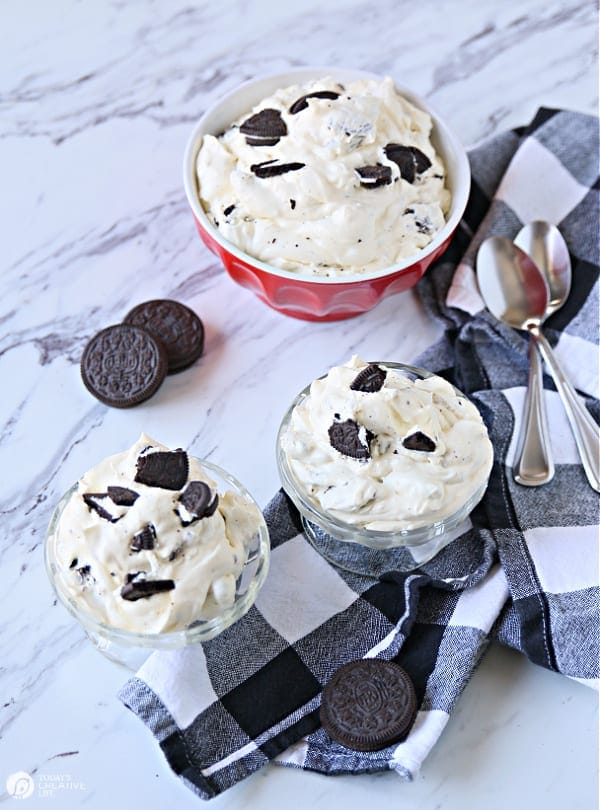 Can You Make Cookies & Cream Fluff Ahead of Time?
You can mix all ingredients except for the cookies. If stored or made too far in advance, the cookies lose their crunch. To keep them from getting soft, you'll want to add them not too long before you serve.
Can You Use Different Types of Cookies?
Change things up and experiment with different cookie flavors. Any cookie that has a bit of a crunch would work great! I can't wait to try a crunchy peanut butter cookie.
Can You Use Homemade Cookies?
Homemade cookies are usually always a better choice for any situation, however, if the cookies are a soft texture, they wouldn't be good for this recipe. If you've got crunchy cookies, then yes, go for it!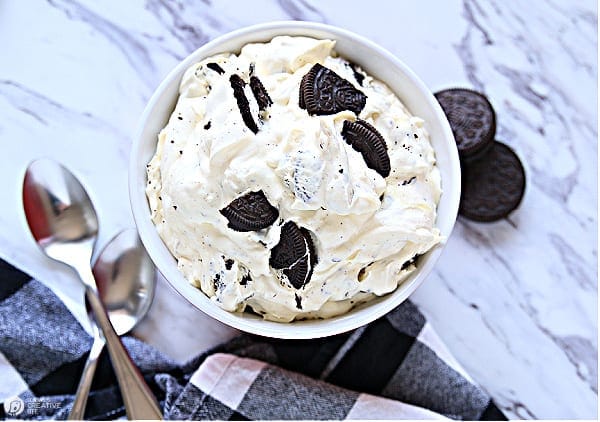 Go ahead and pin this recipe for later, or print it off now! I'd love to know if you make it. Just tag me on Instagram @TodaysCreativeLife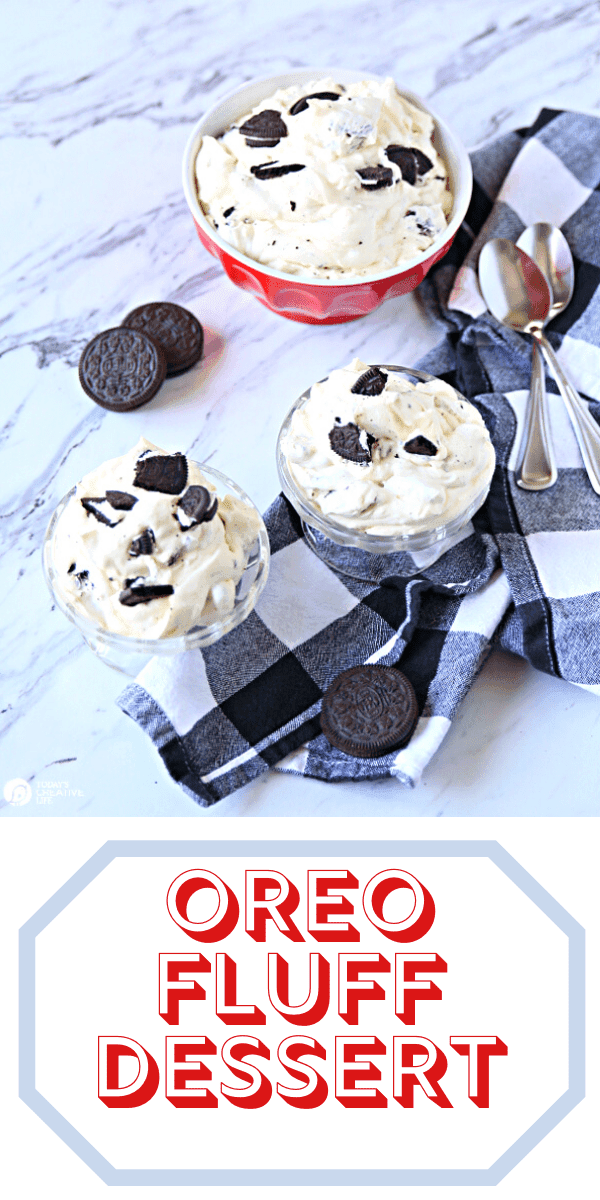 Easy Dessert Ideas
Delicious dessert ideas that are easy and quick to make.
Festive and delicious easy to make cookie bars!
Making cake with Mayo sounds odd but it makes your cake so moist! Easy to make recipe.
Pink bubble gum cupcakes for all your celebrations. Perfect for birthday parties!
This cake mix hack makes the best springtime dessert!
Make your own popsicles with this delicious chooclate peanut butter recipe.
Simple and fun! Everyone loves Twinkies!
Photo Credit: www.skiptomylou.org
See the full tutorial I created for Skip to my Lou!
3 ingredient Lemon Ice Cream!
Easy to make cereal bars for a quick snack. Kids go crazy over these!
Sweetly designed cookies! Tea party recipe idea.