My crock pot has been working in overdrive lately. I've got a few recipes to share with you for many upcoming Slow Cooker Sunday's. This Crock Pot Sweet Pulled Pork was a HIT! It ranks right up there with my Copycat Cafe Rio Chicken. Although I've never had it, I have a sneaky suspicion this recipe may be Cafe Rio's Sweet Pulled Pork copycat, but I'm not sure since this was given to me by a friend.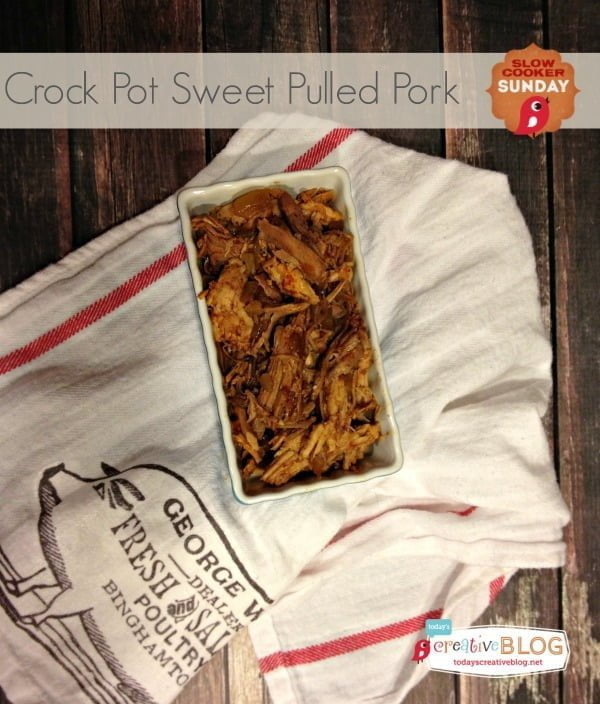 My son devoured this pork. He had 4 burritos the first night and then 2 more the next day after school. Oh the joys of a super charged metabolism of a 14 year old.
(I thought it was appropriate to use my Pig dishtowel. I added that graphic with iron on transfers. You can make one too. Just follow my Iron On Transfer Dish Towels Tutorial)
This recipe is great for salads, burritos, burrito bowls, shredded pork sammies….or just by it's self. It's very versatile which makes it perfect……..the crockpot AND being versatile, it's what dreams are made of.
We're a family of 3 and had plenty left over. But that hasn't stopped my husband and son requesting this for next week already.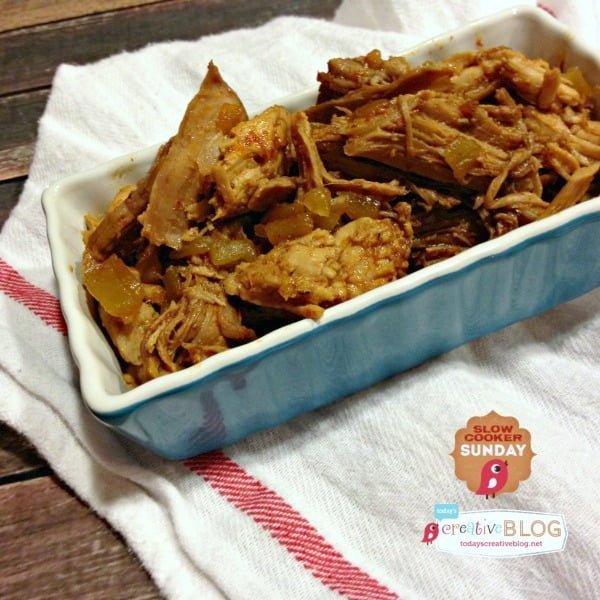 crock pot sweet pulled pork
Ingredients
2 pounds pork roast
3 cans coke (not diet)
1/4 cup brown sugar
1/2 teaspoon garlic salt
1/4 cup water
1 small can diced green chilies
3/4 can red enchilada sauce (I added the left over sauce to my black beans when I heated them up)
1 cup brown sugar
Instructions
Marinade THE NIGHT BEFORE or a few hours before - Place the pork, 1 can and a half of coke, 1/4 cup brown sugar into a large ziplock bag. Set aside to marinade.
Drain marinade and put the pork in your crock pot along with 1/2 can coke, water, and garlic salt. Cook on HIGH for 3-4 hours. (or until it shreds easily)
Remove pork from the crockpot and shred. Drain and discard any liquid from the slow cooker.
In a blender or food processor ( I just mixed with a fork), blend 1/2 can coke, chilies, enchilada sauce and remaining brown sugar. Mix. If it looks too thick, add more coke. (Mine was far from thick.)
Place your pork back in the crockpot with the sauce and cook on low for 2 hours.
Enjoy!
Notes
I marinaded only a couple of hours and it was still delicious.
Looking for more Slow Cooker Recipes? My favorites are:
I find several of my recipes from my friend Stephanie's site. Crockpot 365 and her cook books. She's got SO MANY great recipes and I highly recommend her books. All 3 of them!
Follow Kim Demmon (today's creative blog)'s board Favorite Recipes on Pinterest.