This easy to make vegetable side dish is fresh and delicious! Parmesan Roasted Asparagus and Tomatoes can be made any time of year, but I love using homegrown tomatoes from my own garden.
Bursting with flavor makes it great on its own or served with chicken, fish or steak.

Parmesan Roasted Asparagus and Tomatoes
I'm always looking for tomato recipes for my garden bounty. If you are too, you may want to print out my recipes for my Buttermilk Vinaigrette Tomato Salad, or my Slow Roasted Tomatoes.
We grill a lot of salmon (on a cedar plank) in the summer and this simple side dish using fresh vegetables is the perfect companion. You could even make this on the BBQ with a vegetable grilling pan. Why heat up the kitchen if you don't have to.
How to Make Roasted Asparagus and Tomatoes
We roast asparagus all the time, but I love combining the taste and texture with fresh tomatoes.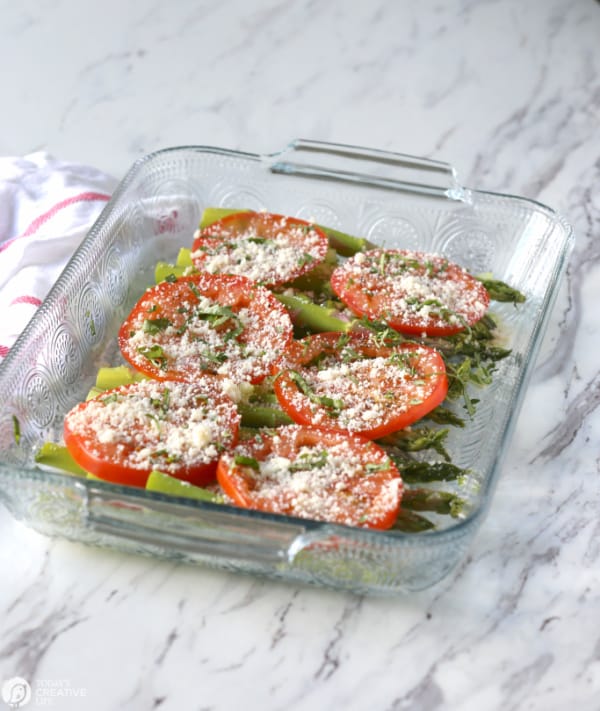 Prep your pan as directed in the printable recipe below and layer the asparagus and tomatoes. Top with Parmesan cheese and herbs to bake or grill.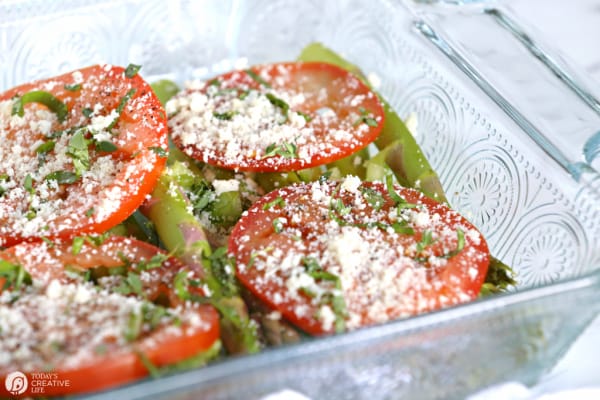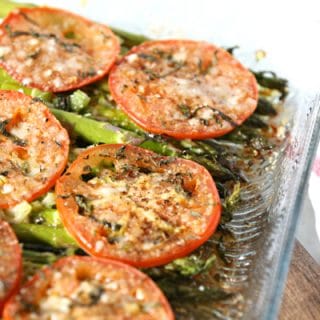 Roasted Asparagus and Tomatoes
Yield: 4 servings
Prep Time: 10 minutes
Cook Time: 30 minutes
Total Time: 40 minutes
Eating your vegetables has never been easier! This Parmesan Roasted Asparagus and Tomatoes dish is bursting with flavor!
Ingredients
2 Tablespoons Butter, melted
1 lb. Asparagus, trimmed
1 Tablespoon onion flakes
2 medium to large tomatoes, sliced
1/2 teaspoon fresh basil, chopped
1/2 teaspoon fresh thyme leaves
1/4 teaspoon pepper
4 Tablespoons grated Parmesan cheese
Instructions
Preheat your oven to 350 degrees.
Pour melted butter into 13x9 baking dish.
Place asparagus on the bottom of the dish in the melted butter.
Sprinkle onion flakes over the asparagus.
Arrange tomatoes over the top of the asparagus.
Sprinkle with herbs, pepper and Parmesan cheese.
Roast for 30 minutes or until asparagus is fork tender.
Serve immediately.
Notes
You can use fresh onion if desired.
Dried herbs can also be used if needed.
Nutrition Information
Yield 4
Serving Size 1
Amount Per Serving
Calories 113
Total Fat 8g
Saturated Fat 5g
Trans Fat 0g
Unsaturated Fat 2g
Cholesterol 20mg
Sodium 166mg
Carbohydrates 8g
Fiber 3g
Sugar 3g
Protein 5g
We do our best to calculate, however, nutrition information may not be accurate.
The cheese creates a flavorful crust over the juicy tomatoes leaving the asparagus with just enough crunch.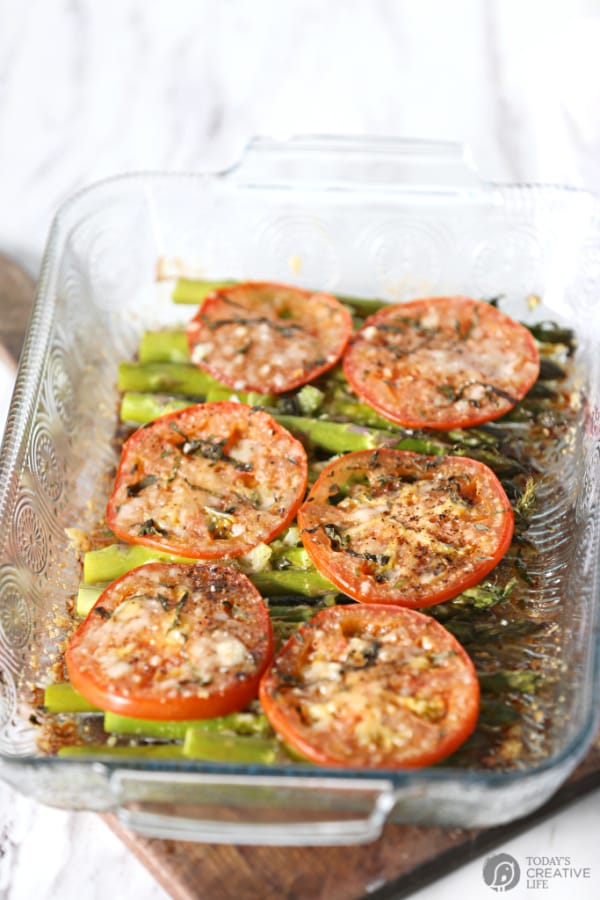 What to Serve with Parmesan Roasted Tomatoes and Asparagus
As mentioned, we love making it with grilled salmon, however, it goes well with any protein. Grilled or baked chicken, BBQ steak, or pork chops. It's a very versatile vegetable side dish that is simple and fast to make.
If you're wanting a meatless dinner, try serving with risotto or even on top of pasta.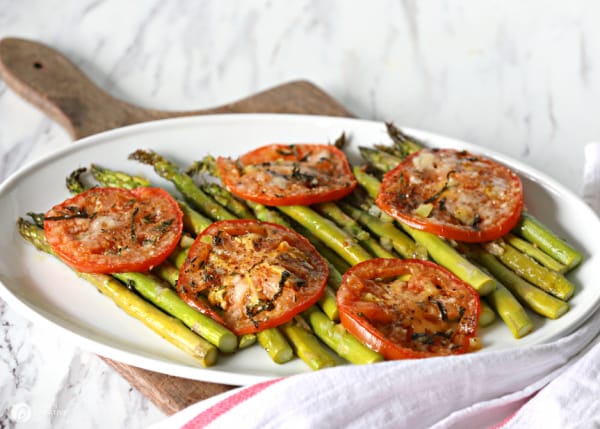 It's also great for spring or summer holidays served right in the casserole dish or on a platter.
Can you use Frozen Asparagus?
If you only have access to frozen asparagus, you'll want to thaw it first before roasting or baking to avoid it creating too much juice and becoming soggy. Even if the spears are cut into pieces, it should still work for this vegetable side dish.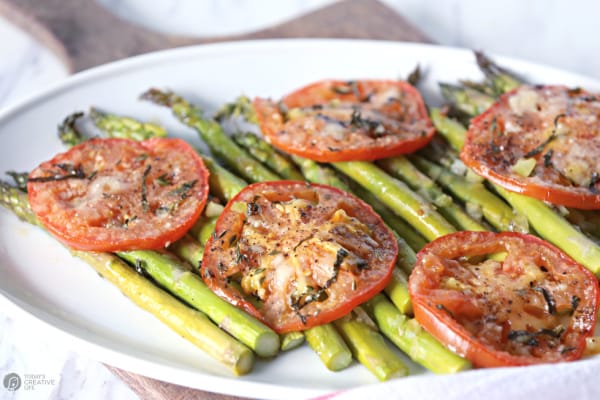 If you make this recipe for Parmesan Roasted Asparagus and Tomatoes, I hope you'll share it with me on social media. Tag @TodaysCreativeLife on Instagram.
Side Dish Recipes
Easy to make, family-favorite side dish recipes.
Savory Roasted Sweet Potatoes with Garlic Butter is the perfect side dish for Thanksgiving or Sunday Dinner.
Balsamic glaze makes this recipe a favorite!
This recipe can be made with any carrots. But you have to admit the thinner carrots with a bit of the greens on top make a great presentation! So, if you're trying to impress someone with your culinary skills?.... Buy thin carrots with the greens.
Who needs regular coleslaw when you can have zesty?
This is a summer favorite!
Eating your vegetables has never been easier! This Parmesan Roasted Asparagus and Tomatoes dish is bursting with flavor!
Cherry tomatoes with buttermilk vinaigrette will be your summer go to salad! Great way to use your own homegrown cherry tomatoes! Fresh, tangy and sweet!
This fresh and crunchy salad is a classic.
Super quick to make and bursting with flavor.
Photo Credit: domesticsuperhero.com
You only need 2 ingredients for this air fryer recipe.