This is the best Tomato Salad Recipe made with buttermilk vinaigrette and cherry tomatoes! Sweet, tangy and fresh summer salads are always a favorite side dish for all your BBQ's. Add cucumbers for a tomato cucumber salad for extra crunch.
We love growing our own tomatoes during the summer, with one of them being a yellow cherry tomato variety. Those little golden sweet tomatoes are like candy!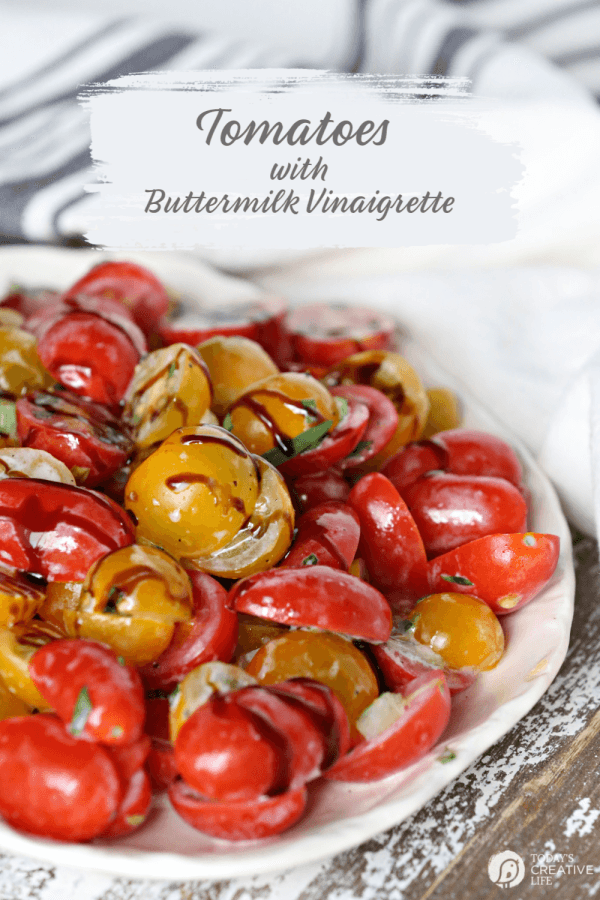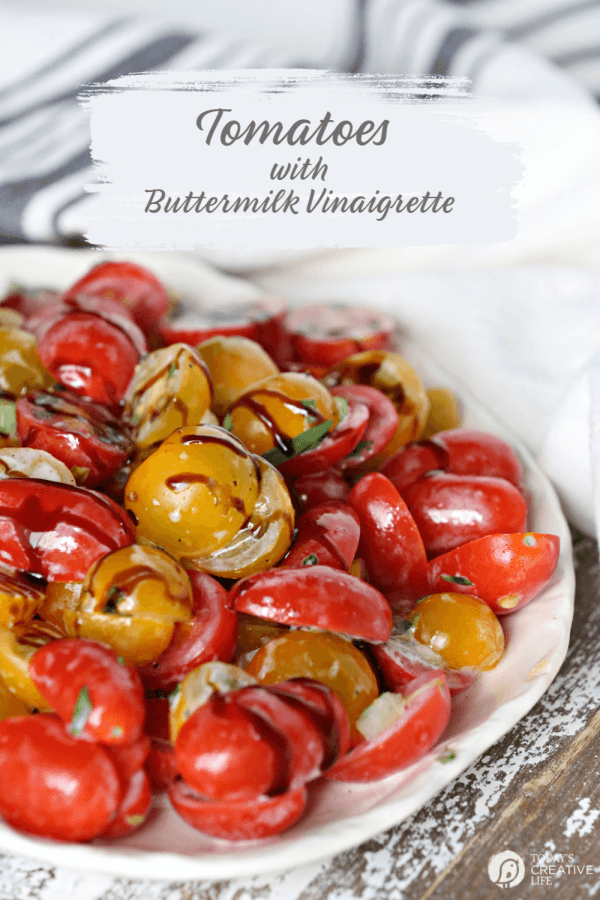 Cherry Tomato Salad Recipe with Buttermilk Vinaigrette
I am always looking for recipes for the number of tomatoes we end up with. We also do a lot of roasted cherry tomatoes for salads and sauces and I always make slow cooker tomato sauce for the freezer. Another favorite is my Bacon Avocado and Tomato Green Salad.
This buttermilk tomato salad recipe was inspired by a recipe I saw in the Taste of Home magazine (use my affiliate & grab a full year subscription for $6.95). I altered it a bit by using olive oil as well as adding a small amount of chopped celery and topped with balsamic glaze. So good!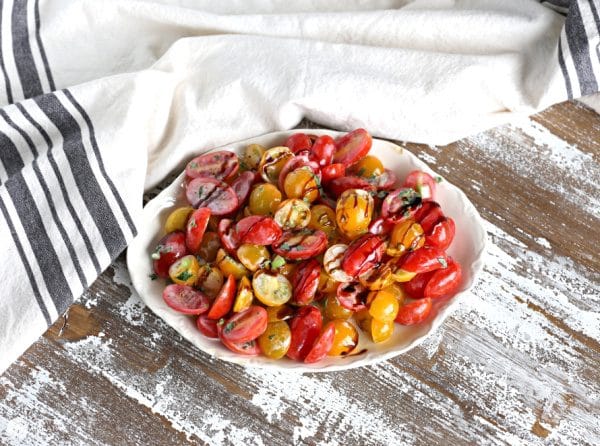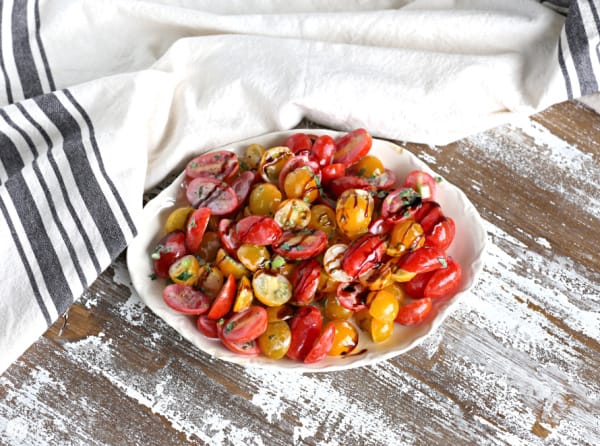 Cucumber Tomato Salad Recipe
Cucumbers are also one of my favorite things to grow. We'll grow the regular variety and the round lemon cucumbers. They are a great addition to this tomato salad recipe and go really well with the buttermilk vinaigrette. Because who doesn't a good cucumber tomato salad?
Fresh salads like this one make a great lunch or side dish.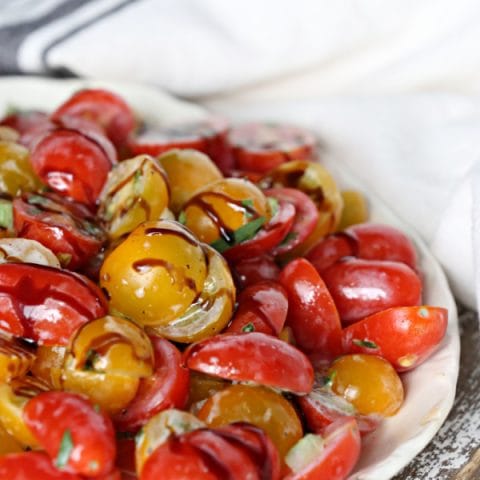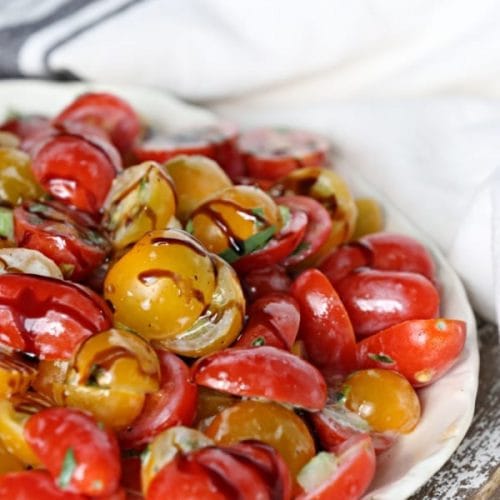 Tomato Salad Recipe with Buttermilk Vinaigrette
Yield: 12

Prep Time: 20 minutes

Total Time: 20 minutes

Cherry tomatoes with buttermilk vinaigrette will be your summer go to salad! Great way to use your own homegrown cherry tomatoes! Fresh, tangy and sweet!
Ingredients
3/4 C. buttermilk
1/4 C. fresh tarragon, minced
1/4 C. white wine vinegar
3 tablespoons olive oil
1 1/2 teaspoons sugar
1/2 teaspoon ground mustard
Salt & pepper to taste (about 1/4 teaspoon each)
3 tablespoons diced celery
8 cups cherry tomatoes, halved
Balsamic Glaze
Instructions
Whisk together all ingredients except tomatoes and celery, until well blended.
Arrange tomatoes in a large shallow bowl or platter, then sprinkle minced celery over the top.
Drizzle vinaigrette over the tomatoes and gently toss to blend.
Top with a drizzle of balsamic glaze.
Serve immediately.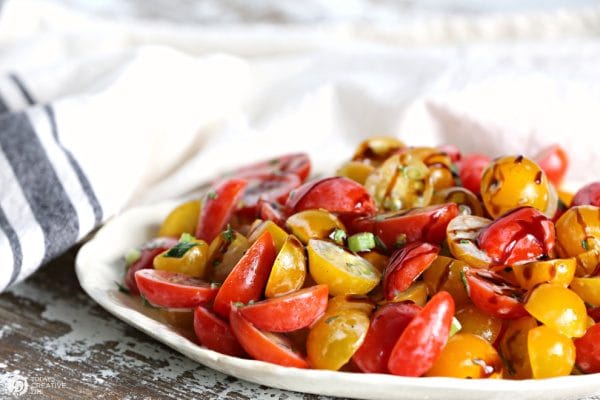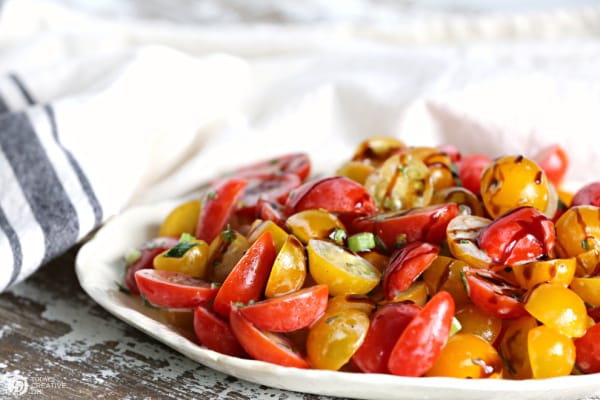 I think my favorite is the balsamic glaze drizzle. I love that stuff! I usually pick it up at Trader Joes. It's great on so many things.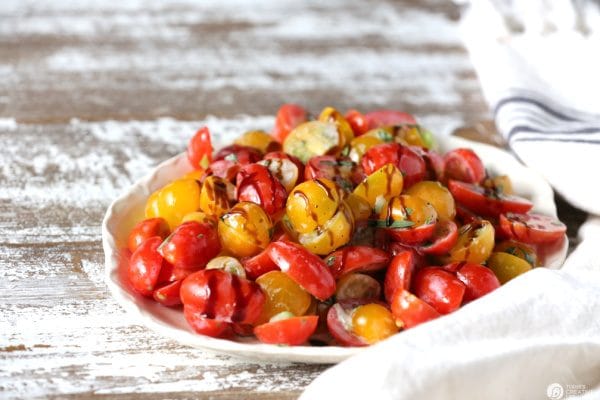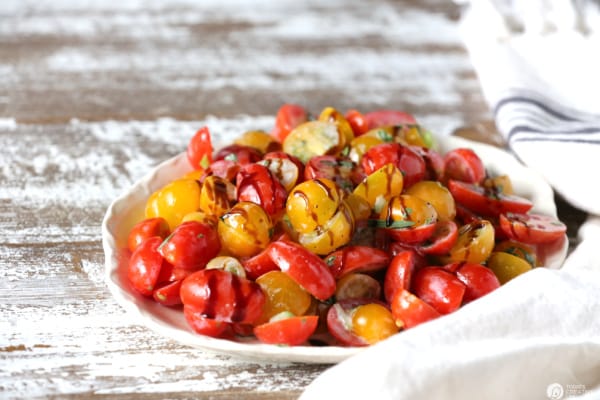 This was so good, I am confident everyone in your family will love it!
With the abundance of sun gold cherry tomatoes coming my way, this Tomato Salad Recipe with Buttermilk Vinaigrette will be a constant. It's easy to make and it will go with everything.
How Long will this Salad Keep?
This cherry tomato salad is best if made and served the same day. I've stored it overnight before, but the tomatoes tend to get a bit soggy. Serving it fresh is my favorite way.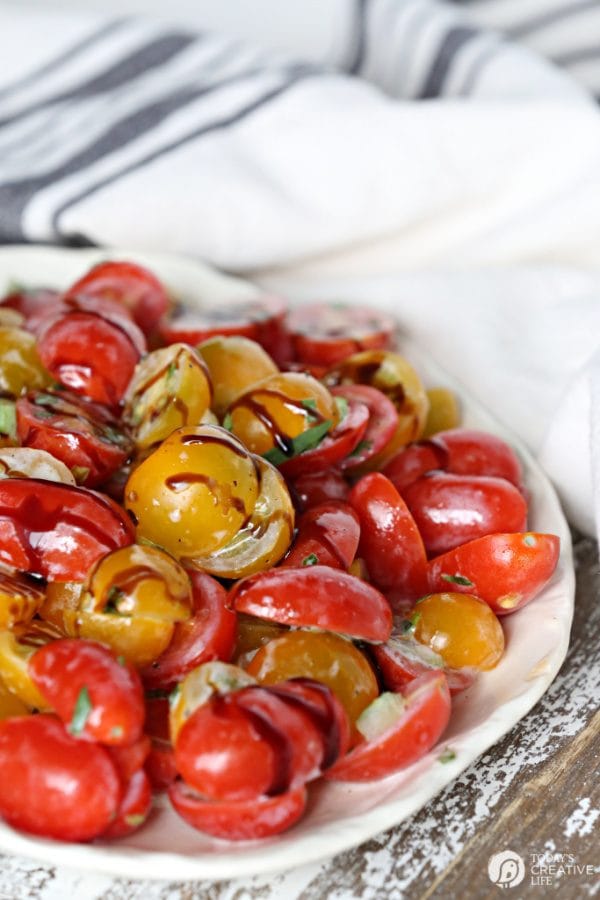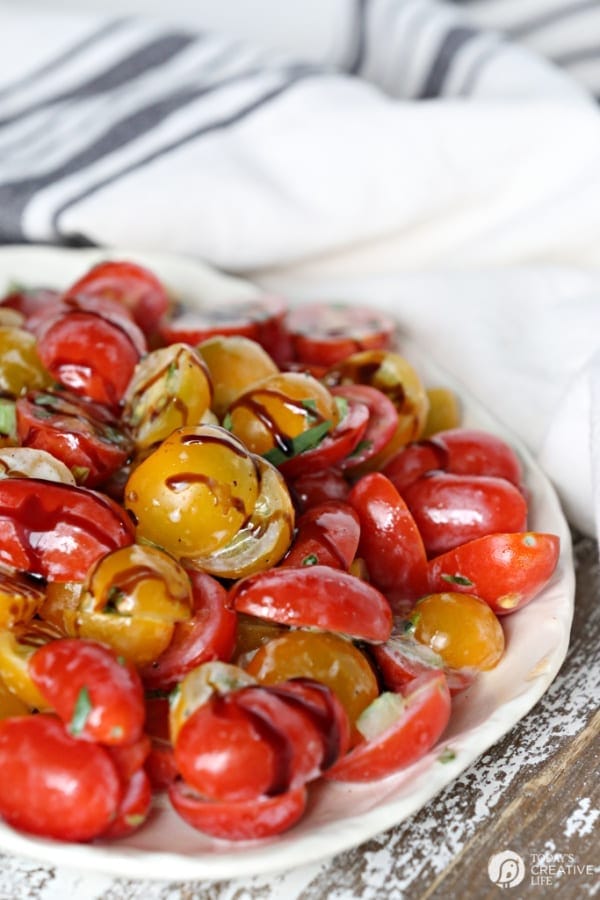 If you make this, I'd love to you take a photo and tag me on Instagram or Facebook! I love to see what you're making!
If you love salads, you need my Simple & Delicious Salad Recipes eBook.
---
Summer Salad Recipe Ideas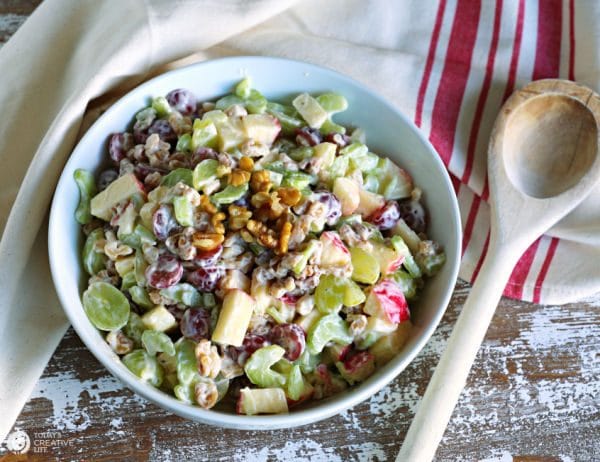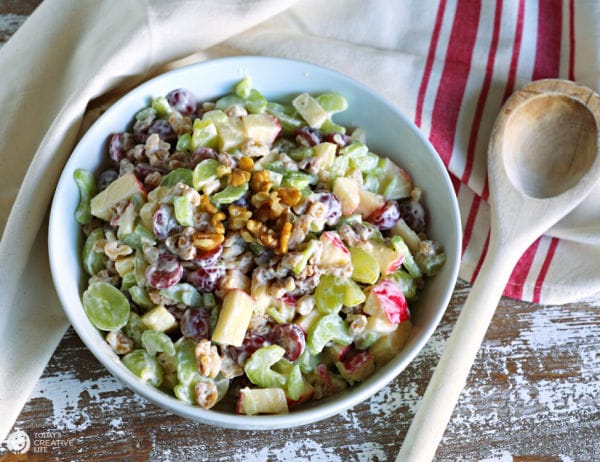 Waldorf Salad Recipe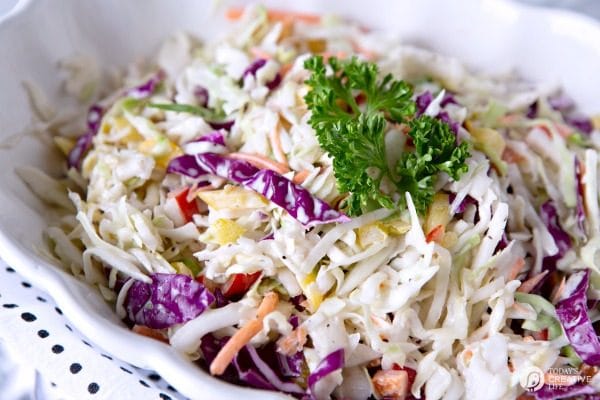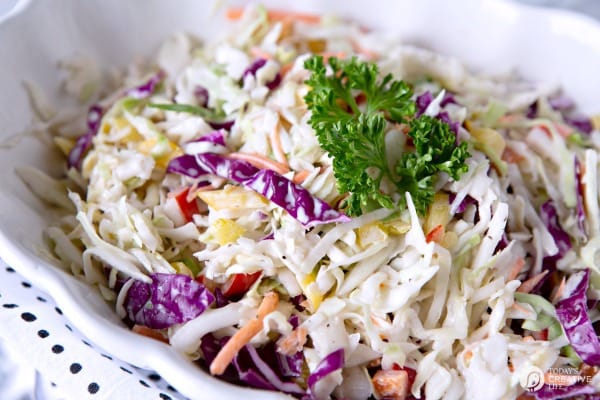 Zesty Coleslaw Recipe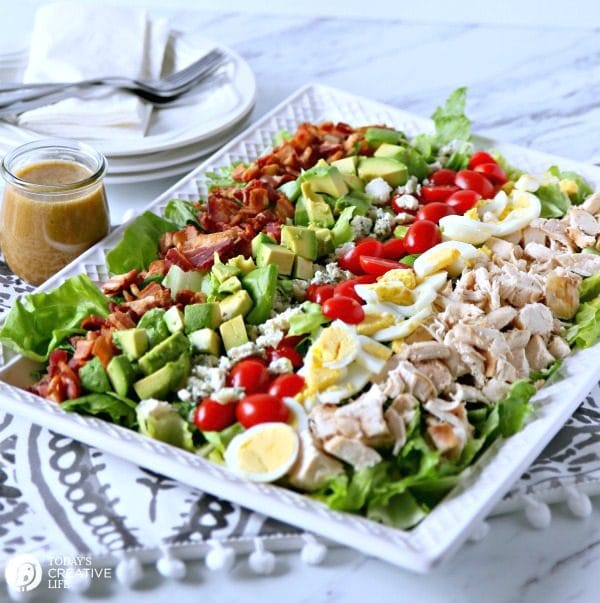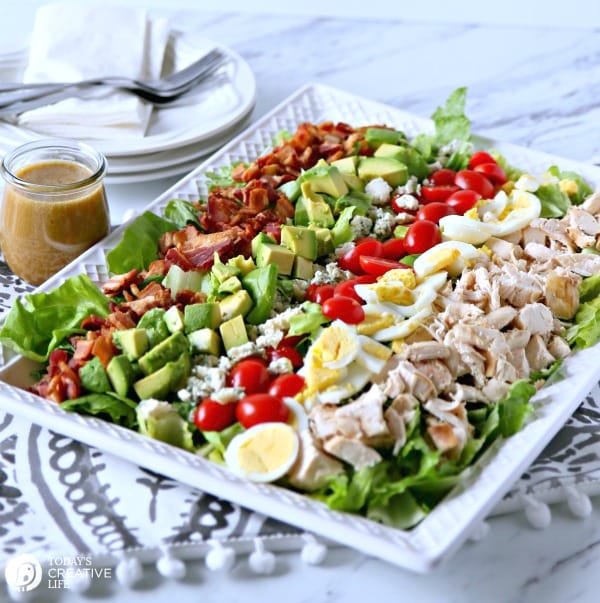 Easy Cobb Salad