I love my coleslaw classic and creamy without additions like onions or peppers. My husband, on the other hand, loves this Zesty Coleslaw Salad Recipe with red and yellow bell peppers. I found this recipe years ago from one of my Taste of Home magazines and thought I'd try it out for a BBQ last summer, reserving a bowl of it for me before adding both the bell peppers or raw onion. I also added extra purple cabbage for color. Everyone was happy!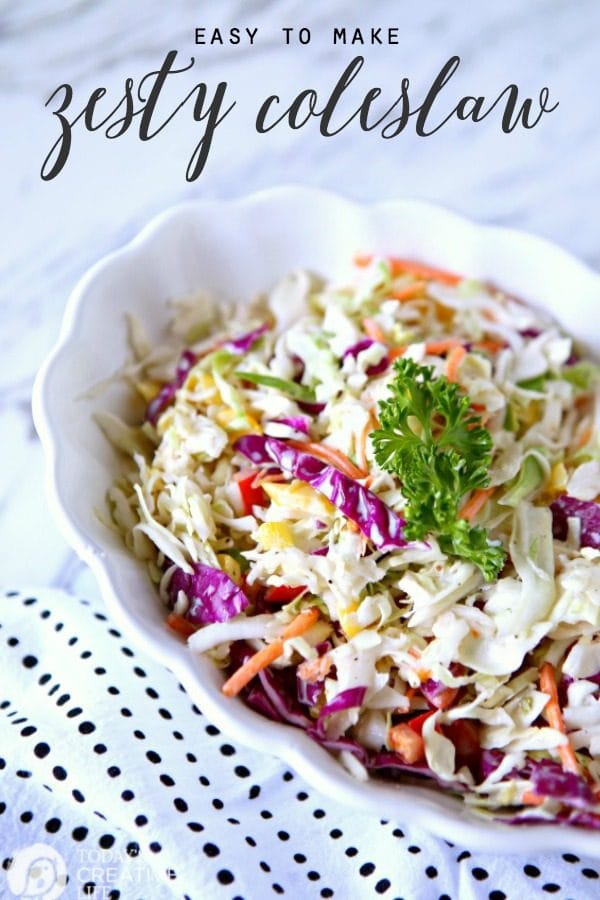 Zesty Coleslaw Salad Recipe
When you're looking for a quick and easy salad, this recipe is it! It only gets better when allowed to chill in the fridge for a couple of hours or even overnight before serving. This allows the dressing to really bloom, bringing out all the delicious flavors.
It's a great recipe that also transports well, making it a great option for potlucks, picnics or BBQ's.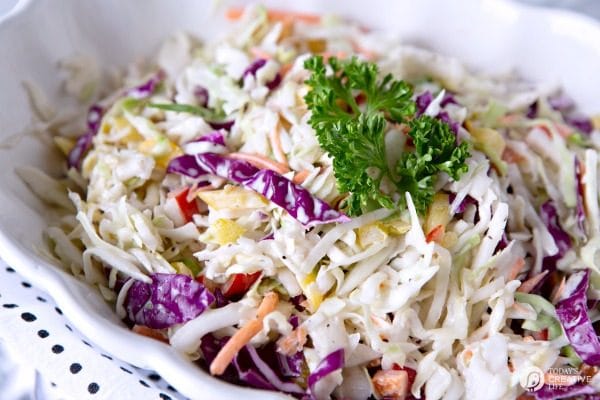 Spring and summer salads like this Zesty Coleslaw Salad Recipe are also great for Easter, Mother's Day, Father's Day, Memorial Day and 4th of July. Anytime you may be gathering for a family meal, give it a try.
Other favorites are my Sour Cream Cucumber and Onion Salad, Cabbage Salad with Fruit, or this Fruit Salad with Sour Cream Dressing. All simple, all delicious and refreshing.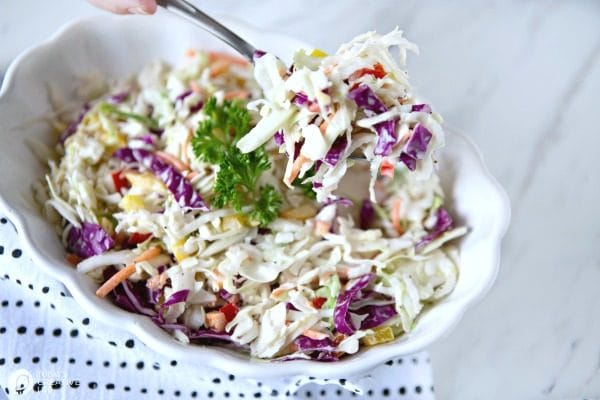 How to Make Zesty Coleslaw with Peppers and Onions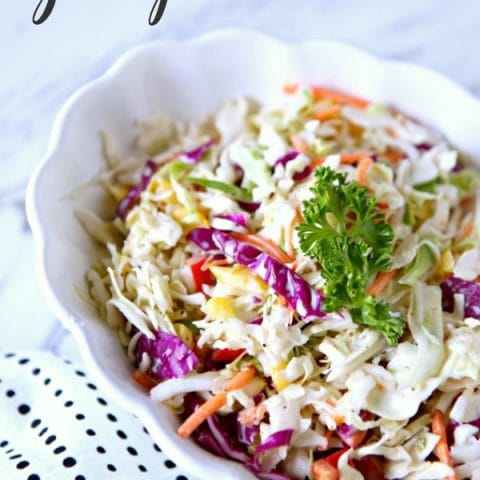 Zesty Coleslaw Salad Recipe
Yield: 12
Prep Time: 15 minutes
Total Time: 15 minutes
Ingredients
1 cup mayonnaise
1/3 cup sugar
3 tablespoons apple cider vinegar
1 teaspoon seasoned salt
3/4 teaspoon fresh ground pepper
1/2 teaspoon celery seed
2 packages (14oz. each) coleslaw mix
1 cup shredded purple cabbage
1 small chopped red bell pepper
1 small chopped yellow bell pepper
optional - 1/2 cup chopped sweet onion
Instructions
Whisk together the first 6 ingredients in a large bowl.
Add coleslaw, peppers, purple cabbage. (add onion if desired)
Toss to evenly coat
Refrigerate for at least an hour before serving.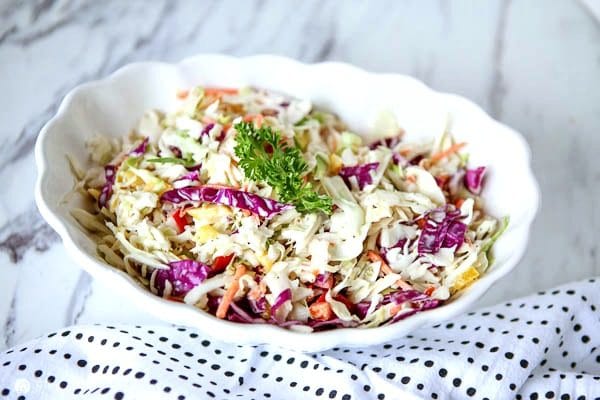 Zesty Coleslaw for Pulled Pork
This zesty coleslaw recipe would be perfect for homemade pulled pork sandwiches. Whip up a batch of my Crockpot Sweet Pulled Pork, served with slaw on top and you've got yourself a delicious party meal! I like to use a slotted spoon for the salad when serving like this, so any extra dressing doesn't get placed on my sandwich.
Whether you serve this salad alone or as a topping is up to you! Having a versatile salad in your recipe box is always good!
---
Salad Recipes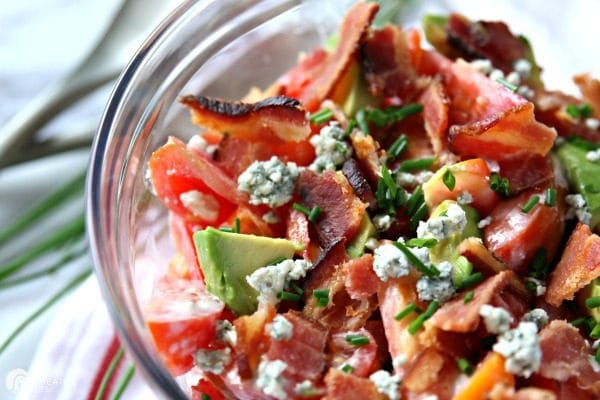 Tomato Avocado Bacon Salad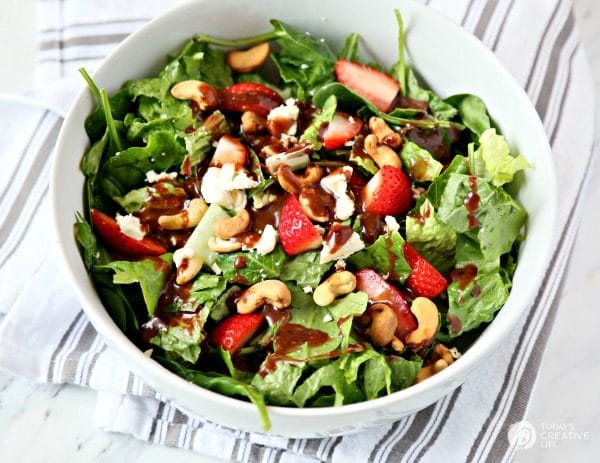 Strawberry Gorgonzola Green Salad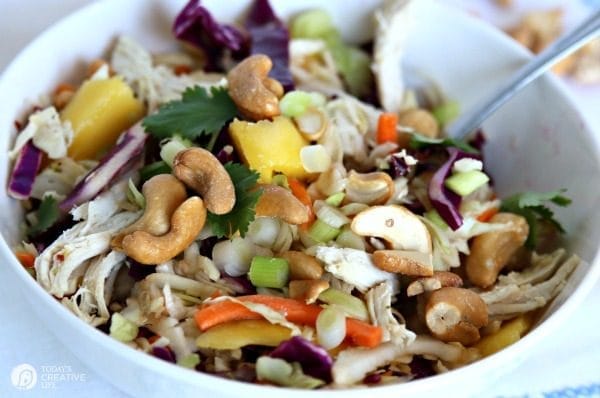 Mango Chicken Salad with Cashews