It's Slow Cooker Sunday! I am so excited to share a Cafe Rio Recipe…..I can hardly stand it! I have so many slow cooker chicken recipes, but this one is my new BFF.
Every summer while visiting my sister in Utah, I can't wait to eat at Cafe Rio. LOVE their shredded chicken salads. It's not uncommon for me to eat there a couple of times a week. I gotta get my fix. So you can image how happy I was when I found a copy cat Cafe Rio recipe for the shredded chicken! It's silly how excited I am! I have claimed to never make chicken any other way, I'm going to live on shredded chicken salad forever! I may not even share with my family.
Cafe Rio Chicken Recipe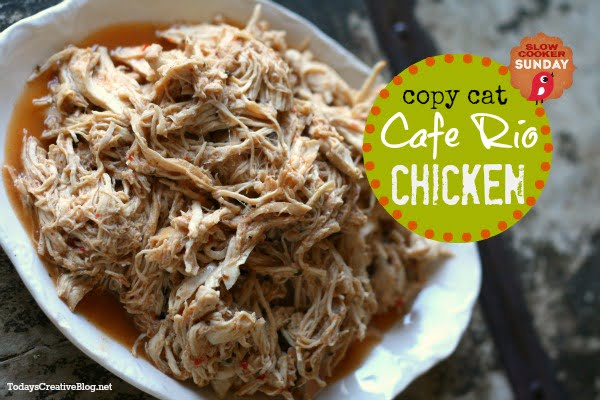 This Cafe Rio recipe is perfect for burritos, salad, burrito bowls, tacos or soup…….or all alone! It's juicy, flavorful and just plain perfect………I really don't know how I've lived without this recipe this long. You know what makes it even more perfect? I can make it in the CROCKPOT! I may as well die now…….
Since it's Slow Cooker Sunday and I can't keep things to myself, I'm sharing it with you. You'll want to pin this for sure. Or just Re-PIN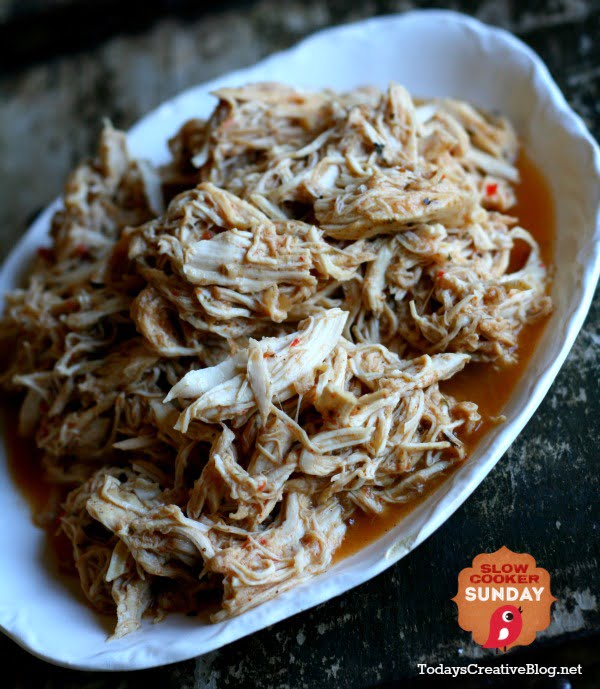 Copy Cat Cafe Rio Recipe- Shredded Chicken
Ingredients
2 pounds chicken - boneless & skinless
1/2 cup zesty Italian dressing
1/2 tablespoon minced garlic (I use more like a full tablespoon)
1/2 tablespoon chili powder
1/2 tablespoon ground cumin
1 (1 oz) packet Ranch Dressing Mix (mix with 1/2 cup water)
Instructions
Place all your ingredients except for the chicken into your crockpot. Stir.
Add your chicken
Cook on high for 5-6 hours or low for 7-8 hours. I flipped the chicken half way through.
Once your chicken is done, remove just the chicken and shred using 2 forks. Replace the shredded chicken back into the crockpot and mix well with the left over juice.
Serve in salads, burritos, tacos, burrito bowls!
Wait! I have more slow cooker recipes!
If you have a tried and true Slow Cooker recipe you'd like me to share……..send it my way!