This copycat Cafe Rio recipe for crockpot shredded chicken is made with pantry ingredients. Zesty Italian dressing, cumin, chili powder, garlic, ranch dressing packet and chicken. Serve with tacos, burritos, salads and more.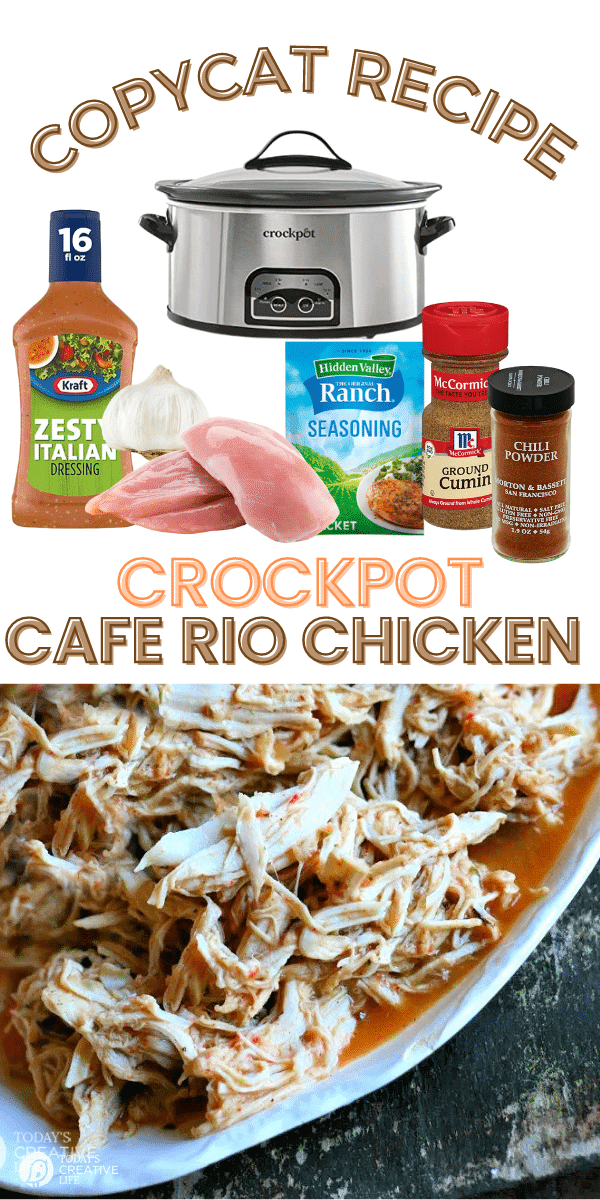 Cafe Rio Recipe – Shredded Chicken
Every summer while visiting my sister in Utah, I can't wait to eat at Cafe Rio. LOVE their shredded chicken salads. It's not uncommon for me to eat there a couple of times a week. I gotta get my fix. So you can imagine how happy I was when I found a copycat Cafe Rio recipe for shredded chicken! It's silly how excited I am! I have claimed to never make chicken any other way, I'm going to live on shredded chicken salad forever! I may not even share it with my family.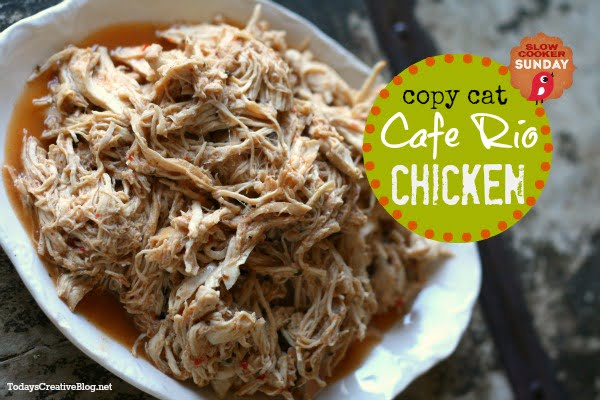 This Cafe Rio recipe is perfect for burritos, salad, burrito bowls, tacos, or soup…….or all alone! It's juicy, flavorful, and just plain perfect………I really don't know how I've lived without this recipe this long. Do you know what makes it even more perfect? I can make it in the CROCKPOT! I may as well die now…….
Crockpot Shredded Chicken Recipe
This Cafe Rio Shredded Chicken recipe is a very simple recipe. All you need is:
Chicken Breasts – boneless
Ranch Dressing Packet
Zesty Italian Dressing
Cumin
Chili Powder
Garlic
This crockpot shredded chicken recipe is a dump-it-all-in type of slow cooker recipe, our favorite kind. You can cook on low or high. I like cooking on low since it seems to result in chicken that's more tender.
What to Make With Cafe Rio Chicken
I always order the salad when visiting Cafe Rio, so that's always my favorite thing to make. But they use their chicken for several different menu items.
Make it like Cafe Rio
Salad – Cafe Rio Salads start with a warm flour tortilla on the bottom of your bowl. Add rice, beans, chicken and lettuce. Top with ranch or my favorite Cilantro Avocado Dressing.
Burritos – Starting with a large warm flour tortilla, add shredded chicken, Cafe Rio pinto or black beans, and shredded Mexican blended cheeses.
Enchilada – Starting with a flour tortilla, add chicken and shredded Mexican blended cheese. Pour enchilada sauce over the top and add more cheese and pop it under the broiler to melt the cheese.
Can you Make Cafe Rio Chicken in an Instant Pot?
Yes! The instant pot is a great option.
Place the chicken into your Instant Pot.
Mix together and place the Italian dressing, ranch dressing packet, chili powder, cumin, garlic, and water.
Pour the sauce over the chicken.
If you're using thawed chicken, cook under high pressure for 12 minutes. Frozen chicken will need 17 minutes.
When the 12 minutes are us, quick release the pressure.
Remove only the chicken into a large bowl or casserole dish and then shred using 2 forks.
Add the chicken back into the pot and stir to blend with the sauce.
Enjoy
Can you Make Cafe Rio Chicken in the Oven?
I prefer using the slow cooker because crockpot shredded chicken is always so tender, but if you have run of time and you need to bake this simple chicken recipe, then you're in luck.
In a bowl, mix together Italian dressing, ranch dressing packet, chili powder, cumin, garlic, and water.
Place chicken in a casserole dish.
Pour sauce over the chicken.
Bake at 450° F. for 15-18 minutes or under the internal temp reaches 165°F
Remove the chicken and shred.
Place the shredded chicken back in with the juices. Stir to blend and enjoy!
Can you Freeze Cafe Rio Shredded Chicken?
This recipe makes the best leftovers, but if you can't finish it all or if you want to double up the recipe for later, you can freeze it for up to 4 months. Freeze in an airtight container.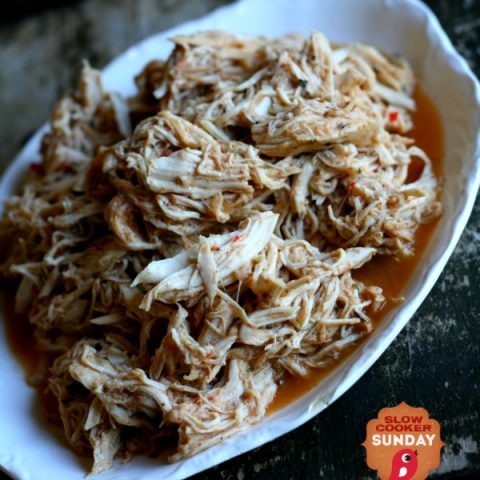 Copy Cat Cafe Rio Recipe- Shredded Chicken
Yield: 6
Prep Time: 5 minutes
Cook Time: 5 hours
Total Time: 5 hours 5 minutes
This copycat recipe for Cafe Rio Chicken is the best Crockpot Shredded Chicken Recipe for burritos, salads and more.
Ingredients
2 pounds chicken - boneless & skinless
1/2 cup zesty Italian dressing
1/2 tablespoon minced garlic (I use more like a full tablespoon)
1/2 tablespoon chili powder
1/2 tablespoon ground cumin
1 (1 oz) packet Ranch Dressing Mix (mix with 1/2 cup water)
Instructions
Place all your ingredients except for the chicken into your crockpot. Stir.
Add your chicken
Cook on high for 5-6 hours or low for 7-8 hours. I flipped the chicken half way through.
Once your chicken is done, remove just the chicken and shred using 2 forks. Replace the shredded chicken back into the crockpot and mix well with the left over juice.
Serve in salads, burritos, tacos, burrito bowls!
Nutrition Information
Yield 6
Serving Size 1
Amount Per Serving
Calories 398
Total Fat 24g
Saturated Fat 6g
Trans Fat 0g
Unsaturated Fat 16g
Cholesterol 142mg
Sodium 693mg
Carbohydrates 6g
Fiber 1g
Sugar 3g
Protein 37g
We do our best to calculate, however, nutrition information may not be accurate.