These Dark Chocolate Nutty Fruit Bites will be the easiest homemade gift you'll make this year! I first shared these dark chocolate nut and fruit bites over at Your Home Based Mom to kick off the Craft, Sew, Bake event!
I'm always on the look out for quick and easy gift ideas to hand out to the neighbors, the UPS gal, the FedEx guy, the paper guy… you get the idea. Everyone loves chocolate, but I'd feel funny just handing them a chocolate bar, so I melted a few dark chocolate bars down and added some festive ingredients. These little dark chocolate nutty fruit bites have a gourmet flair and I'm confident everyone will love them!
Other great homemade gift ideas are my Hot Buttered Rum mix or my Easy Cake Mix Cinnamon Bread.
Dark Chocolate Nutty Fruit Bites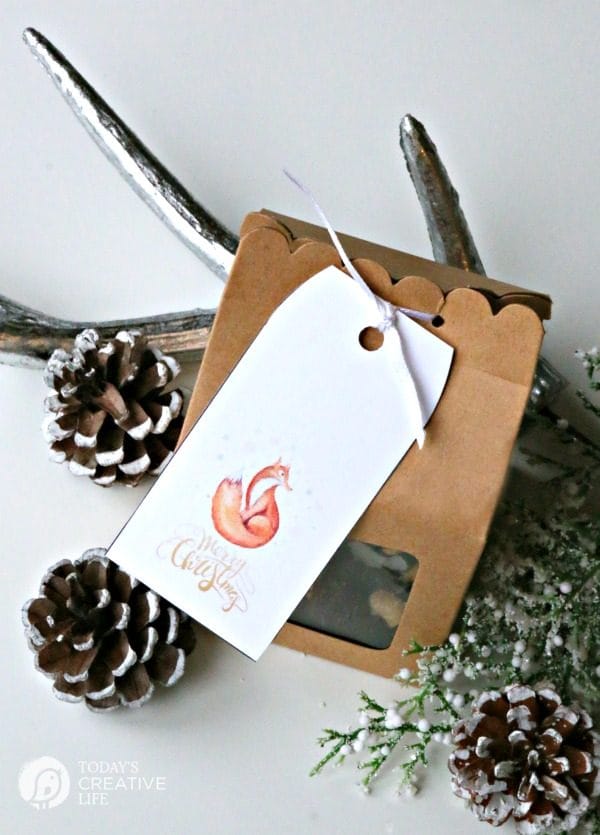 In the past, I've made dipped pretzels, or my Christmas Crunch recipe. Both can be made in large batches. If my neighbors have small children, I'll make my Reindeer Food Recipe, and bag it up with the printable poem too.
It doesn't have to be anything big, it's the gesture that counts. You can make any gift look festive with a free printable tag and cute packaging. I'm offering these fox and deer Merry Christmas tags just for you!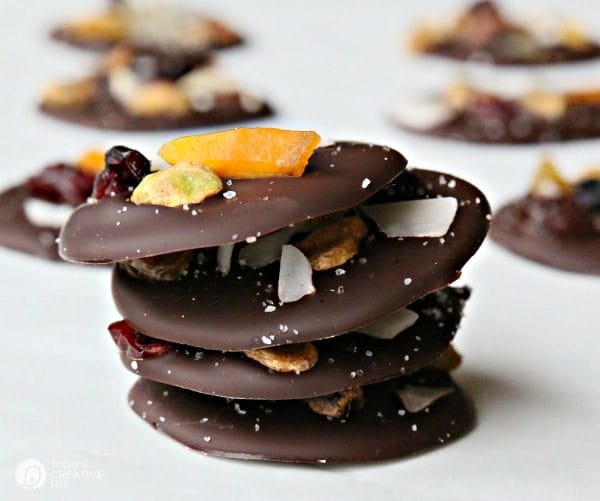 How to Make Dark Chocolate Nutty Fruit Bites
Supplies needed:
Affiliate links to products below are for your convenience. This costs you nothing extra, but if you do decide to purchase, TCL will receive a small % of each sale. Thank you!
I shopped the fruit and nut aisle of Trader Joe's and grabbed a variety of flavors, shapes, and color.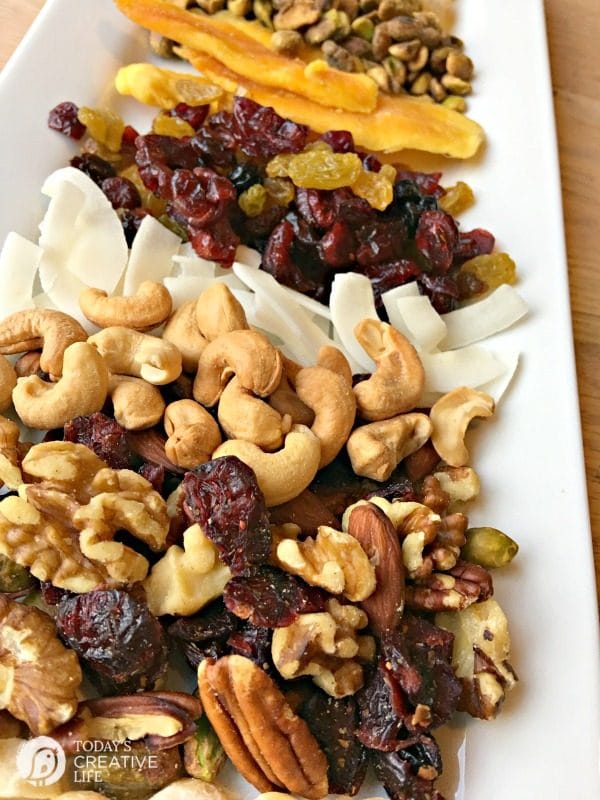 I also grabbed about 4 or 5 dark chocolate bars. I broke them apart and melted them in my microwave. I checked on it about every 30 seconds to make sure it didn't burn, stirring at each interval.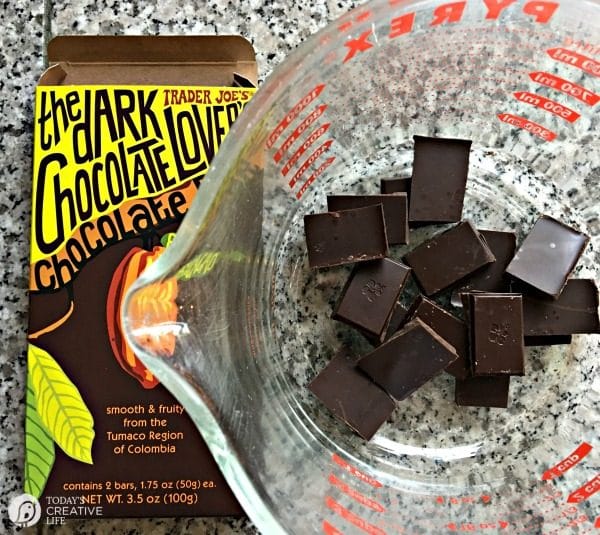 Once melted, I used a small ladle to pour directly onto parchment paper. They will flatten into the most wonderful little discs.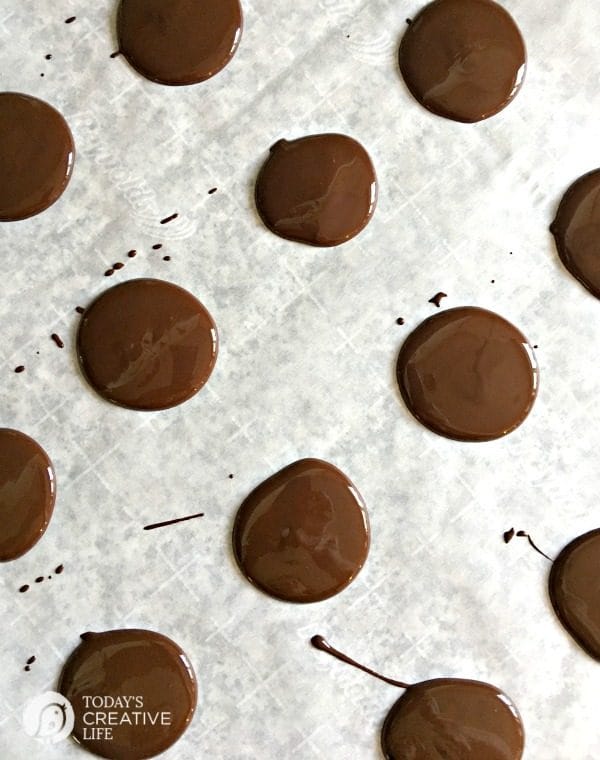 This is where the fun begins! Grab your fruit and nuts and add to the tops of each disc.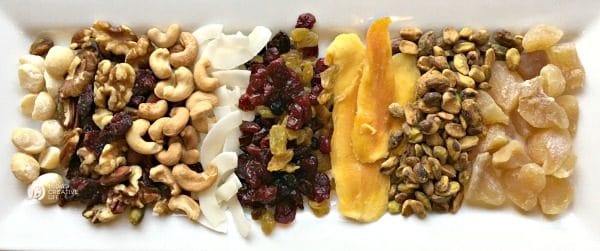 Break up or chop the walnuts, macadamia nuts, pecans, and cashews. I used kitchen shears to cut the dried mango and candied ginger into small bits.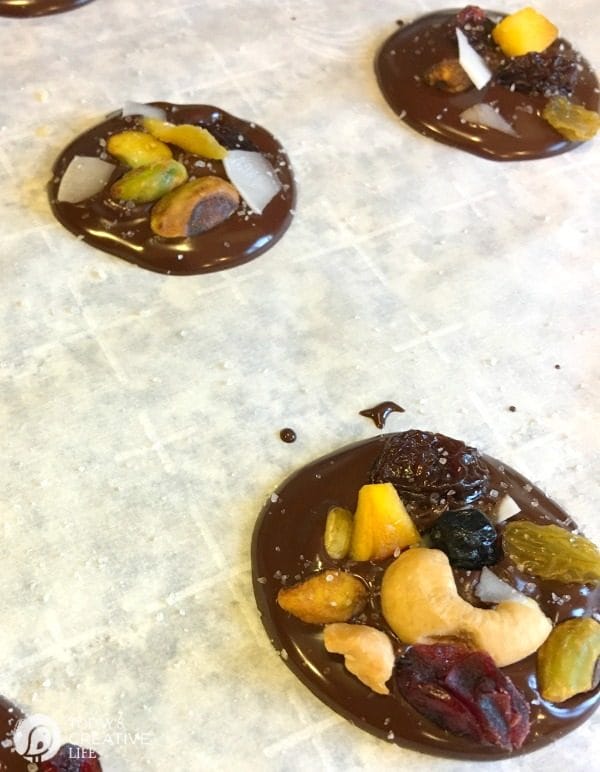 Once you've placed all your goodies on top, let it sit for about 10 minutes before sprinkling a little sea salt on top.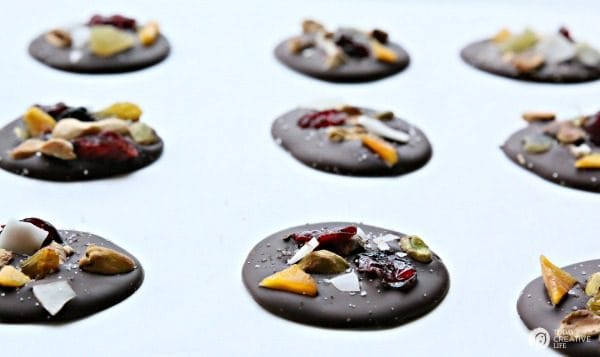 I just love how they look! They look so fancy. No one will guess that they only took about 10 minutes of my time.
I had planned on just stacking them in a clear cellophane bag and tying them with a festive ribbon and my Merry Christmas fox and deer gift tag. Get your free gift tags here.
So easy and so beautiful!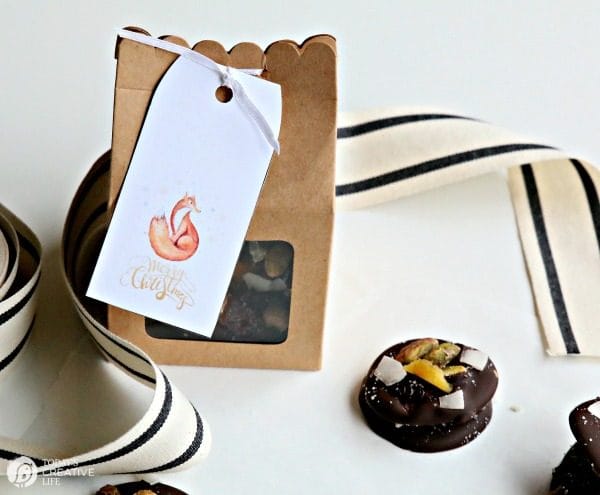 I ended up using these cute little gift boxes I found at Michaels. I adore the scalloped top and they already come with a ribbon. Even easier! Another great way to package is just in a small canning jelly jar.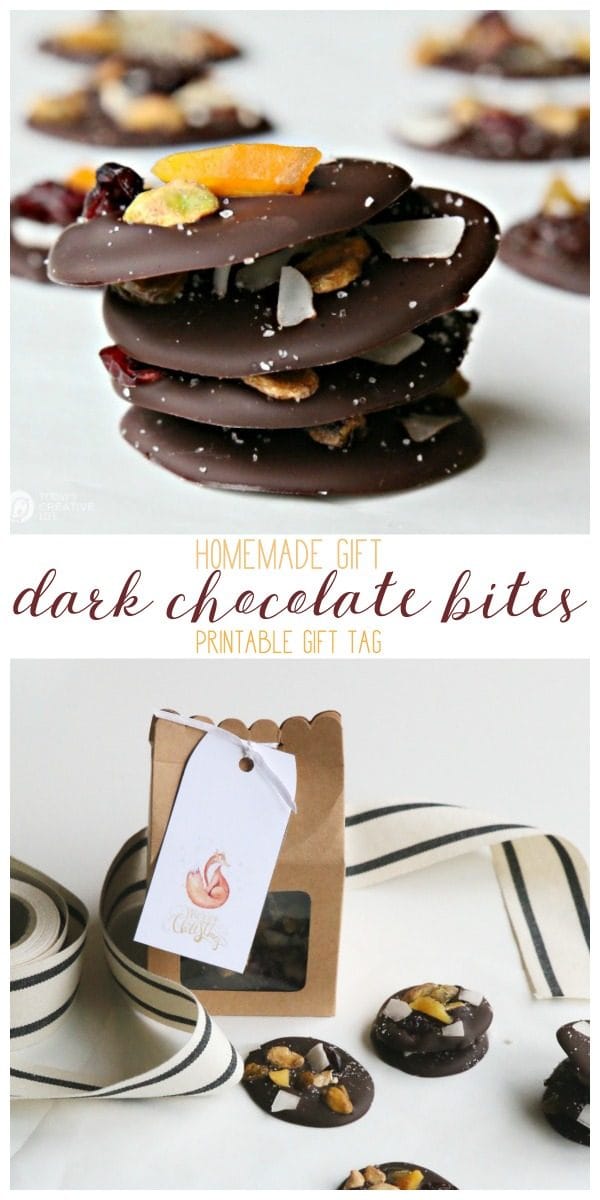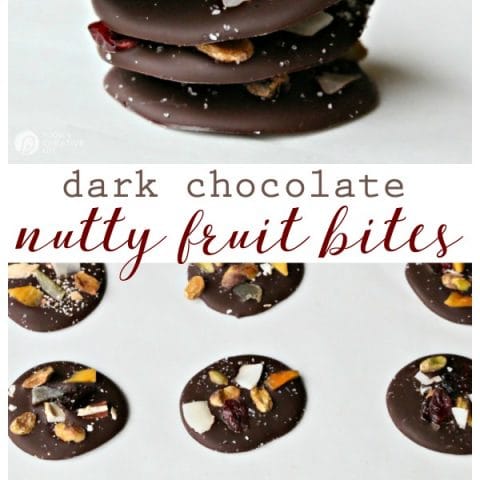 Dark Chocolate Fruit and Nut Bites
Prep Time: 10 minutes
Total Time: 10 minutes
Ingredients
Dark Chocolate bars - 4 or 5
Variety of dried fruits and nuts - whatever you like
sea salt
Instructions
Assemble your fruits and nuts on a plate. Break up larger nuts and slice larger fruits.
Break up and melt the chocolate bars in your microwave in 30-second intervals. Stir at each interval.
Once the chocolate is melted, use a small ladle to scoop and pour the chocolate onto parchment paper.
Start placing the fruits and nuts onto each chocolate disc.
Let sit for about 10 minutes before sprinkling a small amount of salt onto each disc.
Let them sit for at least 2 or 3 hours before stacking for gift giving.
---
Find more creative gift ideas, free printable gift tags and holiday ideas on Today's Creative Life.
Easy Christmas Ideas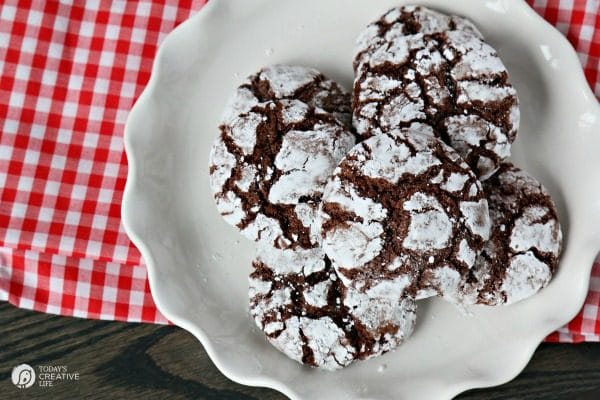 Chocolate Crinkle Cookies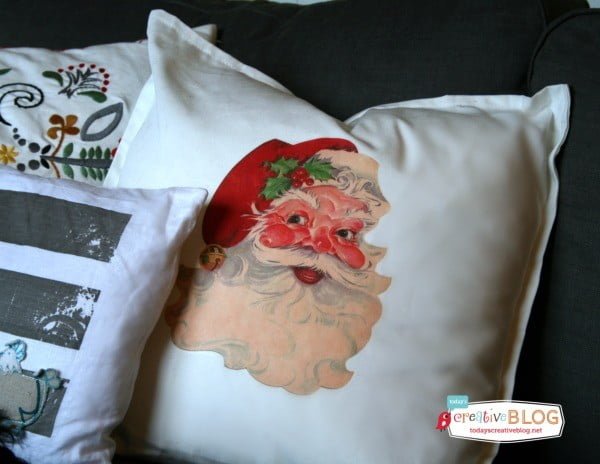 DIY Santa Pillow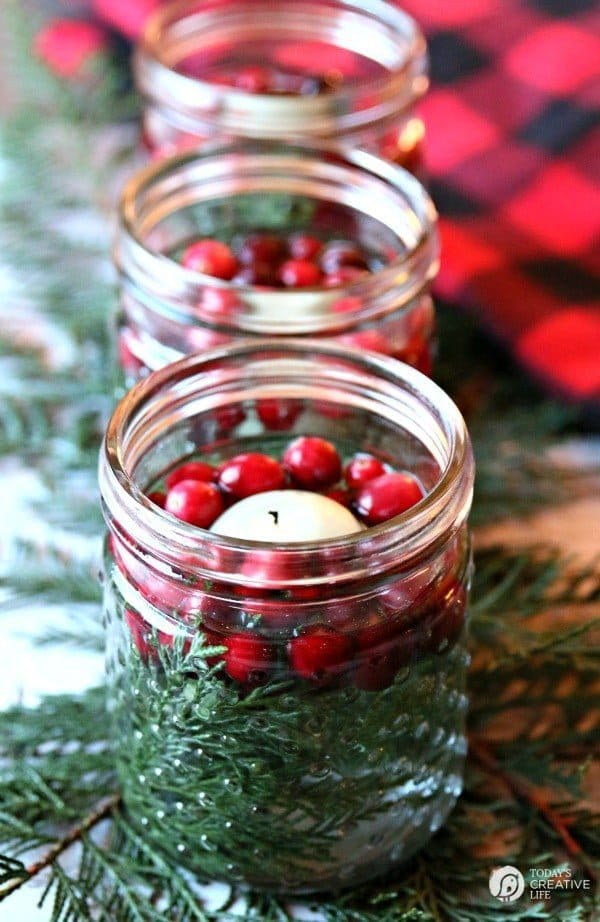 5 Minute Christmas Luminaries