Clam Dip is best when it's homemade and this Clam dip recipe is so EASY to make! This will become your "go to" party dip, for all your party planning, or just game day snacking! See 20 more Dip Recipe Ideas here.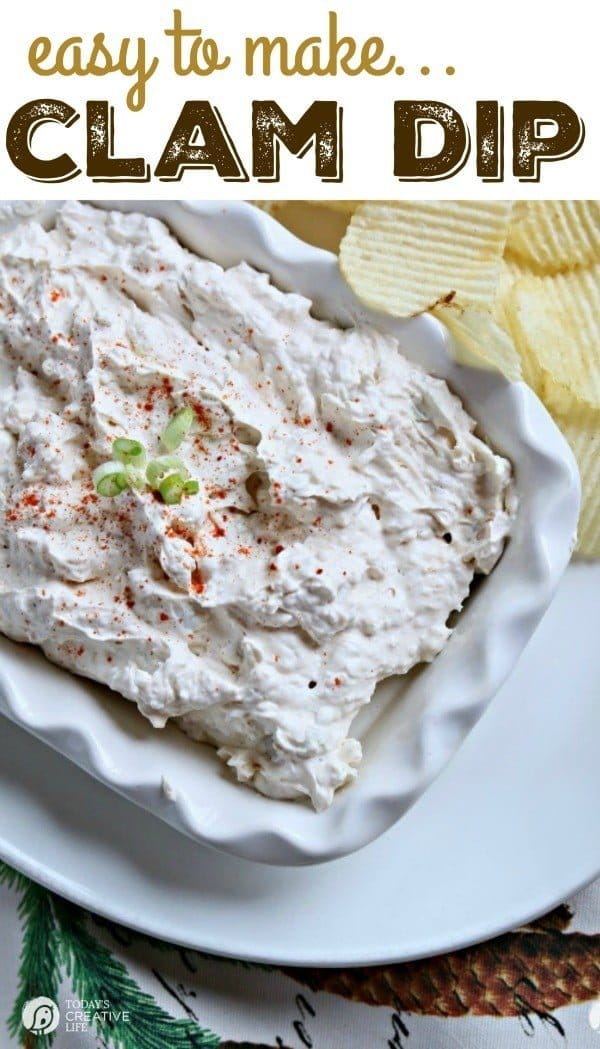 Clam Dip Recipe
I had two holiday parties this year and I served it at both! And both nights brought compliments! It was so easy to make a couple of days before and stored well in the fridge until I was ready.
If you're needing to take a dish for any kind of party, dips are a great way to go. Easy to transport, everyone loves them and they're easy! This dip is loved by many! I need to try this artichoke crab appetizer next!
Because everyone loves a good dip, you'll have to also try one of my current obsessions, Crock Pot Apricot Brie Dip. Yum!
I love fantastic ideas that don't require a lot of time or steps. Who does, right? This clam dip is one of those "mix it all together" recipes that turns into the most wonderful creamy party dip you'll ever need. It's a pretty forgiving recipe, so if you'd like to add ingredients, go for it!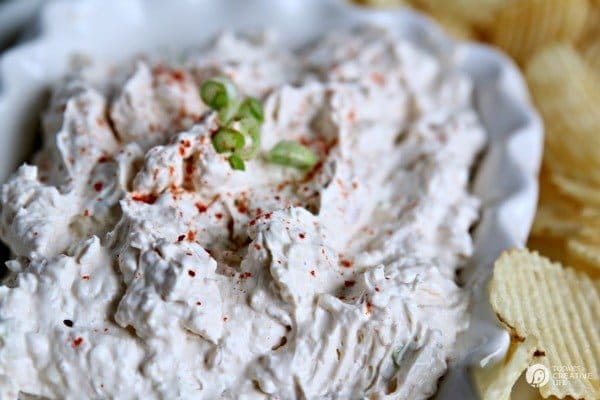 Clam Dip with Cream Cheese
The only prep that would help, is having your cream cheese around room temp. I seem to always forget that part and it still turns out, so if you also forget, just carry on and make the dip!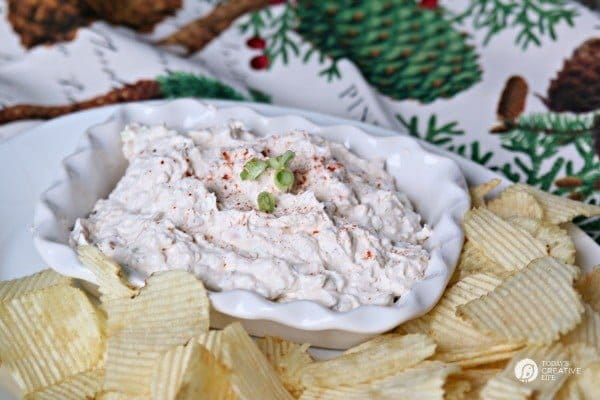 Clam Dip with Sour Cream
Place your brick of cream cheese and about 8 oz. sour cream in a mixing bowl. I used my kitchen aid mixer, but you could use an electric hand mixer instead. Chop up a few scallions, add Worcestershire sauce, lemon juice, pepper, onion powder, smoked paprika and a can of clams, mix it all up until it's smooth.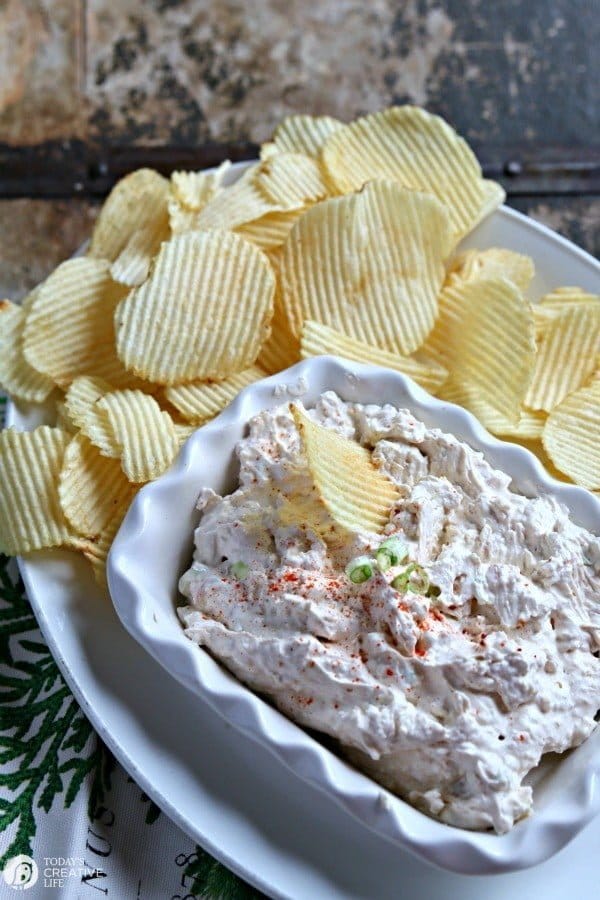 After you mix it all up you should probably take a taste, just to make sure. Keep in mind that the flavors will come alive if you allow it to sit in the fridge for a couple of hours before serving. I could eat it with carrots, but there's nothing like a salty ruffles potato chip that really adds to the overall taste.
Because I've made this a couple of times in the past month, I've learned that it's easier to make sure you purchase minced clams. In my rushed holiday shopping at Trader Joe's I grabbed a couple of cans of clams, got them home, opened them…… only to see they were whole. Not that big of a deal, I just grabbed a knife and chopped them up myself.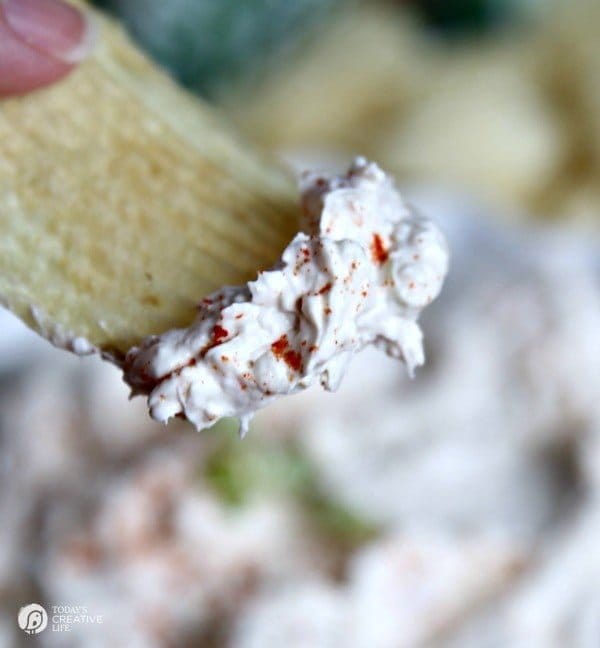 I love that this recipe can be altered to your personal taste. If you like a little extra crunch, you can add diced celery.
Another great option is to sprinkle crumbled bacon on top. Everything's better with bacon.
The best chips to serve are a ruffled thicker chip that will stand up to the dip and not break while scooping. That hint of salt with the dip is what dreams are made of.
I'd keep this dip recipe on hand year round. It's perfect for game day, summer BBQs or just snacking.
Enjoy!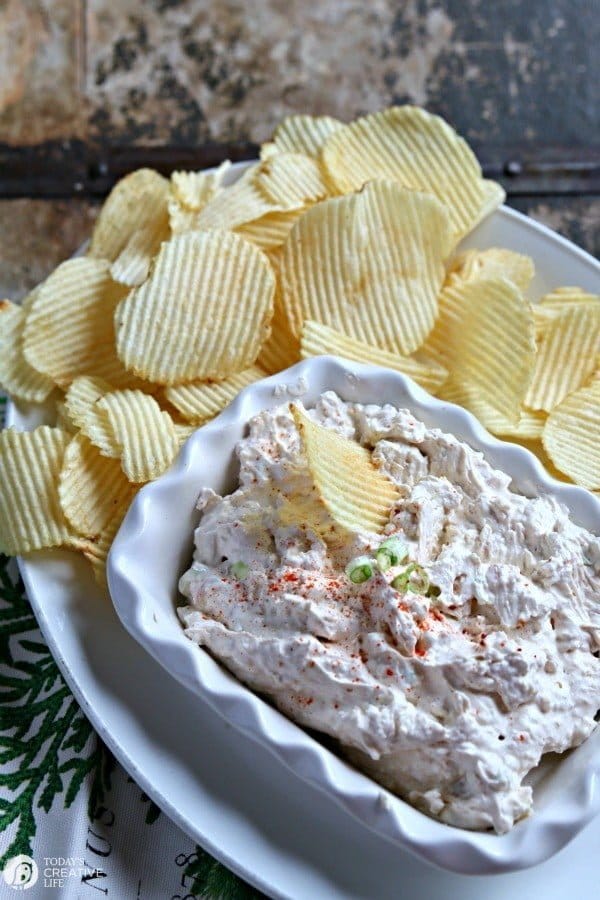 Who's ready to party?
How to Make Clam Dip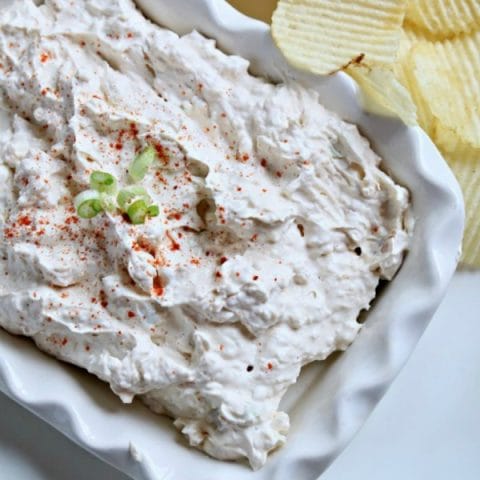 Clam Dip Recipe
Yield: 3 cups
Prep Time: 10 minutes
Total Time: 10 minutes
Cream cheese, sour cream, clams and more! This delicious recipe is always a hit.
Ingredients
1  8-ounce brick Cream cheese, softened
1 cup or 8 ounce container Sour cream
1 1/2 teaspoon Worcestershire Sauce
1 teaspoon Lemon Juice, bottled or Fresh
3 or 4 Scallions or Green Onions, chopped
1/4 teaspoon Pepper
1/2 teaspoon onion powder
1/4 teaspoon smoked paprika
1 can chopped Clams, drained, but save a little juice to add to the recipe (2 cans if you really like clams)
Instructions
Place your softened cream cheese and sour cream into your mixing bowl. Mix until smooth with an electric mixer.
Add all other ingredients and mix well.
Let it chill for at least 2 hours, although I always eat some right away and it's still delicious.
Serve with a thick potato chip like Ruffles.
Nutrition Information
Yield 12
Serving Size 1/4 cup
Amount Per Serving
Calories 128
Total Fat 10g
Saturated Fat 6g
Trans Fat 0g
Unsaturated Fat 3g
Cholesterol 35mg
Sodium 171mg
Carbohydrates 6g
Fiber 0g
Sugar 4g
Protein 4g
Nutrition information isn't always accurate.
If you make this, share it on Instagram and tag @TodaysCreativeLife
Appetizer Recipe Ideas
Easy to make delicious appetizer ideas.
Variations:
Add a cup of chopped artichoke hearts and green onions.
This chunky Southwestern salsa is a great party appetizer too!
Quick, Easy and DELICIOUS!
Easy to make 3 ingredient appetizer with cocktail shrimp, cream cheese and cocktail sauce.
Easy to make using puff pastry, garlic, butter and parmesan! Great with salads and soup or take as an appetizer.
This slow cooker dip is easy to make ahead of time!