The best party dip you'll ever make is this Hot Cheesy Bacon Dip! Cream cheese, lots of bacon, lots of cheese and the perfect blend of seasoning keeps you coming back for more!
I should NOT have this in the house. Good thing my husband and son love this dip, so it will be gone soon. This Hot Cheesy Bacon Dip is THE perfect party food. It's bacon after all! And Cheese!
Hot Cheesy Bacon Dip – Football Food!
Don't have time to read the whole post? Click Hot Cheesy Bacon Dip to pin it for later!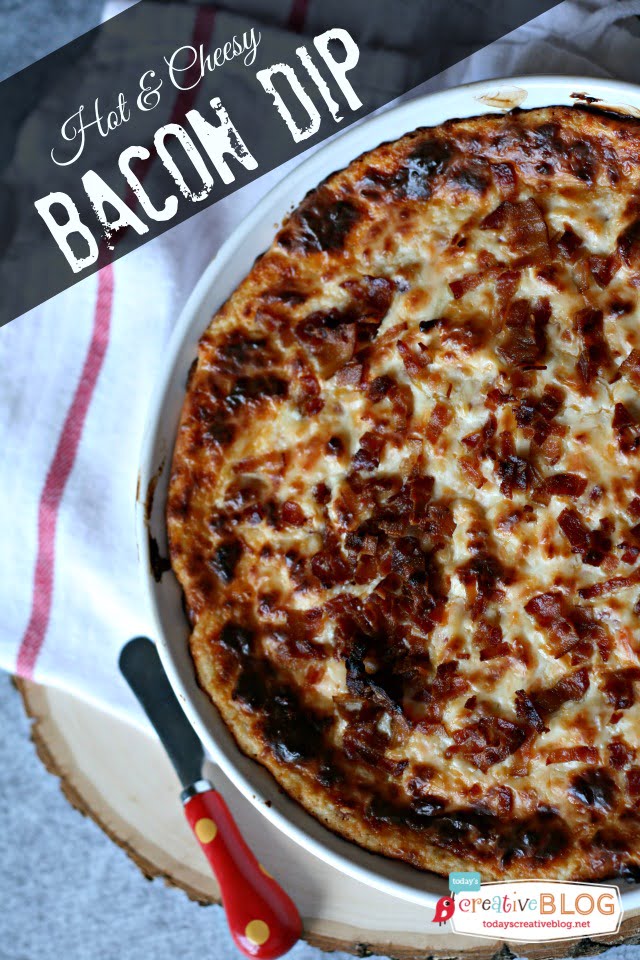 Perfect for tailgating, super bowl, any kind of party actually. This dip is very similar to the Cheesy Jalapeno Dip I made earlier. Is there anything you can't mix with cream cheese? I could roll in the stuff.
Even when this stuff cools down, it's still amazing. I'm not talking ice cold, but you know what I mean.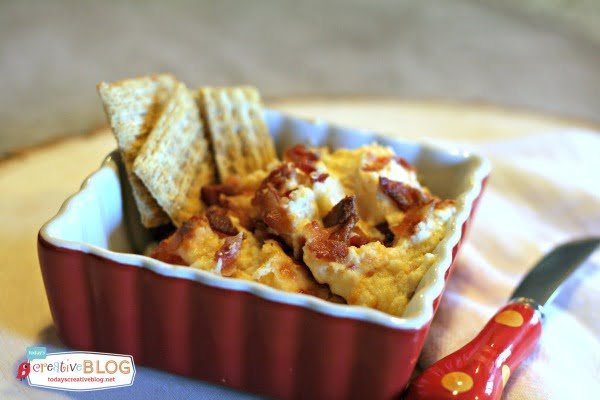 You can dip chips, crackers, triscuts or Frito's…….I suppose you could even dip vegetables. At least you'd be making an effort.
Just put this dip on the party table and watch it disappear as people scoop it up eating it like it's their last meal. If you want to be the hostess with the mostess or the super mom or wife on the block. MAKE.THIS.DIP!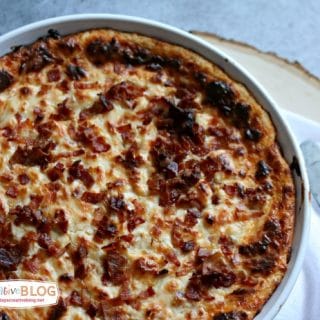 Hot & Cheesy Bacon Dip
Yield: 6
Prep Time: 10 minutes
Cook Time: 25 minutes
Total Time: 35 minutes
Variations:
Add a cup of chopped artichoke hearts and green onions.
Ingredients
2 softened bricks cream cheese (I took mine out about 5 min before and it works just fine)
4 cups sharp cheddar cheese
16 oz sour cream
8-10 cooked bacon strips
1 tablespoon worchestershire sauce
1/2 teaspoon onion powder
Instructions
Combine all ingredients, except a quarter of the bacon (chop your bacon). Save some bacon for the top.
Mix well until well blended. I used my Kitchen Aide.
Pour into a baking casserole dish and top with the remaining bacon.
Bake at 350° for 20-25 minutes.
Serve with chips, crackers, veggies.
Nutrition Information
Yield 6
Amount Per Serving
Calories 0
Total Fat 0g
Looking for more game day recipes: