Cream cheese, jalapenos and more cheese make up this Jalapeno Cheese Dip. This easy to make appetizer hot party dip is always a hit for any potluck.
This jalapeno cheese dip recipe is from a girlfriend who got it from a girlfriend…… full of cheese, cream cheese and of course, jalapenos!
During one of our holiday parties, a friend brought this baked Jalapeno Cheese Dip. I stayed away from it most the night thinking it was going to be WAY too spicy. If I hear Jalapeno, I instantly think it's going to burn my taste buds off. I'm a spice wimp. I also didn't want to chug my Winter sangria.
After hearing everyone rave about it, I grabbed a cracker and tried it…….OH. MY. GOSH! So good! It reminds me a little of my Buffalo Chicken Dip with just enough kick!
Jalapeno Cheese Dip Recipe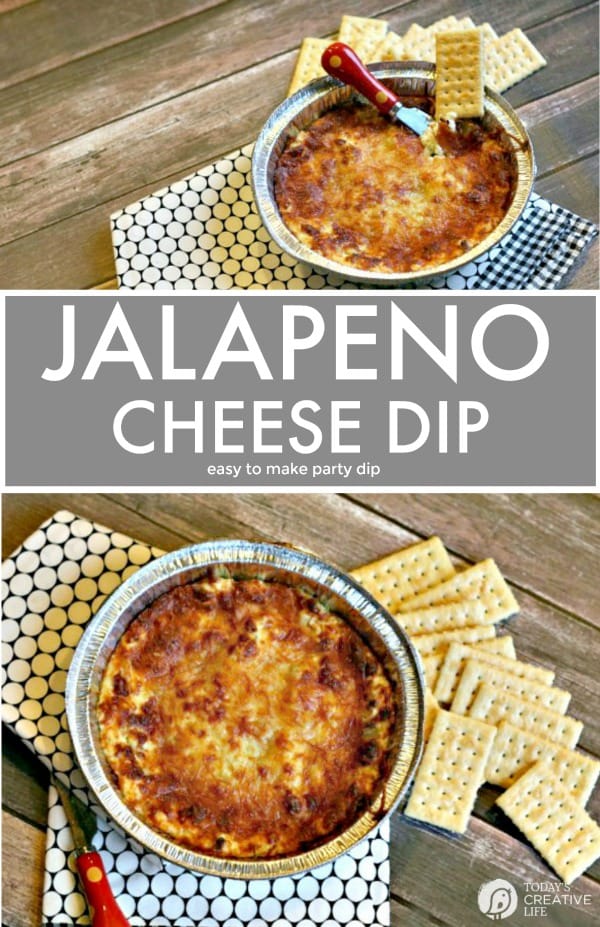 The only thing good about trying it so late in the party was that I was pretty full. Otherwise, I'm sure I would have eaten the entire dish…….. and my rear end doesn't need that much cream cheese.
This dip would be perfect for any party or gathering! Great for New Year's Eve, Super Bowl, Bunco night, etc… . I made mine in those little tin foil dishes that have the cardboard lid……I found them at the Dollar Store. Easy to transport if needed. My recipe makes enough for 2 of these, so I gave one to my neighbor. She loved it!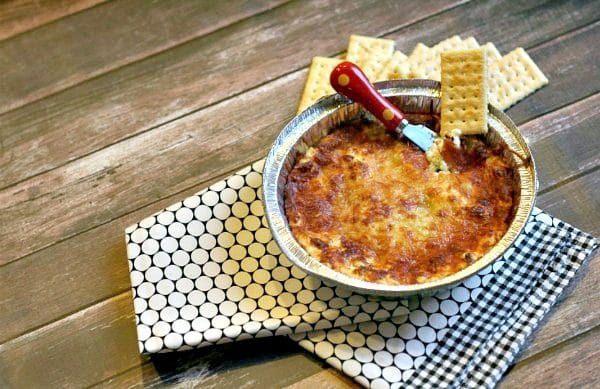 I have to admit…..I've never cooked with fresh jalapeno peppers before. I've heard all the horror stories of getting the oils on your hand, then wiping your face…..OUCH!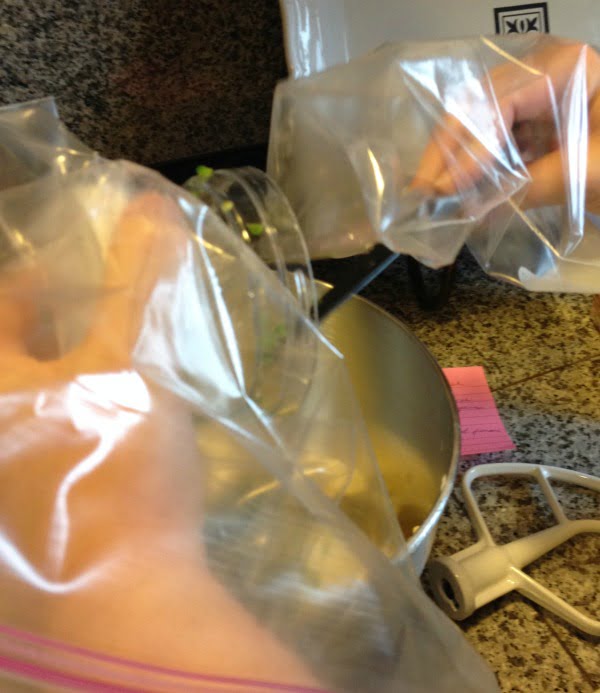 Of course, I didn't have any new dish gloves, so my husband suggested I use plastic bags. This is what paranoia looks like while scooping the chopped peppers into the bowl.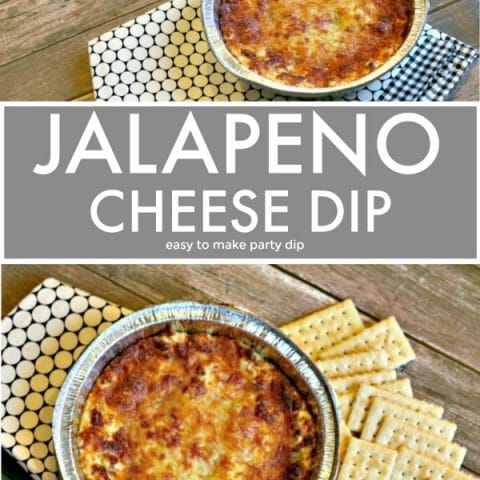 Jalapeno Cheese Dip Recipe
Yield: 8
Prep Time: 10 minutes
Cook Time: 25 minutes
Total Time: 35 minutes
Party perfect warm Jalapeno Cheese Dip is easy to make. Serve with crackers or sliced baguettes.
Ingredients
2 packages of cream cheese - let it set out so it's almost room temp
1 cup mayonnaise
1 cup shredded Monterrey jack cheese
1/4 cup diced jalapeno peppers - omit the center
1 small can diced green chili's
1 cup Parmesan cheese
Instructions
Set your oven at 400 degrees
Mix all ingredients into a large bowl except for the Parmesan cheese.
Mix well - I used my electric mixer.
Spread and press into a pie plate
Sprinkle Parmesan cheese on top.
Bake for 25-30 min.
I hit the broil for the last 3-5 min to really brown up the cheese.
Your dish will slightly be bubbling along the sides and the top is browned.
Enjoy!
Notes
If you're in a pinch, you can use a can of green chilis instead of fresh jalapeno peppers.
Nutrition Information
Yield 8
Serving Size 1
Amount Per Serving
Calories 379
Total Fat 37g
Saturated Fat 12g
Trans Fat 0g
Unsaturated Fat 22g
Cholesterol 59mg
Sodium 567mg
Carbohydrates 4g
Fiber 0g
Sugar 1g
Protein 9g
We do our best to calculate, however, nutrition information may not be accurate.
Another delicious party dip is this Cheesy Hot Crab Dip. You could probably even add crab to this Jalapeno Cheese Dip recipe.
Can you Reheat Jalapeno Cheese Dip?
Yes! It's best served warm, right out of the oven, but if you need to store it in the fridge and reheat for later, it will still be delicious!
What do you Dip in Jalapeno Cheese Dip?
Anything you'd like!
crackers
baguette slices
carrots,
chips
Use your imagination and serve this with a variety of options.
Can you make this Low Fat?
Sure. Just substitute low-fat cream cheese for regular.
Can You Omit the Jalapenos
If you're worried about this hot dip being too spicy, trust me, if I can handle it, most everyone can. You can also use canned green chili's instead if you don't have any fresh peppers.
Easy Dip and Appetizer Recipes
Simple ingredients & easy to make appetizers and dips.