If you're hosting a tailgate party at home this year, I've got the perfect solution for Game Day Simple Tailgate Food Ideas! A full variety for a delicious spread of football food! I'm all about less work and more fun, all the while saving money!
Entertaining can seem overwhelming, but these simple tailgate party tips and ideas will save time, money and stress! Let's ALL enjoy the party, even if it's just your own family.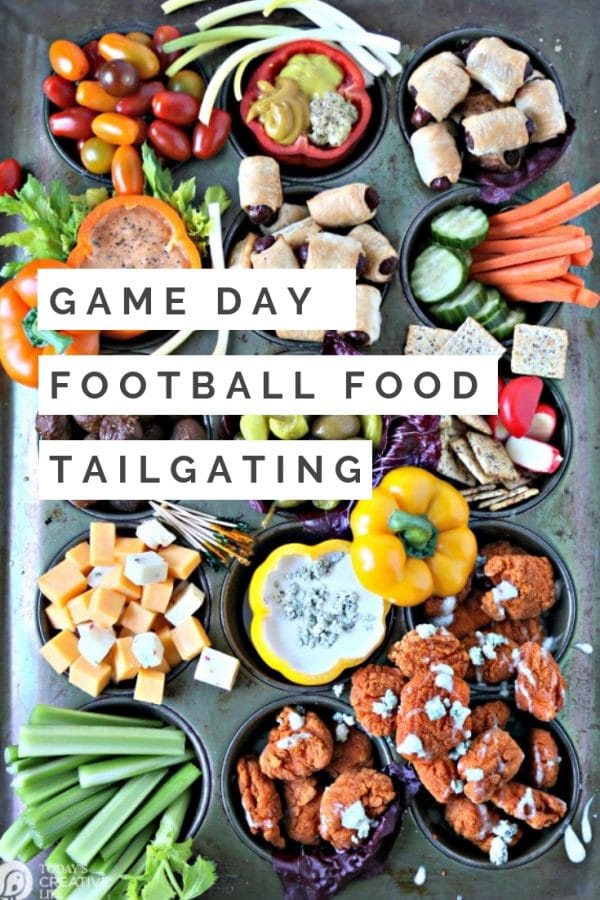 Simple Tailgate Food Ideas
I wanted to create something similar to a charcuterie board, but with game day foods. I started searching for an extra-large platter or board in all my serving ware and nothing seemed big enough for what I had in mind. My girlfriend who was here from out of town suggested I use something unexpected and that's when I remembered I had an industrial-sized muffin baking pan that would be perfect for dishing up a variety of simple tailgate food ideas and football snacks in a fun and festive way.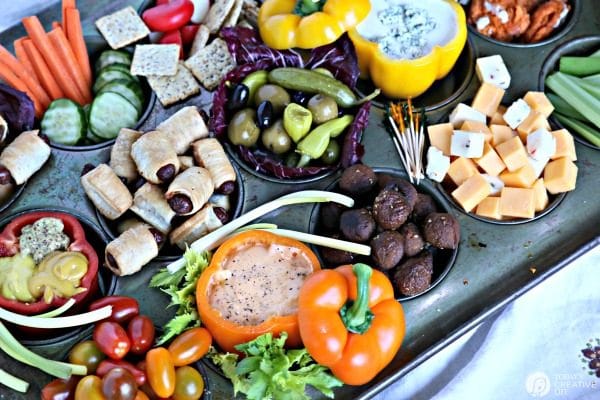 Since our tailgate party was at home, this was something I could place right on our trunk that acts as a coffee table, without overcrowding the space with multiple platters of snacks. Plus it was unique, interesting, and really functional!
You gotta think outside the box sometimes!
I filled my new tailgate football party food platter with a mixture of tastes, textures, and colors. You'll be amazed by how creative and delicious it will turn out.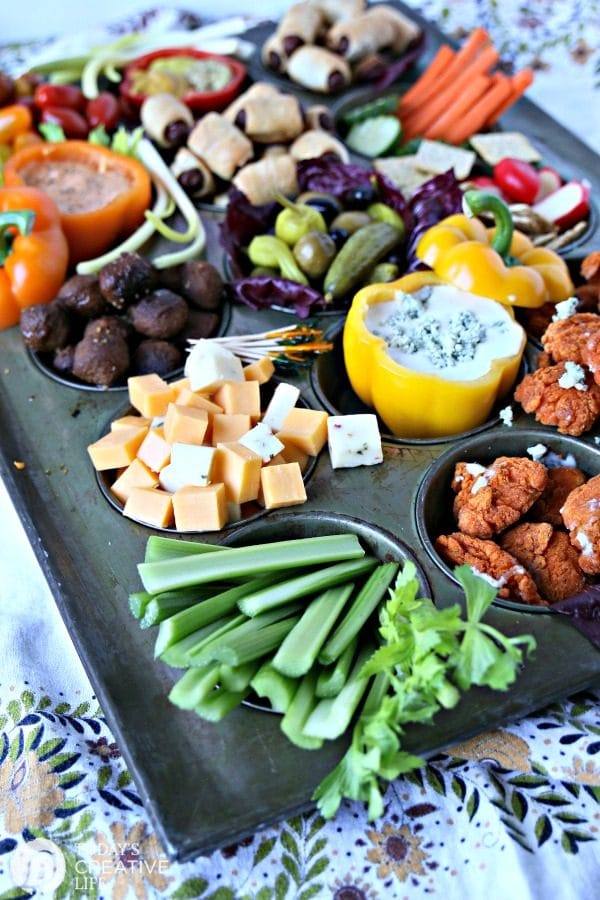 Football Food Finger Foods
Hearty Foods – you gotta have something meaty. I chose chicken wings, wrapped smokies, meatballs and cheese cubes. Add tongs or toothpicks so they can grab what they need. These will usually go first, so have extras ready to refill.
Veggies – Make the vegetables easy to eat. Slice everything for easy grabbing.
Dips & Condiments- People love to dip foods, especially party food! Whether it's chips, vegetables, crackers or wings… dipping choices are key.
Crunch – Add a variety of textures for crunch!
Of course, it's always a great idea to have a few large bowls filled with chips & popcorn and bottled water.
Be sure to offer small paper plates and napkins. I keep it simple with plain white, but you can always go all out and use your team's colors. If you have extra time and energy, here are some game day printables for easy party decor.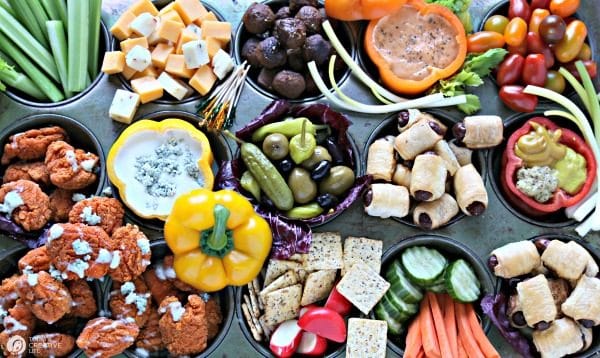 ---
How to Host a Tailgate Party
Plan your menu. Do you want mostly dips and finger foods, or do you want to serve a main dish like Hot Dogs with Chili Sauce with sides? If you're serving a few hot dips, you'll want one of those slow cooker trios.
Stock up on paper products. I created a Party Pantry a few years ago. I have a selection of napkins, paper plates, plastic cutlery in a variety of colors and designs to fit a number of events. See my Party Pantry here.
Drinks – Will you be serving bottled water or soda? Beer or cocktails? Or something in a drink dispenser? Figure out where you'll put them, and if you need ice or a cooler to keep them cold etc…
Team Spirit! Go all out with a football decor. I have a few printables for game day in the Printable Vault. Game Day napkin rings are really fun!
Mind the Trash! Whenever there's a gathering with paper products, there's always more trash than expected. I always have a dedicated trash can, one for garbage and one for recyclables.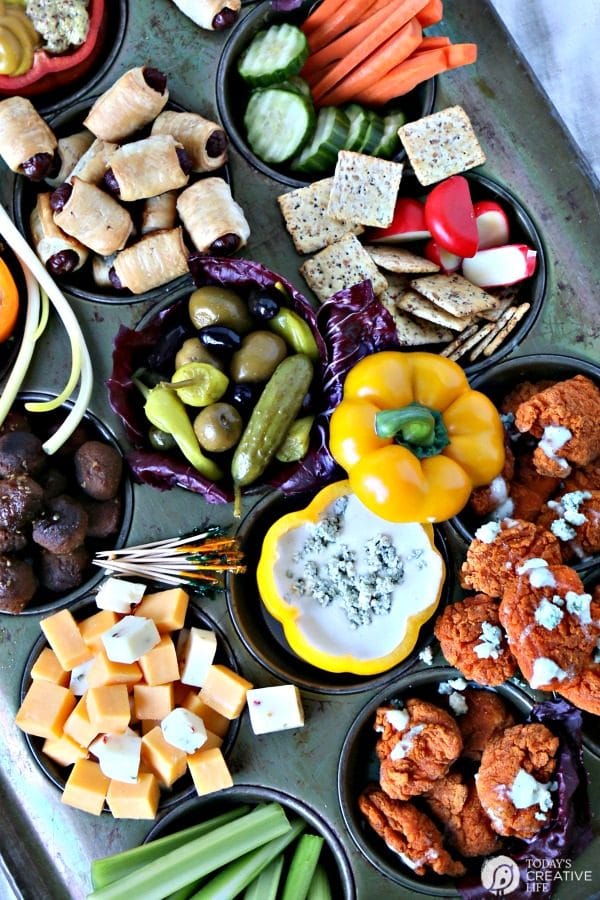 I hope my Simple Tailgate Food Ideas inspire you to create your own smorgasbord.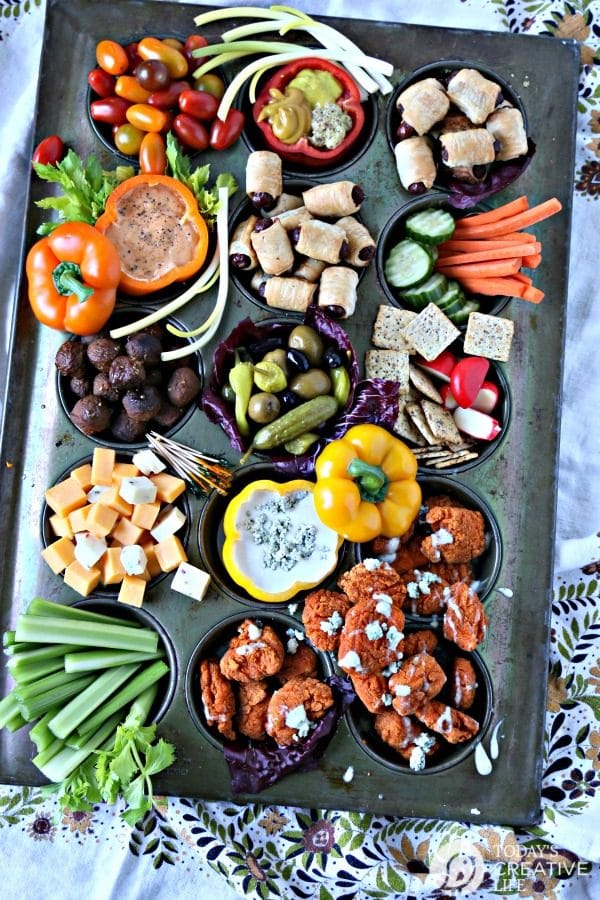 Keep your entertaining simple, so you can also enjoy the day!
Easy Appetizer Recipes
Easy to make, delicious appetizer recipes for holiday parties, potlucks, or BBQs.
The combo of this corn salsa with melted brie is AMAZING! Easy too.
Simple ingredients for an easy appetizer.
Everyone loves a Cheese Ball!
Just the right amount of spice! Perfect for potlucks or game day!
Quick, Easy and DELICIOUS!
This layered hot dip is great served with crackers or sliced baguettes.
Crock Pot Spinach Artichoke dip is an easy recipe for your slow cooker. A hot cheesy dip that's perfect for BBQ's and game day food. An easy appetizer that everyone loves!
There is nothing like homemade clam dip! Fresh, creamy and always a hit.
This hot dip is cheesy and full of bacon bits. Add extras like onions, artichoke hearts etc..