This isn't your typical Party Pantry that's filled with handy food items you may need at a moments notice, this is a Party Pantry for Party Supplies!
With a teen boy living in the house, I've learned to have a variety of paper supplies on hand. Great for planning teen parties and it keeps my good dishes (breakable) from being taken downstairs into the Teen Hangout.
Party Pantry for Party Supplies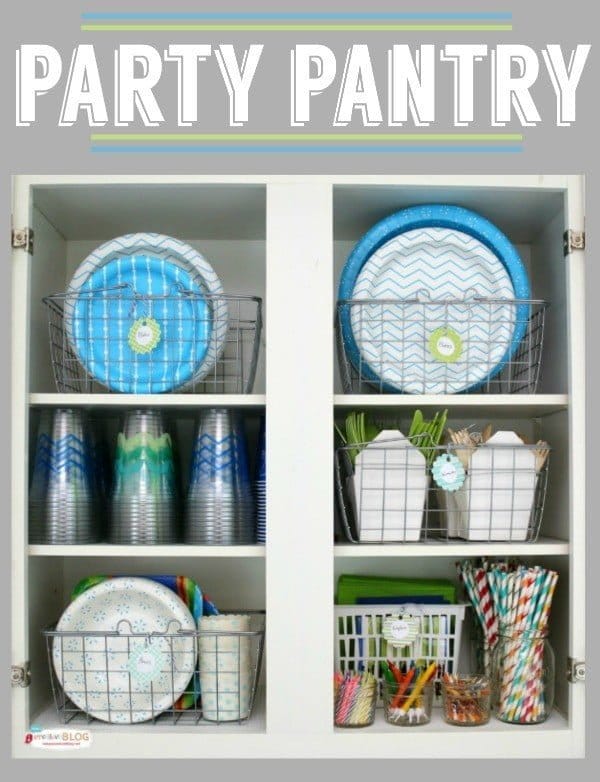 I have also found it's handy to have cutlery, dessert plates and birthday candles. Seems like I was always forgetting the candles. Being organized will save you money and your sanity! Once I started to clean out one of my drawers, I found 5 packs of candles.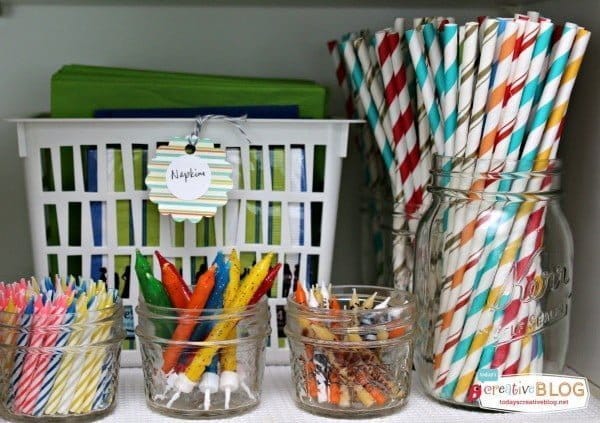 And let's talk plastic cutlery……..sheesh! Seems like you can never find it when you need it. Or you have a ton of plastic knives and no forks or a box that's half empty with only a couple of items.
I now keep it all together so I can see what I have. Right now I have a mixture of forks, knives and spoons in each container, but I may organize a couple of containers for all spoons or all forks. We'll see how it goes.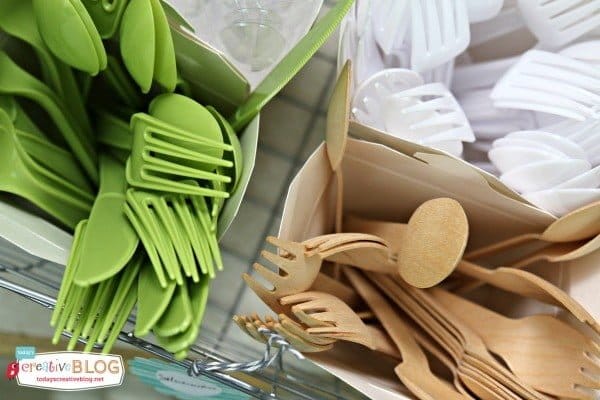 Any container works, but since I have a large supply of these Chinese Take out Boxes, they are nice for so many uses. I've used them for gift boxes, for Left Over Food Take Home boxes and holding party favors.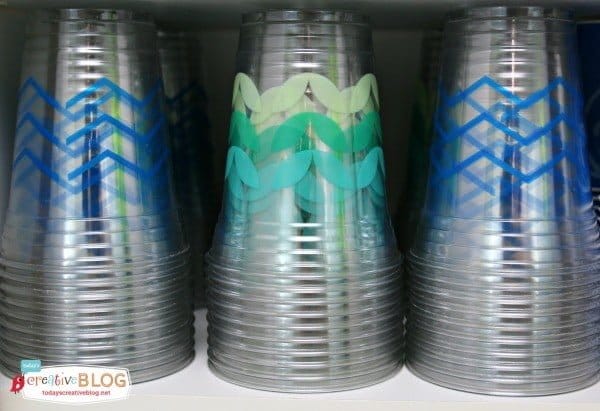 I stocked my Party Pantry with the most used items for quick grabbing. Even though I have picked up themed holiday plates in the past, I have found it easier and less wasteful to buy a generic color or even a few colors that can be used year round. I do admit, I have a large stack of left over themed plates and napkins not photographed here…….because it just wasn't pretty. Keep your patterns generic too. This way you can mix and match.
Red = Valentines Day, Christmas, 4th of July, Memorial Day, Labor Day, Birthdays
Blue = 4th of July, Birthdays, Labor Day, Memorial Day
Yellow = Easter, Spring and Summer events, Birthdays
Green = Spring, Summer, St. Patrick's Day, Birthdays
Orange = Halloween, Thanksgiving, Birthdays

Party Pantry Paper Supply List
I've set my cupboard up in my laundry room so I can send my son upstairs (yes, our laundry room is upstairs) to find what I need quickly. He can just take out each wire basket or jar to transport downstairs. (I found my wire baskets in the dollar section of Target for $3)
Would it be better to have in my kitchen? Yes, it would, if I only had a spare cupboard. I make due and used a cupboard that wasn't really being used in my laundry room.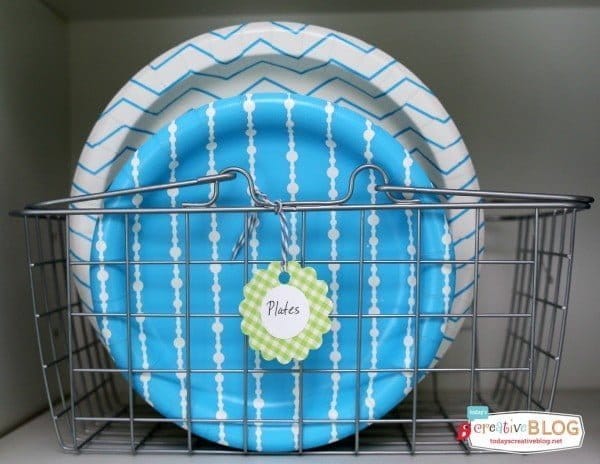 I've even labeled each tote, so he can't mistake what I need.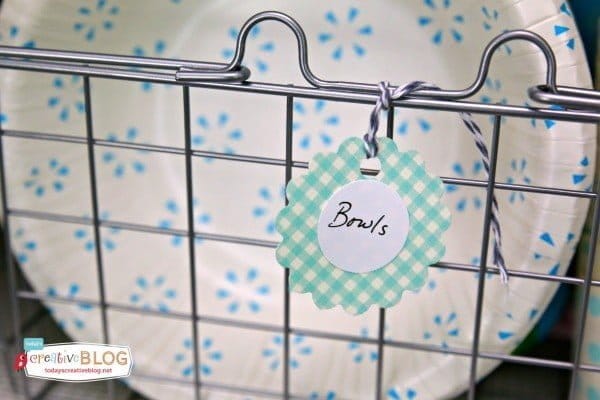 I found generic scallop labels on World Label in the colors I wanted. These were actually part of an Easter series full of free printables for Easter.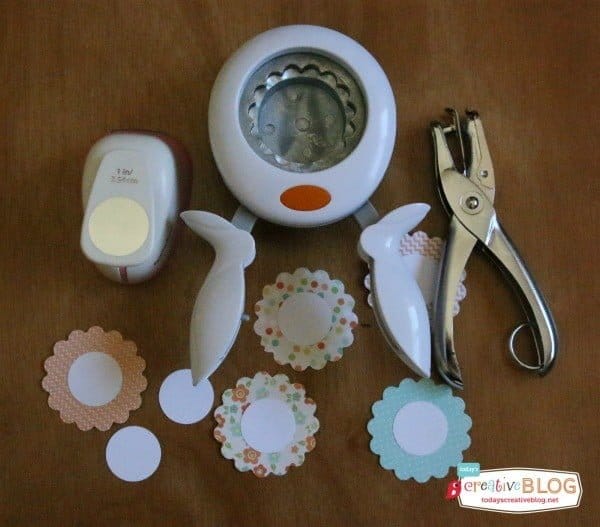 I printed them on cardstock and used my scallop punch. I used a smaller circle punch to punch a few circles from white cardstock and pasted it to the middle. I wrote what I needed on each circle, punched a hole to thread the twine through and tied one one each basket.
I find so many great printables on that site!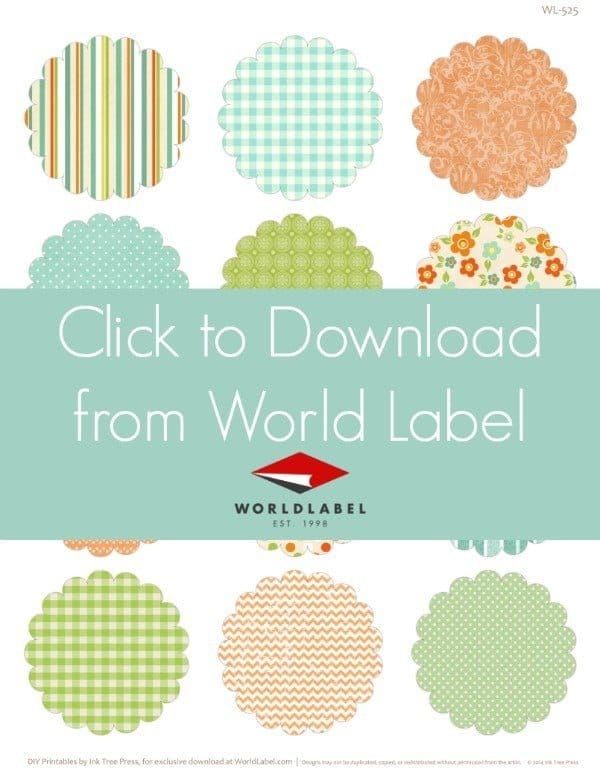 I also love that they list exactly the type of papers and label sheets I would need. For the Easter Series, it shows these products. Like the circle labels I offered at Thanksgiving, they came already cut. No paper punch was needed. Simple print and peel.
To print use Worldlabel.com Products:
Makes it nice knowing what you need if you're looking for adhesive backed and pre cut papers.
To get started in building your supply, just head to your local dollar store or Target. I found all the coordinating plates, bowls, cups all at Target. They have their Cheeky Line that I mentioned earlier as well as all their others like I have.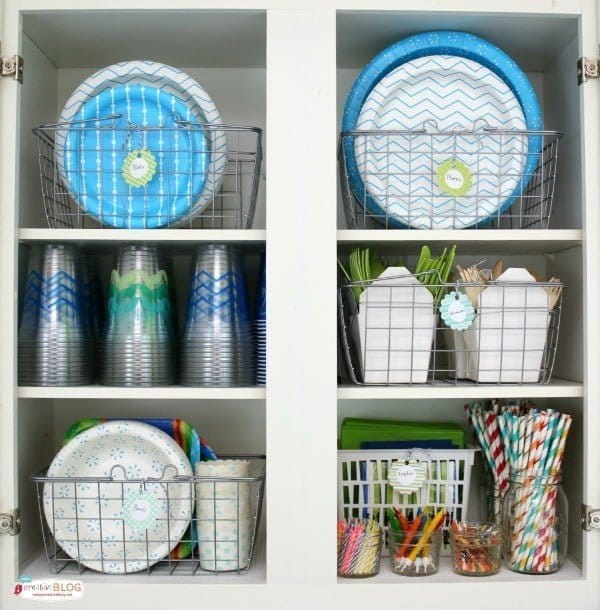 They make it easy to be matchy matchy and I like that they can be used for many events.
Even if you don't have a full cupboard to dedicate to party supplies, maybe just fill a basket or tote and place it in a closet somewhere. You'll be happy you did.
See my Pinterest Board full of Party Ideas!
Follow Kim Demmon (today's creative blog)'s board Party Ideas on Pinterest.


This post contains affiliate links. These links are for your shopping convenience and cost you nothing extra. It only means that if you do purchase, I may receive a teeny tiny %. This helps pay for cost and upkeep on TCB.