Crockpot desserts are easy with recipes like this Crockpot Vanilla Butterscotch Pudding Cake!
If you're a lava cake kind of person and your idea of the best dessert is a piece of super moist gooey cake, then making a cake in your crockpot is how you do it. This Crockpot Vanilla Butterscotch Pudding Cake is rich in taste and would be divine with whipped cream or a scoop of ice cream.
I've made a few other Crockpot Cakes. Hot Fudge Peanut Butter Brownie Cake, Crockpot Lava Cake and a Slow Cooker Blackberry Cobbler.
Crockpot Vanilla Butterscotch Pudding Cake
If you're looking for a cake that be decorated, this is NOT your cake. This cake is best just scooped right out of the slow cooker, right into a dessert bowl. It takes longer than baking a regular cake, but not as long as a crockpot dinner.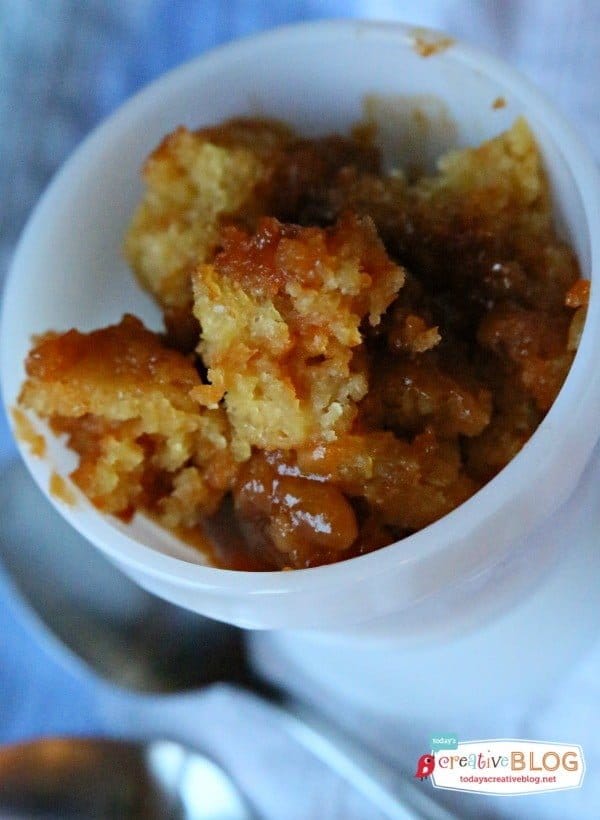 The sauce that you pour on top while putting together your recipe seems wrong….. you question how it's really going to work and then the magic happens. It creates the pudding lava. The delicious scrumptious saucy lava!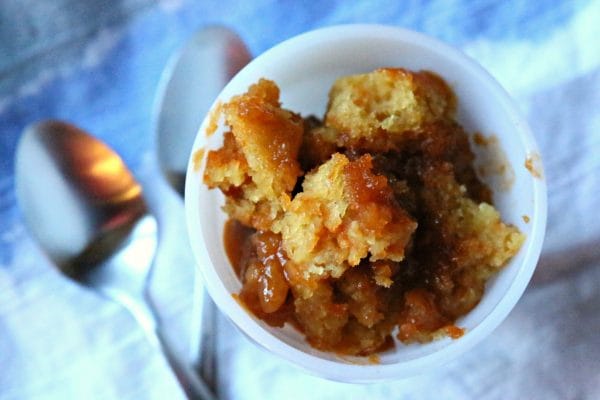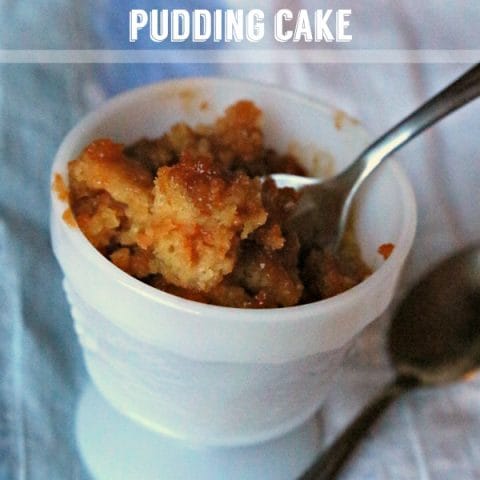 Crockpot Vanilla Butterscotch Pudding Cake
Yield: 8
Prep Time: 15 minutes
Cook Time: 2 hours
Total Time: 2 hours 15 minutes
Easy homemade pudding cake in your slow cooker!
Ingredients
CAKE ingredients
1 cup all-purpose flour
1 box (4.5 oz) of cook and serve vanilla pudding mix (a 3 oz. box will also work if that's all you have)
1/4 cup sugar
2 teaspoons Baking Powder
1/4 teaspoon salt
3/4 cup milk
2 tablespoons vegetable oil
1 tablespoon vanilla extract
3/4 cup butterscotch chips
TOPPING
3 tablespoons Caramel or Butterscotch sauce
1/2 cup sugar
1 1/3 cup boiling water
Instructions
Grease the inside of your crockpot with nonstick cooking spray.
In a medium size bowl, combine dry ingredients for the CAKE ingredients. Flour, sugar, baking powder, pudding mix and salt. Stir to blend ingredients.
Pour milk, vegetable oil and vanilla into the center of the dry mixture and stir until smooth.
Add butterscotch chips.
Pour batter into your greased crockpot
TOPPING
Combine caramel sauce and sugar together in a small bowl. Add boiling water and continue stirring until smooth.
Slowly pour over the batter in the crockpot.
Cover and cook on HIGH for 2 1/2 hours. When the center is set, your cake is done.
Turn off your crockpot and let it sit for about 30 minutes before serving.
Notes
I used a 6 qt. Crockpot. Cooking time may vary with a smaller slow cooker.
Nutrition Information
Yield 8
Serving Size 1
Amount Per Serving
Calories 369
Total Fat 10g
Saturated Fat 5g
Trans Fat 0g
Unsaturated Fat 5g
Cholesterol 8mg
Sodium 461mg
Carbohydrates 67g
Fiber 0g
Sugar 52g
Protein 3g
Nutrition information isn't always accurate.
For more Slow Cooker Recipes, follow my Crockpot and Slow Cooker Pinterest board.
Follow Kim Demmon (today's creative blog)'s board Crockpot & Slow Cooker Recipes on Pinterest.

Crockpot Dessert Recipes
Easy to make Slow Cooker Dessert Recipes.