If you like homemade apple crisp, then you're going to LOVE this Slow Cooker Butterscotch Apple Crisp! This apple recipe is perfect fall dessert! Add ice cream for Apple Crisp Ala-mode, or eat it straight out of the crockpot! Made with tart apples, brown sugar, oats, cinnamon, and butterscotch pudding.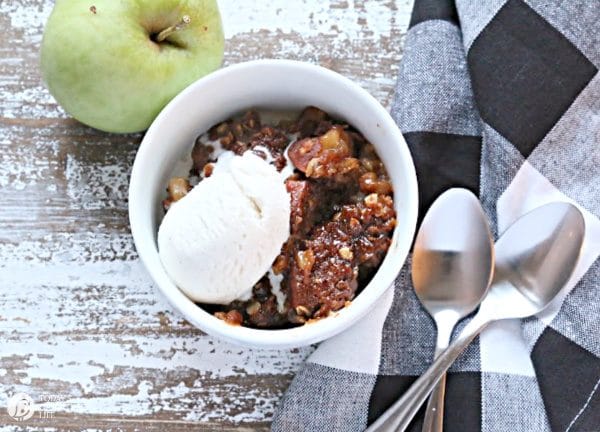 Slow Cooker Butterscotch Apple Crisp Dessert
Crockpot desserts are some of my favorites! Whether it's a slow cooker dump cake or a crustless pumpkin pie… I'm here for it! I love the idea of keeping my oven off and my slow cooker cooking my dessert for later! If it's still warm out, why heat up the house if you don't have to, right? It also frees up your oven for making dinner.
Ingredients for Butterscotch Apple Crisp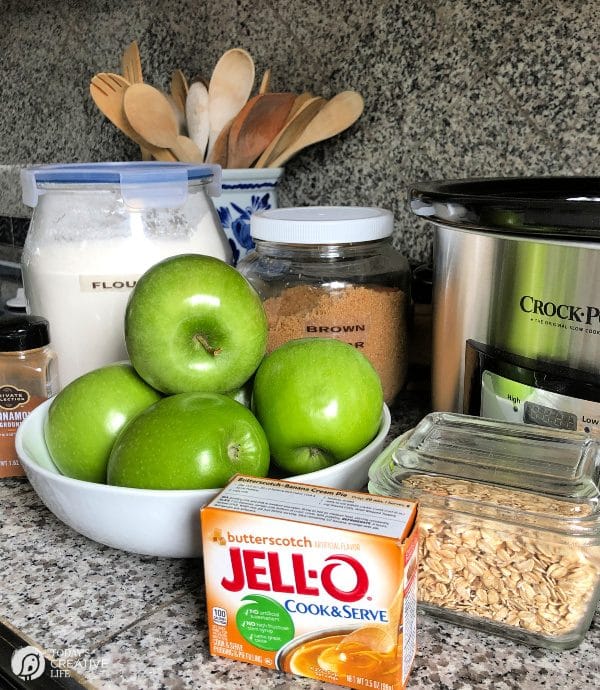 Apples – I should have used my own apple tree as I did for my homemade slow cooker apple sauce, but I ended up picking up this tart bunch at the grocery store.
Butterscotch Pudding
Oats – You can use quick-serve, but I like using regular oats instead.
Cinnamon
Brown Sugar – if you're out, follow my recipe on how to make brown sugar.
Flour – You can use whole wheat if wanted. I haven't tried using other types of flour, so if you do, I hope you'll share it and tag me on Instagram @TodaysCreativeLife.
Butter – I prefer butter, but you can also use margarine.
How to Make Crockpot Butterscotch Apple Crisp
I peeled and sliced about 5 apples before placing in my buttered slow cooker.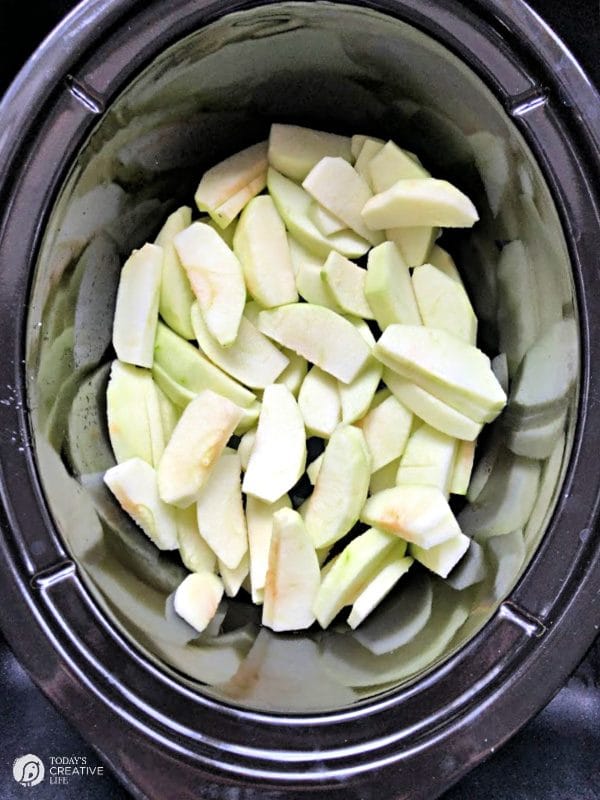 I didn't toss in lemon juice beforehand to prevent browning, but you could if you wanted.
After you mix all the other ingredients in a bowl, just pour it over the top of the apples.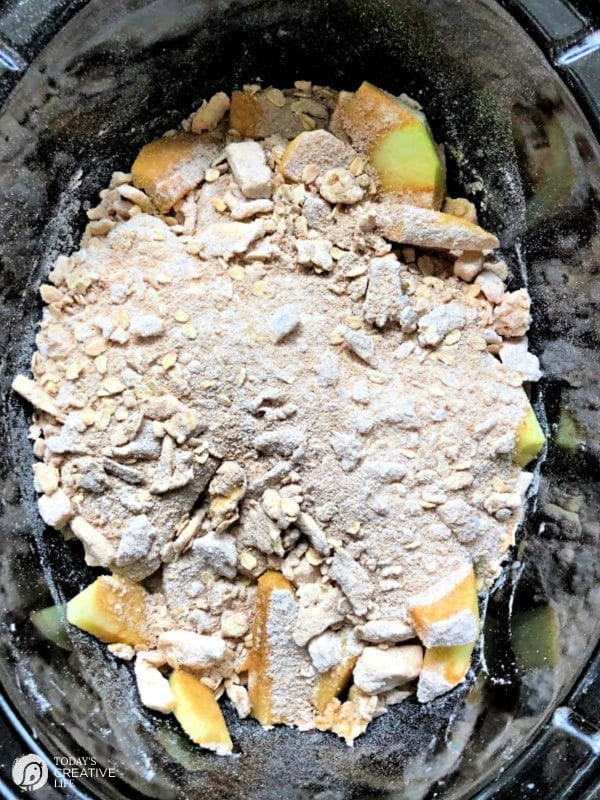 I know it looks kind of dry, but trust in the magic of the apple crisp.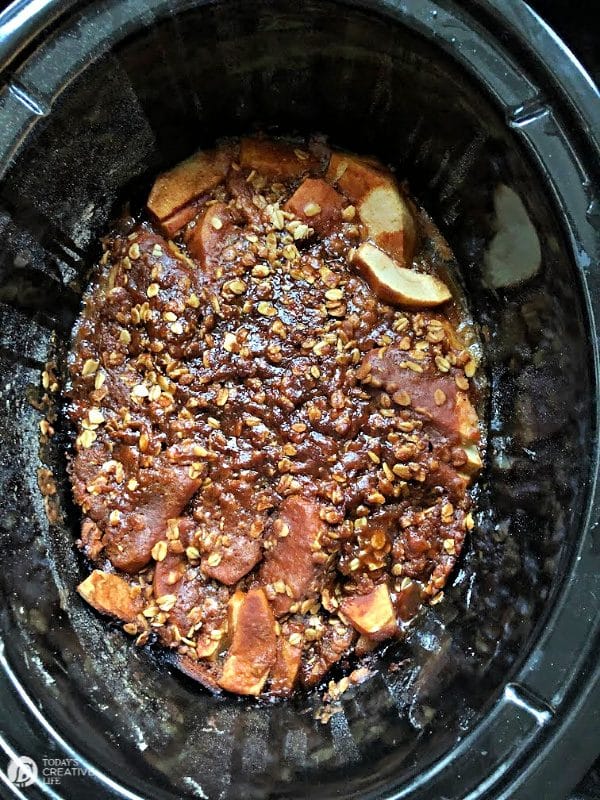 When it's finished cooking, you'll have a beautifully browned dessert!
Serve hot with a scoop of vanilla ice cream. The butterscotch caramel flavor with the apples is delicious!
I suggest eating right away because I've noticed the apples will get a little mushy if left on warm.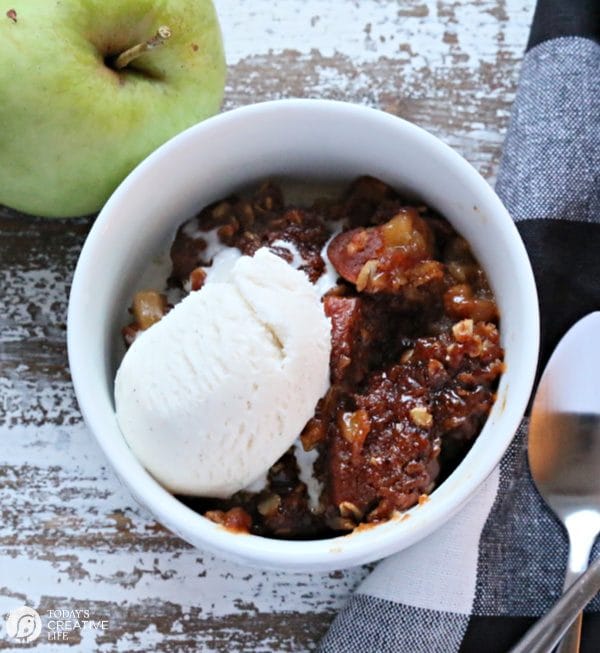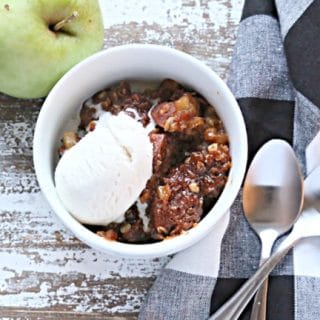 Slow Cooker Butterscotch Apple Crisp
Yield: 6
Prep Time: 10 minutes
Cook Time: 5 hours
Total Time: 5 hours 10 minutes
Easy to make dessert Slow Cooker Apple Crisp with Butterscotch. Serve with vanilla ice cream.
Ingredients
6 cups peeled and thickly sliced apples - about 5 or 6 apples
3/4 cup brown sugar
1/2 cup flour
1/2 cup quick-cooking oats
1 box (3-1/2oz) cook and serve butterscotch pudding mix
1 teaspoon ground cinnamon
1/2 cup cold butter or margarine
Vanilla ice cream optional
Instructions
Butter or grease the inside crock of your 3-quart crockpot
Place apples into the crockpot
In a medium bowl, combine brown sugar, flour, oats, pudding mix, and cinnamon.
Slice butter and cut into mixture until it's coarse and crumbly
Sprinkle mixture over apples
Cover and cook on LOW for 5 hours or until the apples are tender.
Serve immediately and with ice cream if desired.
Notes
I used a larger crockpot which made my cooking time shorter. Once the apples are tender, the dessert is finished.
Granny Smith apples were a great option for this recipe.
Recommended Products
As an Amazon Associate and member of other affiliate programs, I earn from qualifying purchases.
Can Apple Crisp be Baked in the Oven?
Yes, you can bake Butterscotch Apple Crisp in the oven. Use a 9 x 13in baking dish and set your oven for 375 degrees for 40-50 minutes.
What Apples are best for Apple Crisp?
I like using a tart apple, but honestly, use what you have! I'm not a professional baker, but as long as the apples aren't already mushy, it's going to be OK.
Some apples, however, bake up mushier than some. I found this great resource for The Best Apples for Apple Pie on Serious Eats. They tested a large variety and rated each one on how it held up in an apple pie.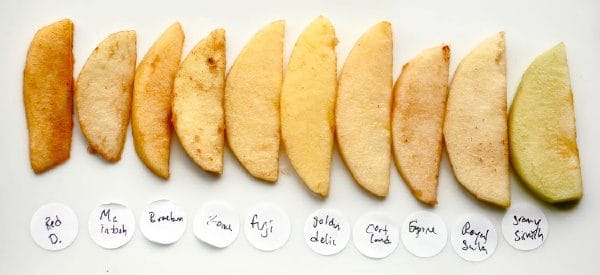 Braeburn
Granny Smith
Golden Delicious
Gala
All scored in the middle to highest. Several, like the Red Delicious, were mushy and mealy when cooked in a pie.
As mentioned, I used the green tart Granny Smiths and they were delicious! They did turn mushy when overcooked.
Slow cooker desserts are a great way to get dessert started ahead of time or while out for a bit. Coming home to a hot and comforting apple crisp is always enjoyable!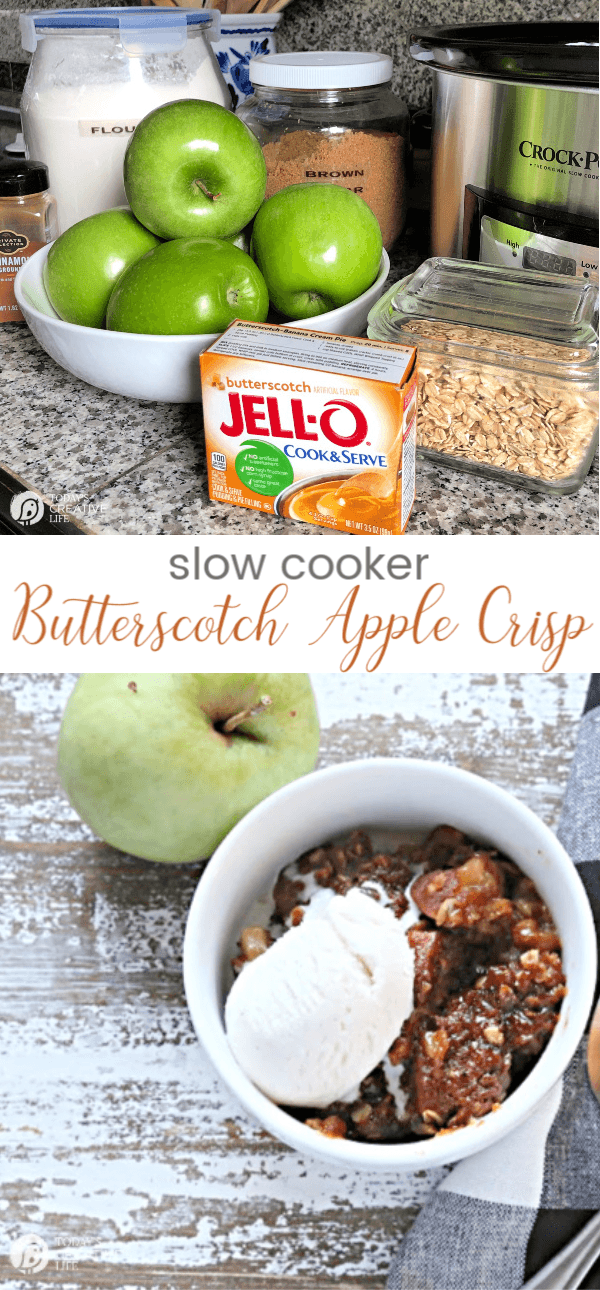 Join my private facebook group where you can submit and share your creative ideas; recipes, crafts, DIY, holiday DIY, home decor etc…
---
Crockpot Dessert Recipes
Easy to make Slow Cooker Dessert Recipes.