It's happening…. I'm being taken over by the abundance of apples! The quickest way to use up a large quantity is to throw them in your crock pot and make Homemade Slow Cooker Applesauce.


Homemade Slow Cooker Applesauce
We have an apple tree in our back yard that produces a fairly large crop and then my husband was up at "The Lake" (his parents have a place at PineHollow Reservoir in Central Oregon) and the neighbor's tree was dropping apples like crazy. So he brought a large bag home.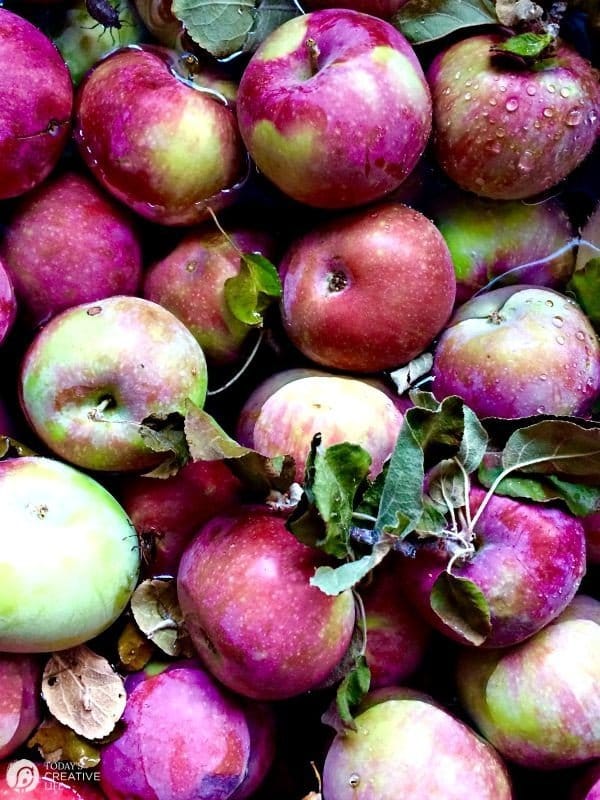 These apples, like our own are not sprayed and grow completely without any intervention to ward off the worms or bugs, which makes them perfect for cutting up to use, so you can cut out the icky parts. (Can you see the stink bugs? This is why I place all my apples in a sink of water. It brings all the bugs out!)
I make a few things with apples each year. One of my all time favorites is my Cream Cheese Apple Bread! Oh it's delicious! And, like slow cooker applesauce, I'll make Slow Cooker Apple Butter. Oh and my apple and cheddar cheese quiche.
It's a good thing we like apples.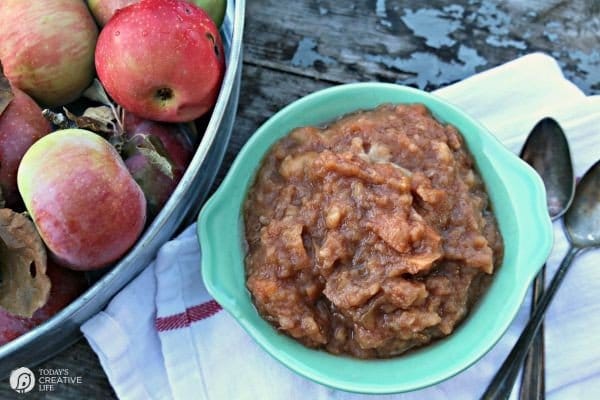 How to Make Homemade Slow Cooker Applesauce
Making homemade applesauce is about as easy as buttering toast. Anyone can do it! It takes no skill at all, unless you count peeling the apples a skill, then I'm now a professional apple peeler. (Why did I get rid of that apple peeler?)
What you'll need:
Apples – about 10 – 12 medium
Cinnamon
Lemon Juice
Brown Sugar – light or dark, it doesn't matter.
Vanilla
Supplies that Make it easier:
I never measure how many apples it takes to fill my slow cooker. I just keep peeling and cutting until it's full. But If had to make a guess, I probably added about 10-12 of these medium to small apples.
I tossed a bit of freshly squeezed lemon juice in with the apples so they wouldn't turn brown, but I'm not really sure that matters since you're cooking them down. (I LOVE this citrus squeezer for squeezing lemons)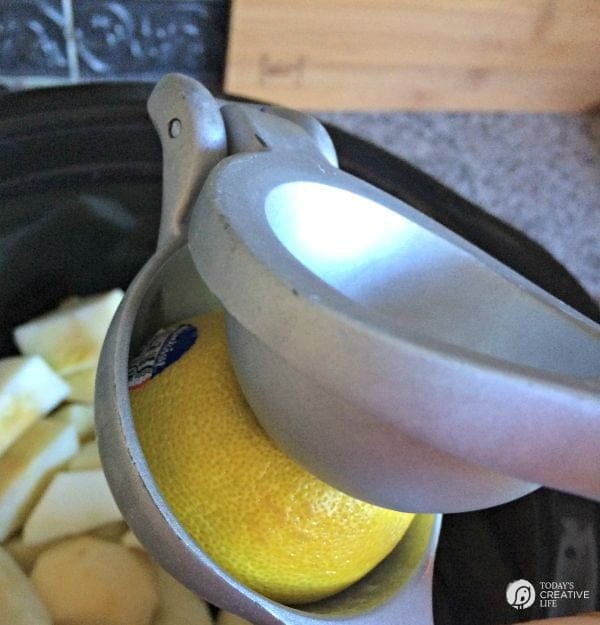 I already had my favorite citrus squeezer out, so it wasn't an issue, but if you didn't have any lemon juice, I wouldn't want it to stop you from making this.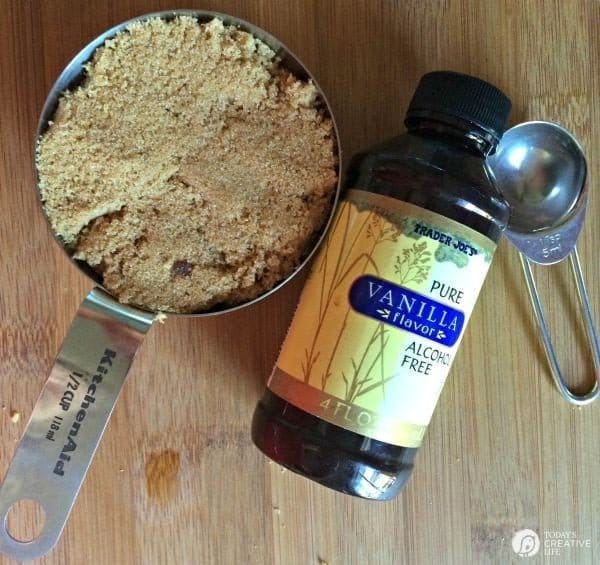 I added a 1/2 cup sugar and 1 tsp of vanilla. Could you use NO sugar or white sugar instead? Sure! You really can't mess up this recipe.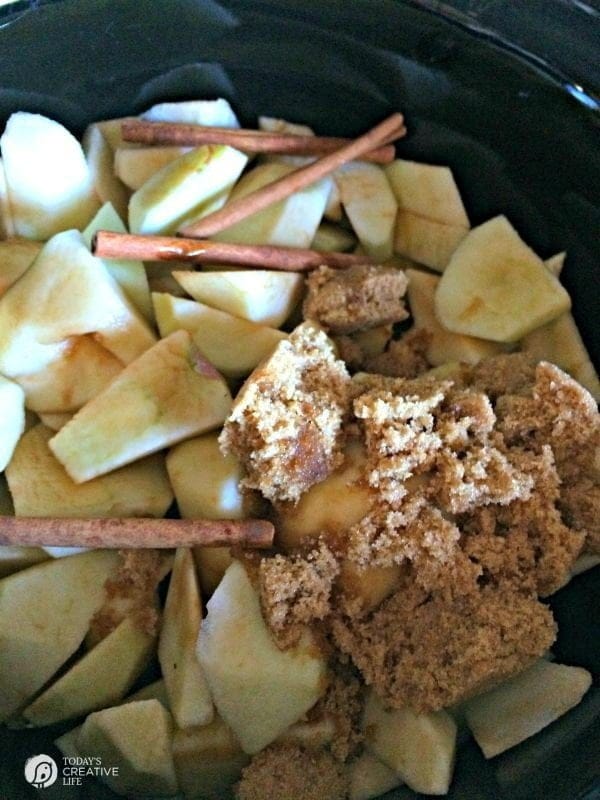 I tossed a few cinnamon sticks on top and later, I decided it needed more cinnamon, so I added about 2 tablespoons.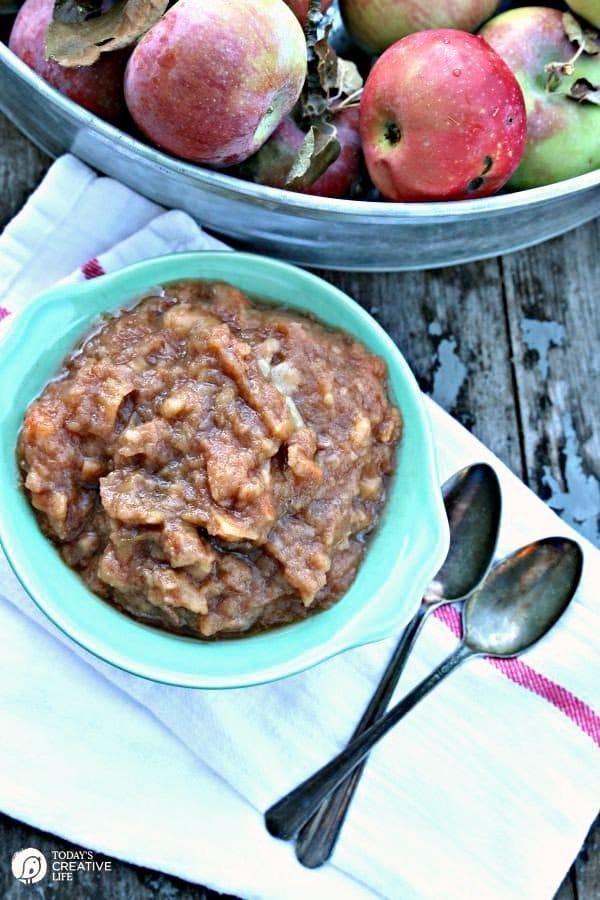 Doesn't that look delicious?
I like my applesauce on the chunky side, so I didn't stir to smooth it as much as you could. If you like super smooth applesauce, then I'd use an immersion blender after you pick out the cinnamon sticks. Otherwise, just a fork or the back of a spoon works for breaking down a few chunks.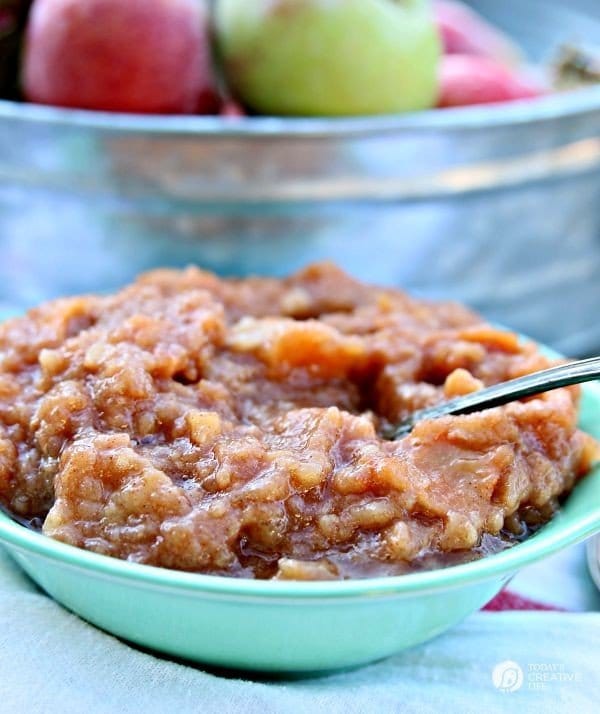 This made enough to serve the 3 of us for an evening dessert over ice cream and then the next day for breakfast.
When it's right out of the crock pot, it's the perfect topping for a couple of scoops of vanilla ice cream.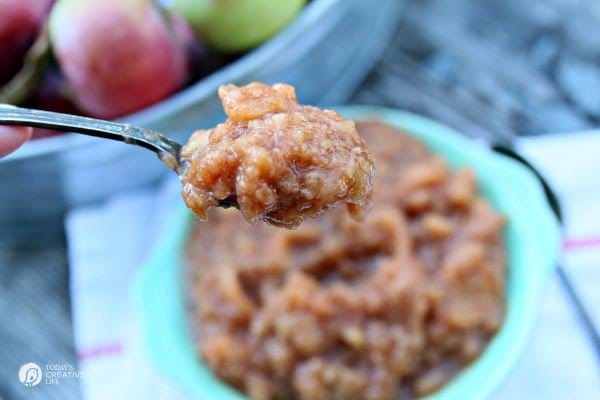 Wanna bite?
I still have more apples, so I'm thinking I need to whip up another batch!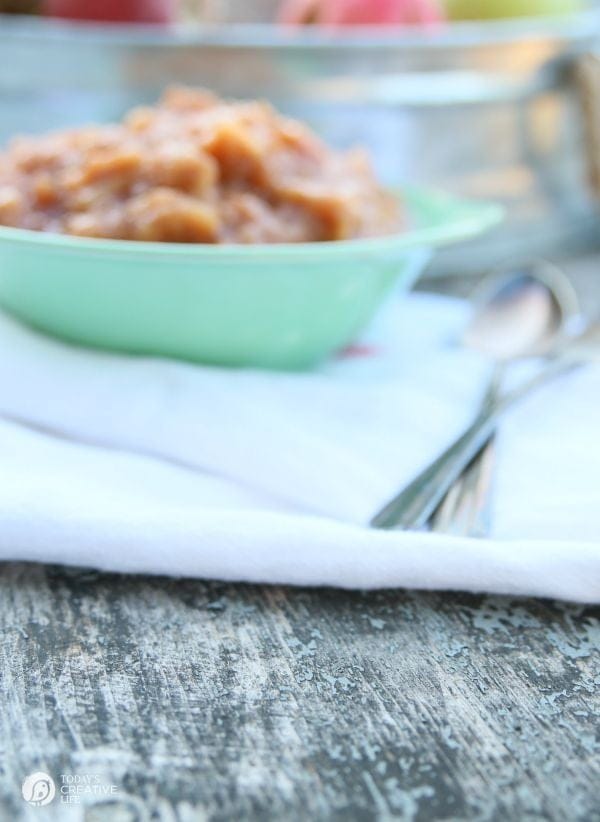 So tell me…… Do you prefer your applesauce chunky or smooth?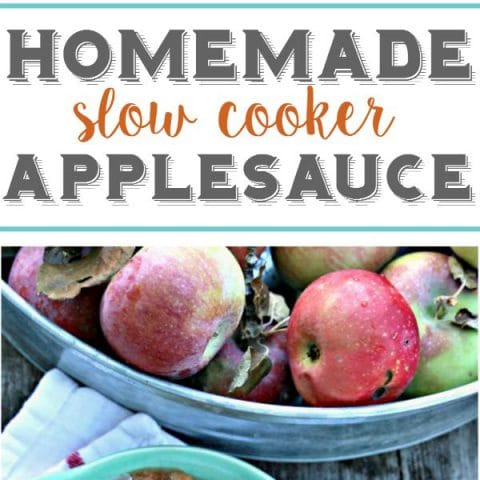 Homemade Slow Cooker Applesauce
Prep Time: 20 minutes
Cook Time: 6 hours
Total Time: 6 hours 20 minutes
Chunky or smooth, this recipe is delicious! Eat it plain or drizzled over ice cream or yogurt.
Ingredients
10-12 medium sized Apples - cored, peeled and cut into chunks
1 tablespoon Lemon juice
1/2 cup Brown Sugar
1 tablespoons Cinnamon
3 or 4 Cinnamon sticks
1 teaspoon Vanilla
Instructions
Peel, core and cut up your apples. Place into your slow cooker.
Sprinkle lemon juice over the apples and stir.
Add the rest of the ingredients and stir
Cover and Cook on Low for 6-8 hours
After it's cooked and the apples are soft, remove the cinnamon sticks.
Use the back of a large spoon or a large fork to mash the apples to the desired consistency. If you want really smooth applesauce, use an immersion blender.
Notes
Omit the sugar if you're trying to stay away from any added sugar. Regular sugar will also work if you're out of brown sugar.

More Apples?