This Homemade Slow Cooker Applesauce recipe was originally posted in 2015. It has been updated with more information to help you make the best homemade applesauce in the crockpot.

Get ready to savor the taste of fall with homemade slow cooker applesauce! It's an easy-peasy recipe that brings out the best flavors in fresh apples. Just toss them into the slow cooker alone or with cinnamon, let them do their thing, and voilà – you'll have the most luscious and aromatic applesauce ever! Use it as a dip, spread, or snack – it's versatile and oh-so-delicious. Get your apples ready and let the slow cooker work its magic! You won't believe how simple and tasty this homemade treat can be.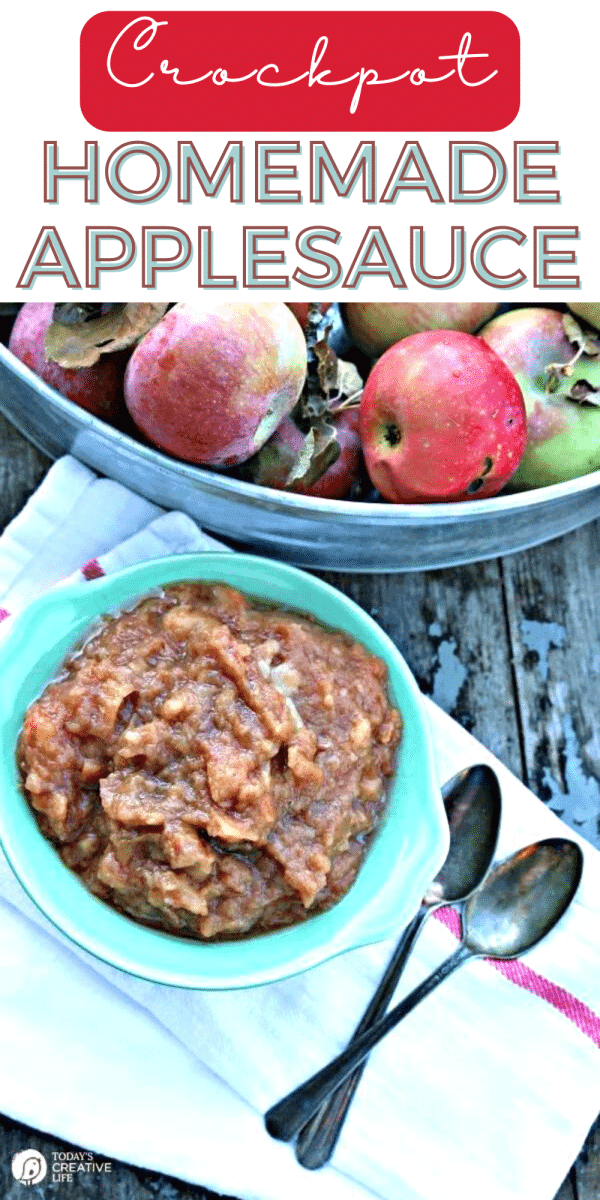 Homemade Slow Cooker Applesauce
We have an apple tree in our backyard that produces a fairly large crop and then my husband was up at "The Lake" (his parents have a place at PineHollow Reservoir in Central Oregon) and the neighbor's tree was dropping apples like crazy. So he brought a large bag home.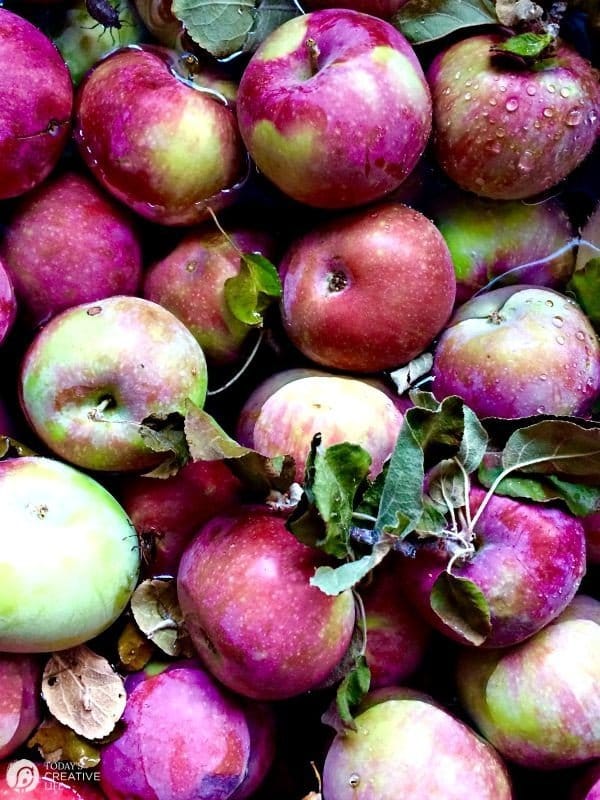 These apples, like our own, are not sprayed and grow completely without any intervention to ward off the worms or bugs, which makes them perfect for cutting up to use, so you can cut out the icky parts. (Can you see the stink bugs? This is why I place all my apples in a sink of water. It brings all the bugs out!)
I make a few things with apples each year. One of my all-time favorites is my Cream Cheese Apple Bread! Oh, it's delicious! And, like slow cooker applesauce, I'll make Slow Cooker Apple Butter. Oh, and my apple and cheddar cheese quiche.
It's a good thing we like apples.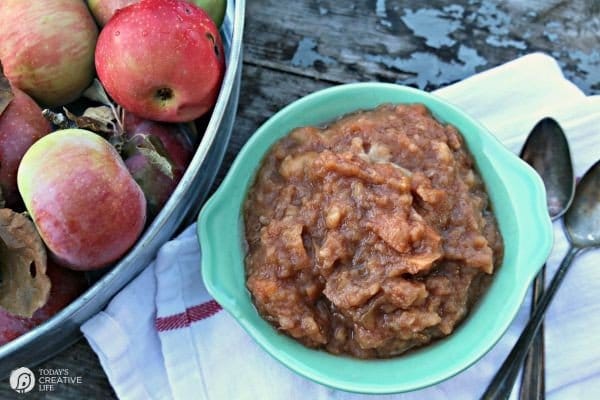 How to Make Homemade Slow Cooker Applesauce
Making homemade applesauce is about as easy as buttering toast. Anyone can do it! It takes no skill at all unless you count peeling the apples a skill, then I'm now a professional apple peeler.
What you'll need:
Apples – about 10 – 12 medium
Cinnamon
Lemon Juice
Brown Sugar – light or dark, it doesn't matter. If you're out of brown sugar, learn how to make brown sugar here.
Vanilla
Supplies that Make it easier:
I never measure how many apples it takes to fill my slow cooker. I just keep peeling and cutting until it's full. But If had to make a guess, I probably added about 10-12 of these medium to small apples.
I tossed a bit of freshly squeezed lemon juice in with the apples so they wouldn't turn brown, but I'm not really sure that matters since you're cooking them down.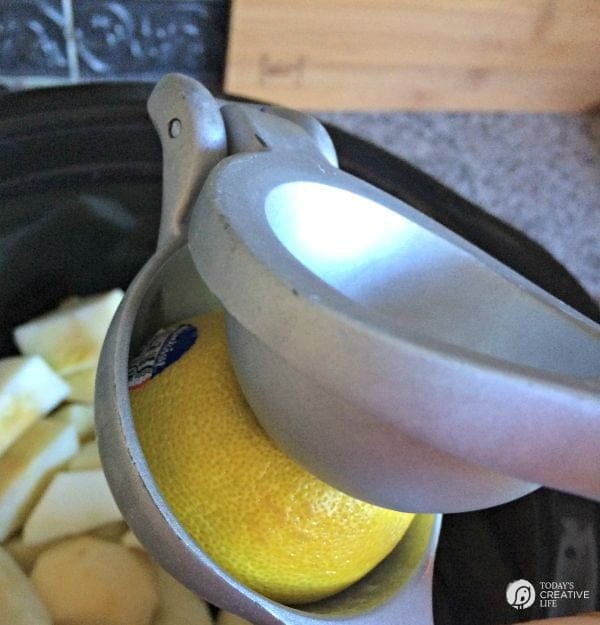 I already had my favorite citrus squeezer out, so it wasn't an issue, but if you didn't have any lemon juice, I wouldn't want it to stop you from making this.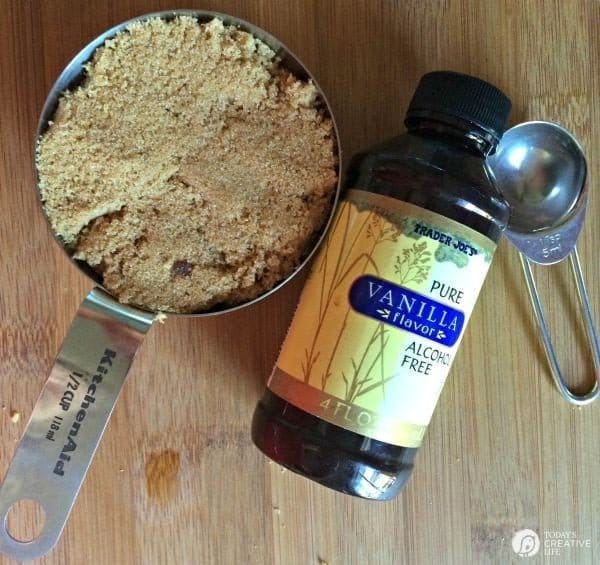 I added a 1/2 cup sugar and 1 tsp of vanilla. Could you use NO sugar or white sugar instead? Sure! You really can't mess up this recipe.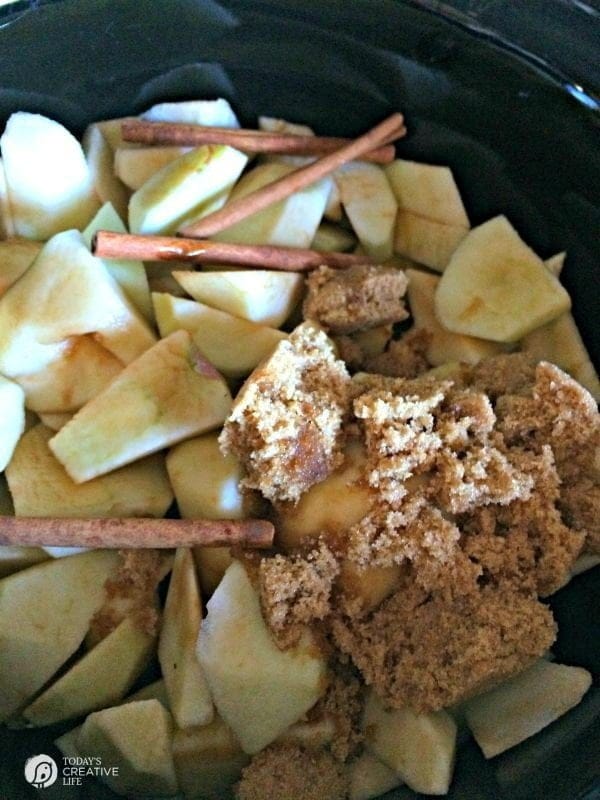 I tossed a few cinnamon sticks on top and later, I decided it needed more cinnamon, so I added about 2 tablespoons.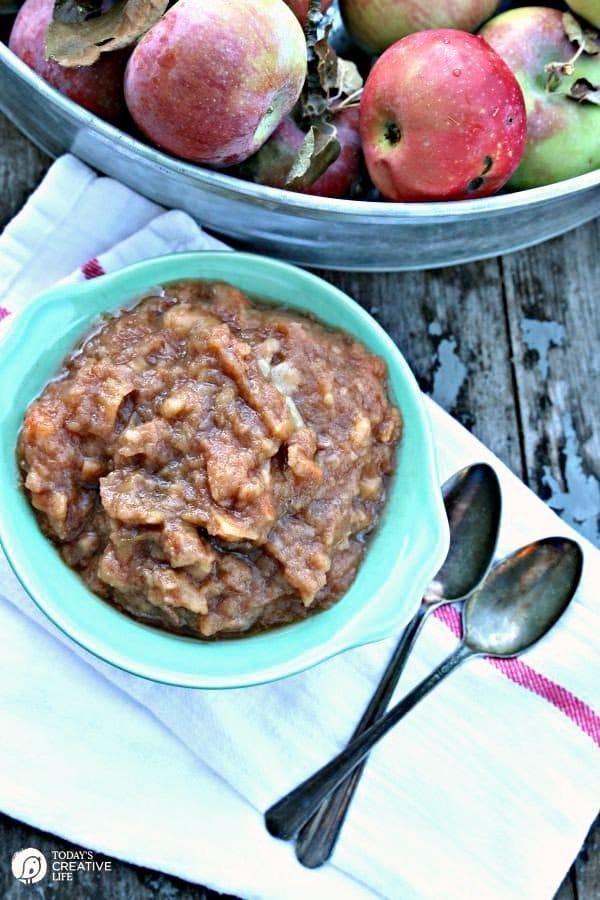 Doesn't that look delicious?
I like my applesauce on the chunky side, so I didn't stir to smooth it as much as you could. If you like super smooth applesauce, then I'd use an immersion blender after you pick out the cinnamon sticks. Otherwise, just a fork or the back of a spoon works for breaking down a few chunks.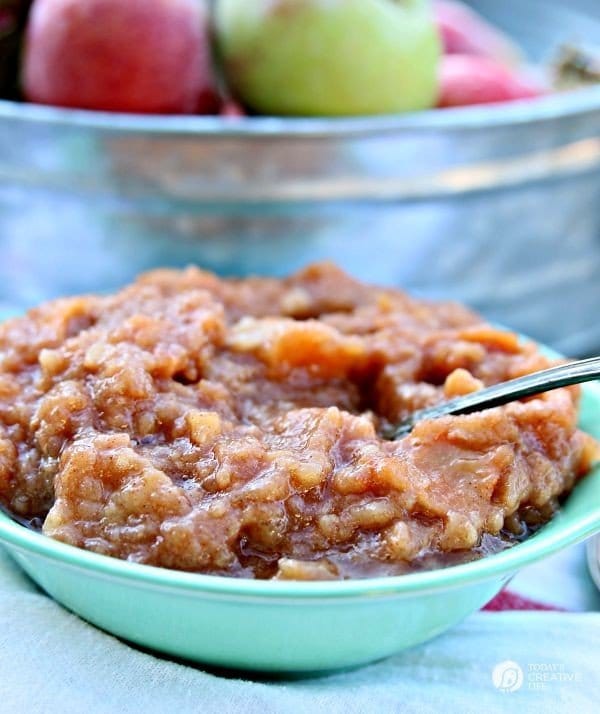 This made enough to serve the 3 of us for an evening dessert over ice cream and then the next day for breakfast.
When it's right out of the crock pot, it's the perfect topping for a couple of scoops of vanilla ice cream.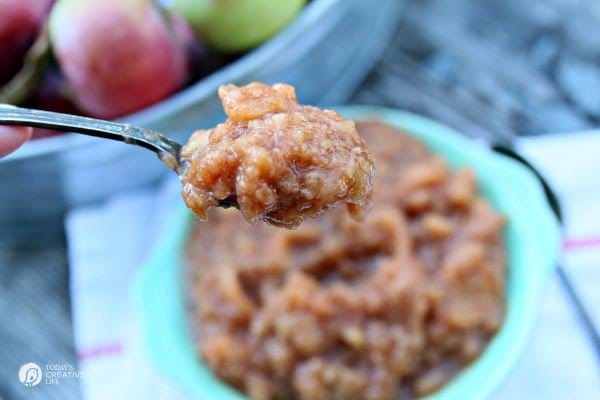 Wanna bite?
I still have more apples, so I'm thinking I need to whip up another batch!
So tell me…… Do you prefer your applesauce chunky or smooth?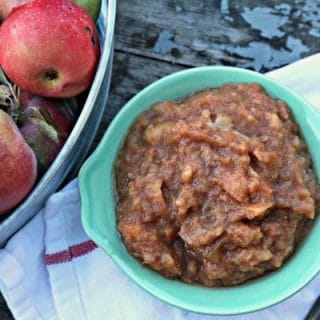 Homemade Applesauce in the Crockpot
Yield: 5 cups or so
Prep Time: 20 minutes
Cook Time: 6 hours
Total Time: 6 hours 20 minutes
Take fresh apples and transform them into chunky or smooth homemade applesauce using your crockpot.
Ingredients
10-12 medium sized Apples - cored, peeled and cut into chunks
1 tablespoon Lemon juice
1/2 cup Brown Sugar
1 tablespoons Cinnamon
3 or 4 Cinnamon sticks
1 teaspoon Vanilla
Instructions
Peel, core and cut up your apples. Place into your slow cooker.
Sprinkle lemon juice over the apples and stir.
Add the rest of the ingredients and stir
Cover and Cook on Low for 6-8 hours
After it's cooked and the apples are soft, remove the cinnamon sticks.
Use the back of a large spoon or a large fork to mash the apples to the desired consistency. If you want really smooth applesauce, use an immersion blender.
Notes
Omit the sugar if you're trying to stay away from any added sugar. Regular sugar will also work if you're out of brown sugar.
Frequently Asked Questions about Making Homemade Applesauce
Q: Can I use any type of apple for applesauce?
A: While any type of apple can be used for applesauce, some varieties are better suited for cooking due to their texture and flavor. Look for apples that are slightly tart and firm, such as Granny Smith, Jonathan, or McIntosh.
Q: Do I need to peel the apples before making applesauce?
A: Peeling the apples is a personal preference. Leaving the skins on will result in a slightly chunkier texture and add more fiber to the sauce. If you prefer a smoother texture, it's best to peel the apples.
Q: Can I make applesauce without a crockpot?
A: Absolutely! While a crockpot offers convenience and allows for slow cooking, you can also make applesauce on the stovetop. Simply follow the same steps and simmer the apples in a saucepan until they are soft and tender.
Q: Can I adjust the sweetness of the applesauce?
A: Yes, you can adjust the sweetness of the applesauce to your liking. If the apples are naturally sweet, you may not need to add any sugar. Taste the applesauce before adding any sweeteners and adjust accordingly.
Q: How long can I store homemade applesauce?
A: Homemade applesauce can be stored in the refrigerator for up to a week. If properly frozen, it can be stored for up to 6 months in the freezer.
Recommended Products
As an Amazon Associate and member of other affiliate programs, I earn from qualifying purchases.
Nutrition Information
Yield 8
Serving Size 1
Amount Per Serving
Calories 191
Total Fat 0g
Saturated Fat 0g
Trans Fat 0g
Unsaturated Fat 0g
Cholesterol 0mg
Sodium 7mg
Carbohydrates 50g
Fiber 7g
Sugar 40g
Protein 1g
We do our best to calculate, however, nutrition information may not be accurate.
Storing and Preserving Homemade Applesauce
To ensure that your homemade applesauce stays fresh and delicious, it's important to store it properly. Here are a few guidelines to follow:
Refrigeration: If you plan to consume your applesauce within a week, you can store it in the refrigerator. Make sure to transfer it to sterilized jars or airtight containers and keep it chilled at all times.
Freezing: If you have a surplus of applesauce or want to make a large batch for later use, freezing is a great option. Simply transfer the cooled applesauce into freezer-safe containers or freezer bags, leaving some room for expansion. Label the containers with the date and store them in the freezer for up to 6 months.
Canning: If you're experienced in canning and want to preserve your applesauce for an extended period, you can consider canning it. Follow proper canning procedures and ensure that the jars are sealed tightly before storing them in a cool, dark place.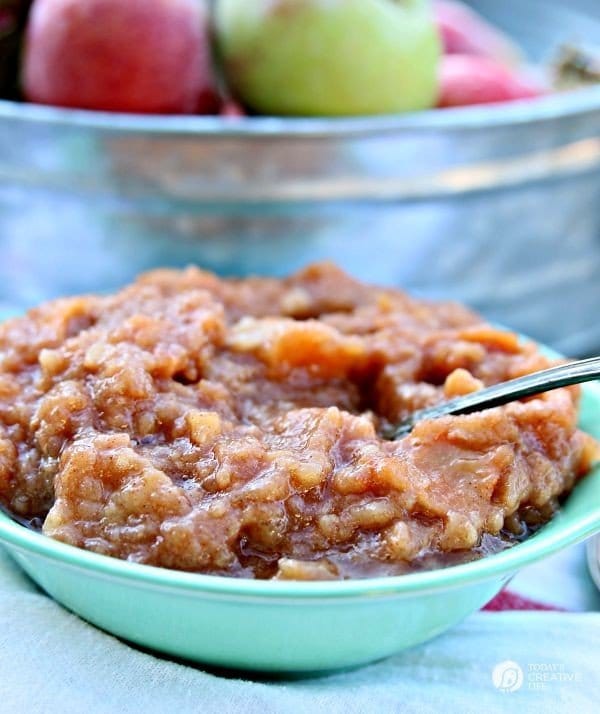 Delicious Ways to Use Homemade Applesauce in a Crockpot
While homemade applesauce is delicious on its own, there are endless possibilities for variations and additions that can take it to new heights. Here are a few ideas to get you started:br/>
Apple pie filling: Add some cornstarch to thicken your applesauce and use it as a filling for homemade apple pies or turnovers.
Applesauce muffins: Incorporate applesauce into your favorite muffin recipe for a moist and flavorful twist. It can replace some of the oil or butter in the recipe.
Applesauce pancakes: Add a dollop of applesauce to your pancake batter for a burst of fruity goodness. Serve the pancakes with additional applesauce on top for a double dose of apple flavor.
Applesauce BBQ sauce: Combine applesauce with your favorite BBQ sauce for a tangy and slightly sweet glaze that pairs perfectly with grilled meats.
Applesauce smoothie: Blend applesauce with yogurt, a banana, and a handful of spinach for a nutritious and refreshing smoothie that's packed with vitamins and fiber.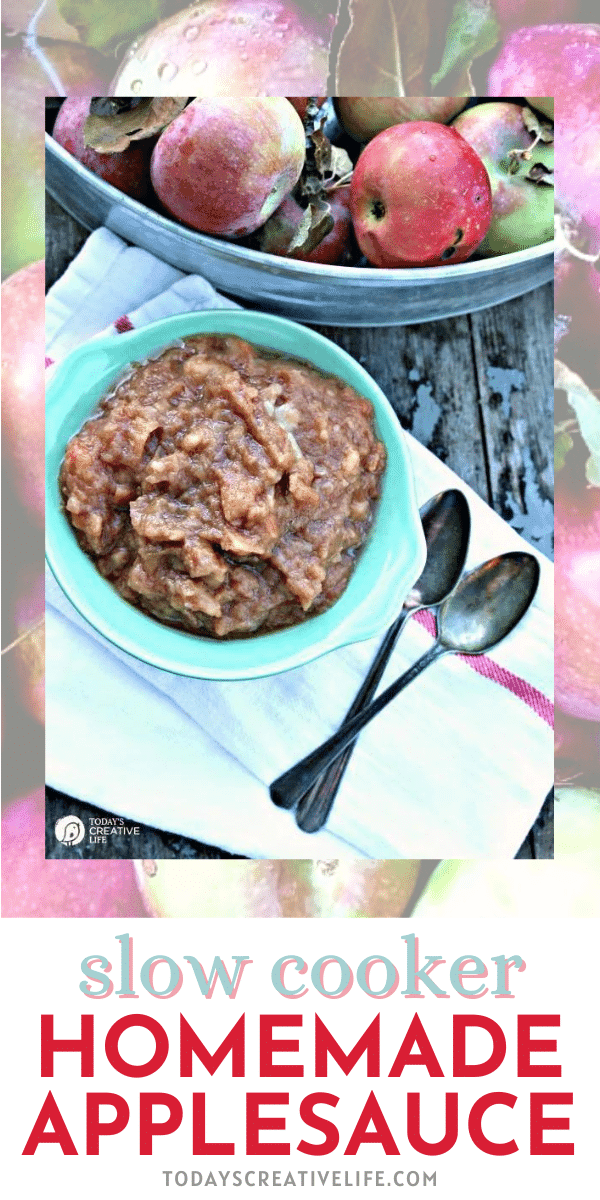 Recipes with Apples
Find a variety of irresistible apple recipes from crockpot applesauce to quick and easy apple dumplings.
The moist apple cream cheese bread is so full of flavor!
Apple muffins with cinnamon make a delicious fall snack. One of our all-time fall favorites for snacks and breakfast.
Cocktails made with apples are perfect for the fall season.
Quick and easy apple dumplings made with sprite and crescent rolls make a fast weekend breakfast idea.
The sweet and savory chicken salad makes a delicious lunch.
This cheesy apple dip makes a unique party dish.
Making apple butter in the slow cooker is a great way to use up apples. This also makes a great homemade gift from the kitchen.
Slow Cooker Oatmeal in 2 hours! Easy breakfast recipe that is tasty and nutritious.
Sweet and tangy apple cake can be made in any shape.
Make this simple apple crisp recipe using your crockpot for a seasonal Fall recipe.