Get ready to sink your fangs into the most wickedly delicious Spooky Cookies for Halloween that will leave you craving for more! Halloween is the perfect time to unleash your inner baking monster and create mouthwatering treats that will impress both kids and adults alike. From spooky mummy cookies to creepy witch's fingers, these recipes are sure to cast a spell on your taste buds. I've gathered my favorite Halloween cookies from around the web to share with you. Just click on each to grab the recipe.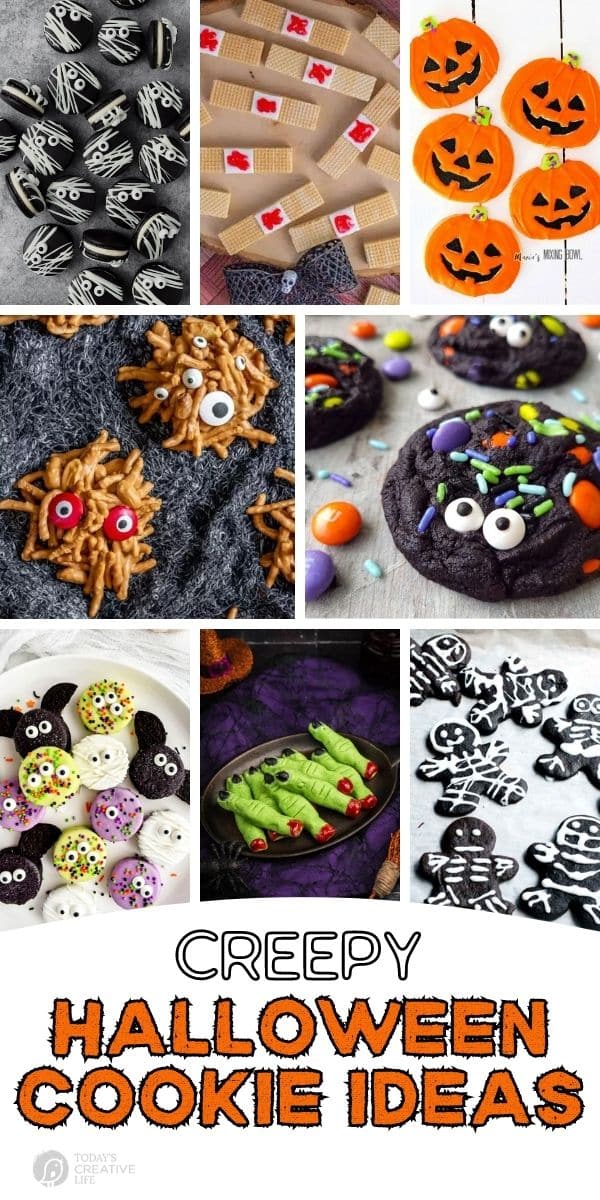 The Spookiest Halloween Cookie Recipes
Halloween is the perfect time to get creative in the kitchen, and what better way to do that than with spooky and delicious cookies? Whether you're hosting a Halloween party or simply want to indulge in some festive baking, these recipes will take your spooky celebrations to the next level. So grab your apron, gather your ingredients, and prepare to be bewitched by these devilishly delightful Halloween cookies. Get ready to bake up some frightful fun!
Photo Credit: cutefetti.com
These finger cookies are just the thing to make for Halloween. They are gruesome to look at but have the best buttery sugar cookie flavor. 
Photo Credit: belleofthekitchen.com
These sugar cookies are all dressed up with colorful sugar, sprinkles and of course plenty of candy eyes to make them monstrously delicious! 
Photo Credit: herbsandflour.com
These oreo cookies are dipped in chocolate and decorated to make a fast favorite treat that you will want to share with everyone! Make monsters, mummies and bats to haunt your Halloween snack offerings.
Photo Credit: www.barleyandsage.com
This recipe features a rich and dark macaron cookie that is filled with a dreamy white chocolate ganache. They are adorable and delicious and surprisingly easy to make.
Photo Credit: www.homemadeinterest.com
This is one of the easiest cookie recipes for Halloween. Haystacks take on a haunted look with candy eyes, for the perfect sweet and crunchy snack to share.
Photo Credit: www.whiskingwolf.com
These chocolate cookies are so good that they are scary! You won't be able to resist grabbing a second one of these seasonal treats.
Photo Credit: kitchenserf.com
This recipe for black cocoa cookies is deep, dark and delicious! Use a gingerbread cookie cutter and white icing to make these look like spooky skeletons!
Photo Credit: uniquegifter.com
Make these bloody bandaid cookies with sugar wafers for an easy goodie that is sure to gross everyone out as they snack on Halloween night. These are easy and really bring the eww factor to your snacks!
Photo Credit: www.threeolivesbranch.com
Make a batch of these colorful sugar cookies to munch on as you watch the Nightmare Before Christmas with the kids. They are going to love the way these cookies look like Sally!
Photo Credit: myhappybakes.com
Use black cocoa to give a classic sugar cookie a spooky black look that is perfect for a Halloween cat! These are so tasty that you might want to purr about it!
Photo Credit: www.kimschob.com
Red velvet cookies with chocolate chips are so easy to make into a spider treat to share! This recipe is as delicious as it is festive. I know you are going to love it from the first bite.
Photo Credit: recipepocket.com
Split open some oreos and get busy transforming them into these watchful eye cookies. This idea is perfect for a party and is really quite easy to recreate.
Photo Credit: thesimple-sweetlife.com
This Halloween cookie recipe is amazing! It has the best effect of looking like a mirror, complete with some spooky friends lurking. Make these for a party, or just to impress your friends and family.
Photo Credit: mariasmixingbowl.com
This cookie recipe is perfect for Halloween. It has a sweet and buttery flavor and the cutest decorations. Luckily this recipe includes step-by-step instructions so you can get bakery-quality cut-out cookies from your own kitchen.
Photo Credit: www.ohmy-creative.com
Grab some wafer cookies and some candy melts to make these no-bake Frankenstein cookies. They look great and they are so easy to decorate! Make these for a Halloween party or serve them while you watch a scary movie together.
Creepy Halloween Food Ideas
When my son was small, I was always looking for simple creepy Halloween food ideas for snacks and Halloween night dinner! Keeping it simple is key so they can also help. Kids love to help with Halloween recipes that allow their imaginations to run wild. Here are a few fun Halloween food ideas from Today's Creative Life.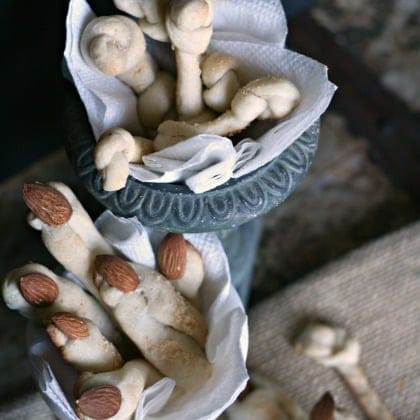 Whether you're looking for classic cookies for Halloween or spooky Halloween food ideas, there's a recipe out there to suit your taste buds. With the right tools and ingredients, you can create simple Halloween dinner ideas, Halloween party food ideas or just easy Halloween cookie ideas like I've shared. So grab your Halloween apron, gather your ingredients, and get ready to sink your fangs into these irresistible Halloween cookie recipes. Happy baking and have a spooktacular Halloween!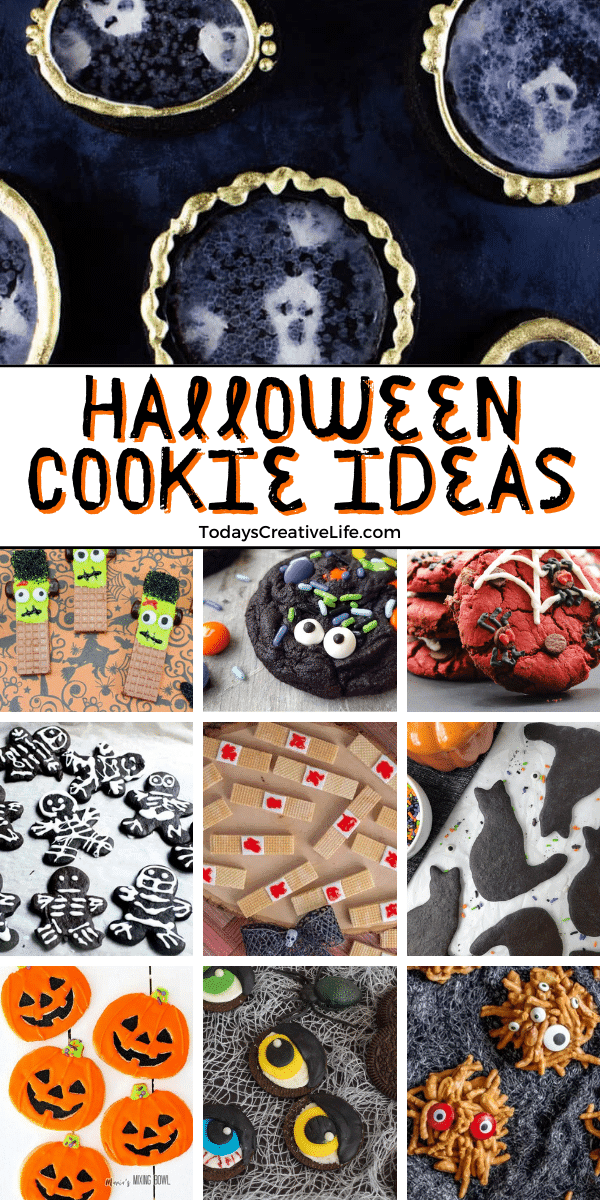 Easy DIY Halloween Decorations
DIY Halloween decor brings out the creative spirit in everyone, allowing you to craft your own ghoulish wonders to spookify your home. From eerie haunted house vibes to no-carve pumpkin ideas, these homemade decorations add a hauntingly delightful touch to your Halloween festivities.
Halloween crafting with bugs and spray paint make beautiful Insect Taxidermy.
Easy Halloween craft of transferring printable Halloween images onto wax candles.
This simple homemade Halloween decoration is extra creepy with vintage old printed photos.
Creepy crawly Halloween centerpieces are a home decor favorite! Simple and easy!
Cut all the spiders with your Cricut for a crawling spider table runner.
Printable Wall Art for Halloween! This raven printed as a poster is perfect for vintage DIY Halloween decor.
Print off these free labels for this fun Halloween craft.
Print, decoupage and BOOM! It's that easy to make cute treat bags.
Vellum paper with candles will give you the spookiest look. Grab these free printables in the Printable Vault.
No-Carve pumpkins are my favorite way to decorate for Fall.
No- Carve pumpkin ideas using Mod Podge and Halloween paper designs is an easy way to decorate inside or out.
These printable Halloween Cutlery Pouches are perfect for your Halloween Party.