Easy Halloween Food for a fun family dinner or Halloween party. Rattlesnake Bite Hot Dog Appetizers are a family favorite.
When my son was small, I was always trying to think of something fun to make for Halloween dinner that wasn't difficult to manage and something he would enjoy! Halloween Food before trick or treating is always more festive! Mummy dogs were always a favorite for both of us, so I know he would have LOVED Halloween food that looked like a snake! I would have never thought of this, had I not been invited to participate in this sponsored campaign by Lunch Box.
Rattlesnake Bite Hot Dog Appetizers – EASY Halloween Food
I know what you're thinking…… You may be thinking that your little one won't go for the Jalapeno hot dogs and you may be right, so it's completely OK to swap them out for regular. It will still turn out fantastic. I love the Jalapeno variety for older kids and adults.

There are SO many Halloween food ideas on the Kraft Halloween Survival Guide. From Halloween Mummy Spinach Dip to MMMMonster Jigglers. See all the Halloween Food Recipes ideas here.
How to Make Rattlesnake Bite Hot Dog Appetizers
You'll need just 2 ingredients with a couple of extra small items for garnishing the eyes and tongue.
Hot Dogs – we used jalapeno dogs, but you can use any type you enjoy.
Refrigerated Biscuits – If you want to make your own biscuits, you most definitely could.
2 Green olives and a small section of red pepper.
Scroll down for a printable recipe.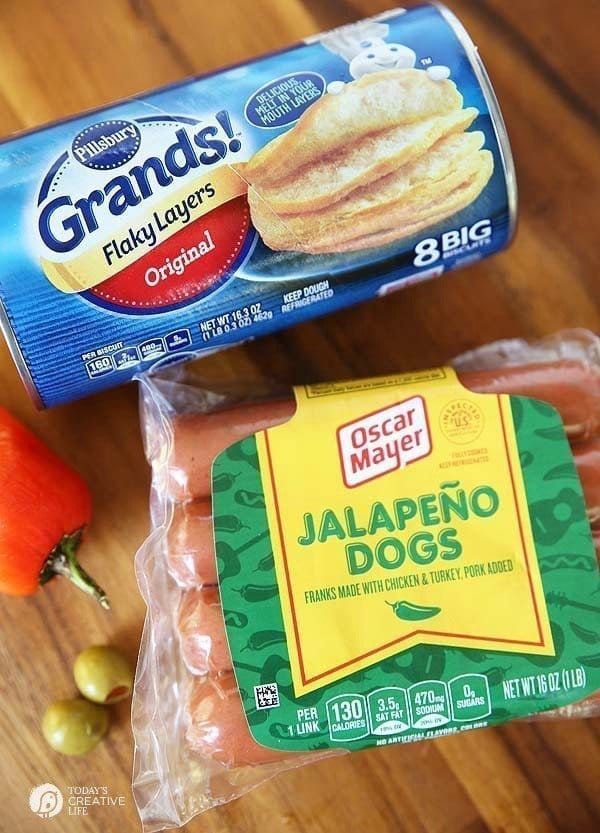 After you separate the biscuits and cut into quarters, you'll want to cut the hot dogs into bite size pieces. This is a great recipe to get the kids involved.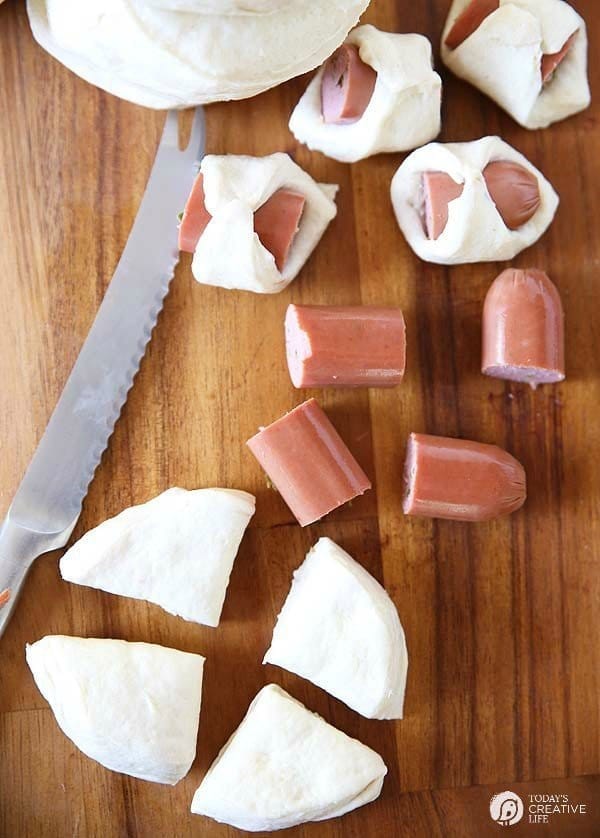 Take your biscuit pieces and wrap around each hot dog piece.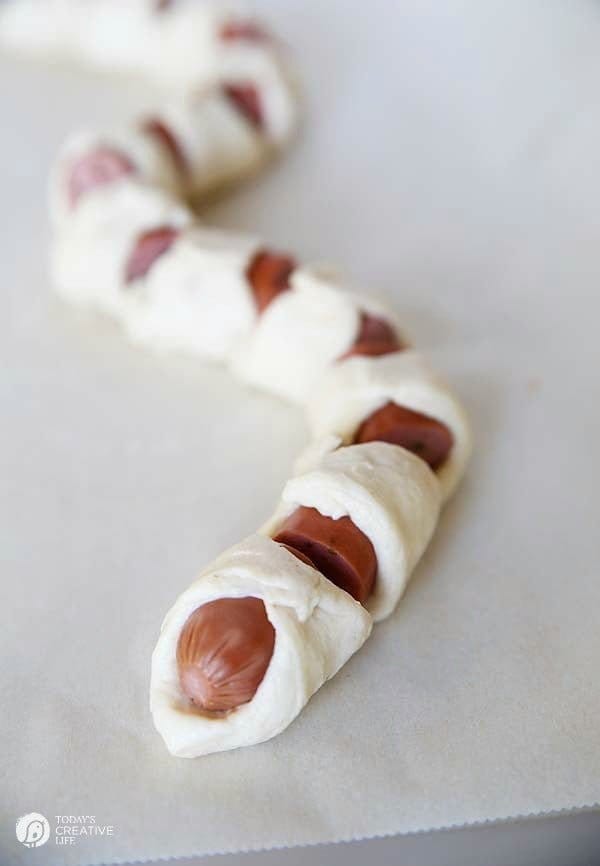 I think it's easier to arrange on your baking sheet-like the Rattlesnake that it is, but you could bake them in a different formation and arrange later on your platter once they are baked.
Grab a couple of green olives to use for the eyes and a slice of red pepper for the tongue and you've got yourself the perfect Halloween food appetizer!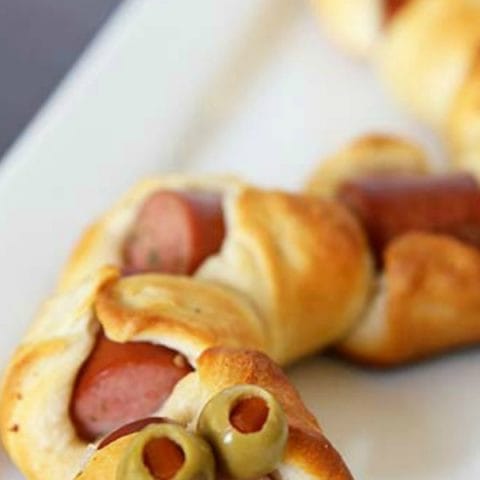 Halloween Rattlesnake Bite Hot Dog
Yield: 1
Prep Time: 15 minutes
Cook Time: 15 minutes
Additional Time: 5 minutes
Total Time: 5 minutes
Simple Halloween Food ideas for Halloween dinner or a Halloween party.
Ingredients
1 pkg. (16 oz.) OSCAR MAYER Jalapeño Dogs
1 can (16.3 oz.) large refrigerated flaky biscuits (8 biscuits)
Instructions
HEAT oven to 375ºF.
PAT hot dogs dry with paper towel. Separate biscuits. Cut each hot dog and biscuit into quarters; press biscuits to flatten slightly.
PLACE 1 hot dog piece on center of each biscuit piece; bring 2 opposite corners of biscuit over hot dog, then press points together to seal.
ARRANGE 16 wrapped hot dog pieces in "s" shape on baking sheet to resemble snake, leaving no spaces between pieces. Repeat on second baking sheet with remaining wrapped hot dog pieces.
BAKE 15 min. or until golden brown.
Notes
You can use any type of hot dogs your family enjoys.
Nutrition Information
Yield 2
Serving Size 1
Amount Per Serving
Calories 185
Total Fat 12g
Saturated Fat 4g
Trans Fat 0g
Unsaturated Fat 7g
Cholesterol 15mg
Sodium 379mg
Carbohydrates 14g
Fiber 1g
Sugar 1g
Protein 5g
We do our best to calculate, however, nutrition information may not be accurate.
Ideas for DIY Halloween Decor
Find creative and easy DIY Halloween Decor ideas for decorating your home.
Simple ideas for Halloween decorations.
Glowing Eyes Spooky Halloween Decorations
Image Transfer craft for making Halloween Candles.
Halloween Cricut Craft project using vinyl.
Amazing Faux Insect Taxidermy you can use all year long.
Create your own Halloween Wall art with this printable.
Make creepy and original treat boxes for Halloween party favors.
Cricut project for Halloween using iron-on vinyl.
Great for Halloween parties or any Halloween dinner ideas.