I have the easiest DIY Halloween project for you today! Let's learn how to make spooky Halloween candles for some quick homemade holiday decorations.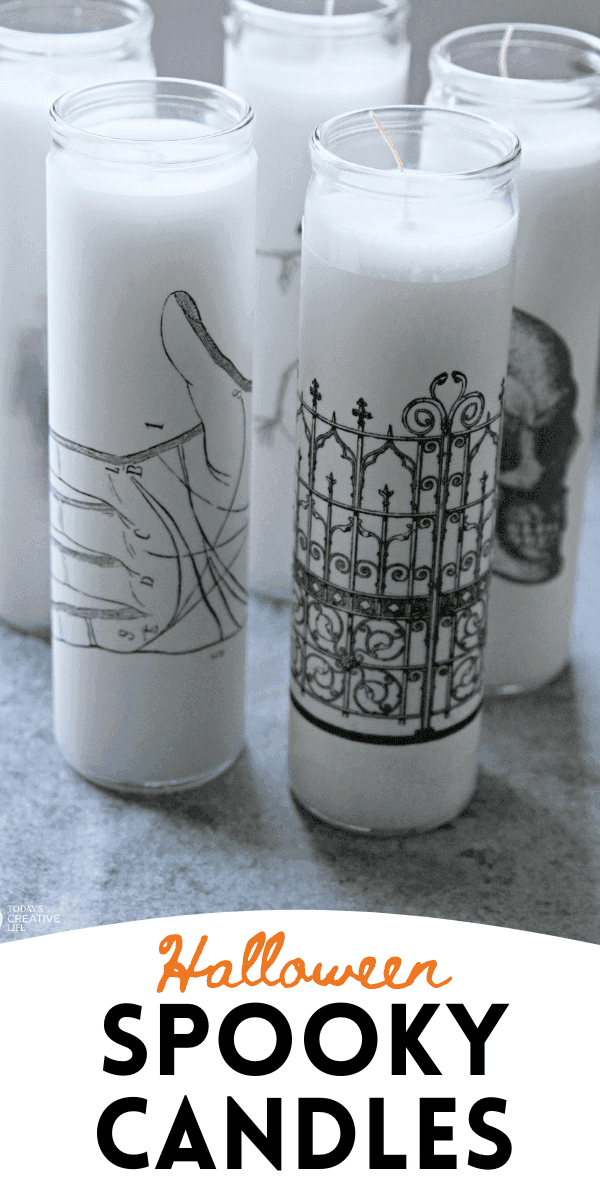 How to Make Spooky Halloween Candles
I'm going to show you how you can create DIY Halloween decor for less than $10 and in less than 30 minutes!
These are great for grouping all together or using one or a couple dispersed throughout the house. I've lined them up along my Halloween Mantel and then decided to place them on the table. They give any space a quick hint that Halloween is on its way, but not in that tacky way. Because we all know Halloween can get tacky real fast!
It seems like every time I'm at the Dollar Store, I just have to buy a couple of these tall glass candles. I love them for my patio and for creating quick and easy decor for the table. They are seriously one of the easiest items to embellish for instant decorating.
This time, I created a simple Halloween Table Centerpiece.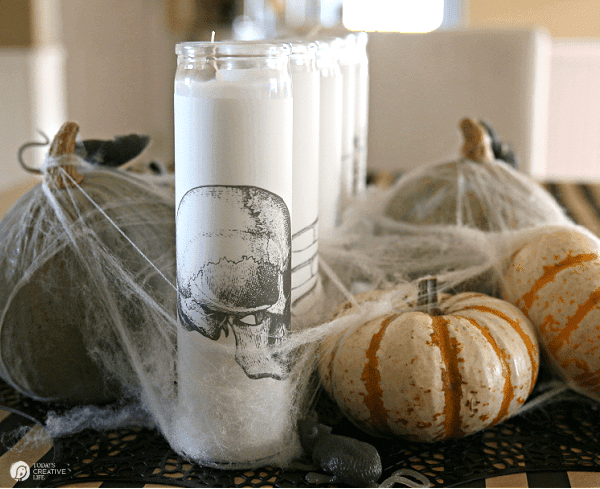 I have since moved them to the entry table and I may try them on the mantel. I love their simple look. They would also look great in a lantern on the porch.
DIY Halloween Candle Supplies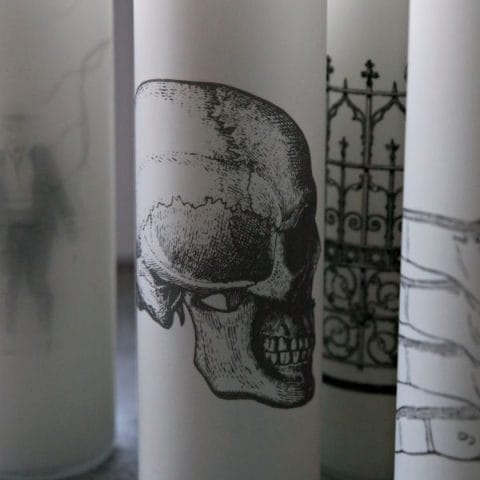 DIY Halloween Candle Decor
Yield: 5
Prep Time: 10 minutes
Active Time: 15 minutes
Total Time: 25 minutes
Difficulty: Easy
Estimated Cost: $10
Materials
Sheer Vellum Paper
Decorative Tape, or Double Sticky Tape
Halloween Images
Jar Candles or Jars with a votive inside
Tools
Ink-Jet Printer
Craft Knife
Paper Trimmer
Instructions
Gather your supplies.
Load printer with the special paper - of course, you can use regular printer paper, but it won't have the sheer frosty look.
Print images.
To measure, wrap around jar and mark where paper should be trimmed. Trim accordingly. You only want about 1/4 inch overlapping onto itself. I used washi-tape, but realized this only made it harder.
After trimming, lay the paper flat with the image facing up. Place a piece of double-sided tape along one side and then place it on the jar. Wrap the paper around and attach it to the tape.
How to Use Spooky Halloween Candles
Obviously I use them for easy and quick DIY Halloween decorations! So many great ways to decorate with them for that extra holiday touch.
Table Decor – Create a centerpiece with a few or just place one on a side table.
Lanterns – Place one each in a lantern to be used inside or outside. This would be a great way to use them outside on your Halloween porch.
Line the walkway – place lanterns up the walkway.
Halloween Mantel Decor – combine with a few small pumpkins or just by themselves will be perfect.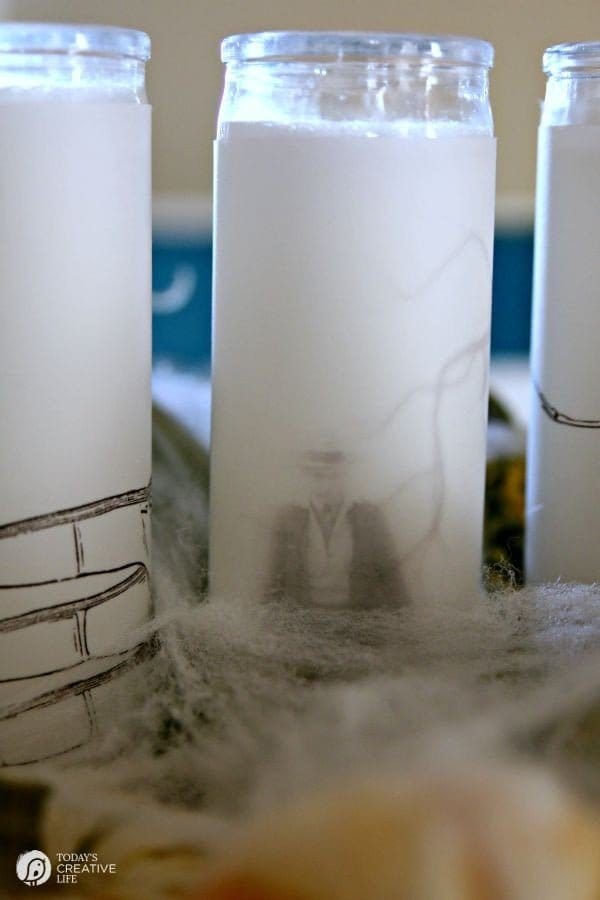 Spooky Halloween Images for Crafting
I have several free Halloween images you can print in The Vault. The Graphics Fairy also has several in addition to all her other finds. I also found a few from PicMonkey.
Who's ready to decorate for Halloween?

Halloween DIY Ideas
Create the Halloween of your dreams with Easy Halloween Ideas. Find Halloween decor for cheap for a budget-friendly holiday. Recipes for Halloween too!
Printable Wall Art for Halloween - DIY Halloween decor in a flash!
Easy Halloween Craft for transferring images onto wax candles.
Make this cute beetle pillow design with iron-on vinyl.
Halloween party bottle wrappers printable.
Simple to make Halloween party food ideas.
Get creative with a fun Halloween centerpiece.
This Halloween-decorated take-out box is great for treats or even Halloween party leftovers. Cricut Halloween Ideas.
Free Halloween printables.
Halloween decor for cheap! Dollar store items made into a creepy crawly centerpiece.
Iron-on crafts are my favorites!
Another great Cricut craft for Halloween.
Halloween treat boxes with vintage beetles. Print and decoupage. Free printables.
Who would know you could find the best craft supplies in a hardware store? A little spray paint, a free printable, cobwebs and you've got yourself a simple Halloween craft.
Fun for any spooky party!