Halloween decorating and party planning just got easier with these Printable Halloween Bottle Labels and wrappers. 4 different wrappers to choose from with rustic and stylish Halloween images that are great for both children's or adult parties. Free printables are found in the VIP member-only Printable Vault. Use your password to access it. Sign up here if you're not a VIP yet.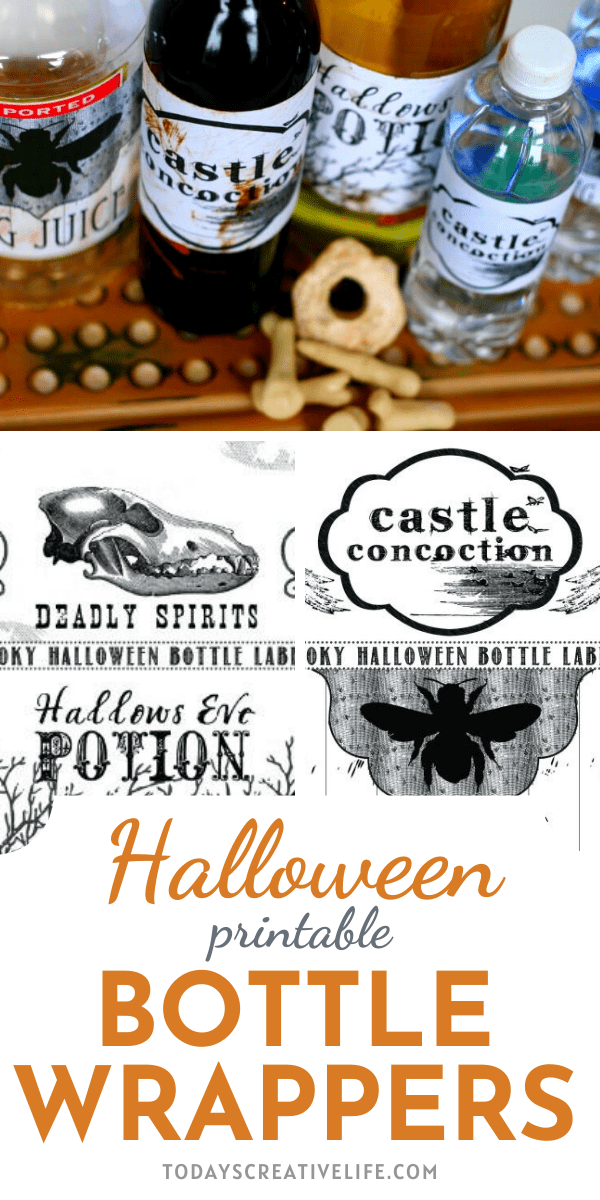 Printable Halloween Bottle Labels
These bottle wrappers designed by SissyPrint for TCL are great for wine bottles, soda bottles, liter bottles, or even water bottles. They'll look great and people will love the extra touch you have for Halloween decor. It's the little touches that make all the difference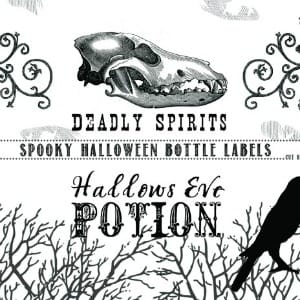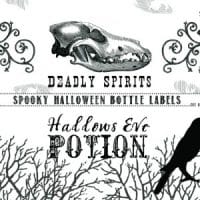 How to Make Halloween Bottle Wrappers
Yield: 4
Prep Time: 10 minutes
Active Time: 10 minutes
Total Time: 20 minutes
Difficulty: Easy
Estimated Cost: free
Wrap bottles or jars for quick Halloween decorations.
Materials
Soda, water or wine bottles
Printer Paper
Tools
Inkjet printer
Scissors or paper cutter
Double stick tape 
Instructions
Open the image on your device and print on regular printer paper.
Trim lables.
Run double sided tape along one side edge and wrap lable around the bottle bringing the other edge to meet the sticky side.
If the bottle is bigger around than the label, place tape on the back side edges so it sticks directly to the bottle.
Notes
Use these Halloween printed labels to decorate other items too. Try using a tea stain or distressing ink to give your labels and aged look.
Recommended Products
As an Amazon Associate and member of other affiliate programs, I earn from qualifying purchases.
How to Use Halloween Printable Labels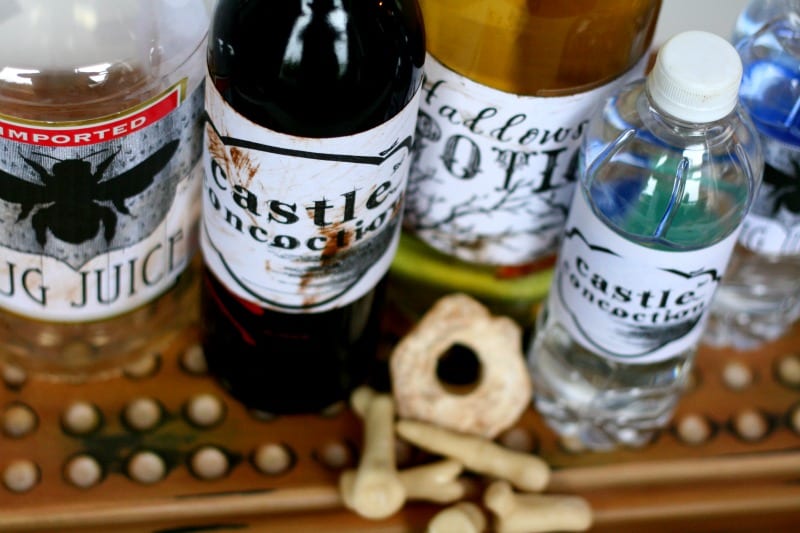 Wrapping Bottles for a Halloween Party
Maybe you're having a signature drink or creating a wine bar. You can wrap a few or all bottles with these free printables and they'll act as part of the party decor.
Halloween Wine Bottle Candle Decor
Place a tappered candle in an empty and clean wine bottle, wrap the Halloween printable label around each bottle and create a full table centerpiece. This is great to add ambiance to any indoor or outdoor table for dining.
Wrapped Halloween Candles
Similar to what I did with these spooky paper wrapped candles, you could use these images instead. Only wrap candles in glass, not directly onto the wax.
Image Transfer Candles
You could use these printable Halloween images for this DIY Image transfer candles for Halloween project I did last year with different Halloween designs.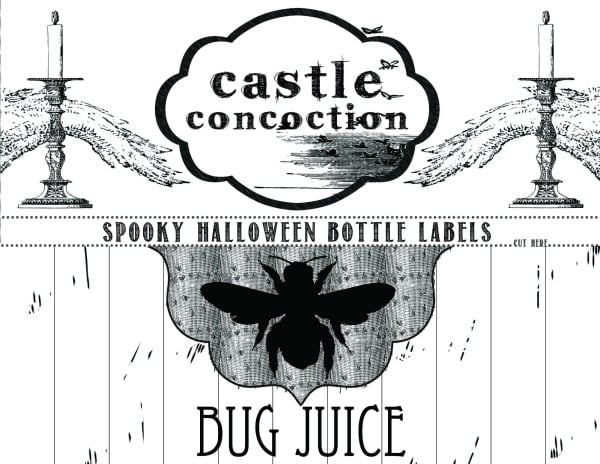 How to Make Halloween Printables look Aged
Making your printables look more distressed like aged paper with a brownish tint is pretty easy and it looks great!
Tea Stain Paper Aging
Brew some tea in a small sauce pan and allow it to cool. Then either paint the tea onto each lable or simple dip it in and remove it. Lay on paper towels to dry.
Distressing Ink
Distressing ink for paper can be found in the stamping section of your craft store. It comes in a few different colors and tones depending on the look you're going for. I take the ink pad and just rub it along the edges and swipe lightly and quickly across any other areas I want.
Paper Wrinkling
This is probably one of the easiest ways to make paper look aged. Just crumple it, then straighten it out. This is great to do before distressing.
Even if you leave them as is, fresh out of the printer like I did, they still look great!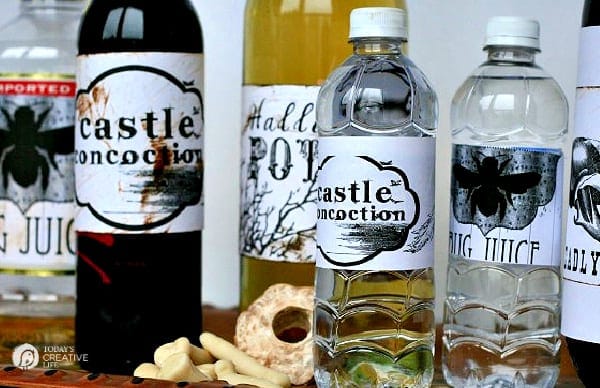 Just click below to download.

Halloween DIY Ideas
Create the Halloween of your dreams with budget-friendly DIY ideas.
Simple to make Halloween party food ideas.
Get creative with a fun Halloween centerpiece.
Free Printables make all holidays easier!
Iron-on crafts are my favorites!
This is fun to make using your Cricut!
I love how these turned out! I ended up using these to decorate with too!
Who would know you could find the best craft supplies in a hardware store.
Fun for any spooky party!