Edited to add: Since making this Chocolate Truffle Recipe back in 2011, I have perfected my recipe. My new favorite is my Coconut Oil Chocolate Peanut Butter Cups. They are so tasty with our without nuts, especially with a bit of sea salt sprinkled on the top!
The first time my husband tried them, he didn't know they were low or no sugar. They are THAT good! If you're a dark chocolate fan, these Dark Chocolate Nutty Fruit Bites are also really easy to make. They make a great gift idea!
---
Trying to eat a no sugar, no white flour diet is hard sometimes. Heck…….what am I saying? It's hard ALL THE TIME! But I thought I'd share this yummy sugar-free Coconut Oil Chocolate Truffle recipe. These are healthy and will curb any sweet tooth you've got going.
Chocolate Truffle Recipe made with Coconut Oil
Coconut Oil Chocolate Truffle Ingredients
Affiliate links for products listed are for your convenience only. This cost you nothing extra. If you happen to purchase anything as a result of clicking, TCL will receive a small percentage. Thank you for your support. This allows me to continue to offer you free content.
Mix equal parts of coconut oil and cocoa. I mix 3 tablespoons of each. Place it in your microwave for about 15 seconds to make it easier to blend. Add Truvia or stevia for desired sweetness. I used 4 individual packets. Add nuts if you'd like. I prefer walnuts, but the almonds were good too.
Drop into small sized baking cups. You could use a small cupcake tin if you have one, but not necessary. Chill in the refrigerator for at least 20 min. Take out and enjoy!
But they do melt fast, so you'll either need to eat them all or place some back in the fridge.
Other options:
use peppermint stevia drops to add a minty flavor
add a bit of peanut butter….Mmmm
add chopped dried fruit.
Chocolate Truffle Recipe
Yield: 6
Prep Time: 5 minutes
Cook Time: 20 minutes
Total Time: 25 minutes
I use equal parts cocoa and coconut oil. Adjust for larger batches.
Ingredients
3 Tablespoons Coconut Oil
3 Tablespoons Cocoa Powder
3 Tablespoons chopped nuts
Truvia or Stevia powder - Sweeten to taste
Instructions
Place coconut oil and cocoa powder in a microwave safe dish.
Microwave for about 15 seconds until melted.
Stir in sweetener.
Place chopped nuts in the bottom of mini cupcake liners.
Spoon or pour in your coconut oil - chocolate mixture.
Place in the refrigerator for at least 20 minutes until they are solid.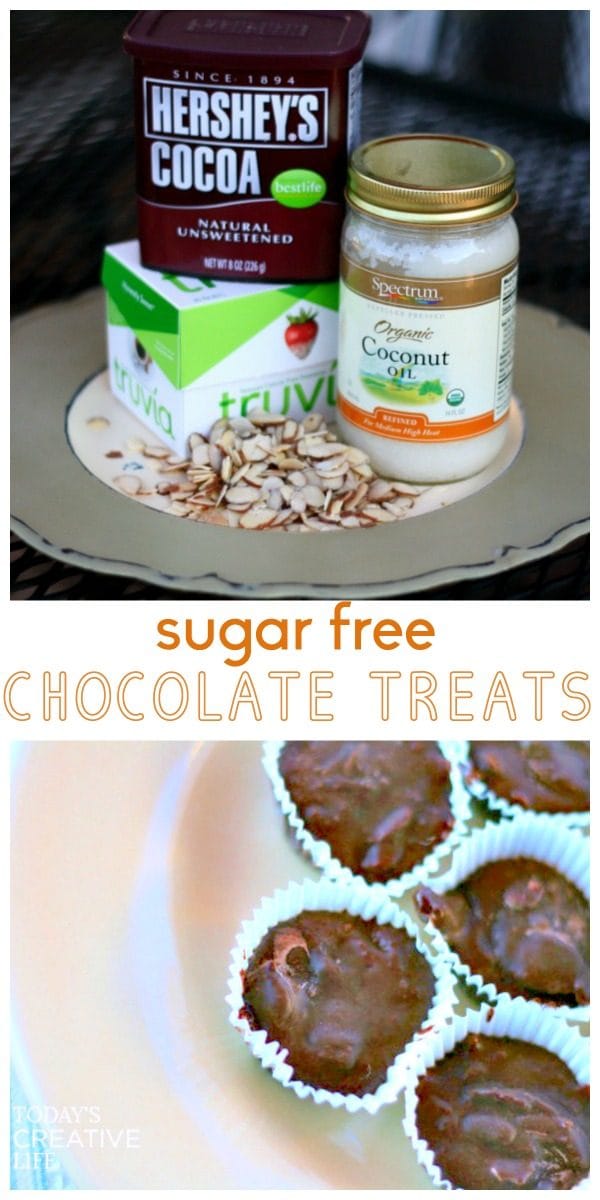 ---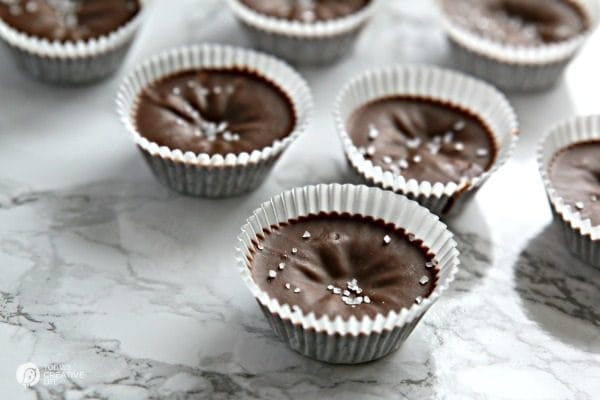 Coconut Oil Chocolate Peanut Butter Cups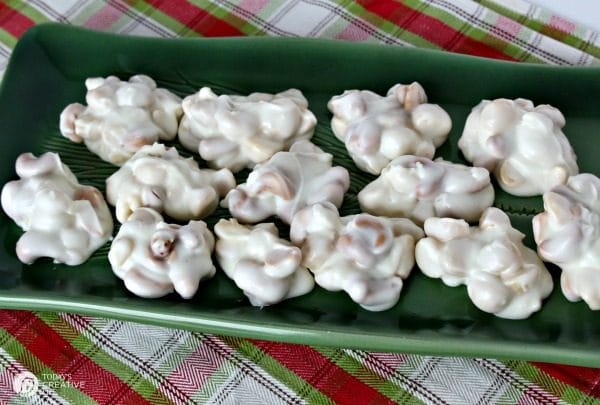 Crockpot Candy Clusters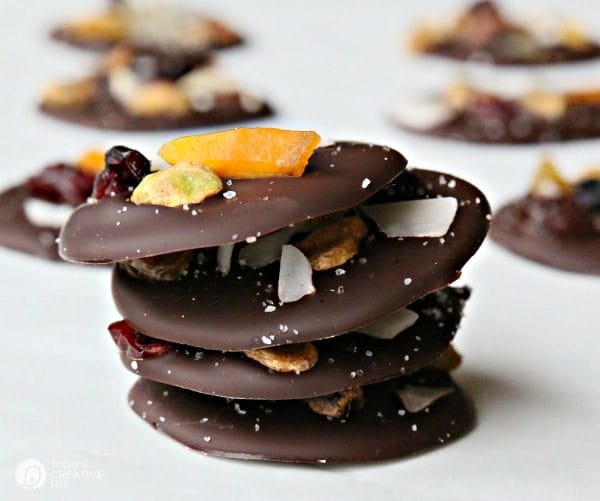 Dark Chocolate Nutty Fruit Bites