It's Creamy and Delicious Crockpot Hot Chocolate Season!!! This recipe for crockpot hot chocolate is rich, creamy and easy to make. Whipping cream, chocolate chips, white chocolate chips and butterscotch chips make this slow cooker hot chocolate recipe the most decadent recipe you'll ever make.
The temps are dropping which means more hot drinks by the fire pit! And boy do I have a delicious hot cocoa recipe for you to whip up. I love making different versions of hot chocolate, as you can see in my Drinks archives. My Homemade Peppermint Hot Chocolate is one of my personal favs.
Creamy and Delicious Crockpot Hot Chocolate
The beauty of this hot chocolate recipe is that it can be made in the slow cooker, or on the stove top. Depending on when you need it ready, will determine which way to make it.
My son and his friends LOVED the sweet and delicious taste. Well…… except for one friend who claims he doesn't like hot chocolate. He's no longer welcome. 🙂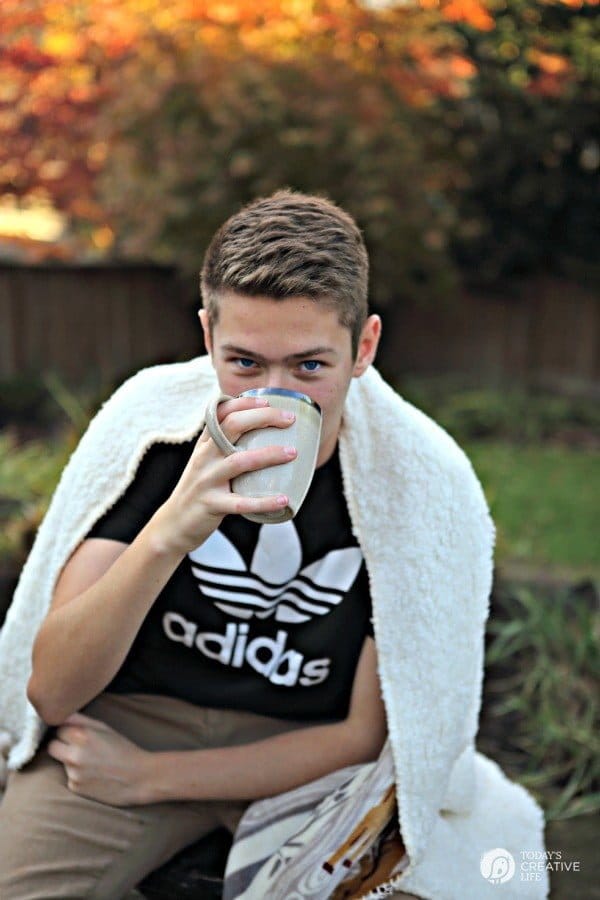 That's my gorgeous son enjoying the first sips of this warm hot drink. He's usually a Dutch Bros. hot chocolate fan and never misses an opportunity to tell me that theirs is better than mine. I've made other hot chocolate recipes, like my Peanut Butter Chocolate and my Nutella recipes and although he likes them, he says they are just close in comparison. (little turd) I should have him try this Slow Cooker Pumpkin Spice Latte recipe and see what he thinks!
This recipe is a bit sweeter than my others, which is probably why he likes it the best.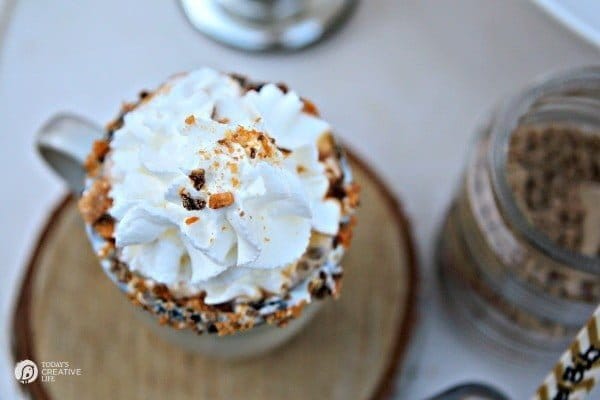 Or maybe it was the white chocolate-dipped, rolled-in butterfinger-rimmed mugs.
How decadent can a cup of hot chocolate get? I melted a few white chocolate candy melts in a bowl, then simply dipped the mug edges in the white chocolate. While the rims were still wet, I dipped them in a bowl of crushed butterfingers. YUM!
This can be done with peppermint chips, sprinkles, graham crackers etc… I know! Greatest tip ever!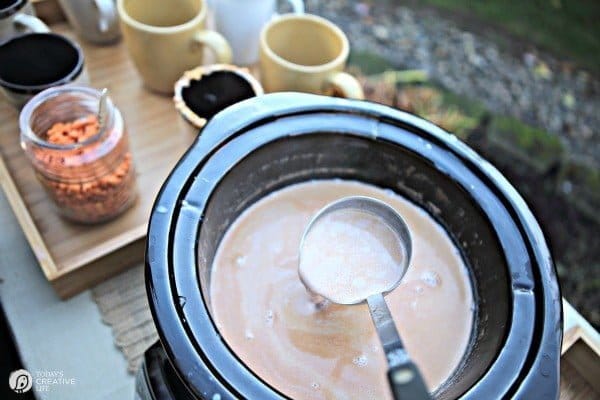 My crockpot full of hot cocoa stayed hot for a long time. I could have plugged it in with an extension cord, but I knew my son and his friends would have it gone in no time.
If you're looking for an easy drink for the holidays, this is it! It's super easy to make and then it just works it's magic over the next couple of hours.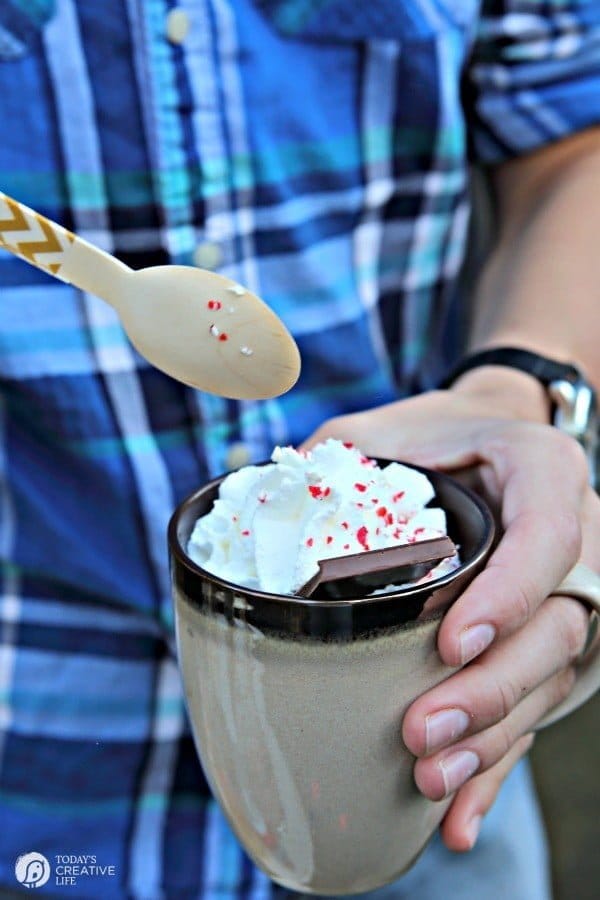 My son's friend has been around me way too much when I'm shooting photos for a blog post. He surprised me and created a perfectly garnished cup full of creamy hot goodness.
How to Make Crockpot Hot Chocolate
It's all in the quality of ingredients. For thick and creamy crockpot hot chocolate, the secret is the whipping cream and the sweetened condensed milk. Using chocolate chips instead of cocoa powder also gives more depth to this recipe.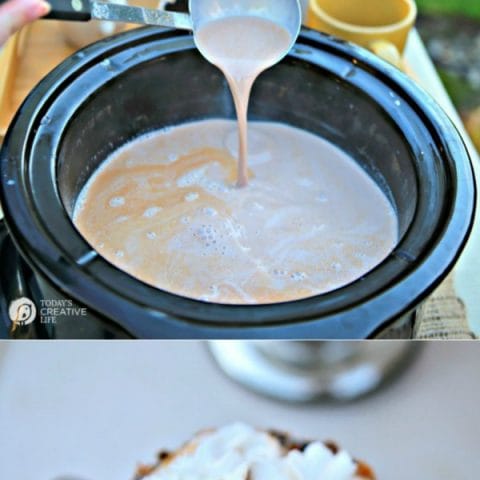 Recipe for Crockpot Hot Chocolate
Yield: 10 mugs
Prep Time: 5 minutes
Cook Time: 2 hours
Total Time: 2 hours 5 minutes
Warm up with this indulgent Crockpot Hot Chocolate recipe that promises to be a creamy and rich delight.
Ingredients
7 Cups Milk (I used whole milk)
1 1/2 Cups Whipping Cream (the liquid kind you take home and whip)
1/2 can of Sweetened Condensed Milk (from a 14 oz. can)
1 teaspoon vanilla
1 cup Milk Chocolate Chips
1/2 cup White Chocolate Chips
1/2 cup Butterscotch chips
Instructions
Add all ingredients into your large crock pot. I use my 6 quart crock pot.
Give it a little stir to blend all the ingredients.
Cook on Low for 2 hours.
I did lift the lid about every 30 min to stir the chips.
Serve and top with whipped cream.
STOVETOP DIRECTIONS for CROCKPOT HOT CHOCOLATE
Using a large pot, follow the same instructions as the crockpot and cook on medium until warm, then simmer. Stir occasionally and watch carefully as to not scald the whipping cream. When everything is melted and blended, you're ready to serve.
Notes
Feel free and add semi-sweet, or dark chocolate chips instead of milk chocolate.
Or add all chocolate and omit the white chocolate and the butterscotch.


Recommended Products
As an Amazon Associate and member of other affiliate programs, I earn from qualifying purchases.
Nutrition Information
Yield 10
Serving Size 1
Amount Per Serving
Calories 395
Total Fat 27g
Saturated Fat 17g
Trans Fat 1g
Unsaturated Fat 8g
Cholesterol 60mg
Sodium 121mg
Carbohydrates 31g
Fiber 1g
Sugar 30g
Protein 9g
We do our best to calculate, however, nutrition information may not be accurate.
For those who love a little peppermint added to their hot chocolate!
This warm & delicious holiday drink makes a great gift item too! Printable tags on TCL.
Photo Credit: tidymom.net
How to make a latte at home.
Everyone loves Nutella! This recipe for crockpot hot chocolate is easy to make a great for a crowd.
For peanut butter lovers!
Recipe for crockpot hot chocolate. Creamy and decadent.
This traditional holiday hot drink is great all winter long.