Comfort food headquarters right here! Slow Cooker Ham and Cheese Scalloped Potatoes are on the menu today!
Once the temps drop and the winter months are closing in, we suddenly want all things made with pasta or potatoes! This past week, I posted my super delicious 3 cheese Mac & Cheese and now this Crockpot Ham and Cheese Scalloped Potatoes! Just consider me your comfort food supplier this winter.
Slow Cooker Ham and Cheese Scalloped Potatoes
Potatoes always get a bad rap, yes I know they are full of carbohydrates, but let's consider all the nutrition they also offer. Because if I'm going to eat potatoes, then I'm not going to feel guilty about it and ruin my moment.
I just recently lost my mother and in the past few months of her sickness, I was always trying to fatten her up. I made my oven baked scalloped potatoes more than once while visiting her and she and my aunt would eat them all week long. At least every two weeks, they'd ask me to make them because they loved them so much. I should have made up a batch in the crock pot.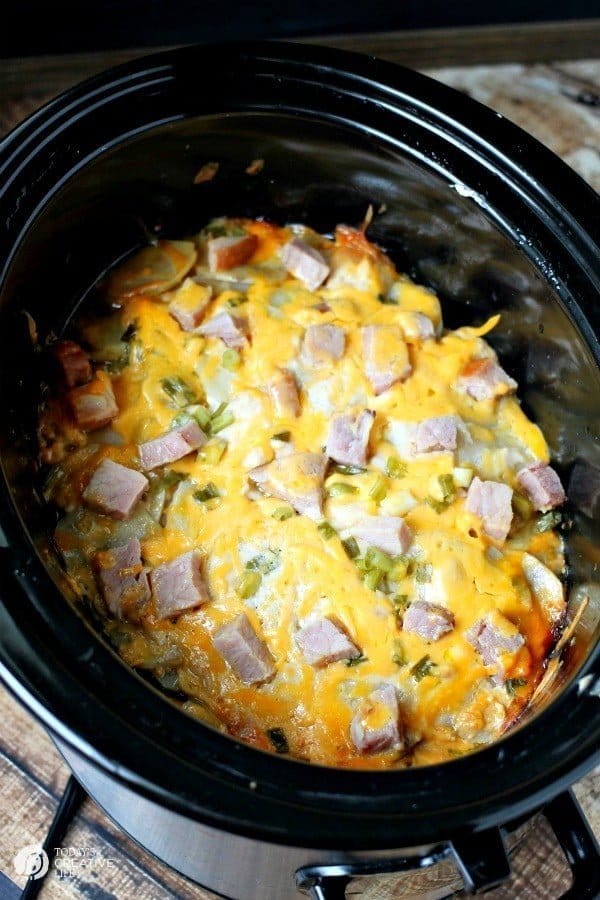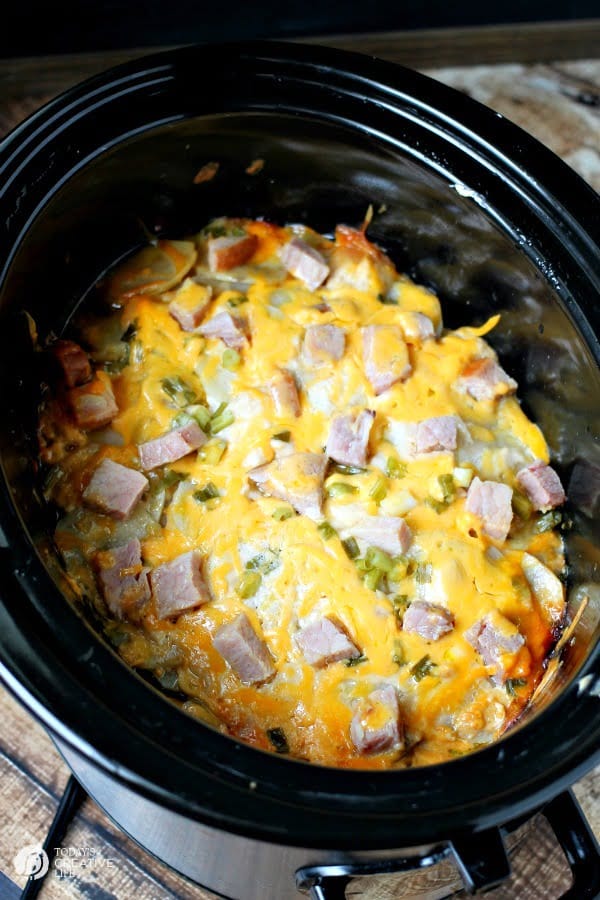 This recipe isn't much different, except you can use your slow cooker or crockpot (same thing) so you can cook it while your away during the day and have a delicious side dish waiting for you for dinner.
Using your slow cooker for recipes like this, is also a great idea for the holidays. It allows you to free up the oven, or contribute a dish that's easy to transport. Just place your slow cooker on the floor of your car or in a box to be placed in the trunk. There are slow cookers that have a great locking lid system to make it even easier.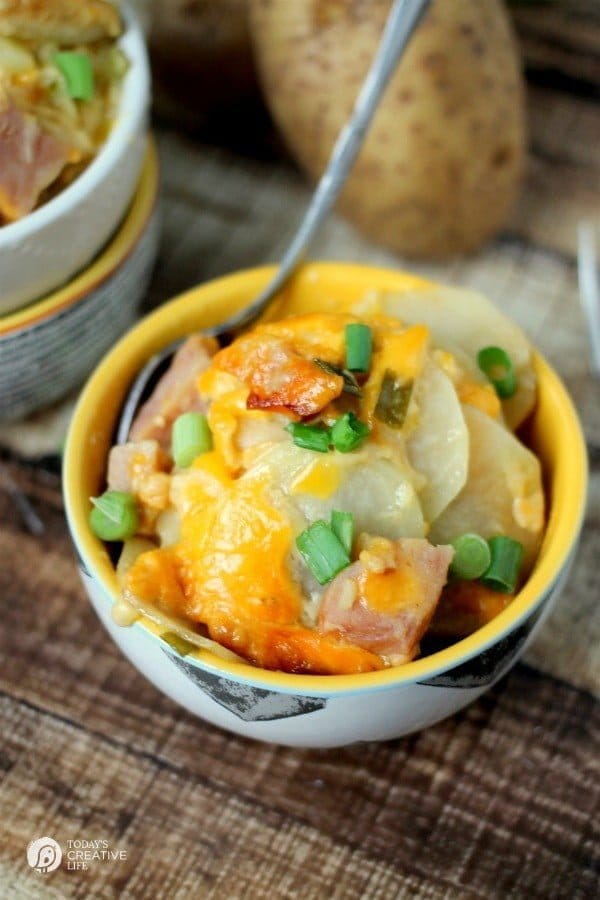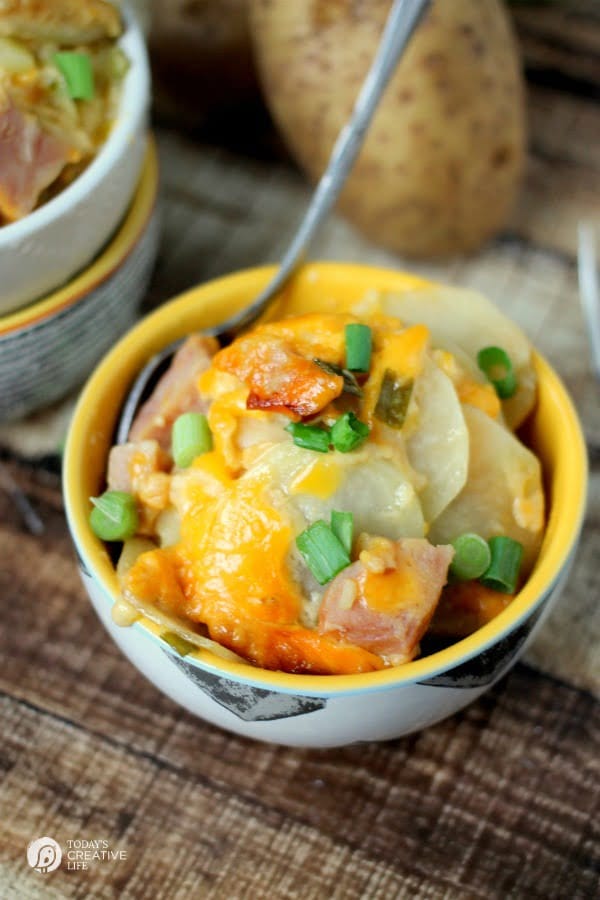 This is obviously a great side dish, but honestly….. who couldn't just make this a meal? I know I could!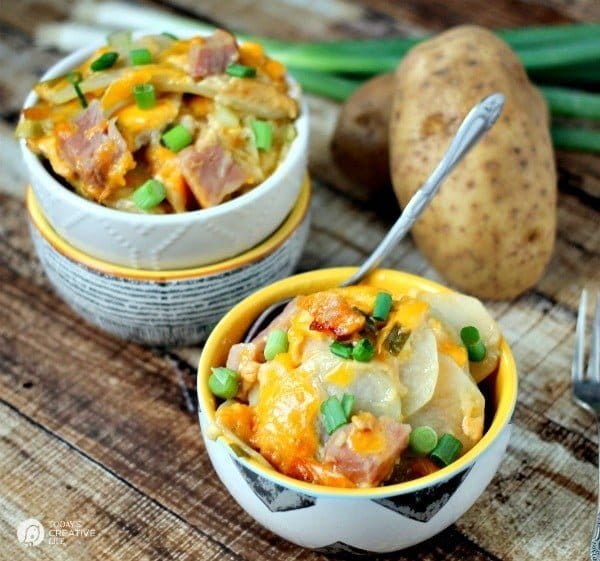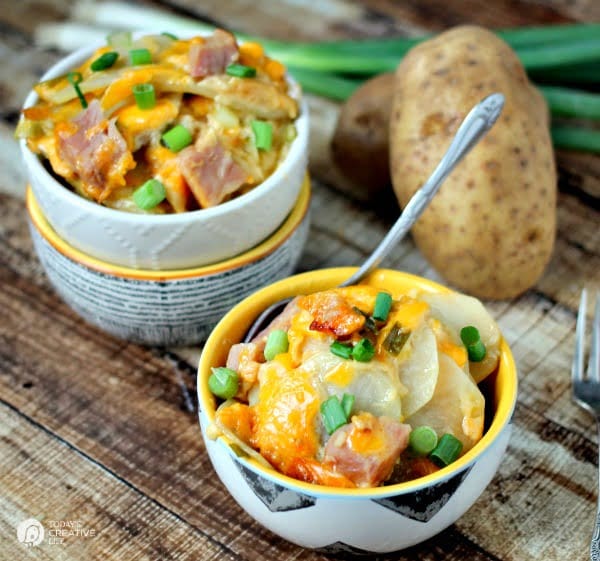 I've got a bowl for you and for me! Let's eat!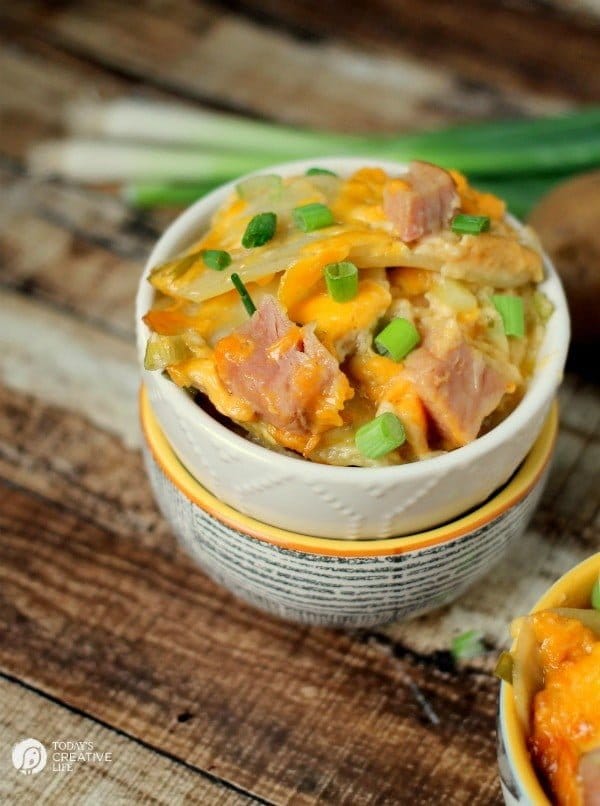 Slow Cooker Ham and Cheese Scalloped Potatoes
Author:
Today's Creative Life
Ingredients
6 medium russet potatoes, peeled and sliced into thin slices
6 TBS butter
3 TBS flour
24 ounces evaporated milk (2 cans)
½ tsp salt
½ tsp black pepper
2 cups cooked ham cubes
6 green onions, chopped
2 cups shredded sharp cheddar cheese
extra green onions for garnish (optional)
sour cream for garnish (optional)
Instructions
In a medium saucepan, add butter and melt over medium heat.
Add flour and whisk, cooking for one minute, continuously whisking.
Slowly add the milk, whisking constantly to combine.
Cook over medium/high heat until the mixture is bubbling and thickening. Remove from heat, add salt and pepper.
Spray your 5 qt. slow cooker with nonstick spray.
Add a layer of potatoes, ⅓ cup of milk mixture, ½ cup ham cubes, ½ cup cheese, and 2 TBS of green onions. repeat layers 2 more times.
Top last layer with another layer of potatoes, remaining ham, cheese, and green onions.
Place the lid on the slow cooker, set to low and cook for 3 hours.
Serve and garnish with additional green onions and sour cream if desired.


Looking for more Slow cooker recipes?  I have a LOT!
Find all my favorite Slow Cooker recipe on my Crockpot and Slow Cooker Pinterest board!