You are going to LOVE me forever for this EASY and quick Slow Cooker Apricot Brie Dip!
You know how you're always looking for a new recipe to take to holiday potluck parties? You're done. This Slow Cooker Apricot Brie Dip is it!
Slow Cooker Apricot Brie Dip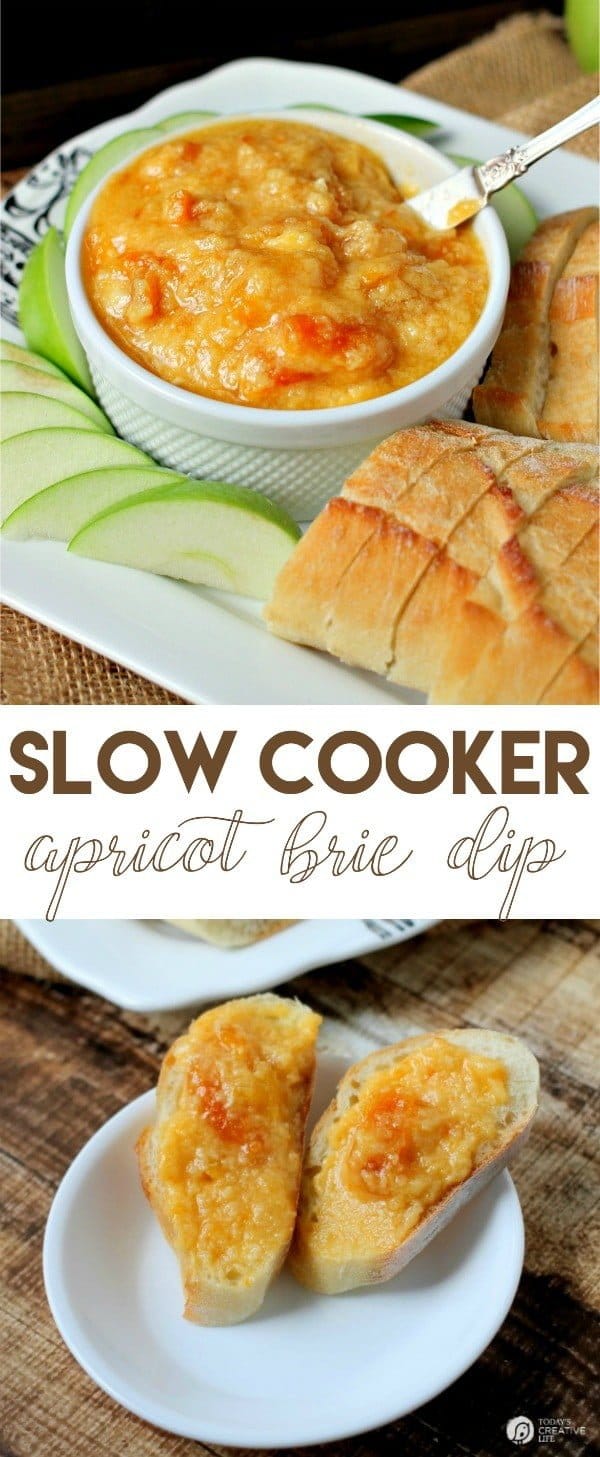 This recipe only takes about an hour, it will keep warm in the slow cooker, no trying to bake it last minute, which makes it the perfect party dip recipe. It's also something a bit different and definitely a show stopper. It's a bit off the party food grid with it's creamy taste that will keep party guests dipping all night long. You could try to look healthy and just dip the apples, or go for it and dip the bread! Yes….. spread that stuff all over a sliced baguette…..better yet, stack the apple on top after you've smeared.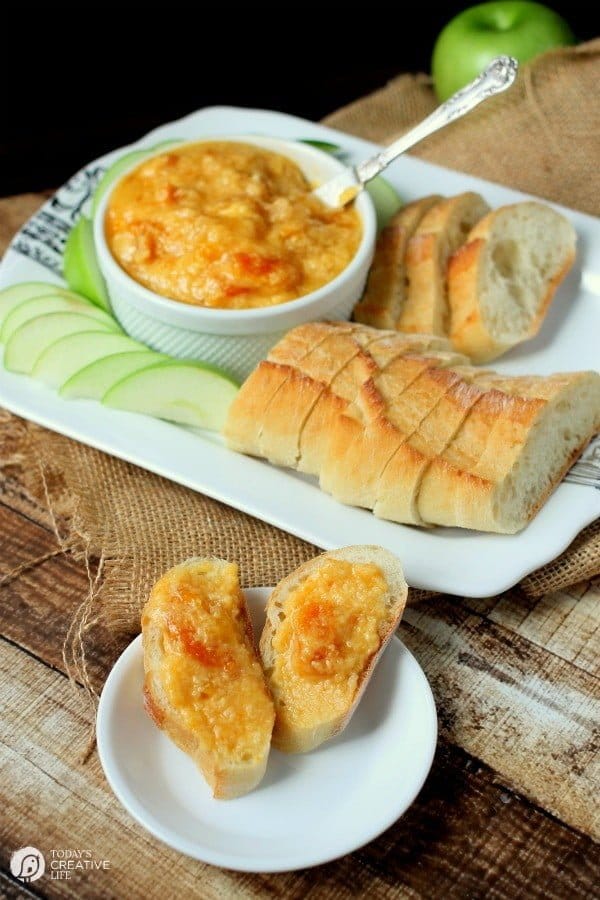 It's also a winner because the prep is easy. Place your ingredients in the crock pot, then a few minutes before serving, slice up some apples and a baguette.
It's easy……. it tastes great…… and everyone will like it. That pretty much sums up the best recipe ever!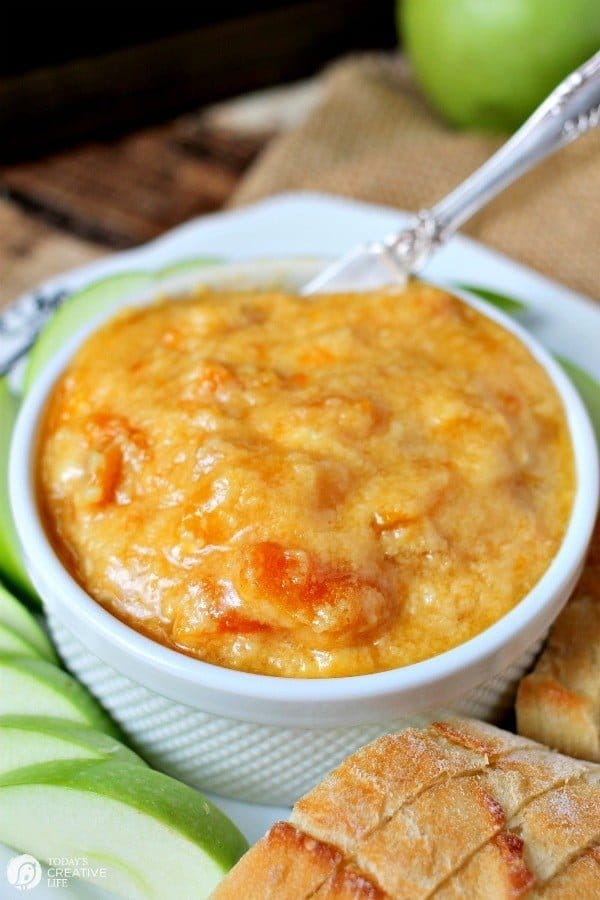 I'm thinking about serving this at one of the parties we'll be hosting this year. We normally do 2 annual parties and I always arrange them on the same weekend, one Saturday and one on Sunday. That way I only have to get the house party ready once.
I'm always looking for ways to use my crock pots and will probably bring them both out. I always make my Crock Pot BBQ Meatballs, because everyone loves them and they have to be the easiest recipe ever. I also find people love dip recipes! This slow cooker Spinach Artichoke Dip recipe is a great party dip.
I keep things simple by grabbing Christmas paper goods out of my party pantry and sometimes I'll wrap all the water bottles in a festive bottle wrapper or duck tape. All very simple ideas that keep the crazy down because party planning can be stressful. Just remember…. as a girlfriend says…. "People over Perfection"!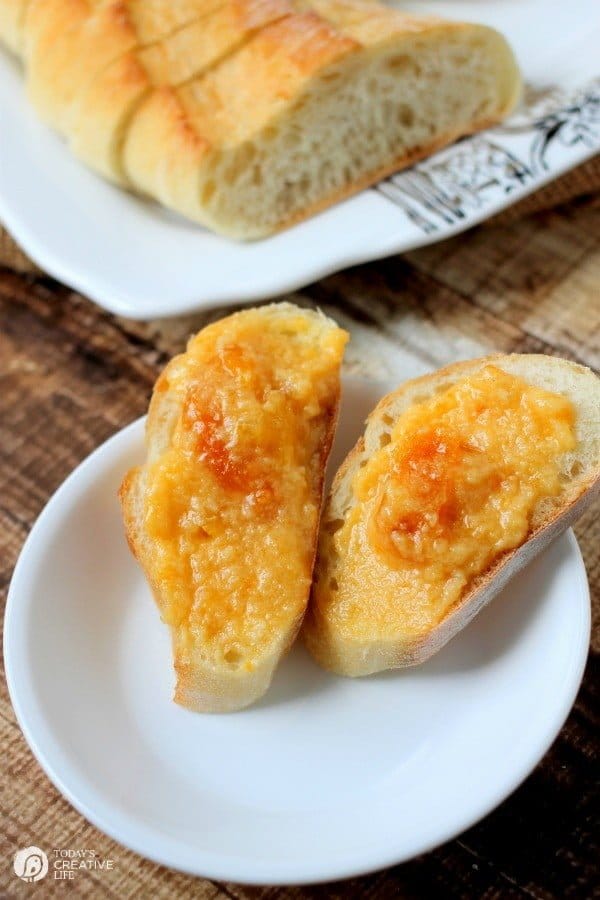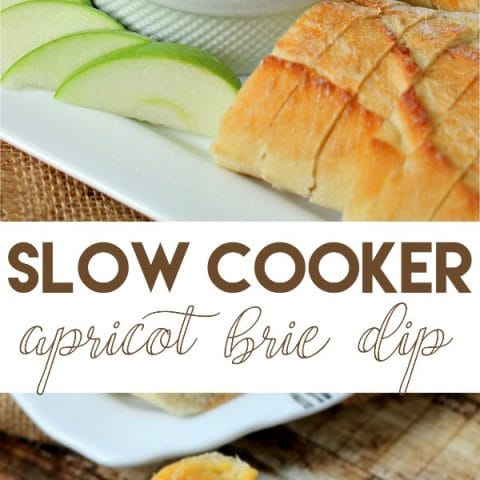 Slow Cooker Apricot Brie Dip
Ingredients
2 rounds brie cheese (16 ounces total), rinds cut off
½ cup dried apricots, chopped
½ cup apricot preserves
¼ cup orange or apple juice
baguette, sliced for serving
apples, sliced for serving
Instructions
In a small slow cooker, add apricots, preserves, and juice; whisk to combine. Cover and cook on low for 1 hour.
Cut the brie cheese into cubes, and place into slow cooker; stir, cover, and cook on high for 30 minutes. Stir.
Place slow cooker on low, and serve with sliced bread and apples. Enjoy!
Looking for more Party Food?