It's time for another slow cooker/crockpot recipe!  I've been making this EASY Apricot Chicken for a few years.  It's SO simple and only takes 3 ingredients, other than the chicken. I don't even remember who gave me this recipe, but we love it!  Making a large batch of Apricot Chicken in the crockpot  is a great way to have it on hand for salads, pasta dishes or quick left overs. We use for a quick bento bowl.  We'll usually add a handful of veggies and make it a one bowl meal. I could eat every meal from a bowl.
Apricot Chicken
There is nothing better than having dinner ready for you with a delicious slow cooker meal! That bewitching hour when it's time to make dinner is the worst! Thank God for my slow cooker, otherwise, I'm not sure how often my family would get a hot cooked meal.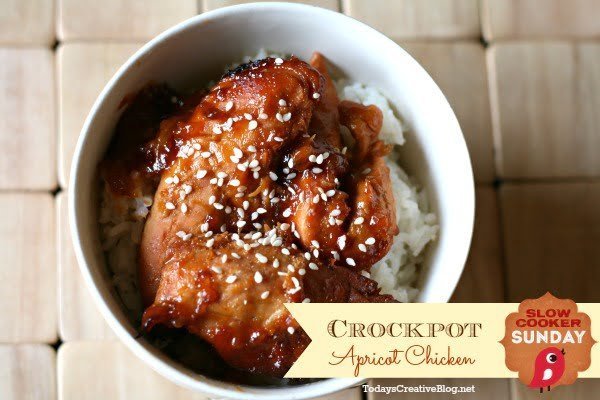 Ingredients
4-6 Chicken Breasts or 10-12 Chicken tenderloins
1/2 cup Apricot Preserves
1/2 cup French Salad Dressing
One package of Onion soup mix (I use Lipton 2 pouch 1.9 oz box)
Sesame seeds (garnish)
Instructions
Mix the salad dressing and onion soup into the bottom of the slow cooker.
Add the apricot preserves and chicken.
Cook on low for 4-6 hours.
Stir at least once after it's warmed up to mix in the preserves.
Serve over rice, pasta, salad. Garnish with sesame seeds if desired.

My "go to" Slow Cooker cookbook
 – I can't live without it!  Here's another great slow cooker cookbook Fix it and Forget it!
Find my other Slow Cooker Sunday recipes –
Do you have a favorite slow cooker recipe?  Send it to me.  It may get featured!  [email protected]