It's time for another slow cooker/crockpot recipe! I've been making this EASY Crockpot Apricot Chicken for a few years. It's SO simple and only takes 3 ingredients, other than the chicken.
I don't even remember who gave me this recipe, but we love it! Making a large batch of Apricot Chicken in the crockpot is a great way to have it on hand for salads, pasta dishes or quick leftovers. We use it for a quick bento bowl. We'll usually add a handful of veggies and make it a one-bowl meal. I could eat every meal from a bowl.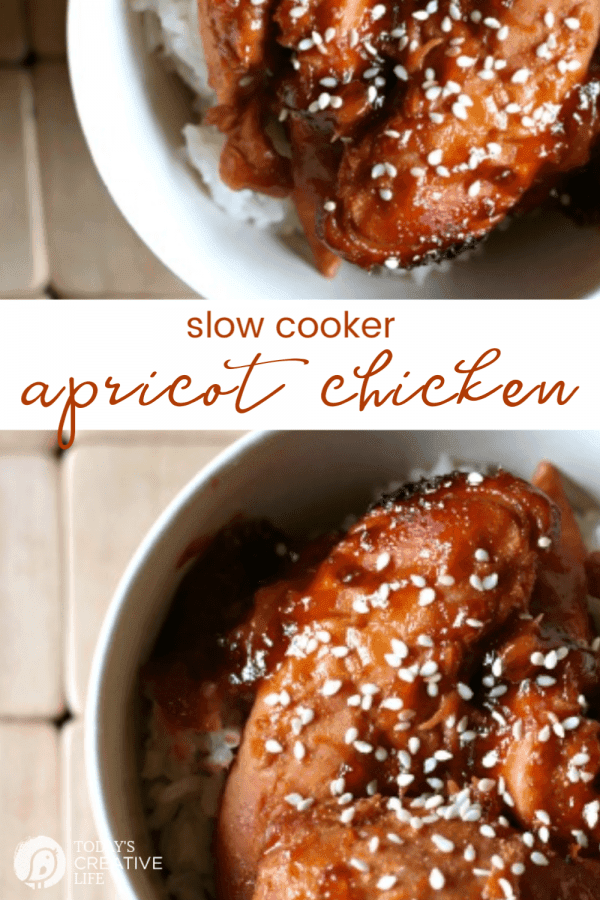 Slow Cooker Apricot Chicken
There is nothing better than having dinner ready for you with a delicious slow cooker meal! That bewitching hour when it's time to make dinner is the worst! Thank God for my slow cooker, otherwise, I'm not sure how often my family would get a hot cooked meal.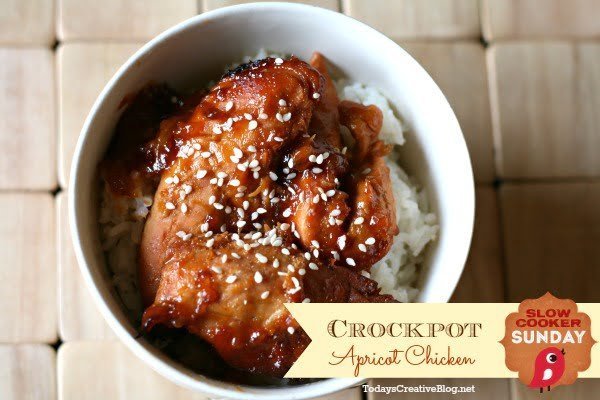 How to Make Crockpot Apricot Chicken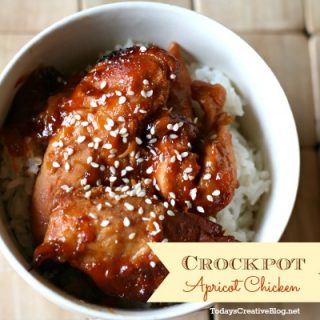 Crockpot Apricot Chicken
Yield: 6
Prep Time: 5 minutes
Cook Time: 6 hours
Total Time: 6 hours 5 minutes
Slow Cooker Chicken recipe made with 4 ingredients and you've got an easy and delicous dinner.
Ingredients
4-6 Chicken Breasts or 10-12 Chicken tenderloins
1/2 cup Apricot Preserves
1/2 cup French Salad Dressing
One package of Onion soup mix (I use Lipton 2 pouch 1.9 oz box)
Sesame seeds (garnish)
Instructions
Mix the salad dressing and onion soup into the bottom of the slow cooker.
Add the apricot preserves and chicken.
Cook on low for 4-6 hours.
Stir at least once after it's warmed up to mix in the preserves.
Serve over rice, pasta, salad. Garnish with sesame seeds if desired.
Nutrition Information
Yield 6
Serving Size 1
Amount Per Serving
Calories 527
Total Fat 19g
Saturated Fat 4g
Trans Fat 0g
Unsaturated Fat 13g
Cholesterol 184mg
Sodium 447mg
Carbohydrates 20g
Fiber 1g
Sugar 13g
Protein 66g
Nutrition information isn't always accurate.
How to serve Apricot Chicken
Make a rice bowl with veggies.
Serve with sides like my Chinese Garlic Green Beans, or a green salad.
Shred and use in a burrito
Serve with baked potatoes
Can Apricot Chicken be made in the oven?
This recipe can be baked in the oven. Place chicken in a 9 x 13 baking dish. Mix up the ingredients and pour over the chicken, then bake for 50-60 minutes at 350°. Always make sure chicken's internal temp is 165° for safety.
Chicken Recipes
Family-friendly Chicken Recipes.
Find several slow cooker recipes that use chicken.
Everyone loves a good pizza! This Chicken Alfredo is mouth-watering delicious.
Comfort food brought to you with this simple chicken pot pie.
Easy to make with simple layers.
This recipe can be used for so many dinner ideas.
Another family favorite recipe that's a keeper.
Cafe Rio has the best chicken salads! This copy cat recipe allows me to enjoy at home.
Photo Credit: www.yourhomebasedmom.com
Leighanne's recipe is simple and delicious for having chicken on hand.
Photo Credit: www.makeandtakes.com
Empanadas make dinner so special.
Made with the Cesar chicken recipe.
How to make delicious and wholesome chicken broth.
When you can't do take out!