These aren't just any Chicken Lettuce Wraps, these are Caesar Chicken Lettuce Wraps made from my Slow Cooker Caesar Chicken recipe. That recipe will make it's rounds to so many meals.
Chicken Lettuce Wraps – Slow Cooker Caesar Chicken Lettuce Wraps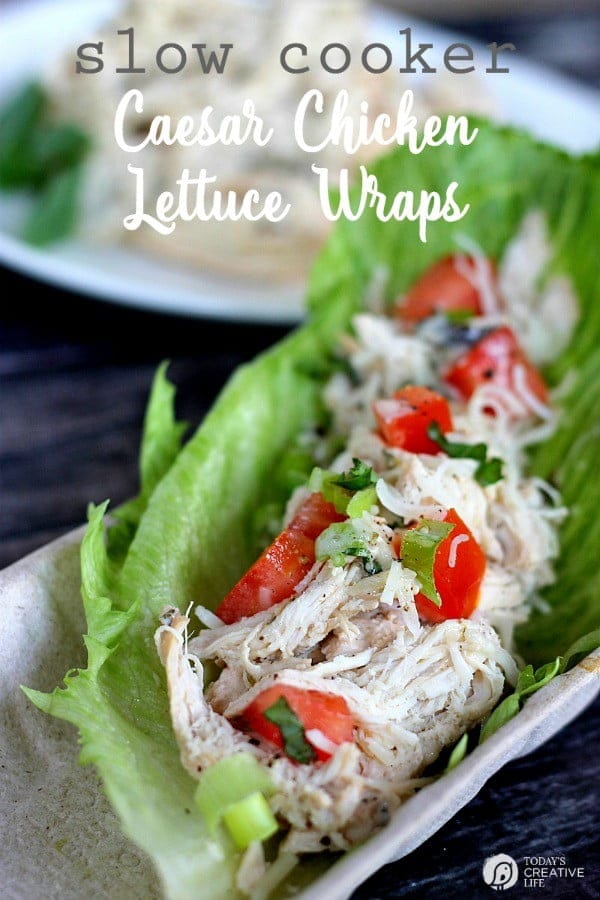 I've already shared the Slow Cooker Chicken Caesar Chicken Salad recipe and I've got a few more up my sleeve.
When I can make up a full crock pot of chicken on a Sunday and then use it for many meals during the week…. I feel pretty darn good.
There is nothing like knowing what you're making for dinner before 4pm. Am I right?
That's why meal planning is SO important, not only is it better for our health, but it keeps the stress of figuring out dinner at an all time low. With that said… I can be the worse at meal planning. I have a hard time committing to what I may or may not be in the mood to eat or make. I need to work on that!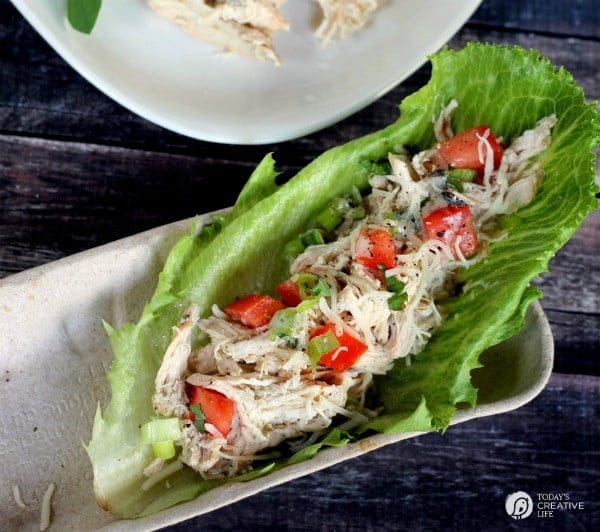 But I do know that when I have chicken already made up, I usually use it and it's a much better week. It really is all about being prepared. I have to keep reminding myself of that.
I also love my Crock pot Cafe Rio Chicken recipe. While this Caesar chicken is great for salads, wraps, sandwiches… the Cafe Rio Chicken is great for burrito bowls, burritos, salads and more. Both are fantastic to make up ahead of time for an easy week of meal planning.
Download my Printable Meal Planning Work Sheet!
Chicken Lettuce Wraps are a low carb friendly meal that's still completely satisfying. It's all about using fresh and crunchy romaine lettuce.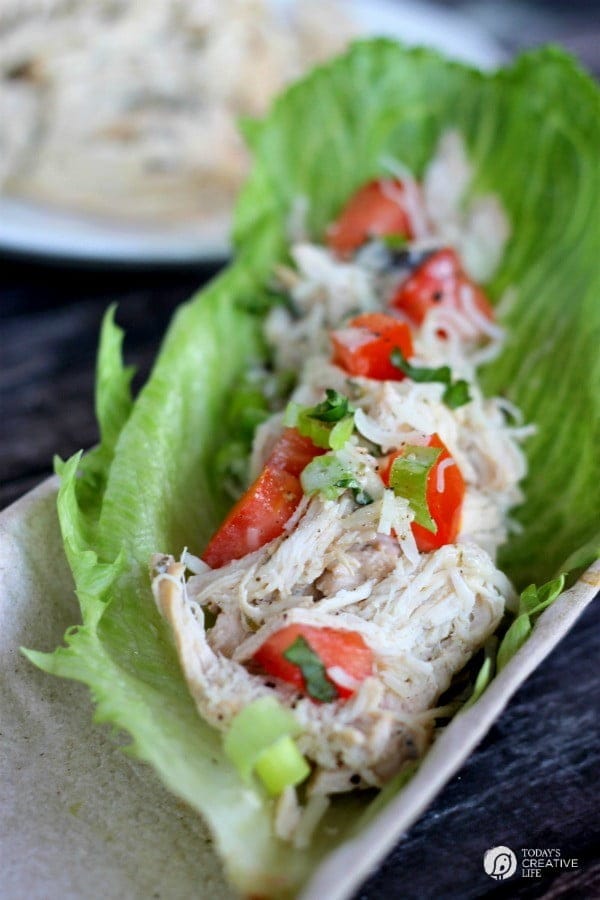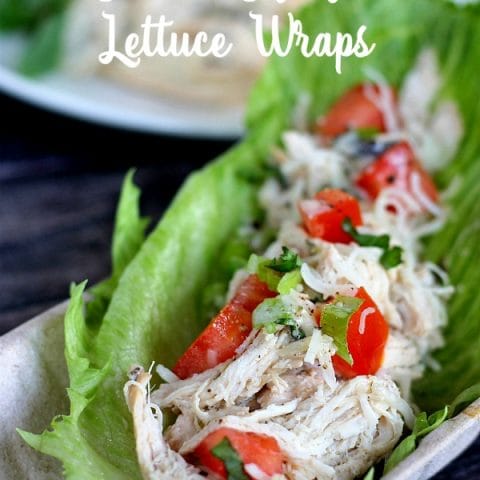 Slow Cooker Caesar Chicken Lettuce Wraps
Yield: 5
Cook Time: 5 hours
Total Time: 5 hours
Ingredients
4-5 boneless, skinless chicken breasts
¾ cup creamy caesar dressing (I like Ken's light -or low fat is a great option)
⅛ tsp black pepper + extra for grinding on top
⅛ tsp salt
¼ cup packed fresh basil, chopped (if you don't have fresh, substitute with 1 tsp dried)
½ tsp dried parsley
10-12 lettuce cups (I like romaine hearts or bibb lettuce), washed and dried
2 large tomatoes, diced
½ cup freshly grated parmesan cheese
3 green onions, chopped
Instructions
In a bowl mix dressing, pepper, salt, basil, and parsley; pour into the pot of a slow cooker. Place chicken into sauce mixture, and then flip chicken over so that both sides are saucy. Cover and cook on high for 5-6 hours, or low for 7-8 hours.
Remove chicken from slow cooker and shred using 2 forks. There will be some sauce left in the slow cooker, reserve in a bowl and set aside.
Taking the lettuce cups/wraps, add about ¼ cup chicken to each one and then top with tomatoes, green onions, parmesan cheese, and freshly cracked black pepper. Spoon additional sauce over lettuce wraps if desired.
This is a really fun recipe to set up like a taco bar - leave everything in it's own bowl and let people assemble their own wraps!

These Chicken Lettuce Wraps are just another take on the Chicken Caesar Salad mentioned above. With spring coming, these are both great for those first nights of eating out on the deck.

Who's ready for a lite meal?
---
More Slow Cooker Dinner Ideas
Follow my Crock pot Recipes Pinterest Board for more great Slow Cooker ideas!