This homemade butter toffee pretzels recipe is the perfect blend of sweet and salty. Made with Heath bar crumbles, butter, brown sugar, pretzels and more makes a great holiday treat. Easy to make recipe is great for potlucks, homemade gift ideas or snacking.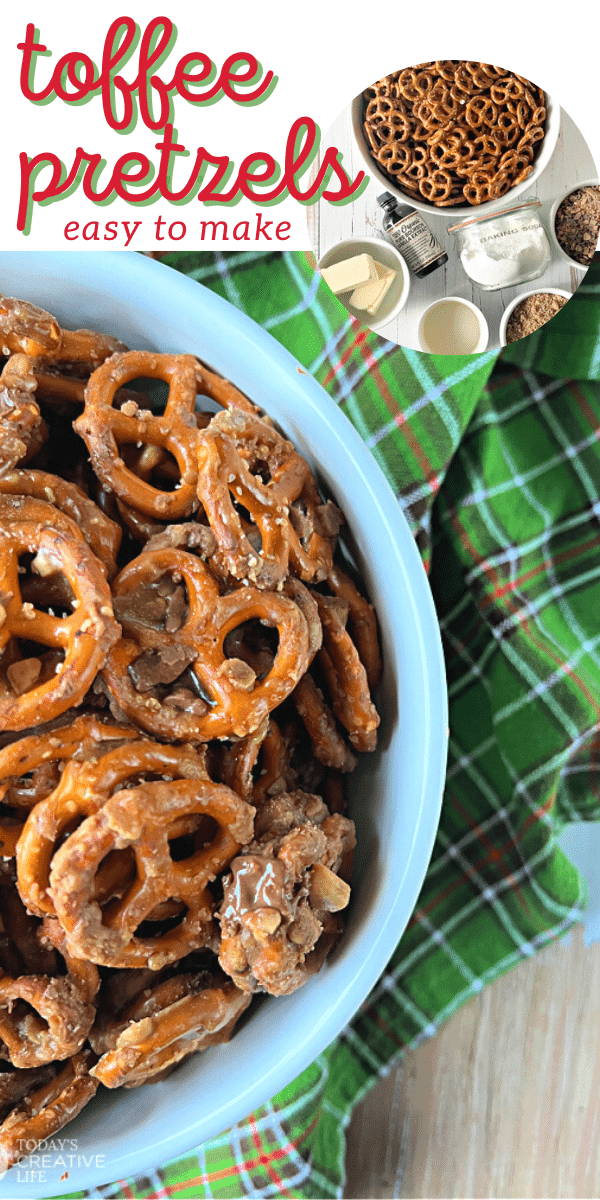 Homemade Butter Toffee Pretzels Recipe
Simple recipes that you can take to parties, or give as holiday gifts are always popular around the holidays. Like my Butterfinger Candy Bark Recipe or my White Chocolate Peppermint bites, these easy-to-make recipes will save you time and make the best offerings. Homemade Butter Toffee Pretzels satisfy that crunchy sweet and savory craving that everyone loves.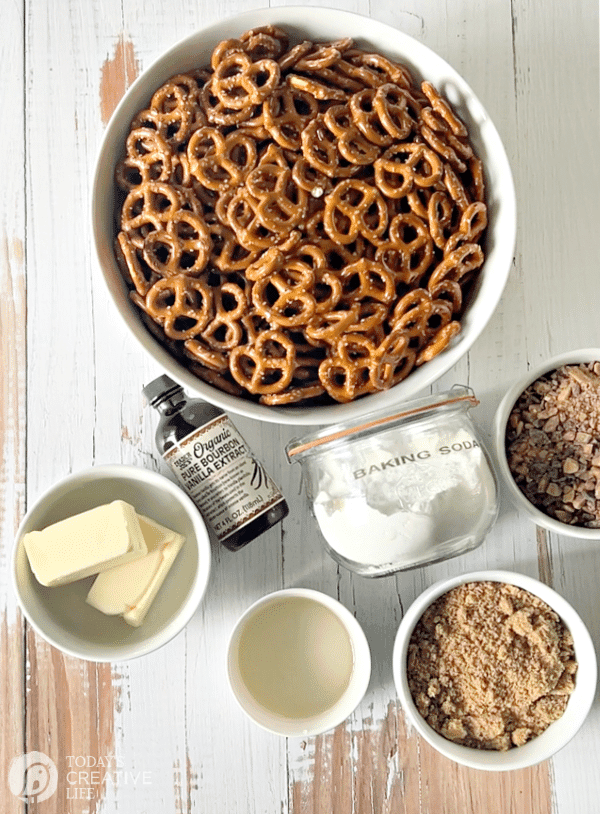 How to Make Butter Toffee Pretzels
A printable recipe with ingredient measurements is available further down. Keep scrolling.
Gather your ingredients.
Mini Pretzels
Butter
Vanilla Extract
Corn Syrup
Brown Sugar
Heath Bar Crumbles
Baking Soda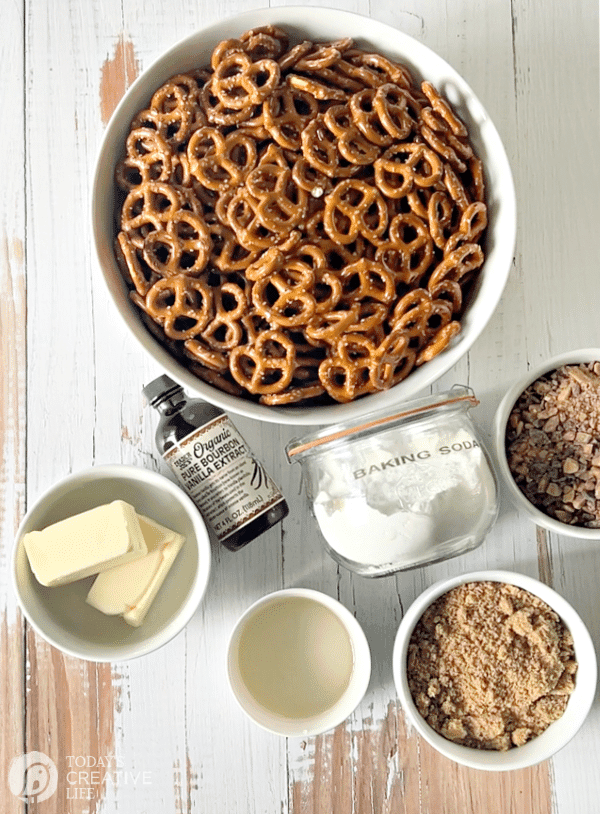 Get prepped. Set a parchment paper lined baking sheet and a large bowl of pretzels to the side.
Time to make the toffee. Bring butter, brown sugar, and corn syrup to a boil in a medium-sized saucepan. You'll need to stir it consistently and let that boil for 5 minutes or so.
Once you remove it from the heat, add the baking soda and vanilla, whisking to mix it well.
Pour the toffee mixture over the pretzels and mix it as well as you can as you try to coat the pretzels. I found using tongs worked best.
Add half the Heath bar crumbles and mix.
Pour onto the baking sheet and spread them out.
Time to bake in a 200° Fahrenheit oven for an hour. But don't go far, because you need to stir it around every 15 minutes or so.
Remove from the oven and add the rest of the Heath crumbles.
Let the pretzels cool. They will set into crunchy crisp clusters. Break into the sizes you want.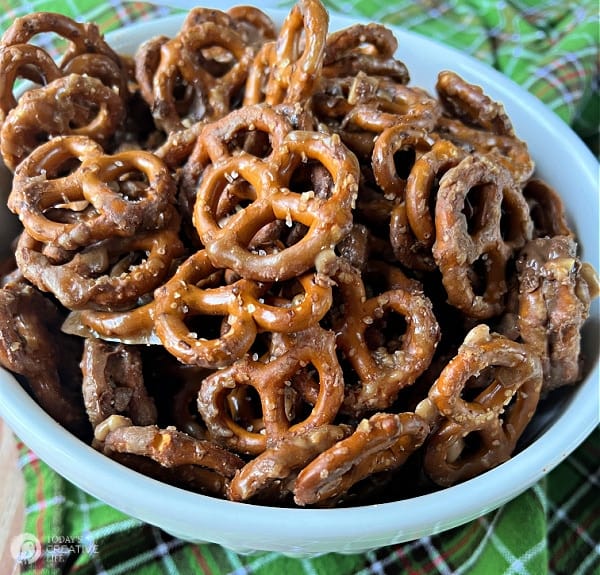 How to Store Butter Toffee Pretzels
Once the pretzels are completely cool, place them in an airtight container or bag. You can even store them in the freezer (also in an airtight container) if you have leftovers or you make them up a couple of months before the holiday. If you're giving them as a gift, place them in a food gift box, or tin and add one of my free printable gift tags.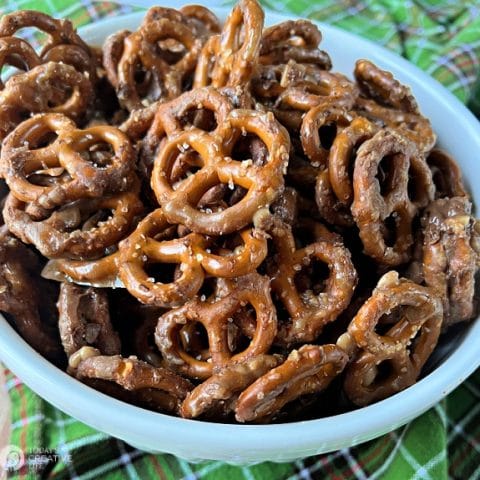 Toffee Crunch Pretzels
Yield: 1
Prep Time: 20 minutes
Cook Time: 1 hour
Additional Time: 20 minutes
Total Time: 1 hour 40 minutes
A holiday treat that's the perfect blend of salty and sweet that also makes a great homemade gift idea.
Ingredients
Mini Pretzels - 16 oz. Bag
1 Cup Brown Sugar
1/2 Cup Butter
1/4 Cup Light Corn Syrup
1 Teaspoon Vanilla Extract
1/2 Teaspoon Baking Soda
1 Bag Health Toffee Bits - or 5 or 6 crushed Health candy bars
Instructions
Gather all your ingredients.
Preheat the oven to 200°F
Pour pretzels into a large bowl. Large enough that you'll be able to stir them with the toffee without them spilling out. A foil turkey roasting pan is great for recipes like this and my Christmas Crunch recipe.
Line a large baking sheet with parchment paper and set aside.
Add butter, brown sugar, and corn syrup to a medium-sized saucepan. Bring to a boil for 5 min. Once boiling stir constantly.
Remove the toffee mixture from heat and whisk in baking soda and vanilla.
Pour the toffee mixture over the pretzels and mix trying to coat the pretzels evenly. I found using tongs worked best.
Add half the bag of toffee bits and toss again.
Evenly spread the pretzel mixture out onto your baking pan. They are sticky and clumping, don't worry too much. There is more tossing to come.
Bake for 1 hour, tossing every 15 minutes or so.
Remove from the oven and sprinkle the rest of the toffee bits over the pretzels immediately.
Let them cool and set.
Once they are cool, you can break them up into the sizes you desire.
Store in an airtight container.
Notes
These make great holiday gifts. Use one of my free holiday gift tags.
Recommended Products
As an Amazon Associate and member of other affiliate programs, I earn from qualifying purchases.
Nutrition Information
Yield 15
Serving Size 1
Amount Per Serving
Calories 351
Total Fat 13g
Saturated Fat 6g
Trans Fat 0g
Unsaturated Fat 5g
Cholesterol 20mg
Sodium 528mg
Carbohydrates 55g
Fiber 2g
Sugar 29g
Protein 5g
We do our best to calculate, however, nutrition information may not be accurate.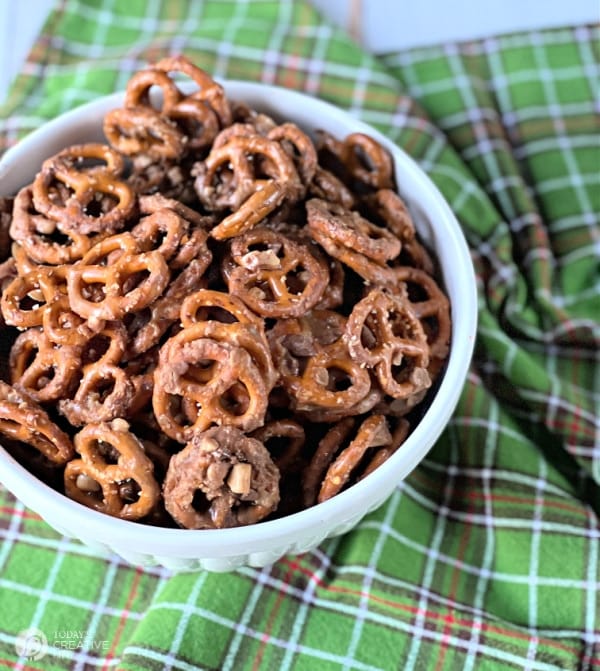 What Pretzels to Use for Butter Toffee Pretzels
Honestly, use what you have or what's on sale. It all works. I like using the smaller size, but pretzel sticks are fine too. You may have more breakage with larger pretzels.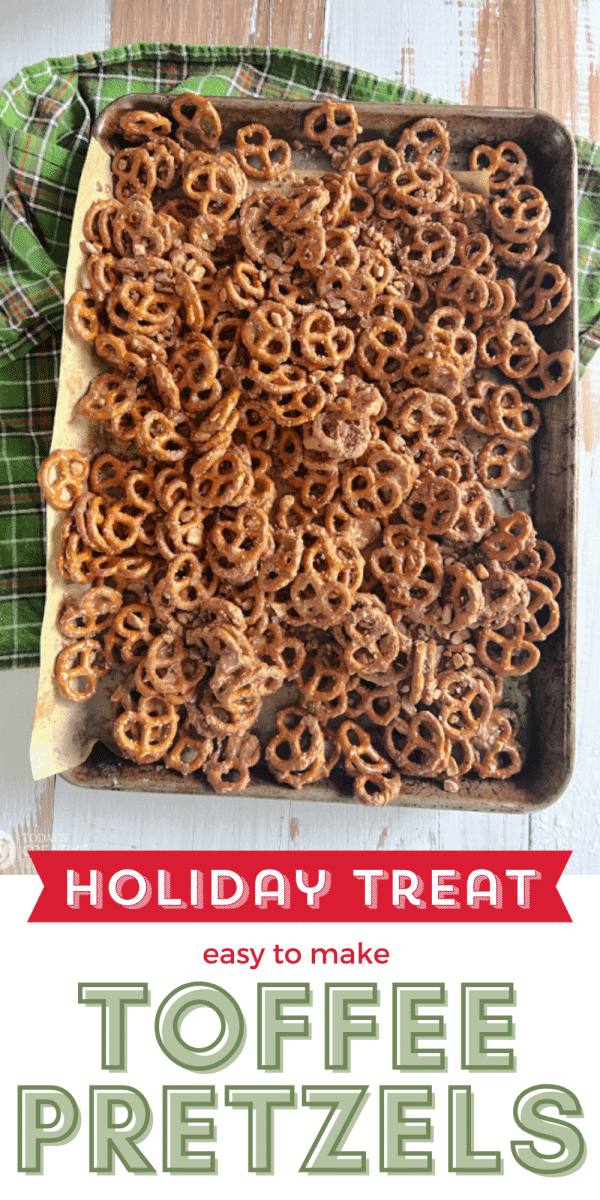 Christmas Candy Recipes
Homemade Christmas candy recipes that are easy to make. A holiday gift from the kitchen that you can give friends, neighbors and family.
These gorgeous little candies are simple and quick to make. Add your favorite candies or fruit and nuts for a delicious bite.
These beautiful peppermint bites make the best gift to hand out to neighbors and friends.
Two ingredients and only 20 minutes is all you need to make these.
Arrange these peanut butter cups in a candy tin and you've got a great gift!
These hot chocolate melting candies are easily made with only one ingredient and a snowflake mold.
For all the peanut lovers out there! These copycat PayDay candy bars are delicious!
Another incredibly easy candy to make for the holidays. Add sprinkles for an extra decoration.
This recipe has been in my family for decades! It's the best peanut butter recipe you'll ever make.
Make this holiday favorite peppermint bark for half the cost!