Sweet and salty no-bake cereal bars with peanut butter, Rice Krispies, pretzels and M&Ms are crunchy and gooey all at the same time. This recipe for No-Bake Peanut Butter Cereal Bars will be your favorite to make when you need something quick and tasty!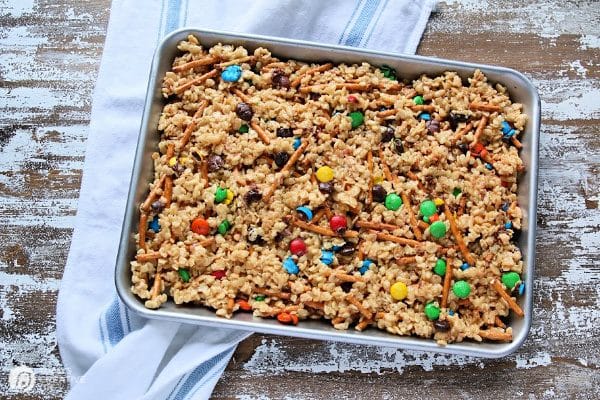 No-Bake Peanut Butter Cereal Bars with Pretzels and M&Ms
You gotta love a no-bake recipe, especially if you have kids who want to start testing their skills in the kitchen.
Everyone loves the sweet taste of chocolate candies with the peanut butter combined with the crunchy cereal and pretzels. Cut it into bars for a snack, potlucks or homemade gift ideas.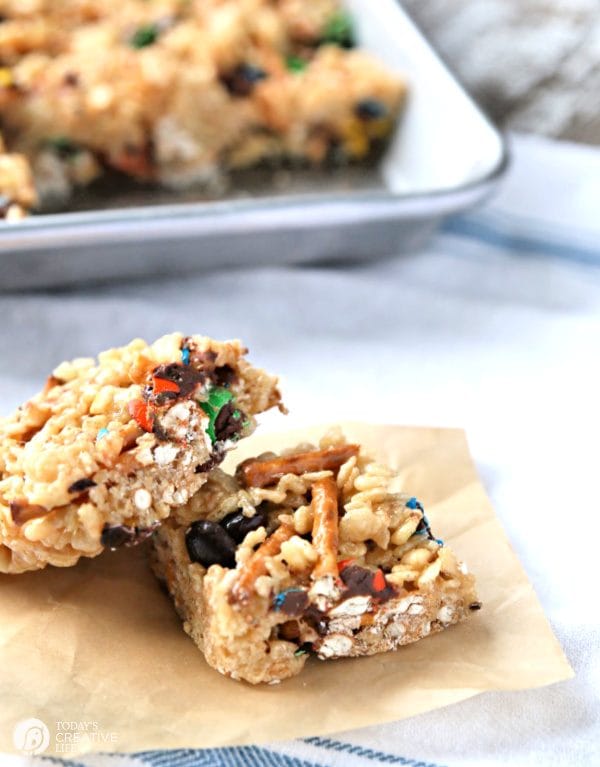 I originally found this cereal bar recipe from Taste of Home, probably in my saved monthly magazines. They have so many easy snack recipes.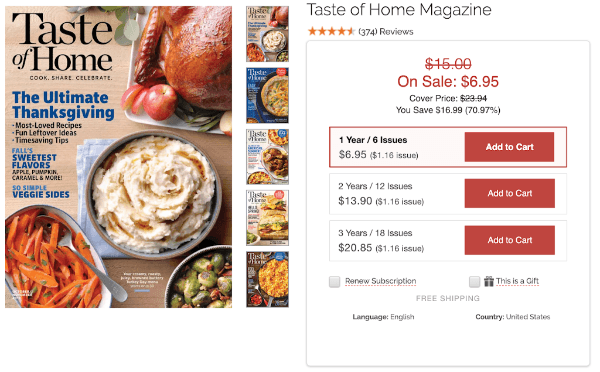 Use my affiliate link to subscribe.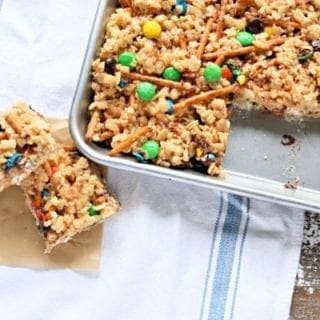 No-Bake Peanut Butter Cereal Bars
Yield: 3 doz
Prep Time: 20 minutes
Cook Time: 5 minutes
Total Time: 25 minutes
This recipe for No-Bake Peanut Butter Cereal Bars will be your favorite to make when you need something quick and tasty! 
Ingredients
1 cup sugar
1 cup light corn syrup
1/2 cup peanut butter
5 cups Rice Krispies
2 cups pretzel sticks
1 cup m&m candies
Instructions
In a large pan combine sugar, corn syrup and heat on medium until sugar is dissolved.
Stir in Peanut butter, until blended, add cereal, pretzels and M&Ms.
Stir until coated.
Press into a greased 15x10inx1 pan. Let them sit for about 10 minutes.
Cut into bars
Notes
Try another type of unsweetened cereal for variety.
Nutrition Information
Yield 36
Serving Size 1
Amount Per Serving
Calories 124
Total Fat 3g
Saturated Fat 1g
Trans Fat 0g
Unsaturated Fat 2g
Cholesterol 1mg
Sodium 81mg
Carbohydrates 23g
Fiber 0g
Sugar 17g
Protein 2g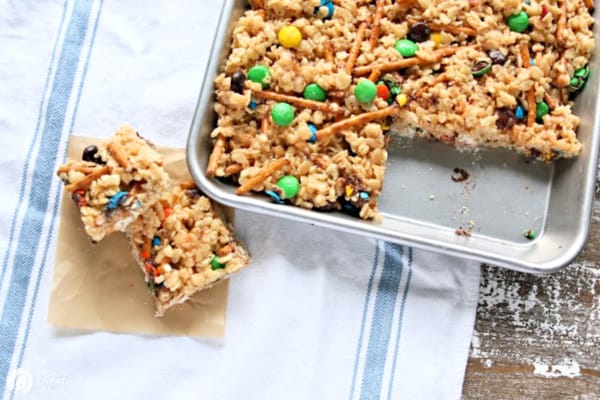 WHAT KIND OF CEREAL IS BEST FOR CEREAL BARS
Choosing a cereal to use in a no-bake cereal bar recipe can be tricky. Because most recipes have added sugar, you want to stick with varieties that are unsweetened. Other things to consider are the size and also whether it would be crushed when pressing into the pan.
Here are a few that seem to work well.
Regular or Multi-Grain Cheerios
Granola
Oatmeal Squares
Kix
If you omit the cup of sugar in the recipe, you could try cereals that are sweetened.
Golden Grahams
Frosted O's
Sugar Pops
CAN I USE DIFFERENT NUT BUTTERS
Although I've never tried using cashew butter, almond butter or sunflower butter, I'm confident that they would work if they have the same consistency as regular peanut butter. This is a great option for anyone suffering from a peanut allergy.
CAN I OMIT THE CANDIES
You sure can! Try adding peanuts, walnuts, almonds or even cranberries or raisins. All are great substitutes and reduce the sugar content of these no-bake peanut butter cereal bars.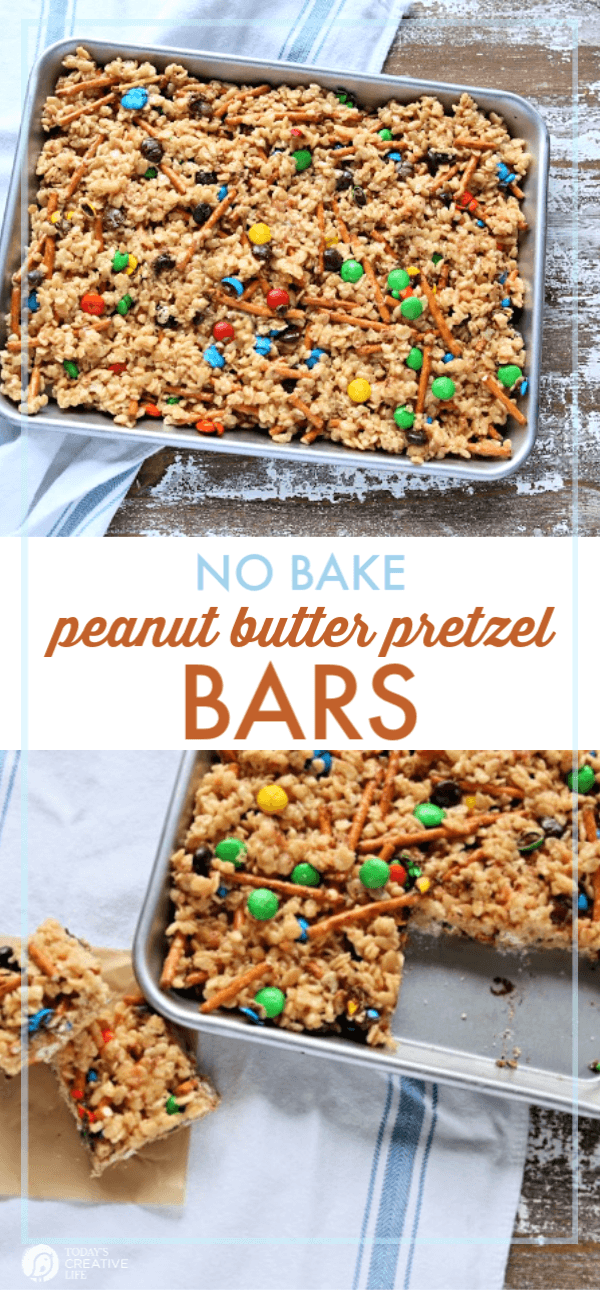 If you happen to make these No-Bake Peanut Butter Cereal Bars, I'd love it if you posted them and tagged me on Instagram @TodaysCreativeLife
More Bar Recipes
Find more easy-to-make bar recipes right here. Cake bars, Cookie Bars, Cereal Bars