Roasted Sweet Potatoes with Garlic Butter is the perfect savory side dish for Thanksgiving or any fall and winter dinner. Cubed sweet potatoes roasted to perfection then tossed with a buttery seasoned blend and topped with parmesan cheese will become a family favorite!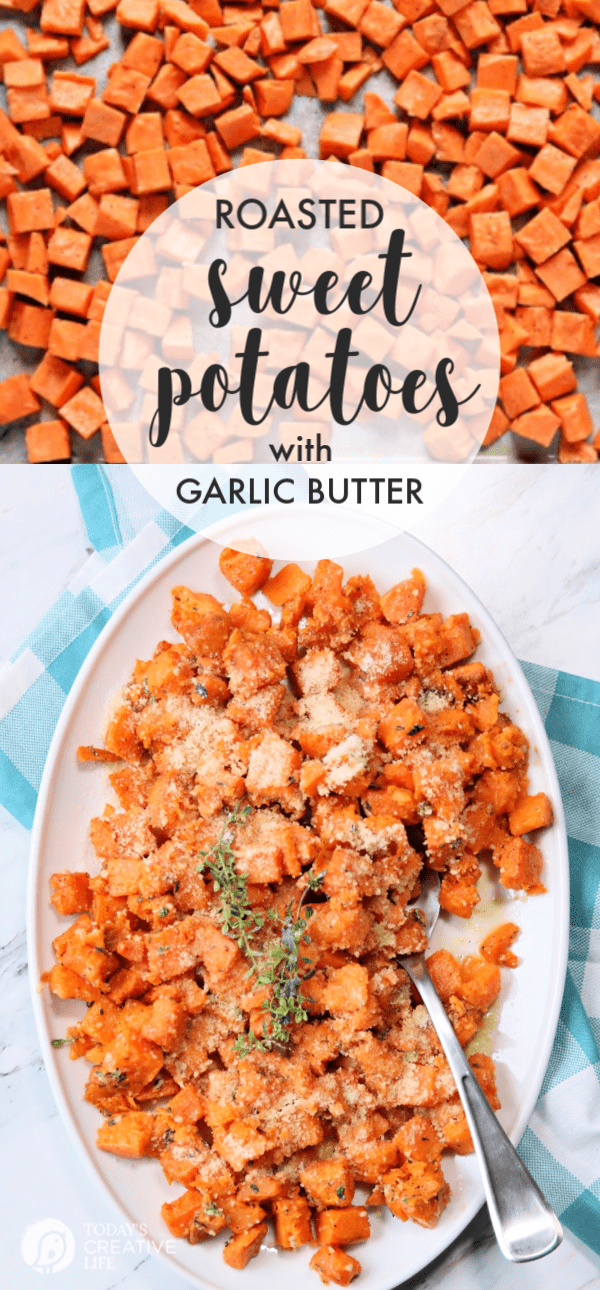 ROASTED SWEET POTATOES WITH GARLIC BUTTER
This sweet potato recipe breaks away from the usual sweeter casserole recipes and heads straight for the savory flavors of garlic, thyme, and parmesan. It's definitely one to enjoy for a Sunday supper or a Thanksgiving feast. It's easy to make, requiring very little cooking skills. Except, do set a timer so you don't over roast them like I did a couple of times. Still good, but a bit more tender than I prefer.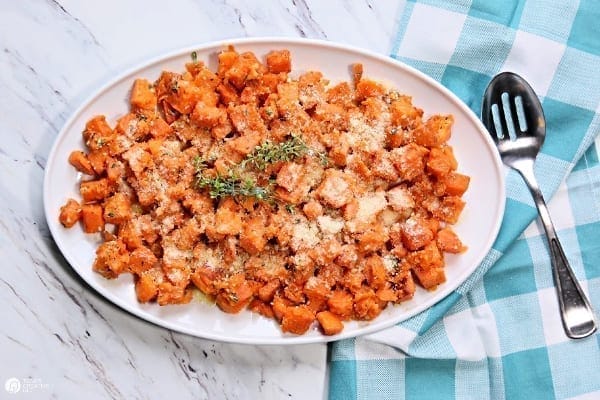 HOW TO ROAST SAVORY SWEET POTATOES
It's much easier to buy fresh cubed sweet potatoes from the grocery, but of course, you can peel and cube yourself if needed or desired.
Toss with olive oil, salt, and pepper and lay them out on a large baking pan before popping them into your preheated oven.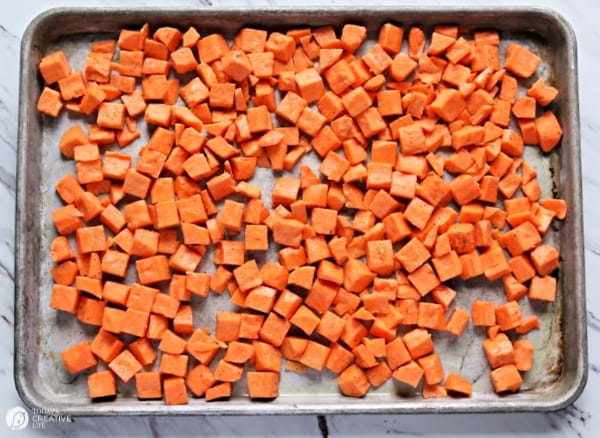 Be sure to set the timer!
With a few minutes left, it's time to melt up the butter with your seasonings. After you pull them out of the oven, pour the melted butter mixture directly on the sweet potatoes and toss to cover.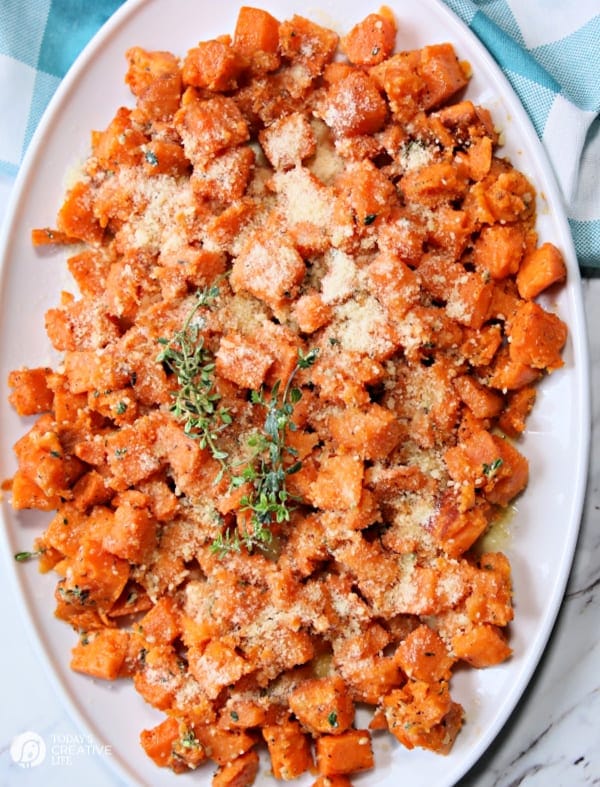 I served them on a large white platter and then sprinkled with a generous amount of grated parmesan cheese. Garnish with a sprig of thyme and you've got yourself a gorgeous Thanksgiving side dish.
CAN YOU MAKE ROASTED SWEET POTATOES AHEAD OF TIME?
Sweet potatoes are best roasted and served right away. Of course, they make nice leftovers, but for the actual dinner, it's best to prepare them right before serving. You can, however, prepare them for roasting with the seasonings and oil in a bowl overnight.
CAN I USE OTHER HERBS & SPICES?
You bet! I like using rosemary or even a little bit of sage when making this Thanksgiving side dish. If you have a favorite combination, try it! Sweet potatoes are very versatile with added flavor combos.
CAN I MASH ROASTED SWEET POTATOES?
Yes, you can. I would roast them a few minutes longer to make them easier to mash. Add the savory butter mixture before mashing. I would also use a hand masher to create a chunkier texture.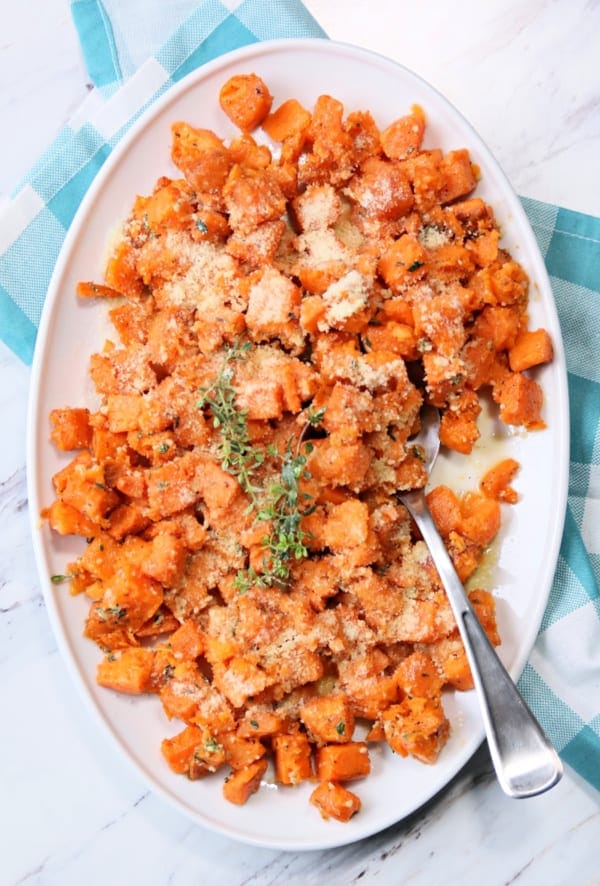 HOW DO I MAKE THEM SWEET?
Well, you could try making a brown sugar glaze with the butter instead of the garlic. But if you're looking for a sweeter casserole or side dish, try these.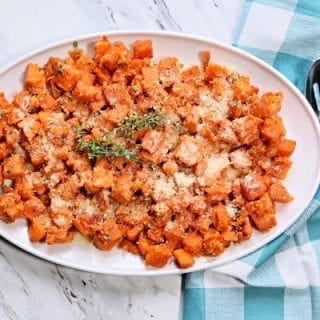 Roasted Sweet Potatoes with Garlic Butter
Yield: 6
Prep Time: 15 minutes
Cook Time: 20 minutes
Additional Time: 10 minutes
Total Time: 45 minutes
Savory Roasted Sweet Potatoes with Garlic Butter is the perfect side dish for Thanksgiving or Sunday Dinner.
Ingredients
1 large container of cubed sweet potatoes. (I picked mine up at Trader Joe's, it's about 5 or 6 cups)
2 Tbsp. olive oil
1/2 tsp. salt
1/4 tsp. ground pepper
1/4 cup butter
1 Tbsp. minced garlic
1 Tbsp. minced fresh thyme or 1 tsp. dried thyme
1/2 cup Parmesan Cheese, grated
Instructions
Place cubed sweet potatoes in a large bowl.
Toss with oil, salt, pepper.
Spread them out onto a baking pan.
Bake in a pre-heated oven at 425 degrees for 17-20 minutes, or until tender.

While baking, heat butter in a medium skillet over medium heat.
Add garlic and thyme.
Stir and cook for one minute.
Once sweet potatoes are finished, pour butter mixture over and gently toss.
Transfer to a platter and sprinkle with cheese and extra thyme.
Serve immediately. Enjoy!
Nutrition Information
Yield 6
Serving Size 1 cup
Amount Per Serving
Calories 173
Total Fat 15g
Saturated Fat 7g
Trans Fat 0g
Unsaturated Fat 7g
Cholesterol 28mg
Sodium 416mg
Carbohydrates 8g
Fiber 1g
Sugar 2g
Protein 3g
Nutrition information isn't always accurate as it is calculated from an outside source.
If you make this savory roasted sweet potatoes recipe, I'd love it if you tagged me on
Instagram
or
Facebook
.
Thanksgiving Side Dish Recipes
Easy to make traditional Thanksgiving Side Dishes