Ravioli casserole with meat sauce is a quick and easy Italian dinner that everyone in the family loves! This baked casserole recipe uses simple ingredients like marinara sauce, fresh or frozen ravioli, cheese and ground beef. It cooks up in no time for stress free dinners.
Holler the words "DINNER!" and watch them come running for this Ravioli Casserole with Meat Sauce!
I love Italian food. Pasta, Pizza, Lasagna ….. I love it all! So you can imagine my excitement when Bertolli asked me to develop a family friendly recipe with their Tomato Basil Tuscan inspired sauce.
Ravioli Casserole with Meat Sauce

Sure, I could have just made a simple plate of spaghetti and meatballs, because who doesn't love spaghetti and meatballs, but I wanted to change it up a little.
What kind of sauce goes with ravioli?
I found the perfect sauce by Bertolli at my local Fred Meyer. This would help me bring a twist to a classic dish or for trying new recipes that I haven't attempted yet.
I knew I wanted to create something you can prepare ahead of time to pop into the oven when you're ready. I wanted to make it easier for busy families like mine to make, and family-friendly enough that little kids would be asking for seconds.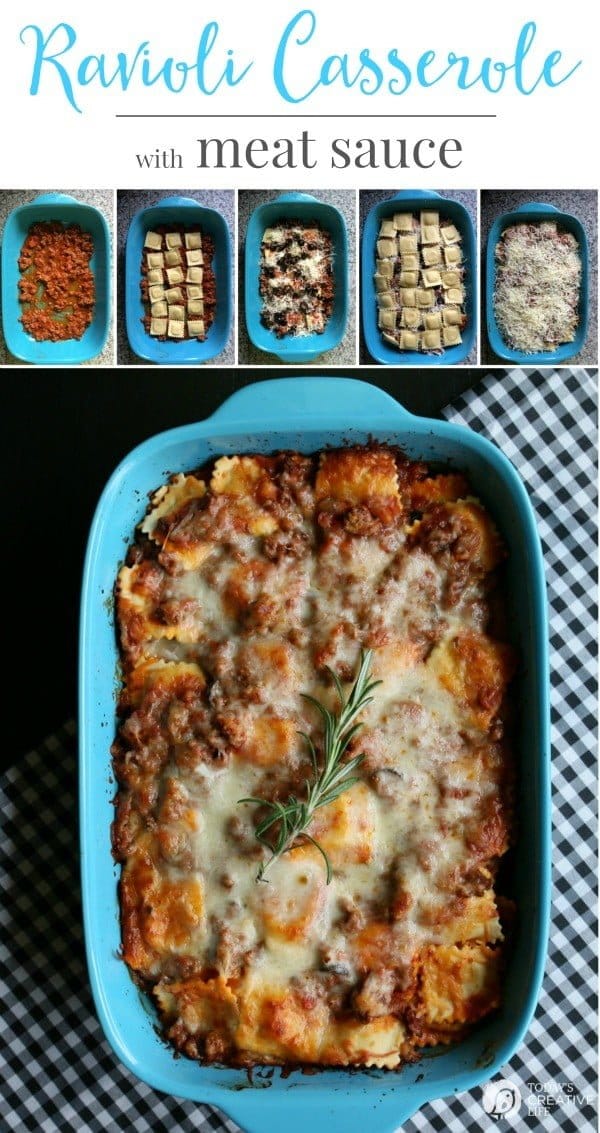 When it is raining outside, like today, comfort food dinners are the best. I wanted my family to walk in and smell the delicious aroma of a Tuscan feast, begging to know when dinner would be served.
I was craving lasagna, but that's a little more labor intensive than I was in the mood to make. One of my other favorites is Chicken Spaghetti, but it doesn't use a tomato-based sauce. I also had my eye on this zucchini casserole with ground beef! Then I saw I had a large package of ravioli and the idea was planted to make a layered pasta casserole.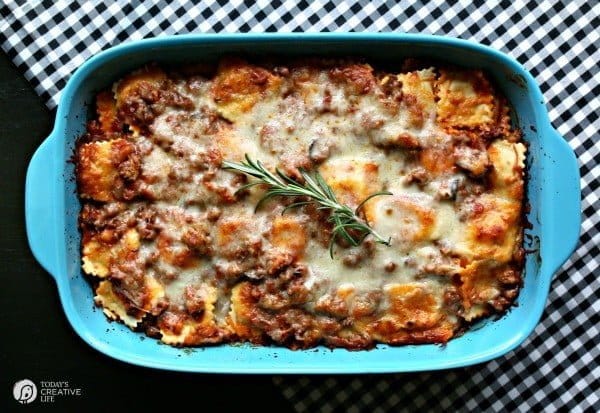 This is great for a weeknight but so perfect for a Sunday supper. I added a Caesar salad and whole grain bread to complete the meal…….. it was pretty much perfect!
How do you make ravioli casserole?

Brown the ground beef with garlic and add the Bertolli Tomato Basil sauce.
Add a small amount of sauce to the bottom of a casserole dish.
Layer the ravioli over the sauce. I use fresh ravioli, found in the refrigerated section of the grocery store, but you can also use frozen.
Ladle another layer of sauce, then Italian blend cheese and olives.
Add another layer of ravioli over the sauce.
Top it off with the last layer of sauce and cheese.
Pop the casserole in the oven at 350° F. for about 30 minutes. If you're using frozen ravioli, you will want to bake it a little longer.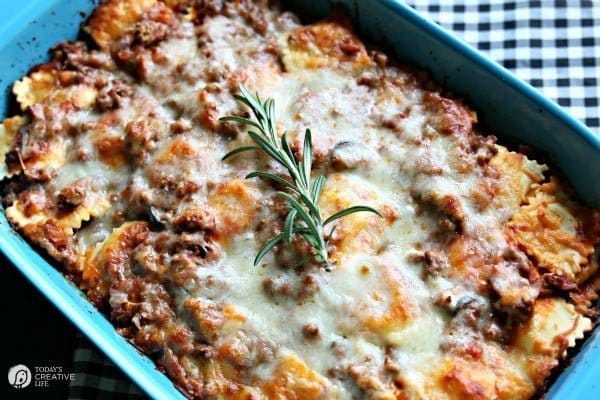 This baked pasta casserole is so delicious!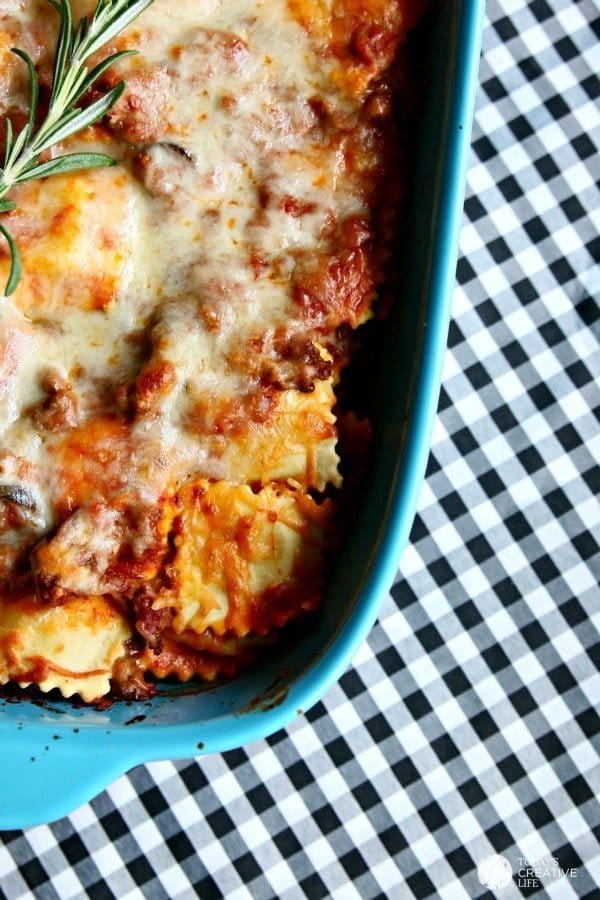 The casserole reminds me a lot of lasagna, but boy, it is so much easier to make! In fact, this recipe is SO easy that it's a great recipe for young cooks to make.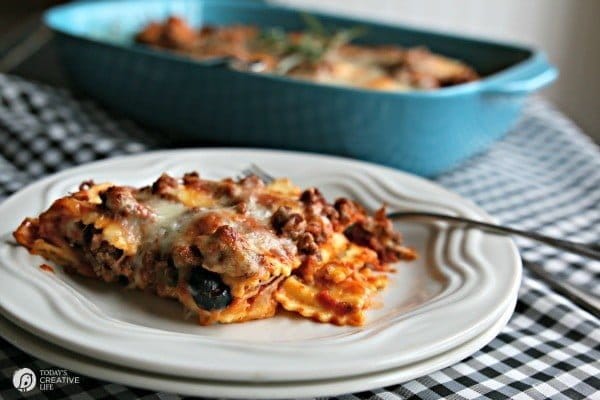 Whenever I can come up with a meal that is both easy and delicious, I couldn't be happier.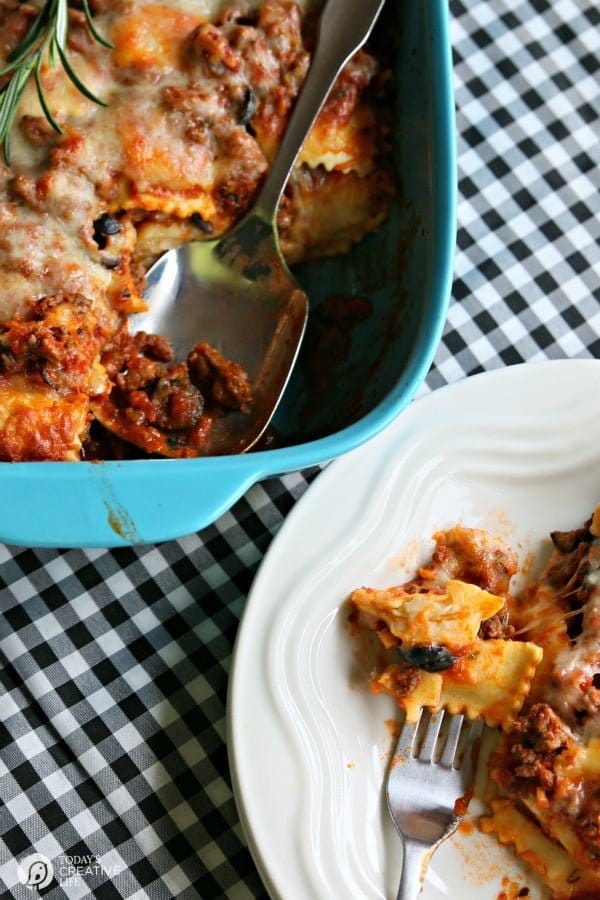 "Because, if mama ain't happy, nobody happy."
We don't want a cranky mama, do we?
Ravioli Casserole Recipe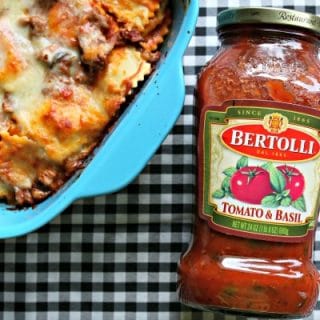 Ravioli Casserole with Meat Sauce
Yield: 6
Prep Time: 15 minutes
Cook Time: 30 minutes
Total Time: 45 minutes
Easy to make Ravioli Casserole using marinara sauce, frozen or fresh ravioli, cheese and more!
Ingredients
24 oz Spaghetti Sauce
1 lb ground beef
1 clove garlic - crushed
20 oz package of fresh cheese ravioli
8 oz shredded Italian blend cheese
1 (2.25 oz) can sliced black olives
Instructions
Brown ground beef on medium heat.
Once the ground beef is almost completely browned, add your crushed garlic and continue to saute.
Add the Bertolli Tomato Basil sauce to the browned meat and remove from heat.
Spray the bottom of your casserole dish with spray oil.
Place a small amount of meat sauce on the bottom of your casserole dish.
Layer one layer of ravioli on top of the meat sauce.
Add another layer of meat sauce.
Add a layer of cheese and olives.
Repeat layers, starting with ravioli.
Top it off with cheese.
Bake at 350° for 30-35 min.
Notes
Frozen ravioli can be used, but your cook time may be increased.
Nutrition Information
Yield 6
Serving Size 1
Amount Per Serving
Calories 595
Total Fat 34g
Saturated Fat 16g
Trans Fat 1g
Unsaturated Fat 14g
Cholesterol 129mg
Sodium 1146mg
Carbohydrates 30g
Fiber 3g
Sugar 7g
Protein 40g
Nutrition information isn't always accurate.
The next time you're at your friendly Kroger Market, make it easy on yourself and pick up a couple of jars of Bertolli, some ravioli, and shredded Italian cheese. Then pat yourself on the back, because dinner is planned!
---
Family-Friendly Dinner Recipes
Easy to make family-friendly dinner recipes everyone will love.
This post was sponsored by Bertolli. All opinions and ideas are 100% mine.