I have found the best Pasta Fagioli recipe! It's actually Pasta e Fagioli, but who's keeping track of the e?  Not only is it one of the most delicious soup recipes, but it's a crockpot recipe! Even better! We all love our crockpots! I use mine weekly and thought I should start sharing the yummy recipes with all of you! That's when Slow Cooker Sunday was born! We can all use simple dinner ideas, right? 

Slow Cooker Sunday will bring you a new recipe every week that I find so so yummy!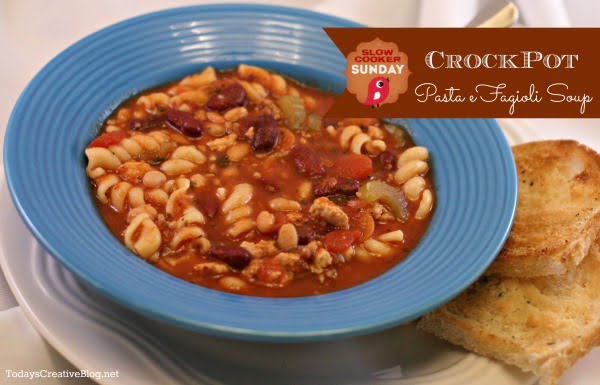 Evenings can be so hectic! Knowing I have a yummy meal ready for me is the next best thing to going out to dinner. My family has come to realize that the odds go up considerably of them having a hot nutritious dinner served by 6pm if I'm using the slow cooker. Sad, but true.
I find most my recipes from my friend Stephanie's Slow Cooker Cook book .
  I met Stephanie years ago online and she is still going strong with bringing us the best crockpot recipes out there.  I love that most of hers are very family friendly.
Your family is going to LOVE this recipe for Pasta E Fagioli!
Slow Cooker Pasta e Fagioli soup
Ingredients
1 pound lean ground beef, browned, and drained of excess fat. (I used ground turkey)
1 cup carrots, chopped
½ large red onion, chopped
2 celery stalks sliced
1 (15oz) can kidney beans, drained and rinsed
1 (15oz) can white beans, drained and rinsed
2 (14.5 oz cans) diced tomatoes with their juice
1 (16.5 oz) jar pasta sauce
4 cups beef broth ( I used chicken)
½ teaspoon kosher salt
¼ teaspoon black pepper
2 teaspoons dried oregano
1 tablespoon Tabasco sauce
½ cup dry pasta (she used brown rice fusilli, I used regular and way too much!)
Parmesan cheese (optional garnish)
Instructions
Use a 6 quart slow cooker. Put the meat into the stoneware. Add the chopped carrots, onion and celery. add the beans, tomatoes, and pasta sauce. Pour in the beef broth. Season with salt, black pepper, oregano, and Tabasco sauce. Stir to combine. Cover and cook on low for 8 hours, or on high for 4 hours. when the vegetables are tender, stir in ½ cup of dry pasta. Cover and cook for another hour on low, or until the pasta is al dente. It will swell quite a bit. Garnish with Parmesan cheese.
My family loves this soup.  I always end up adding more pasta than Stephanie suggests and my left overs are more of a casserole. But it's still yummy! So when she says a 1/2 cup pasta…….believe her.   I serve this with Texas toast and salad.  We're all happy!

You may enjoy these Crockpot recipes too.