This Cream Cheese Sour Cream Apple Cake will knock your socks off! This is one of those recipes I crave and can't wait to make with our home grown apples.
We have 3 apple trees in the back, so I'm always looking for different ways to use them.
Cream Cheese Sour Cream Apple Cake
You'll find lots of apple recipes on Today's Creative Life. Here are just a few.
This recipe was given to me from a mother of a friend.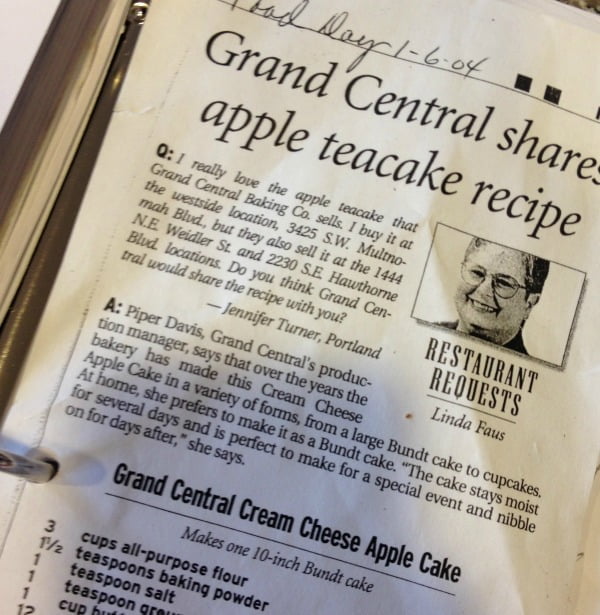 I was attending a baby shower and she had made the most delicious apple cake. I asked for the recipe and she went to the kitchen and came back with a photo copy of the original recipe she had cut out of the Oregonian. She had a few copies already made since she knew people would ask for the recipe. Don't you love an organized hostess?
When I came home, I used my hole punch and placed it in my Recipe Binder. It's become one of my favorite all time recipes.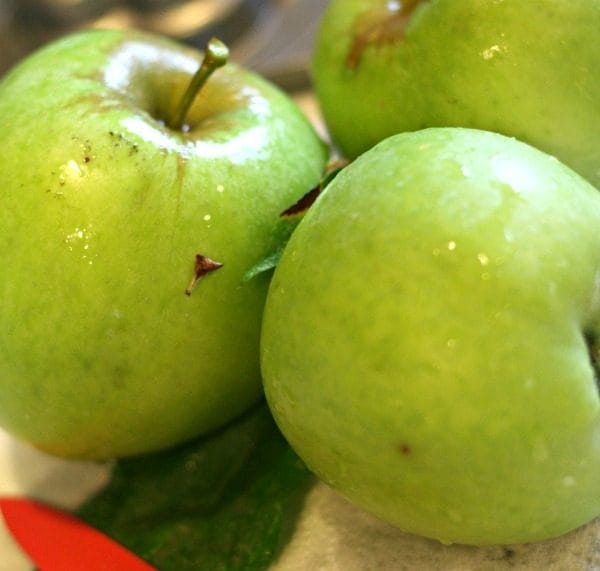 This Cream Cheese Sour Cream Apple Cake is meant to be made in a bundt pan, but I thought I'd try them in my Cake Boss Novelty pan instead. I thought they'd be so cute and I was right! Great for a quick breakfast to take along or for individual desserts.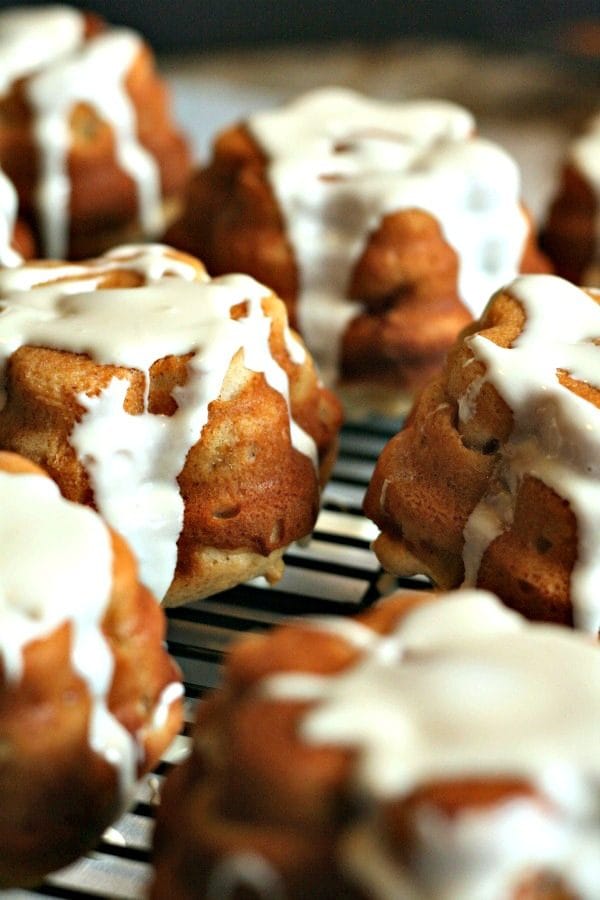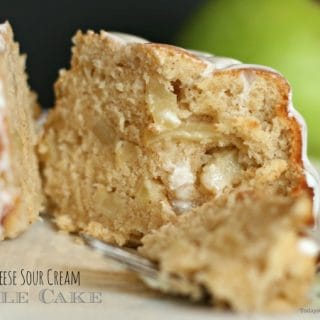 Cream Cheese & Sour Cream Apple Cake
I used store bought frosting and simply heated it up, added about 2 tablespoons of water,then drizzled over the top. Of course you can make your own glaze.
Ingredients
3 cups all-purpose flour
1 1/2 teaspoons baking powder
1 teaspoon salt
1 1/2 teaspoon ground cinnamon
1 cup (real) butter (softened)
8 oz cream cheese (softened)
1/2 cup sour cream
2 1/2 cups sugar
4 eggs
1 teaspoon vanilla
3 cups diced tart apples
Instructions
Preheat oven to 350 degrees. (if you're using the small cake pans like I did, heat to only 325 degrees)
Grease and flour a 10 inch bundt pan.
Sift together the flour, baking powder, salt and cinnamon; set aside.
In a large bowl (I used my kitchen-aid) of an electric mixer, beat the butter, cream cheese, sour cream and sugar for 8 minutes. (yes 8 min) on medium speed.
Beat in eggs one at a time, scraping the side of the bowl after each one.
Beat in Vanilla.
Reduce speed to low and gradually add flour mixture.
Stop mixing as soon as the flour is incorporated.
Gently fold in the apples.
Pour the batter into a prepared pan.
BAKE 1 hour or until a toothpick is clean when inserted. If you're using the small cake pans like I did, I baked for about 30 min.
Cool completely and top with sifted powder sugar or glaze.
Notes
Use REAL butter, not margarine or processed spreads.
Please Pin this recipe, but do not copy and paste the full recipe details onto facebook or pinterest.
Drizzle or no drizzle…. It's delicious either way!
Do you have a favorite apple recipe to pass along? I'd love to try it.
---
More Fall Inspired Recipes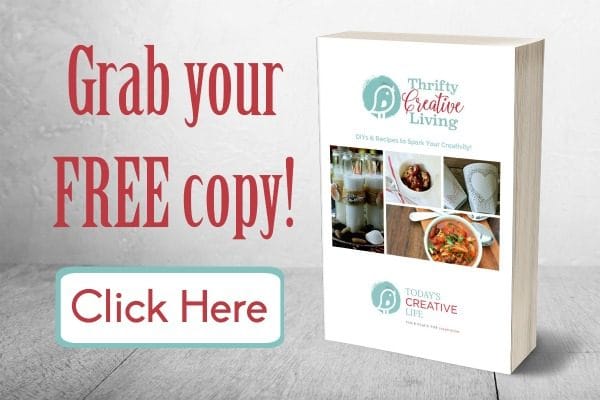 Follow me