This Cream Cheese Sour Cream Apple Cake will knock your socks off! This is one of those recipes I crave and can't wait to make with our homegrown apples. This cake has a delightful blend of flavors and textures, with the cream cheese and sour cream adding richness and moisture while the apples provide a lovely fruity sweetness.
Cream Cheese Sour Cream Apple Cake
You'll find lots of apple recipes on Today's Creative Life. Here are just a few.
This recipe was given to me by the mother of a friend.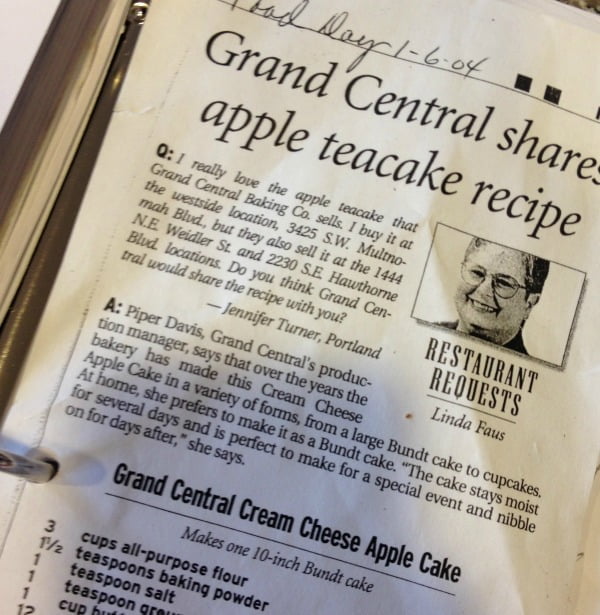 I was attending a baby shower and she had made the most delicious apple cake. I asked for the recipe and she went to the kitchen and came back with a photocopy of the original recipe she had cut out of the Oregonian. She had a few copies already made since she knew people would ask for the recipe. Don't you love an organized hostess?
When I came home, I used my hole punch and placed it in my Recipe Binder. It's become one of my favorite all-time recipes.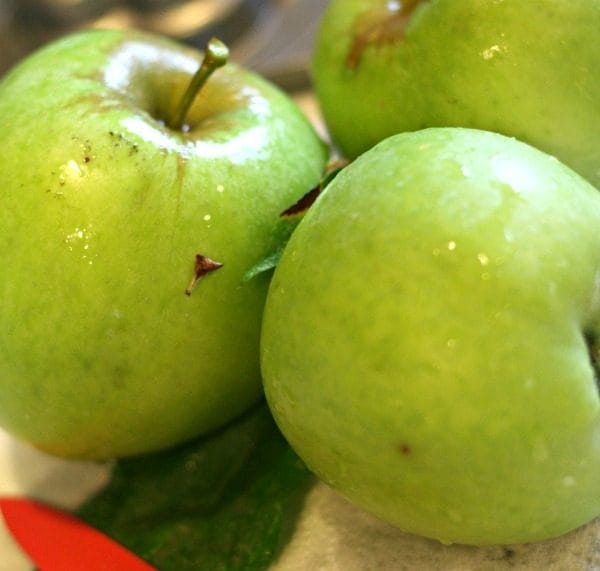 This Cream Cheese Sour Cream Apple Cake is meant to be made in a bundt pan, but I thought I'd try them in my Cake Boss Novelty pan instead. I thought they'd be so cute and I was right! Great for a quick breakfast to take along or for individual desserts.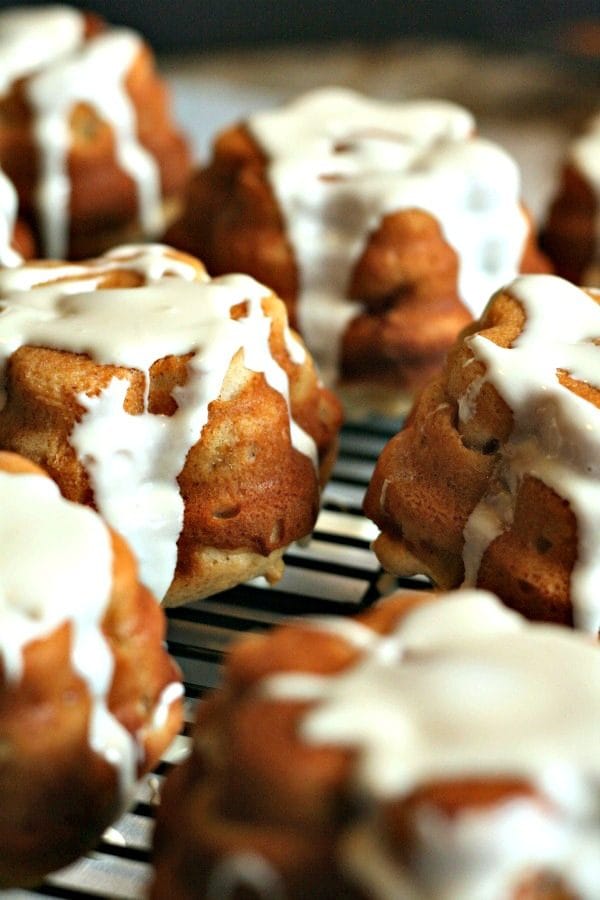 How to Make Apple Cake
After gathering your ingredients and supplies, you'll need to decide if you want to make just one cake in a regular-size bundt pan, but do the mini bundts like I did. Your baking time will vary with whatever shape you choose.
What Apples are Best for Baking in a Cake?
For baking in a cake, it's best to use apples with a balanced flavor and texture that can hold up well during the baking process. Varieties like Granny Smith, Honeycrisp, Fuji, or Braeburn are excellent choices. They provide a combination of sweet and tart flavors while maintaining their structure, adding a delicious and slightly firm texture to your apple cake.
Can you Freeze Apple Cake?
Yes, you can! You'll want to allow the cake to cool completely. I like to wrap the apple cake in a couple of layers of plastic wrap and then place it in a ziplock freezer bag. Be sure to force as much air out as you can before zipping. You can also wrap with aluminum foil over the layered plastic wrap. You can freeze up to 12 months. Thaw and serve at room temp.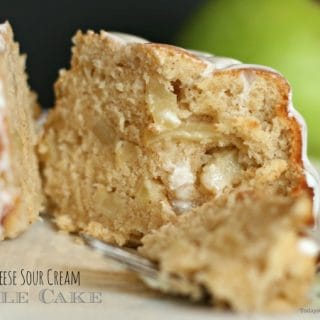 Cream Cheese & Sour Cream Apple Cake
Prep Time: 30 minutes
Cook Time: 1 hour
Total Time: 1 hour 30 minutes
This apple cake recipe is great to make in the fall during apple harvest time. Always moist, not too sweet and perfect for dessert or snacking.
Ingredients
3 cups all-purpose flour
1 1/2 teaspoons baking powder
1 teaspoon salt
1 1/2 teaspoon ground cinnamon
1 cup (real) butter (softened)
8 oz cream cheese (softened)
1/2 cup sour cream
2 1/2 cups sugar
4 eggs
1 teaspoon vanilla
3 cups diced tart apples
Instructions
Preheat oven to 350 degrees. (if you're using the small cake pans like I did, heat to only 325 degrees)
Grease and flour a 10 inch bundt pan.
Sift together the flour, baking powder, salt and cinnamon; set aside.
In a large bowl (I used my kitchen-aid) of an electric mixer, beat the butter, cream cheese, sour cream and sugar for 8 minutes. (yes 8 min) on medium speed.
Beat in eggs one at a time, scraping the side of the bowl after each one.
Beat in Vanilla.
Reduce speed to low and gradually add flour mixture.
Stop mixing as soon as the flour is incorporated.
Gently fold in the apples.
Pour the batter into a prepared pan.
BAKE 1 hour or until a toothpick is clean when inserted. If you're using the small cake pans like I did, I baked for about 30 min.
Cool completely and top with sifted powder sugar or glaze.
Notes
Use REAL butter, not margarine or processed spreads.
Recommended Products
As an Amazon Associate and member of other affiliate programs, I earn from qualifying purchases.
Nutrition Information
Yield 9
Serving Size 1
Amount Per Serving
Calories 536
Total Fat 14g
Saturated Fat 7g
Trans Fat 0g
Unsaturated Fat 5g
Cholesterol 116mg
Sodium 433mg
Carbohydrates 95g
Fiber 2g
Sugar 61g
Protein 9g
We do our best to calculate, however, nutrition information may not be accurate.
Drizzle or no drizzle…. It's delicious either way!
Do you have a favorite apple recipe to pass along? I'd love to try it.
More Fall-Inspired Recipes
Easy Dessert Ideas
Delicious dessert ideas that are easy and quick to make.
Festive and delicious easy to make cookie bars!
Making cake with Mayo sounds odd but it makes your cake so moist! Easy to make recipe.
Pink bubble gum cupcakes for all your celebrations. Perfect for birthday parties!
This cake mix hack makes the best springtime dessert!
Make your own popsicles with this delicious chooclate peanut butter recipe.
Simple and fun! Everyone loves Twinkies!
Photo Credit: www.skiptomylou.org
See the full tutorial I created for Skip to my Lou!
3 ingredient Lemon Ice Cream!
Easy to make cereal bars for a quick snack. Kids go crazy over these!
Sweetly designed cookies! Tea party recipe idea.
Follow me