This savory Beer Bread made with garlic and cheese will make you drool! Is there anything better than beer cheese bread… well only if it's garlic cheese beer bread!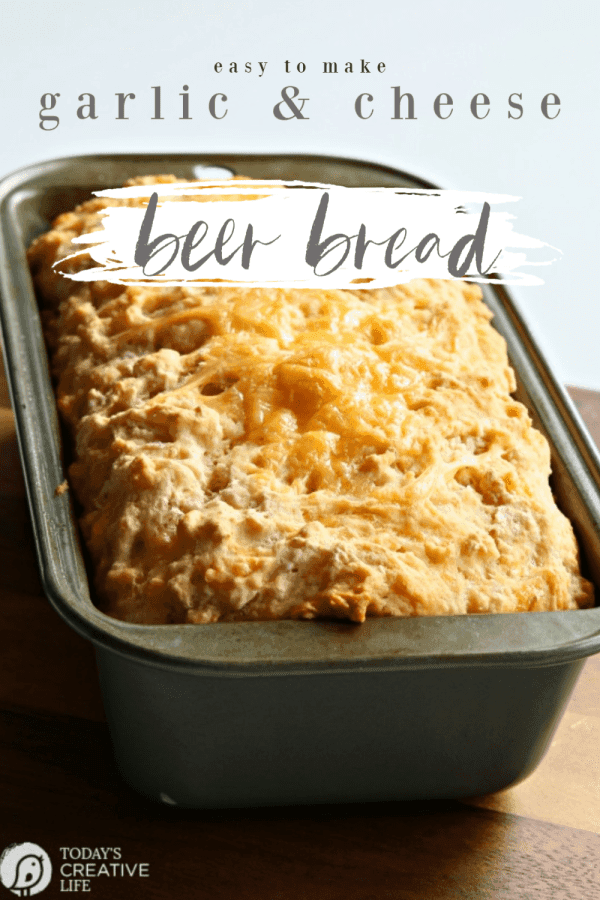 My mom used to make beer bread all the time and I always forget about this recipe. I was craving those Red Lobster rolls, although I don't think I've ever even been to Red Lobster, so I whipped up this quick beer bread and added garlic powder and cheddar cheese. What's not to love?
Beer Bread Recipe with Garlic and Cheese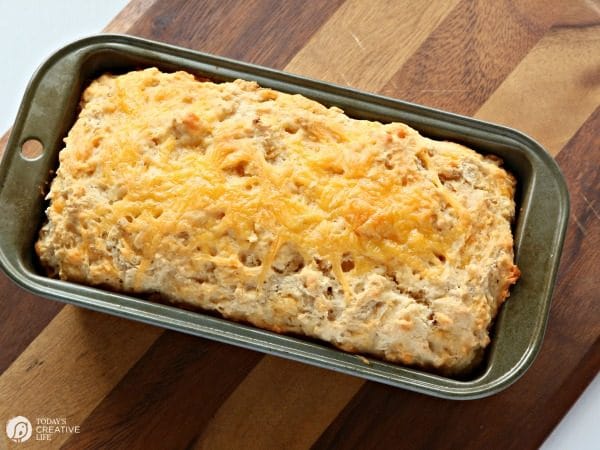 This beer bread recipe is so EASY and pretty much no fail. Those are my favorite. No fancy instruction, no fancy ingredients and it's pretty easy to add any flavors you're craving. If you'd rather not have a cheesy garlic beer bread, then try adding maybe garlic and kalamata olives.

My favorite way to eat this beer bread is to smear it with real butter and enjoy it with a bowl of hot soup or homemade chili. Or slice a piece to eat while I write this.
Can Beer Bread Make You Drunk?
No. The alcohol content of any beer you use will be removed during the baking process. The beer is basically giving the bread it's robust flavor. But don't worry, it's not going to taste like beer either. It's safe to give to your children and I'm positive they will love it!

I doubt there will be any beer bread left, but if there is, I'm going to make garlic cheese croutons. Big chunky ones. Doesn't that sound delicious? Maybe that will motivate me to make a salad. I could pretend they're those bite-size pretzels with a Beer Cheese Dip. YUM!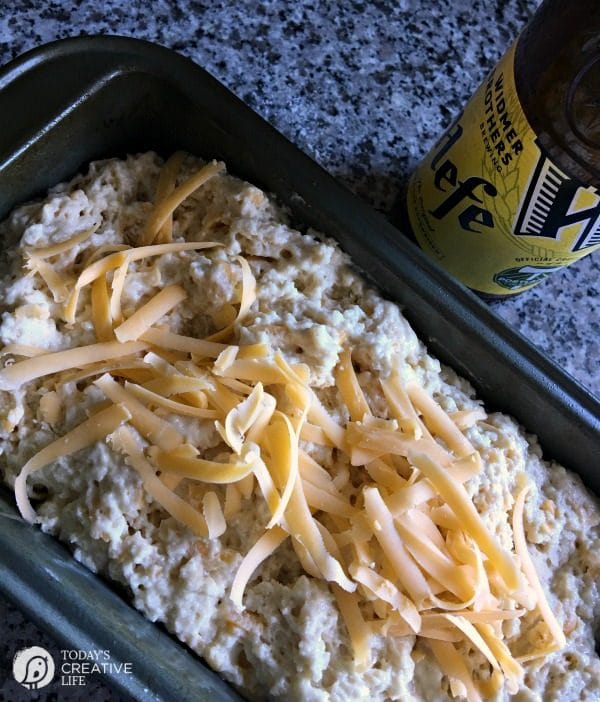 The batter is thick and fills a regular bread pan 3/4 of the way. This recipe makes one regular loaf.
Every time I make a quick bread, I remind myself to pick up a couple of new bread pans. This one has seen better days. I'd love one of these turquoise pans.
Can you Make Beer Bread with Hard Cider or Soda Pop?
Yes, just substitute your favorite carbonated drink instead of beer. Just like many recipes that use soda drinks in their recipes, I do know that diet soda will not work. Regular only.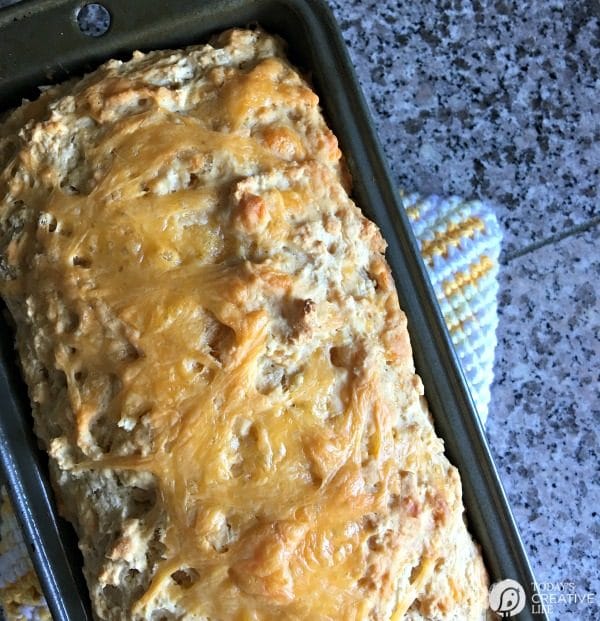 I was so excited when I pulled it out of the oven that I forgot to drizzle butter over the top.

Beer bread is a great gift around the holidays. I've made up a batch and used mini loaf pans. They always turn out so cute and you can be really creative in how you wrap.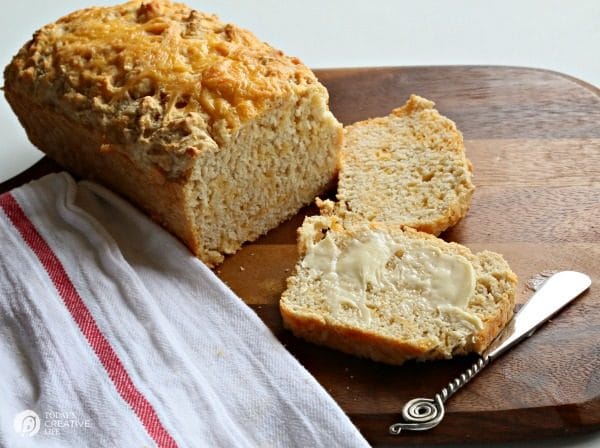 How to Make Beer Bread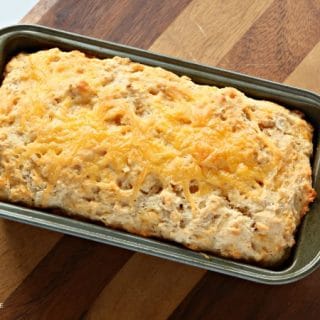 Beer Bread with Garlic and Cheese
Yield: 8
Prep Time: 10 minutes
Cook Time: 45 minutes
Total Time: 55 minutes
Ingredients
3 cups flour
1 cup shredded cheddar cheese
1 tablespoon garlic powder
3 Tablespoon sugar
1 Tablespoon baking powder
1 teaspoon salt
1 (12oz) bottle of beer
2 Tablespoon butter - melted
Instructions
Preheat your oven to 350 degrees and prepare a regular loaf pan (9x5) with baking spray.
In a medium bowl, add flour, sugar, baking powder, garlic powder, and salt. Stir it around to blend it together.
Add shredded cheese and stir.
Create a well in your dry ingredients and slowly pour the beer into the center. This always reminds me of a volcano.
Mix with a wooden spoon to blend all ingredients well, then pour into your prepared bread pan.
Bake for 35 - 45 min, or until it's pulling away from the sides and a toothpick comes out clean when inserted into the center.
Drizzle melted butter over the top and allow to cool for 10 minutes or so.
Before turning upside down, I run a butter knife around the edge to loosen the bread. Flip the pan over and gently jiggle until the bread pops out.
Enjoy!
Cool for about 10 minutes.
Notes
After many reviews, I have upped the garlic to 1 tablespoon instead of 1 teaspoon. Many have increased the amount of cheese to 1 1/2 Cups.
You can omit the garlic and cheese if you'd like plain beer bread.
Or try adding your own flavors. Add chives, or parsley to the melted butter for more color.
If you're using a bread machine, reviews have said to cook it a little over an hour.
Recommended Products
As an Amazon Associate and member of other affiliate programs, I earn from qualifying purchases.
Can you Freeze Beer Bread?
Yes, you can freeze just like any other bread. If you're wanting to freeze it right away, you'll want to wait until it's room temperature. I wrap mine in plastic wrap within a plastic freezer ziploc bag.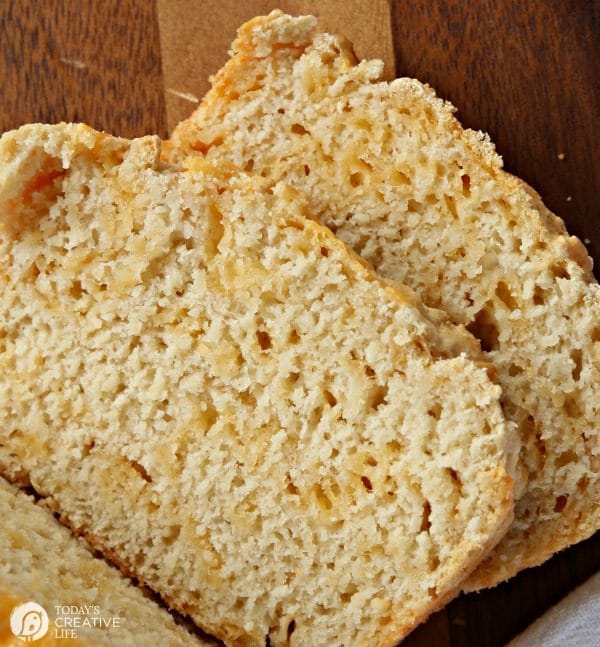 Can you Make Beer Bread in a Bread Machine?
Although I have not tried this, many readers have reported back with great results. They said they cooked the beer bread for a little over an hour.
Easy Bread Recipes
Easy quick bread recipes that are perfect for snacking or with soup or salad.
This post contains an affiliate link. This costs you nothing extra and is there for your shopping convenience.