With spring here, I'm getting excited for fresh local produce! We have the best strawberries and cherries in the PNW. Before I know it, we'll be bursting with fruit with local farm stands selling their goods! I know I have a bit to wait, but thought I'd share this recipe again. I usually make it just as a Strawberry quick bread, but added cherries last summer and was hooked!
This Strawberry Cherry Quick Bread is perfect for breakfast, brunch or an afternoon snack with just enough sweetness to satisfy your sweet tooth. You can even make it into muffins instead.
Strawberry Quick Bread
I love quick breads, mostly because I'm just not confident or organized enough to do yeast breads, although I love them just as much. I tend to lean towards quick breads because I can whip them up quickly for a weekend breakfast with minimal effort.
I grew up with strawberries everywhere! We had a strawberry festival with a big parade and strawberry princesses. Heck my mom even dyed her hair light pink one year for the festival. I remember her standing there with this big ole light pink bouffant hair-doo …….it was the mid 6os afterall.
Here's to the strawberry!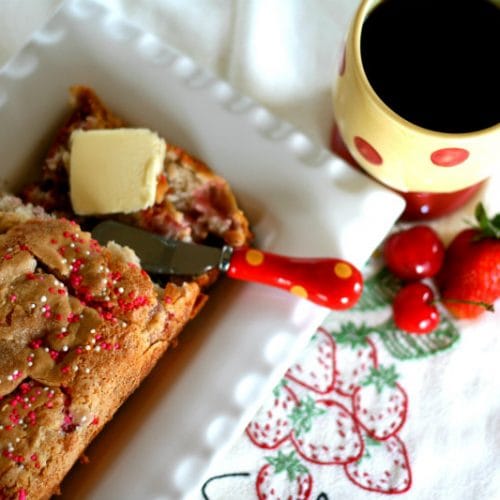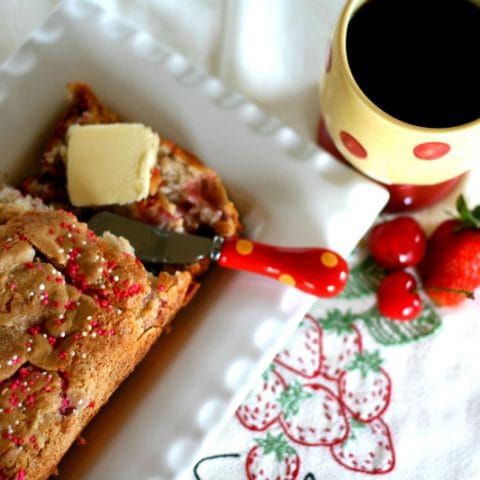 Strawberry Cherry Quick Bread
Ingredients
2/3 cup milk
2 Tablespoons Vegetable Oil, or melted butter or margarine
1 egg
2 cups Baking Mix (like bisquick)
1/3 cup Sugar
1 1/2 cup freshly cut Strawberries & Cherries (no pits)
1/2 tsp sugar or sprinkles
Instructions
Heat oven to 350°F. Spray bread pan with cooking spray. In medium bowl, beat milk, oil and egg with wire whisk (I used my new Kitchen Aid mixer) Stir in Bisquick mix and sugar just until moistened. Fold in Strawberries and Cherries. Pour batter into pan. Sprinkle the top with 1/2 tsp sugar or sprinkles…….or both. Bake 30-35 min. Recipe adapted from Betty Crocker
More Quick Breads: