Make any metal bucket look distressed and aged with a DIY Faux Patina with paint. Using simple craft paints, and spray paint, you can create an aged copper and patina look following this tutorial.
As part of the Lowe's Creative Ideas Team, we are given a monthly challenge along with a budget of gift cards. This month we were told to work with the Color of the Year, Pantone Emerald Green.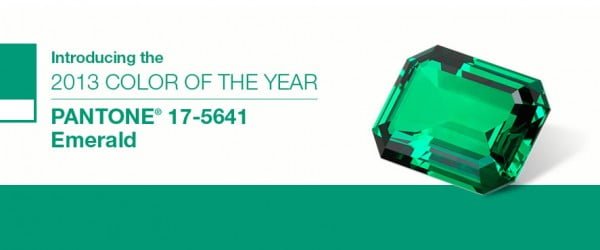 First I panicked because currently, NOTHING in my house would go with this color. After a few days of thinking….. I thought I could try doing a DIY Faux Patina.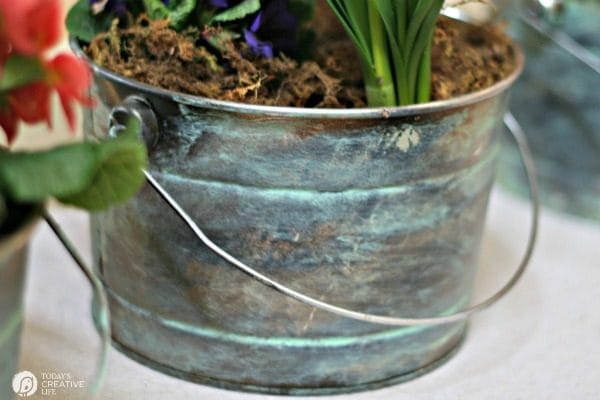 DIY Faux Patina
I've always loved an aged copper and patina look and thought this would be perfect for making distressed flower buckets, or pots.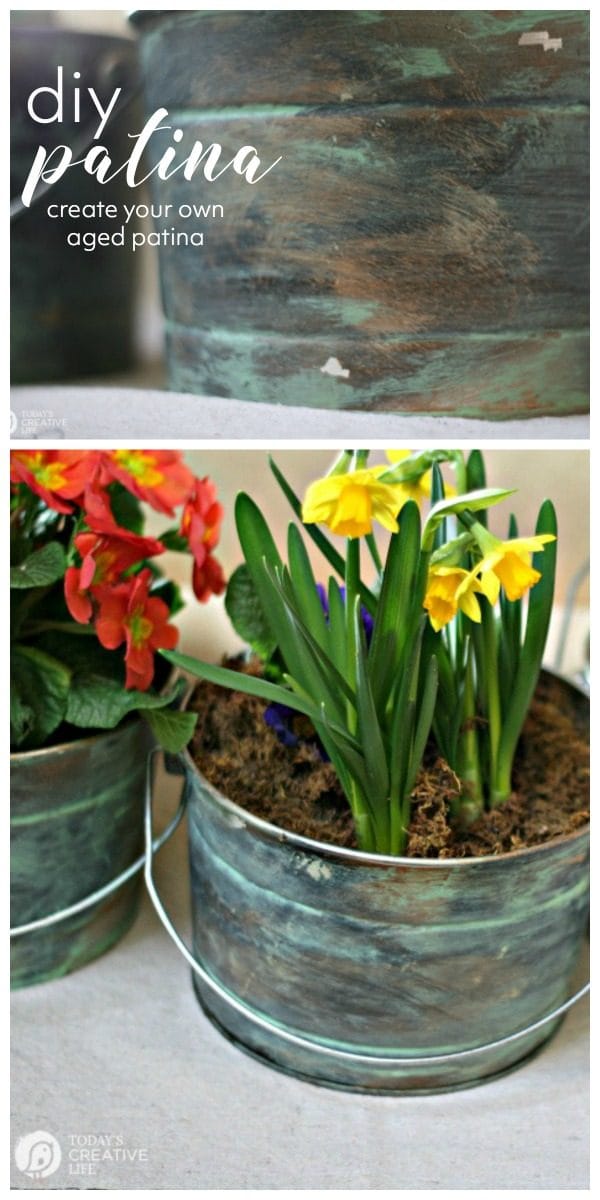 Now that I had a plan, I quickly headed to Lowe's to have my Pantone Color mixed up, grab a few tin buckets, plants, dirt, and a new drop cloth. I loved the "messy approach" for this project. Which translates into a large margin for error. Once I figured out what would work, I took photos of each step to make it easy for you.
How to Paint DIY Faux Patina
You'll need:
Black spray paint – matte
Copper acrylic paint or spray paint
Green paint – You don't have to use the Pantone color as I did. Choose any spring green or turquoise for the color of the patina you want.
Foam craft paint brush
Old rags
Drop cloth
Tin bucket
Spray sealer if you plan on using them outdoors.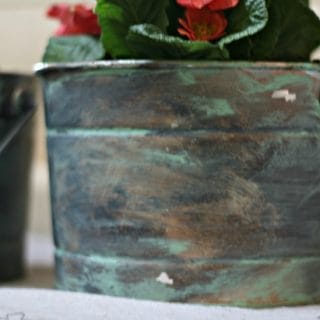 DIY Faux Patina Tutorial
Yield: 1
Prep Time: 5 minutes
Active Time: 20 minutes
Additional Time: 1 hour
Total Time: 1 hour 25 minutes
Difficulty: intermediate
Estimated Cost: $20
How to create a patina look using paint.
Materials
Black Spray Paint - Matte
Emerald Green Paint - Pantone color 17-5641 - or any other spring green.
Copper Acrylic craft paint or spray paint
Tin Buckets
Craft Foam Brushes
Old rags
Instructions
Gather your supplies.
Paint your bucket with copper paint. I used acrylic paint because I had it. But I'm thinking a copper spray paint would have worked better. Let the paint dry completely before step two.
Spray on a flat or semi-flat black paint.
While it's still wet, dab and gently wipe with a rag. Allow drying completely.
Brush on the green paint.
While it's still wet, use a rag to wipe and smear gently.
Allow drying for a couple of hours.
Notes
Paint colors can vary - choose green or turquoise you think will give you the color you're wanting.
Drill holes in the bottom of any bucket you plan on using for a planter.
Recommended Products
As an Amazon Associate and member of other affiliate programs, I earn from qualifying purchases.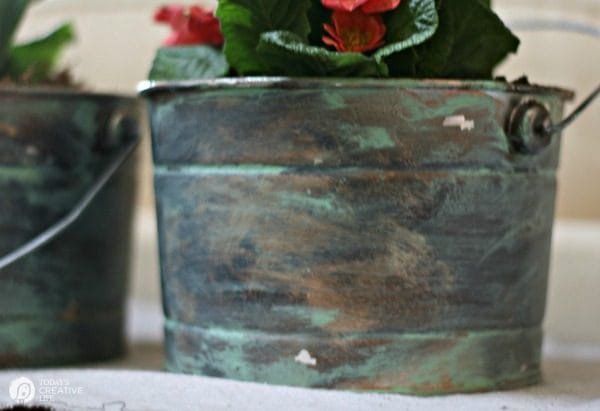 The more texture your item has, the more places for the green color to collect……..this is a good thing.
I had my husband drill a hole in the bottom in case I wanted to use them outside. I'll have to remember to place a saucer underneath while using them indoors.
If you plan on using them outdoors, spray them with a clear acrylic sealer.
Fill your buckets with whatever your heart desires. During the spring they're housing my primroses, and this summer I plan on using mine for herbs for my patio.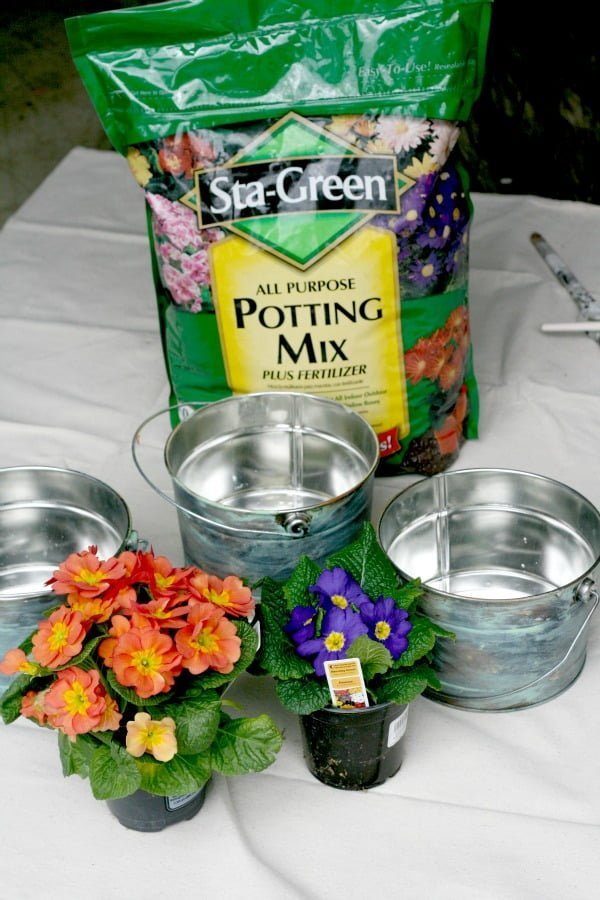 I'm kind of tickled on how good they turned out. I've never tried painting a faux patina before, but I must say……….it's very forgiving and it was very easy. My kind of project!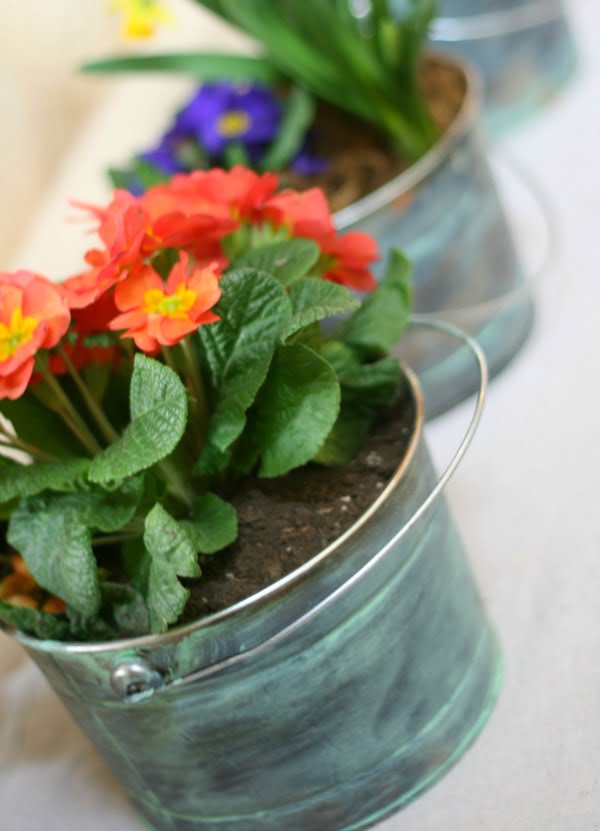 Now you can DIY Faux Patina too!
DIY Projects for Outdoor Living
Easy DIY Ideas for Outdoor Living. You'll find many stylish projects to create a better backyard.