These Small Patio Decorating Ideas are budget-friendly and will transform your backyard space into a beautiful place for entertaining or relaxing, Easy Patio Decorating Ideas can be affordable and functional! Find simple and easy decorating tips and ideas for your patio and deck.
I love outdoor living, hanging out on the deck with a mojito or a pomegranate cocktail and just kicking back.
Our deck off the main floor is small with no access to the yard below. I love my house but I have been craving a comfortable outdoor room with easy access. My sister has a fantastic outdoor living space, right off her kitchen and I LOVE it! She also has a pool, which I would also love, but it's just not that practical in the PNW. At least that's what I keep telling myself.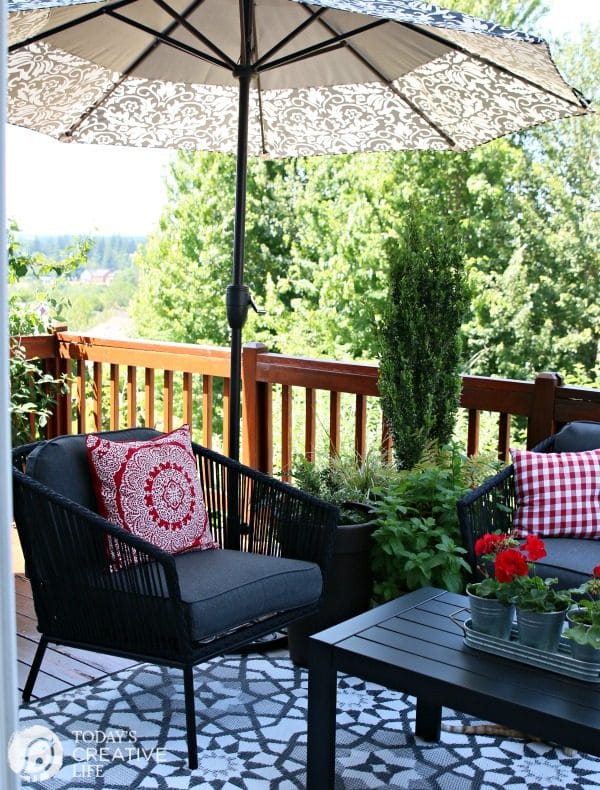 Small Patio Decorating Ideas – Outdoor Living
We have always had our iron patio table (that was a wedding gift) and umbrella on the deck and even though I love that table, we rarely really used it. Which meant we then rarely used our outdoor deck space at all. You can see a small glimpse in this DIY Table Top Firebowl Tutorial.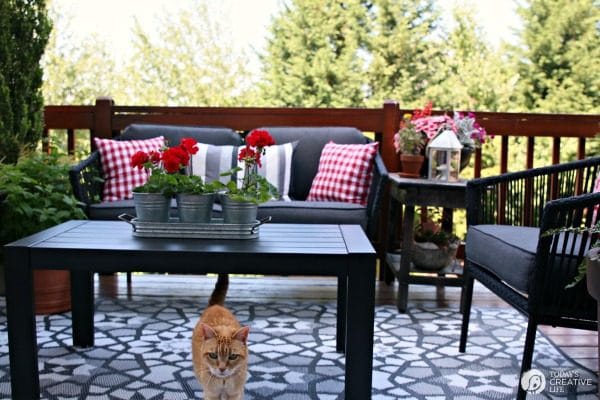 I have been eyeing patio conversation sets for a couple of years and was really wanting one of those sectionals. They can be so expensive! And, we'd have to store it. I wanted to be practical if I bought something. I also wanted a dark gray so it would match our light gray house paint (Mindful Gray & Gauntlet Gray by Sherwin Williams).I found this one at Target online and it was under $600 for the whole set!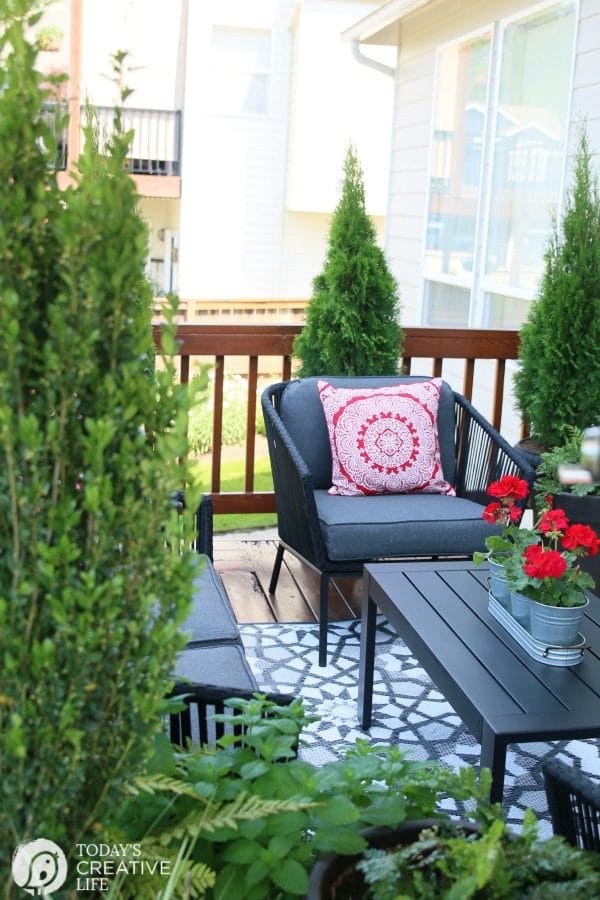 That is a great price and fit my small patio decorating ideas on a budget personality to a tee.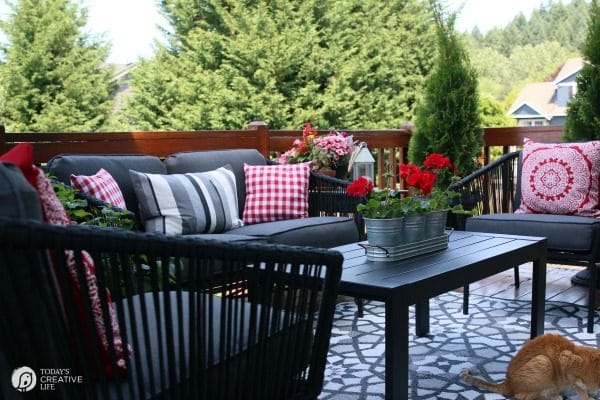 Affiliate links for products listed are for your convenience only. This costs you nothing extra. If you happen to purchase anything as a result of clicking, TCL will receive a small percentage. Thank you for your support. This allows me to continue to offer you free content.
Patio Decor on a Budget
Prices reflect what I paid at the time in 2017.
I didn't even hesitate to order it since it also had free shipping! I didn't tell my husband about it until it arrived because I knew he'd wrinkle his nose at the idea. But I knew once it was here, he would LOVE it! And he does.
I had planned on mixing in shades of blue for the pillows, but when I saw those red pillows, my mind was changed, so I grabbed them! The color red… we have had a long affair with red! I'm sure you've seen my red door whenever I share my front porch. (See my Spring Porch Here) I also already had 2 red Adirondack chairs that I wasn't sure if I'd use.
I didn't end up using them for the deck, but I added 2 more for a bonfire section in the backyard. Those resin chairs can be found at any home improvement store for about $17. If you want to make your own, here are some free plans to make your own Adirondack Chairs.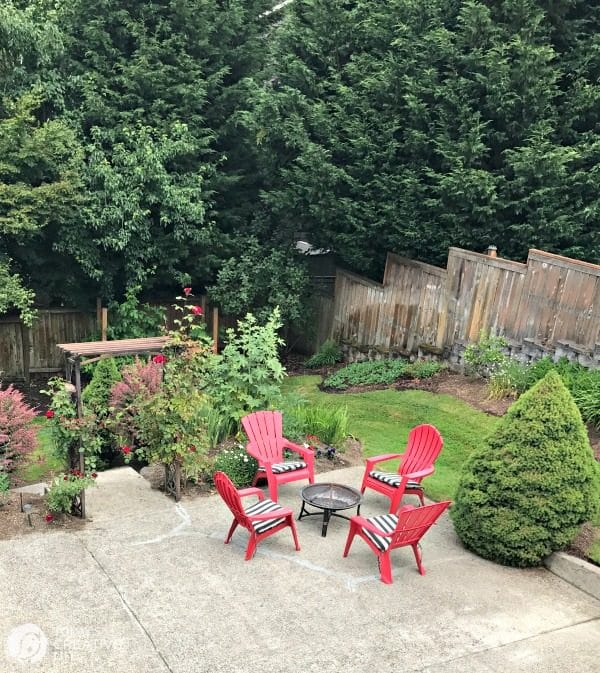 After creating small patio decorating ideas with budget items and things I already had on hand, I have created the most comfortable space that is lush, colorful and just plain enjoyable! I still need to add my mason jar solar lights and my DIY blue egg fountain and it will be pretty much perfect!
We have used our patio deck more in 2 weeks than we have the past 2 years!
Small Patio Decorating Ideas – Potted Plants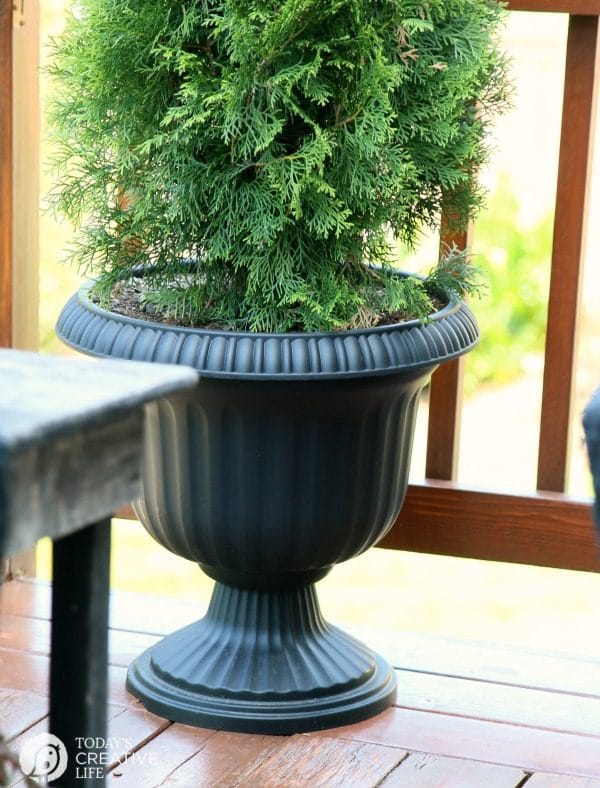 I also decided to add 3 evergreen arborvitaes to give it a cozier and more private feel. The urns I found at Lowes were SO inexpensive! Under $12! The other large pots were from Better Homes and Gardens for under $20!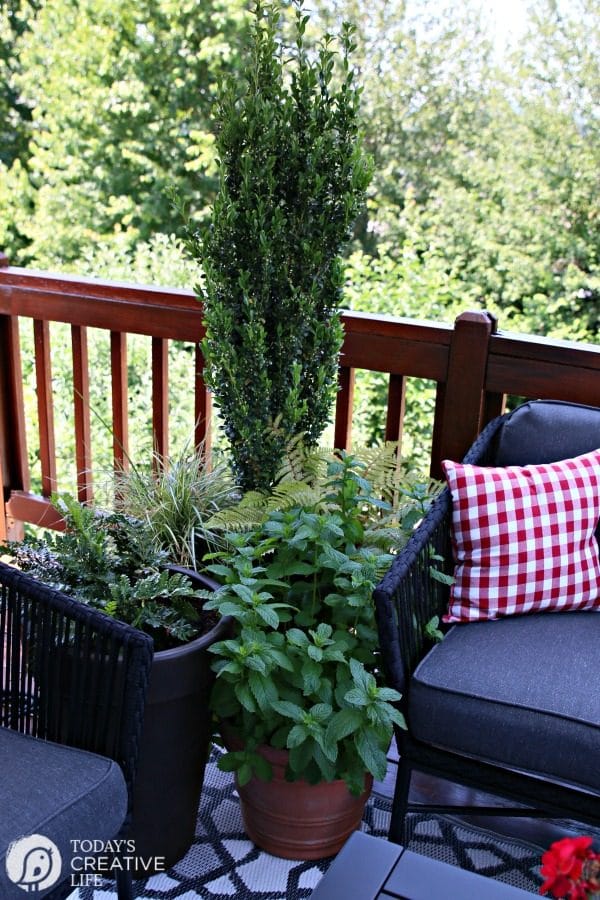 We grow mint every year for Mojitos and it grows fast! Don't plant it in the ground, unless you want it to take over.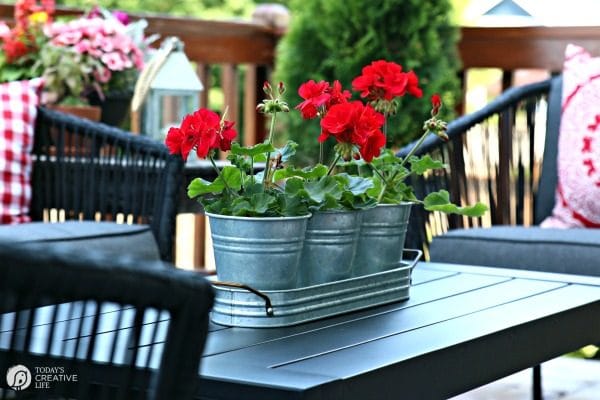 These cute geraniums are perfect in this galvanized tray and pots, the only problem is my kitty, the one in the photo likes to eat the blooms. Then she throws them up all over the house.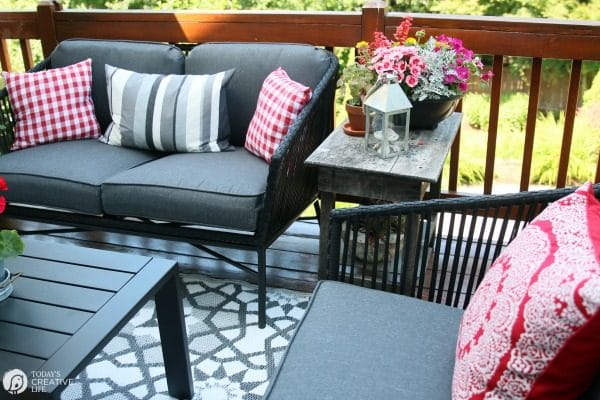 As you can see, the red ended up matching our old BBQ.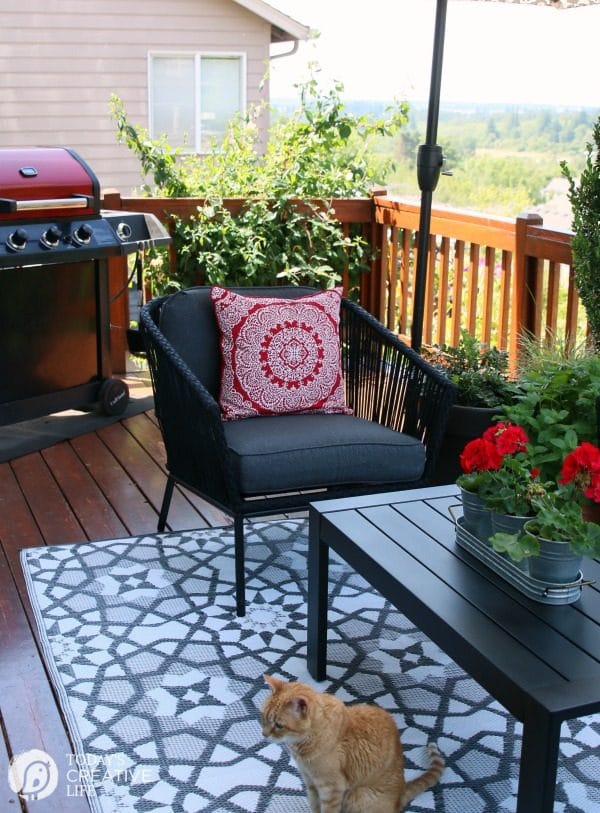 Now I can't wait to get rid of that orangey stain-colored wood! We are set to replace the deck and will stain the wood gray or we'll use a gray composite material along with white rails. (Update: We have replaced our deck with a grey composite decking from Deckorators. See it here.)
I'm leaning towards something that is very weather-friendly since it's pretty wet here.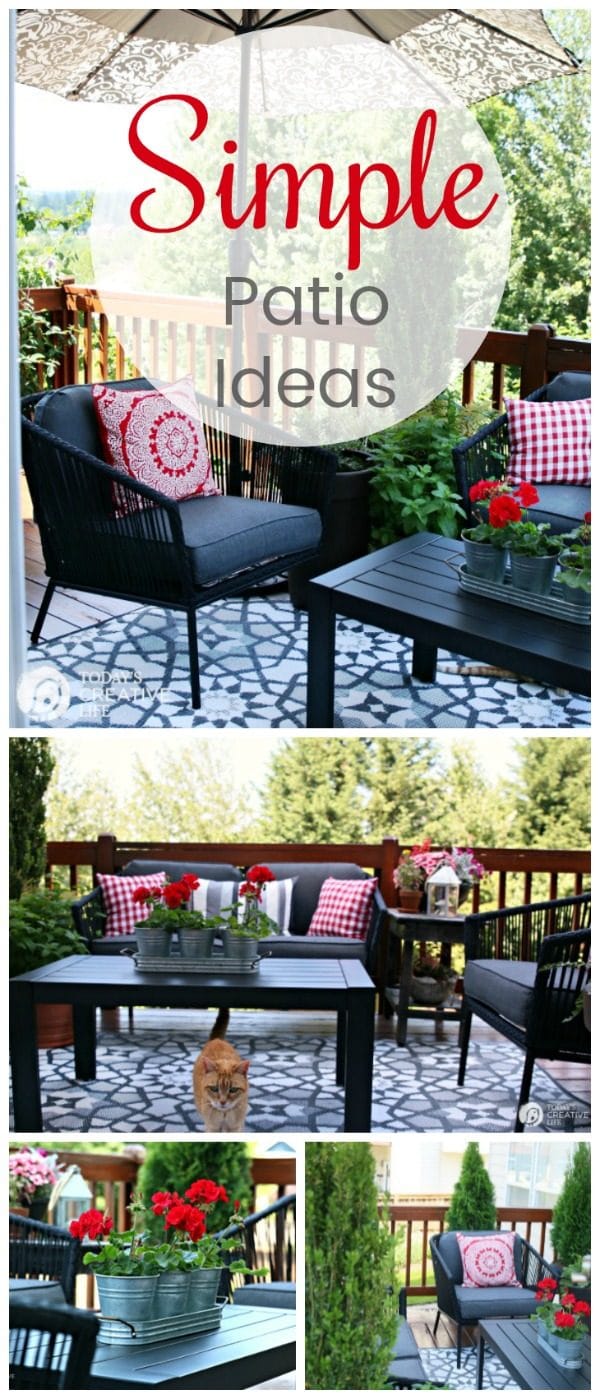 I hope I've inspired you for a few Small Patio Decorating Ideas that you can use! When decorating your deck, shop your home first. You may be surprised by what you can use to decorate!
Outdoor Living Ideas
Find stylish and easy ideas for outdoor living.
Add style to your patio with easy tips.
Create an eating area outside for the summer.
Create simple budget-friendly candles from dollar store supplies.
Photo Credit: www.skiptomylou.org
Make your own outdoor wood chairs.
Is it time to replace your deck? Learn the difference between wood or composite.
Make your own potting area for spring and summer planting.
How to plant an herb garden for your home.
Make no-sew outdoor curtains from painter drop cloths.
---