Each month as one of the Lowe's Creators & Influencers, we are given different challenges.  This month's theme was outdoor fun. So naturally I created a DIY outdoor fountain for my deck…….it was fun!
I've been gone the month of July having fun everywhere else and now it's time to have a little fun on my back deck.  Time to kick back and relax, entertain friends, or have family dinners.
Item's needed:
Ceramic Orb or Egg- I found mine at a local nursery for $5! This is one is the closest I can find.
Fountain parts- Found at Lowes.
Bowl- I plugged the hole in this ceramic bowl, also found at my local nursery.
Pea Gravel
Water
I've been wanting to complete this fountain since last year when I bought the bright blue egg and fountain bowl from my local nursery here in Camas Washington.  I bought the pump at Lowe's and some pea gravel. This was SO simple to make. I threaded the pump tube through the bottom hole and positioned into the top hole of the blue egg. I placed my egg in my bowl, filled with pea gravel and water……..then just turned it on.  It took me about 15 min.  I can now enjoy the soft sound of water, as well as enjoy my beautiful blue egg.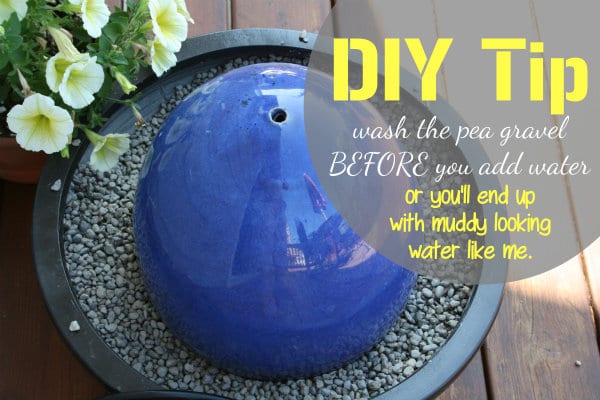 Word of advice……..WASH the pea gravel BEFORE you use it. My water was muddy looking which caused me to throw myself on the ground and cry…..I may have said damn it a few times.   Now that I've drained & refilled the water, it's better.
I also bought new chair cushions. Gotta make it comfortable. These cushions hold up to water and sun, so they'll last a few years. They have many styles and designs to fit your taste.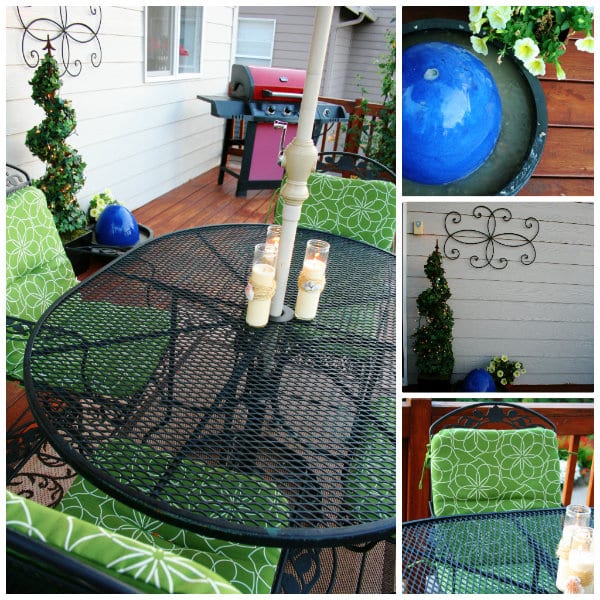 More outdoor decorating ideas!

Potting Area DIY

Drop Cloth Drapes
Follow Kim Demmon (today's creative blog)'s board Yard and Garden on Pinterest.