Every year, you'll find us planting an herb garden to use in recipes and drinks. We'll plant herbs right in the ground and some in pots. I love creative container gardens, so this year, I decided to shake things up a bit by using an old fountain that was missing its bottom as my planter. Pretty cool huh? It's its own garden centerpiece.
My husband thought I had finally lost my marbles, but he tried to act like he was completely on board, because who wouldn't love planting an herb garden in an old fountain part? While I was at it, I figured it was the perfect time to make those DIY garden stakes I've had on my list for years! We love outdoor projects in the spring!
Planting an Herb Garden

This year, I was asked to partner with EcoScraps® Potting Mix and I couldn't email back fast enough, letting them know that YES, I would love to work with them! The reason being is that EcoScraps® is completely sustainable and being from the Pacific NW, that's important! EcoScraps is sustainable because they use food scraps to make their products! Yep!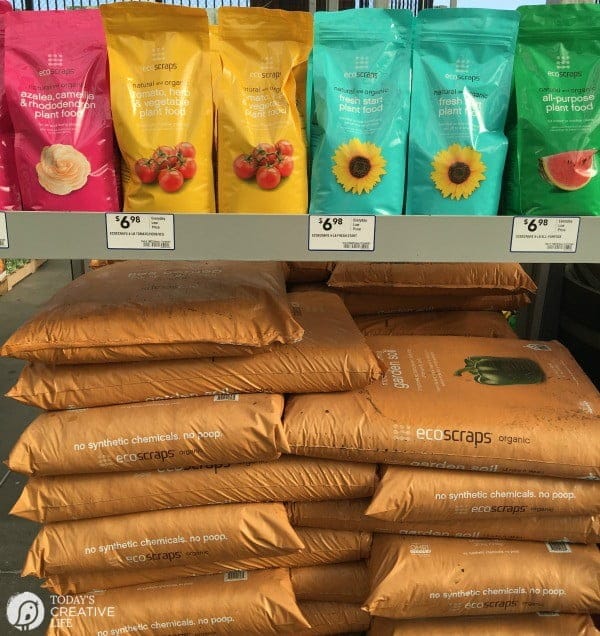 We are BIG recyclers here. People here in the Portland city limits are required to recycle food scraps. So this was a brand I definitely wanted to work with. I love their story and I knew all of you would too!
Ecoscraps®, a brand that recycles food scraps into organic and sustainable lawn and garden products! No synthetic chemicals, no poop.
You can find them at your local Lowes right in the outdoor garden area. They have quite the selection too. I picked up the potting mix for indoor or outdoor, and the Tomato, Herb and Vegetable plant food. I'm such a sucker for great packaging too!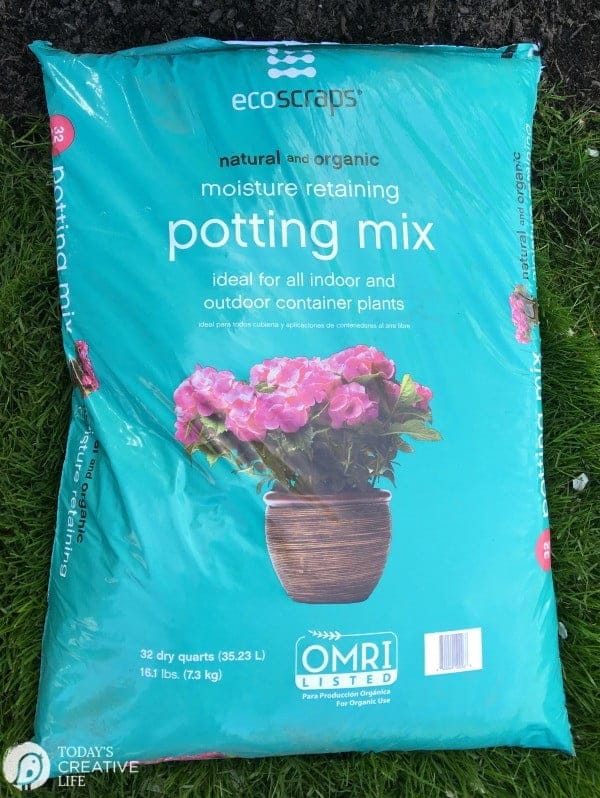 EcoScraps® uses recycled food waste to produce nutrient-rich garden products. Instead of clogging landfills and gassing the air we breathe, the recycled food waste is used to produce sustainable garden products, helping you grow healthier plants in the most environmentally friendly way.
I couldn't tell what I was more excited about…. using the EcoScraps to get my herb garden planted, or getting my herbs planted in my old fountain!
Supplies for Planting your Own Herb Garden
EcoScraps Potting Soil (found at Lowes)
Several pots. Look for something unique. Other great options are terracotta pots or galvanized buckets.
Herbs – I choose what I cook with. We use a lot of Mint for mojitos, but will take over, so keep it in it's own separate pot.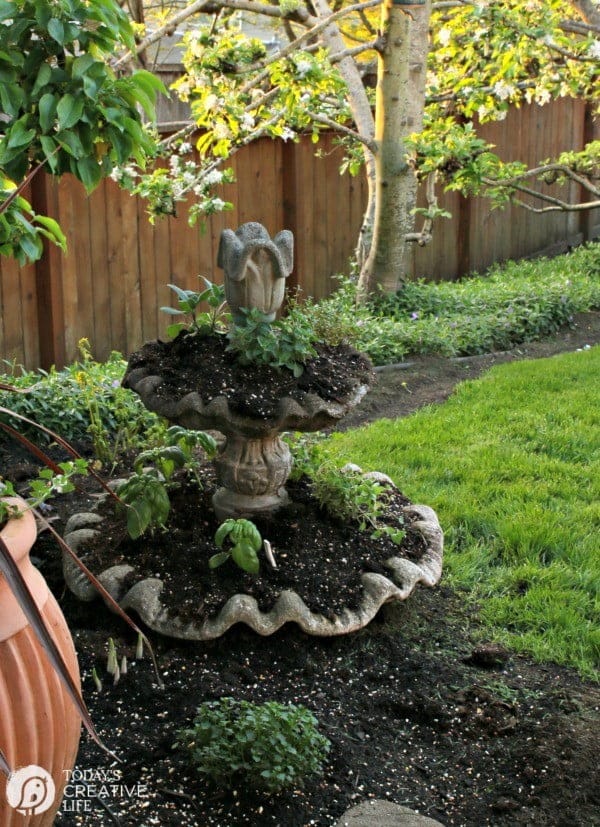 I picked up 2 basil plants, cilantro, sage, thyme, and marjoram. And of course a couple of mint plants, but since it can be a garden bully, we put it in its own separate pot.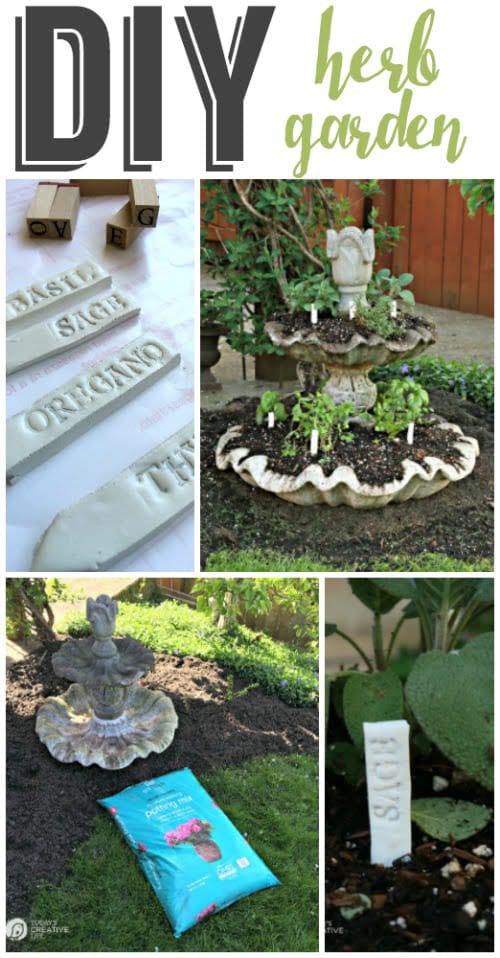 Then I got the wild hair to make some garden stakes that I've always wanted to make. Those would be easy right? And I've always loved the way they look.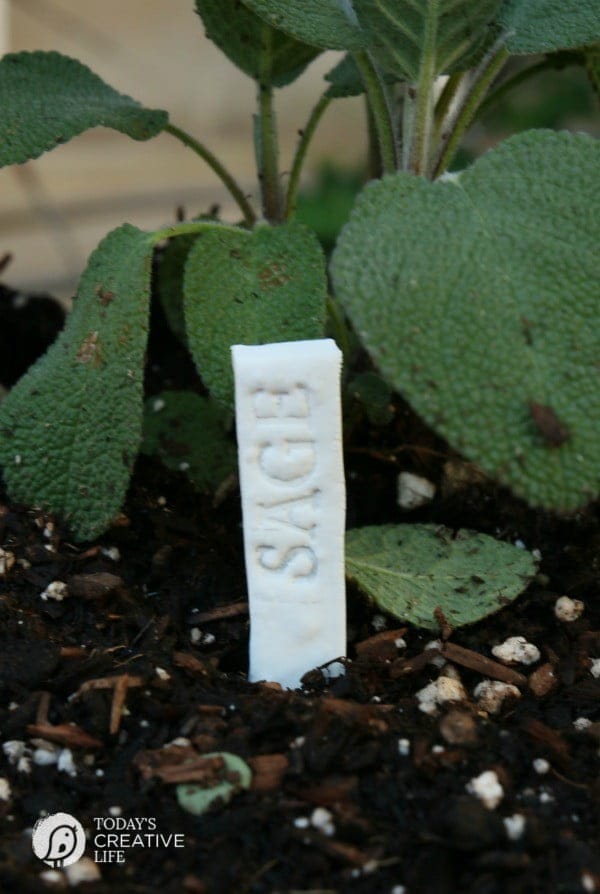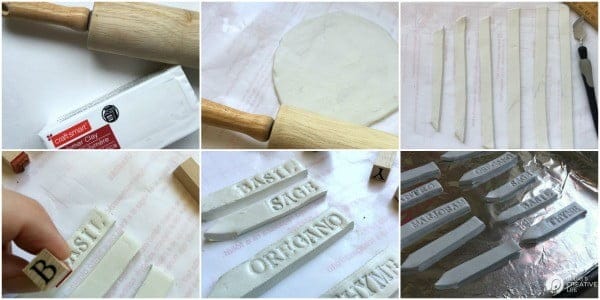 I've seen these all over Pinterest, but have never taken the time to make them. They weren't too difficult at all! DIY Garden Stakes make great gift ideas during the spring.
How to Make Herb Garden Stakes:
Affiliate links for products listed are for your convenience only. This cost you nothing extra. If you happen to purchase anything as a result of clicking, TCL will receive a small percentage. Thank you for your support. This allows me to continue to offer you free content.
Rolling out the clay was harder than I thought. It's not as soft as I imagined, taking about 5 minutes to roll out. You want them to be about 1/4 in thick.
I used one of my craft knives to slice into strips, then trimmed the ends into a point.
Use alphabet rubber stamps to stamp herb names. You can also write on them with a sharpie after the baking process.
Arrange onto a baking sheet and follow the baking directions on the polymer clay package.
Feel free to paint them if wanted.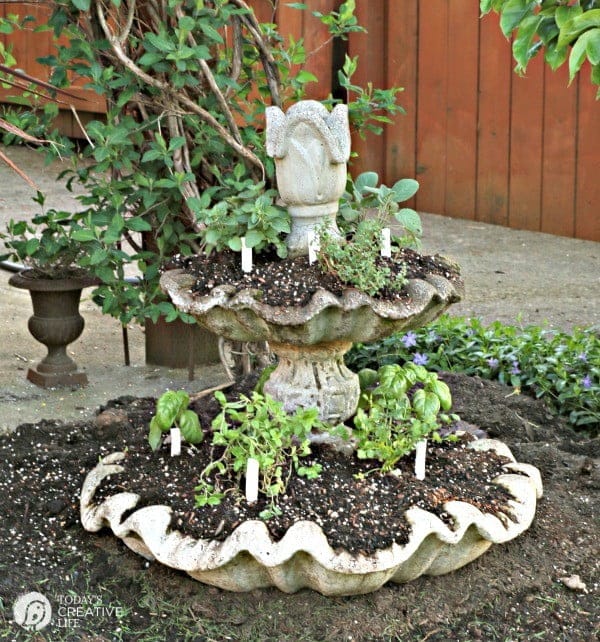 Planting an Herb Garden is as useful as it is beautiful! We even created an Herb Garden for Cats!
I love the shabby look of my new herb garden and I love that it's right outside my back door for easy picking. It serves as a bit of garden art and brings a little personality to my flower beds.
Check out the video below, which explains their philosophy and process. I'm fascinated by this company!
Grow Gardens, Not Landfills!
This post is sponsored. I was overly excited to work with EcoScraps because I love their mission! Even though I was compensated for my work, it never swayed my opinion.
---
More Outdoor Projects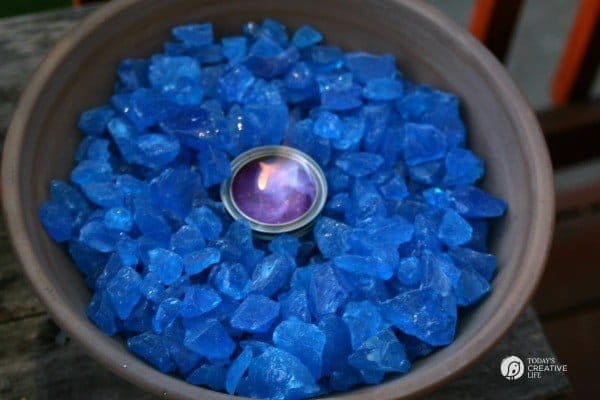 DIY Tabletop Fire bowl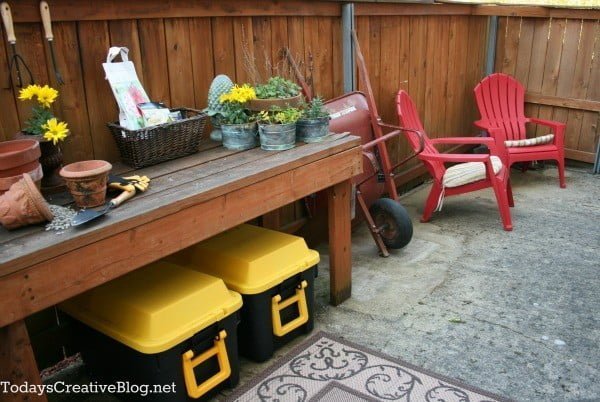 Create a Potting Area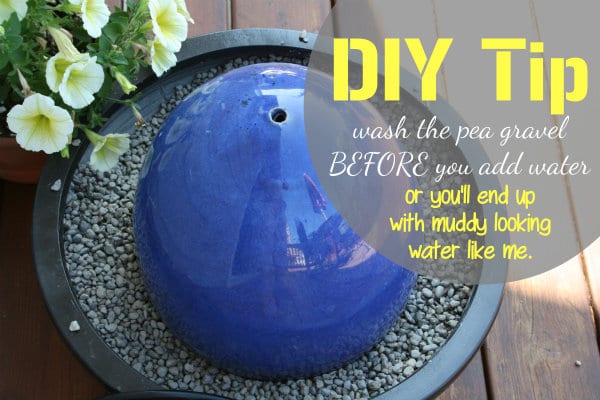 DIY Fountain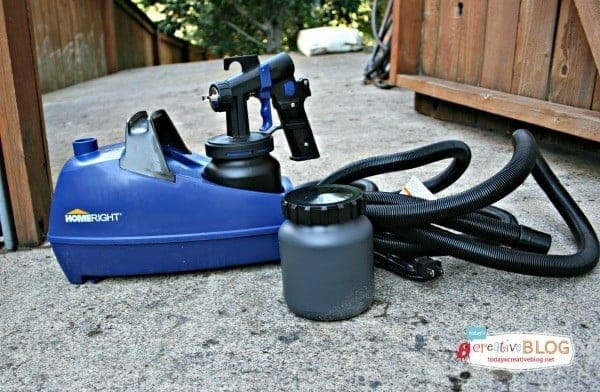 Winterize Your Fence