While I'm off enjoying our fabulous Oregon weather at McMenamins Grand Lodge this week, I am thrilled that home girl Jenni from A Well Crafted Party is filling in again! A couple of weeks ago, she taught us how to create a fun party invite using Facebook events and this week she is sharing her expanded Sunscreen and Bug Spray station along with a free printable.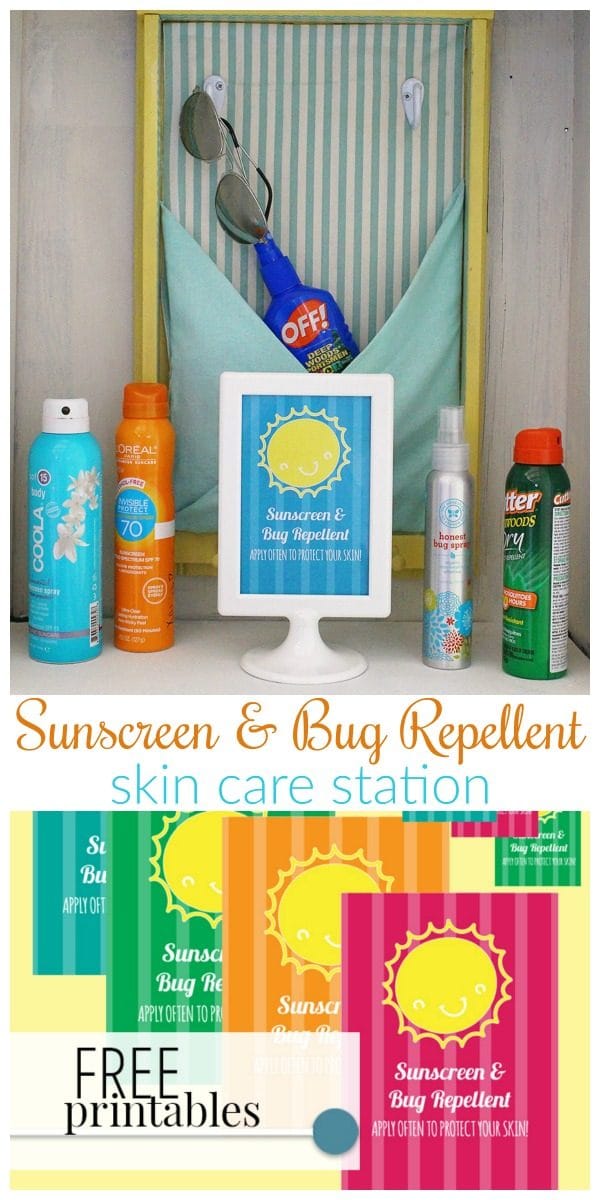 I love summer. Even at 5 months pregnant and rising temperatures I have a special place in my heart for these hot summer months. Entertaining outdoors is my favorite thing to do during the summer, and making sure my guests are comfortable during their stay is often on my mind when I invite guests over to enjoy the outdoors. I make sure there are plenty of drinks, pillows for the hard chairs and shade to sit under. Most importantly, I make sure my guests have what they need to protect their skin from sun and bugs.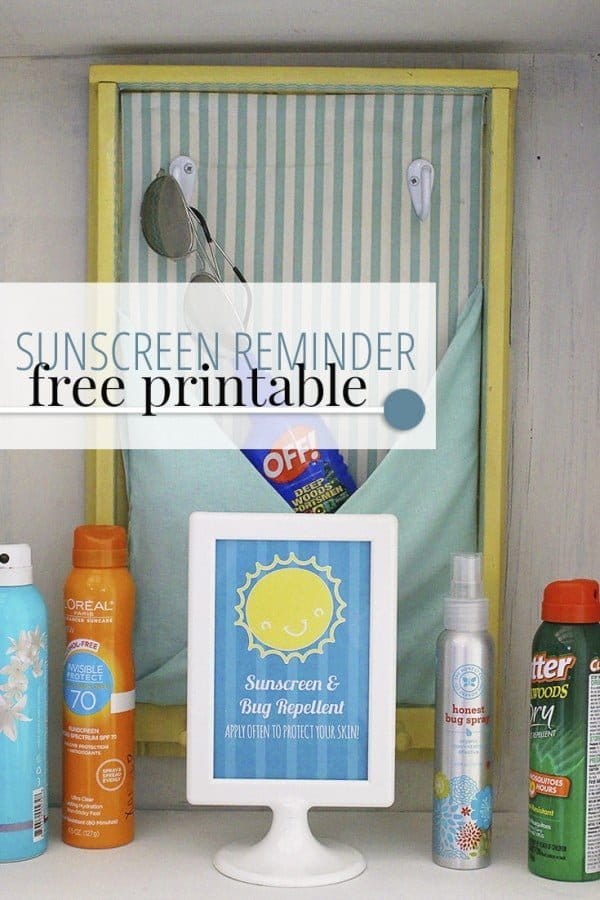 Sunscreen & Bug Spray Station – Make your own!
Last year I shared an easy DIY with Today's Creative Life readers for how to make a Sunscreen Reminder Station.
I made the station to go inside my house near my front door to hold wipes, sunscreen, sunglasses and hats. We used it daily for some time until I decided to change up the decor in my living room. I put my reminder sunscreen somewhere else now, but still wanted to use my little DIY project somewhere in my house.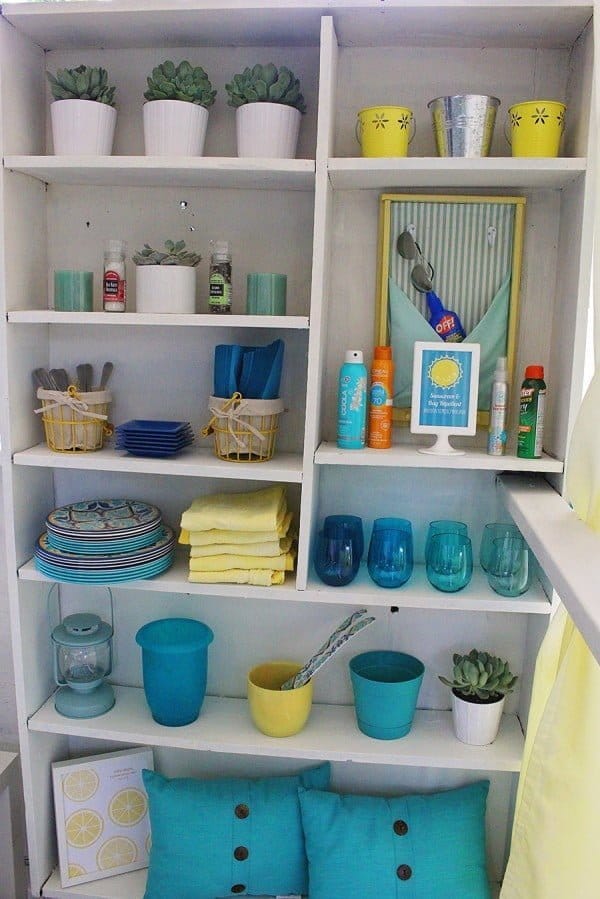 Putting it outside in the bookshelf of our covered porch was the perfect solution! I added some bug repellent options to the sunscreen and made a little sign so that guests know the items are free to use as needed. Plus, having it right there where everyone can see it reminds them that they should protect their skin in one way or another.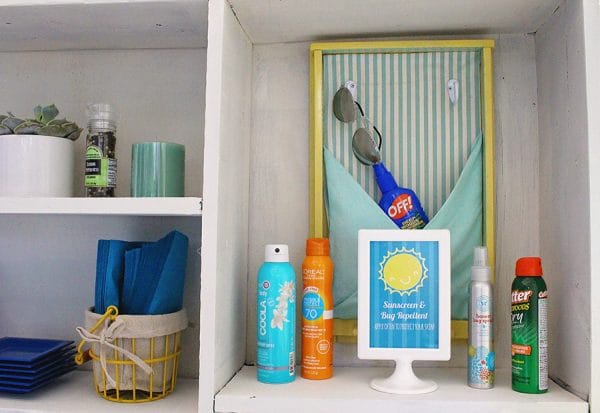 You can make your own DIY Sunscreen and Bug Spray Station by creating a project like mine, or by simply putting out a basket or shelf with your favorite sun and bug protection. Add a framed sign or tags on the products to let guests know that protection is available.
Free Sunscreen and Bug Spray Reminder Printables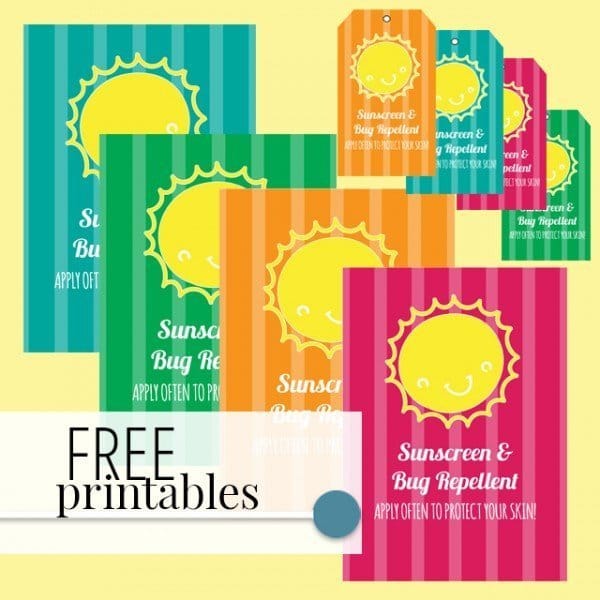 I love the way a sign can bring together a mash­up of protective products and give them a purpose all while making them look great. I created the 4X6 sized printable to coordinate with my backyard decor, but the yellow and blues also just scream summer fun to me! I've also created the printable in a few other color combinations so that you can match it up with your outdoor decor or tastes. In addition to the prints, I've created a set of printable tags. You can tag items for guests to share or use them on favors for guests at a party!
Click here to get your favorite Sunscreen & Bug Spray Reminder printables.
Printing instructions are on your download!
How do you make your guests comfortable when you entertain in the summer heat?