This DIY Lemon Stamped Tea Towels tutorial will show you how I made a stamp or block print using a fresh lemon, acrylic paint and a fabric medium. Fruits and vegetables are great for hand stamped creative projects on fabric and paper. Painting flour sack tea towels is a quick DIY craft that can be done in 30 minutes or less.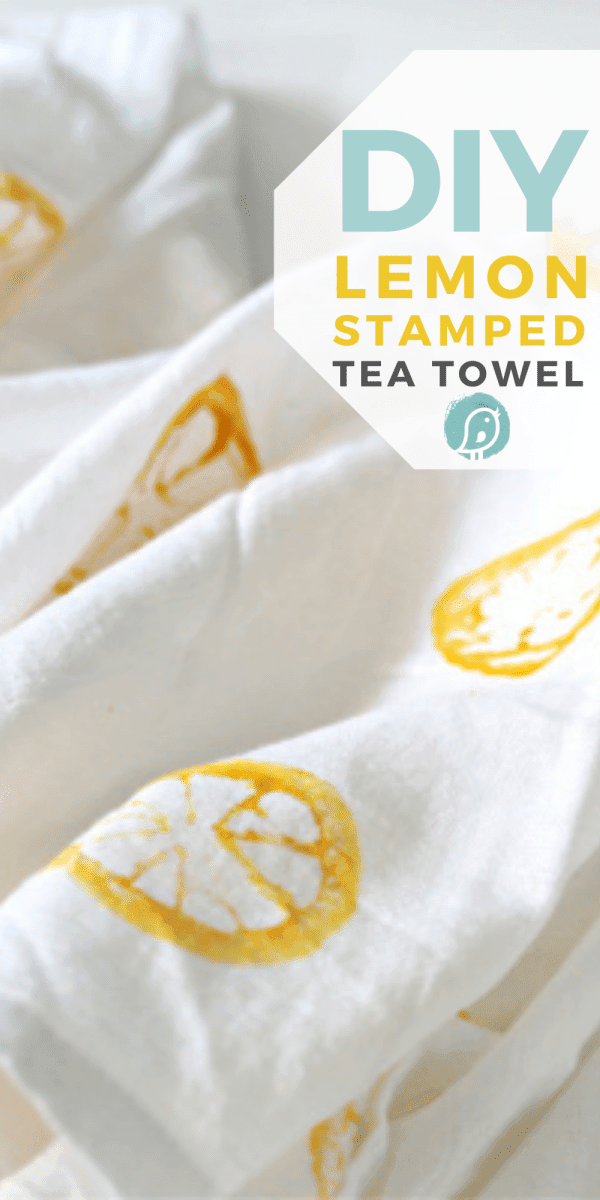 DIY Lemon Stamped Tea Towels
Every spring I like to spruce up my kitchen with a fresh look and lemons are always my first choice. Lemons are so versatile. You can clean with them, decorate with them, or craft with them to make your own DIY home decor. Using Lemons or any citrus with acrylic paint to stamp the classic citrus shape onto tea towels, cloth napkins, a pillowcase, or a tablecloth are fun ways to add instant style to any room.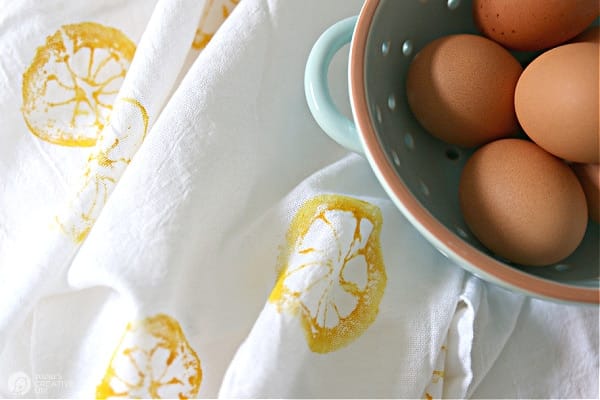 How to Make Lemon Stamped Tea Towels
When stamping with fresh lemon or any citrus, you'll want to stick with smooth cotton fabric, that's why tea towels work so great.
Supplies Needed: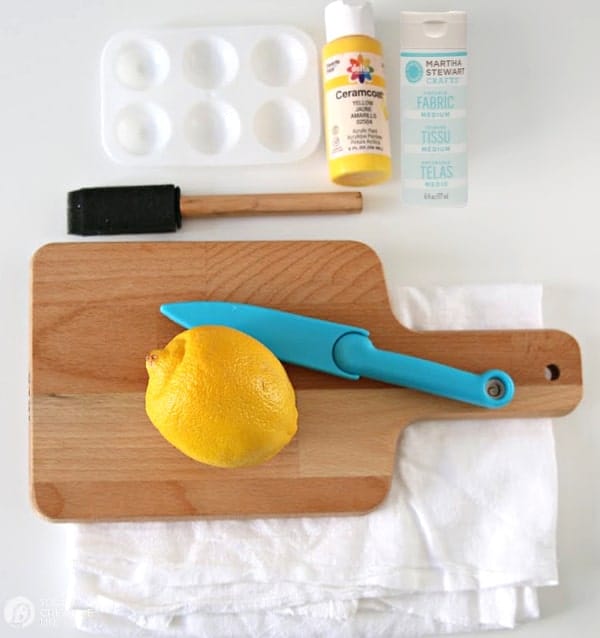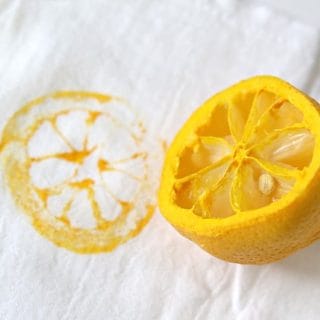 How to Stamp Fabric with Citrus
Yield: 1
Prep Time: 10 minutes
Active Time: 20 minutes
Total Time: 30 minutes
Difficulty: Easy
Estimated Cost: $10
DIY Block Printing with Fruit. How to make a citrus stamped tea towel with fresh lemons using fabric and acrylic paint.
Materials
Fresh Lemon or any citrus
Cotton tea towel
Acrylic paint
Fabric Medium
Tools
Craft paint brush
Cutting Board
Knife
Iron
Instructions
Gather your supplies.
Iron the cotton fabric you plan on using. I used a flour sack tea towel.
Slice a lemon, orange or lime in half or in thick slices.
Section out the meaty parts of the fruit without cutting the triangle membranes.
If the fruit is extra juicy, Give it a gentle squeeze to get rid of some of the juice. Reshape if needed.
If the rind is really wet, dab it dry with a paper towel.
Mix 1 part Fabric Medium with 2 parts acrylic paint. Stir it together to make sure it's mixed well.
Paint the lemon with a craft brush, making sure to get the triangle membranes.
Place the lemon straight down on your fabric, press gently, and lift it straight up.
Repeat to make more stamped images.
Let air dry for 24 hours then heat set design by ironing with a hot (no steam) iron. I usually place another tea towel over it before ironing to protect my iron.
Wash with cool water.
Notes
I always place a piece of cardstock or poster board down for my work surface when working with paints.
Recommended Products
As an Amazon Associate and member of other affiliate programs, I earn from qualifying purchases.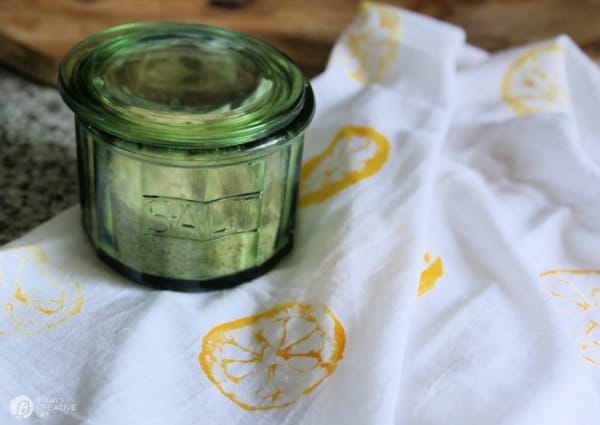 What Fruits or Vegetables Are Good for Stamping?
There are many fruits and vegetables you can use for stamping. The possibilities are endless! Think outside the box by cutting and slicing to create different shapes for stamping. I always experiment on paper first, which also makes a great craft in itself. Kids love it!
Apples
Potatoes – You can create a stamp or block print easily with a potato by carving out your shape. These napkins were hand stamped with a potato.
Green Peppers
Jalapenos
Celery – Cutting all the celery stalks off and using the discarded bottom makes a fun flower-shaped stamp.
Pears
Carrots – Slice and shape
Citrus wedges
Limes
Oranges
Pomegranates
Artichokes – cut in half
I'm sure there are many many more.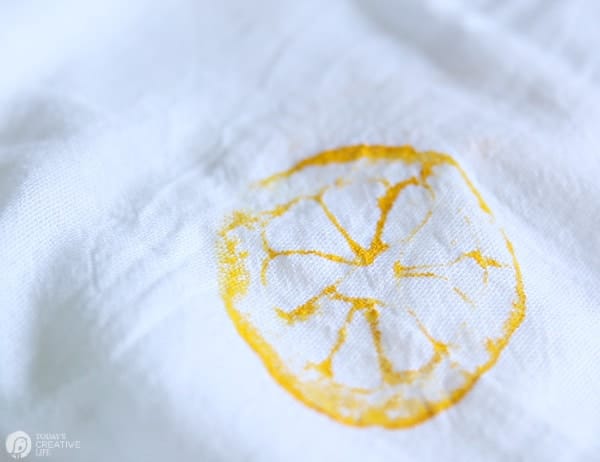 How do you Heat Set DIY Lemon Stamped Tea Towels?
Here's what the professionals have to say from Plaid Crafts.
Heat setting is recommended for best durability. Allow the painted design to dry overnight. Place the item in a clothes dryer for 30 minutes on the highest setting allowed for the type of fabric used, OR you may heat set the painted piece using a dry iron and a pressing cloth by laying the pressing cloth over the painted fabric and iron the painted design for 10 seconds, lift the iron and move it to another section of the painted design. Your iron should be set at the highest setting allowed for the fabric used.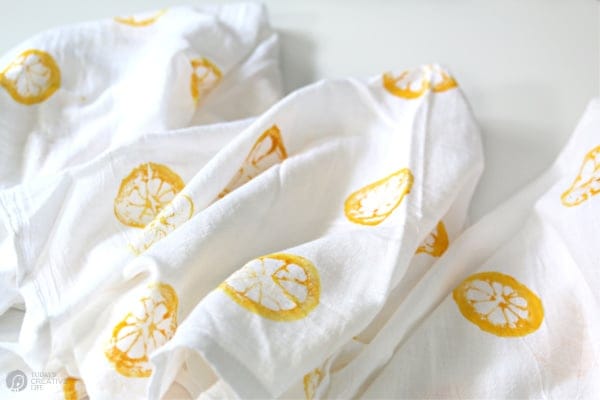 How to Wash Stamped Fabric
If you use a fabric medium mixed with acrylic paint followed up with a heat setting this will help with the durability of your stamped designs. Washing in cool water will also help, although, I wash all my dish towels on warm and hot and so far, everything looks good.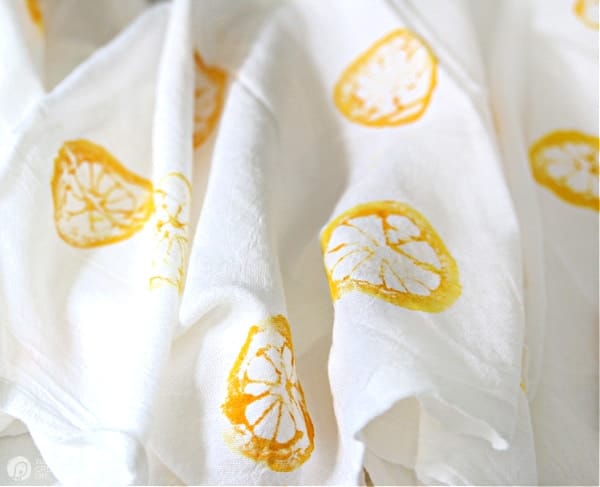 Not only is this a budget-friendly way to update your home decor, but they also make great gifts.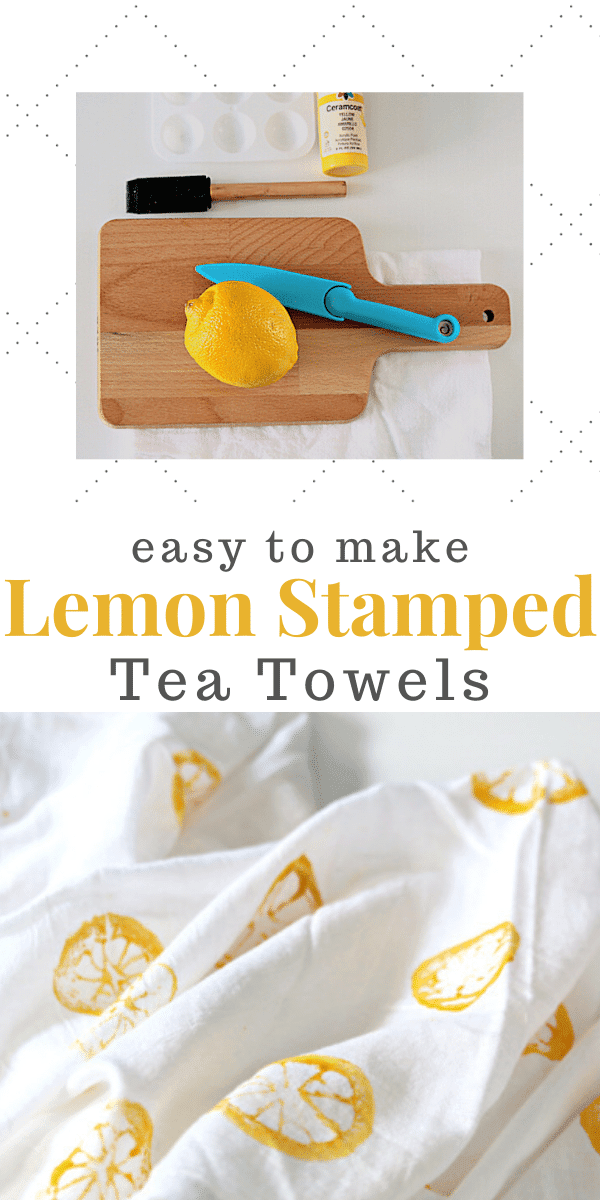 DIY Home Decor and Crafts with Acrylic Paint
My favorite crafts and DIY home decor using acrylic craft paint.
Painted terracotta pot that looks like a pineapple. An easy craft that makes a fun gift idea.
Blow bubbles and create an art piece! This is perfect to get your kids involved.
Make your own geometric tote with custom colors.
Make your own custom design with hand stamped napkins.
Create a table runner with a cloth drop cloth and craft paint.
DIY home decor using a drop cloth and numbers that are special to you.
Farm house style recovered and painted chair cover.
This craft using a stencil makes the cutest pouch!
Grab your craft paint and make these creative flower pots.
This DIY gift idea and matching gift box will make a statepment.
This painting technique shows you how to create a distressed faux patina look.
Weathered terracotta pots are easy to make.
Follow this tutorial on how to chalk paint glass.
No more boring paper plate chargers. Create fun designs with craft paint.
Learn how to paint on fabric and make these cute farmhouse dish towels.