Why have just another birthday party when you could be throwing a mini birthday party?
I have recently partnered up with Coke® and the Coca-Cola Mini which go perfectly with my 5 Mini Birthday Party Ideas I'm sharing today. Throwing a Mini Birthday Party just got easier!
Throwing a Mini Birthday Party with Mini Decorations & Mini Food!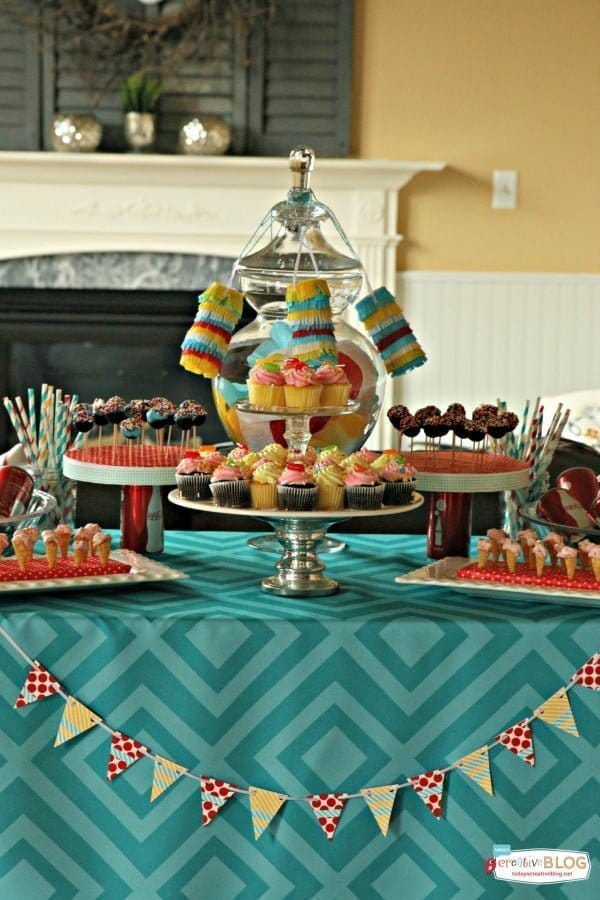 I thought it would be fun to create a colorful party table with mini treats for my son and his friends. His friends are spoiled with the parties I've thrown them. Like the Birthday Party for 13 year old boys, or the S'Mores Bonfire Party, or even the Neon Dance Party for Teens. You gotta keep this kids busy!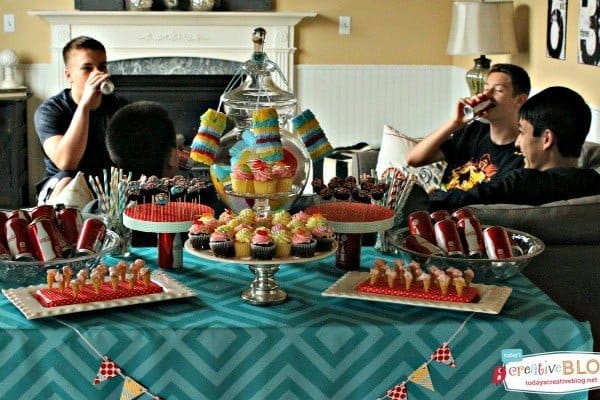 They are always hanging out together and usually raid my kitchen within minutes of arriving. Which is fine by me, but I thought it would fun to throw them a little party with mini treats.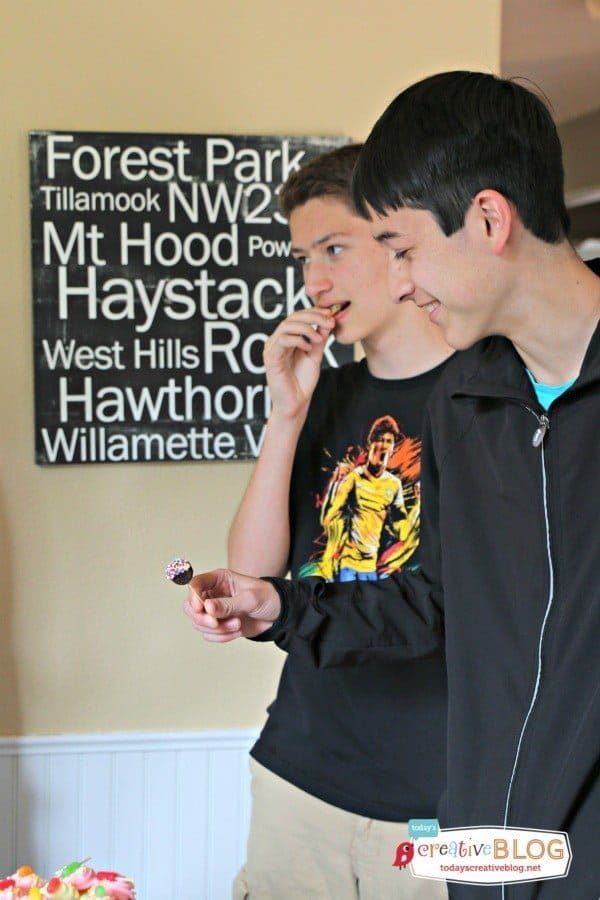 I knew they'd have fun with it and enjoy eating them too! They all know I'm always creating something yummy for this site, so it was nice to create something just for them. Having a Party Pantry stocked with essentials also made it much easier!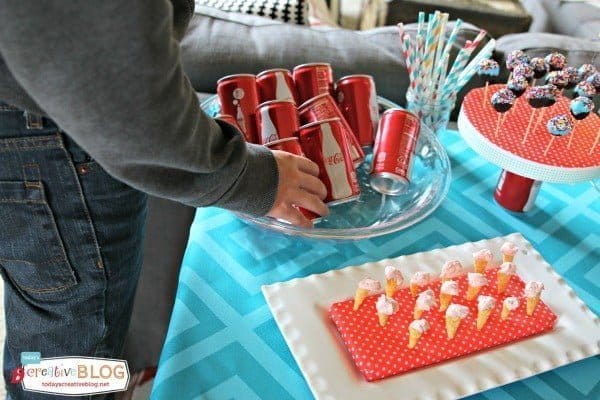 Of course, they really enjoyed the Coca-Cola Mini cans. They were perfect to carry on my "mini treats" party theme! Because boys like to be active, I created these mini pinatas they could play around with. My son has ALWAYS loved pinatas and every now and then, I'd surprise him with one when he was younger. He thought these were perfect!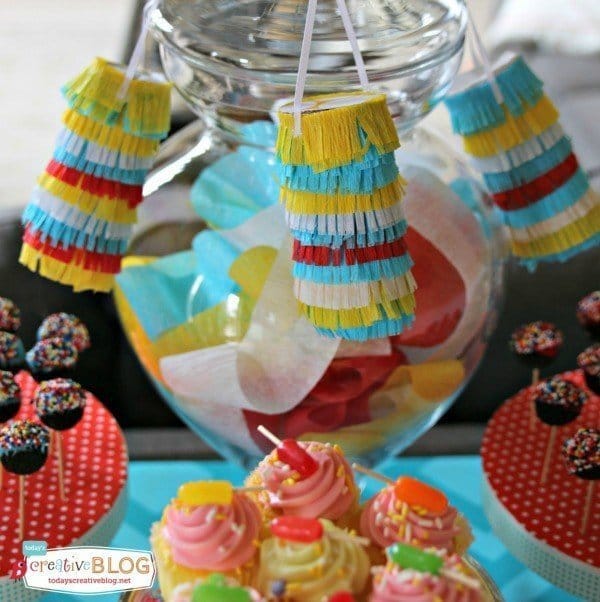 How to Make a DIY Mini Pinata
These were SO easy to make and pretty quick.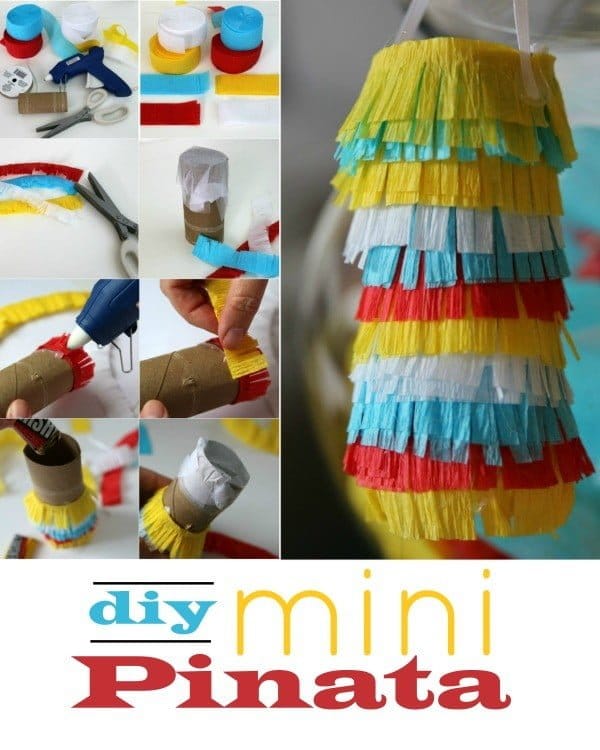 DIY Pinata Supplies Needed:
Crepe Paper
Glue gun and glue sticks or regular craft glue. Glue guns can be VERY hot. Read the instructions before using.
Tissue paper
Scissors – I used the Fringe scissors which made it super fast to cut the fringe look.
Ribbon
Paper Roll – save your TP roll, or you can purchase them.
Scotch tape
Cut the crepe paper into 6 inches lengths.
Fold each piece in half length wise and cut with scissors, leaving a small uncut space near the top.
Tape tissue paper over one end of the roll. I would create 2 ply for more strength.
Start gluing your fringed pieces to your roll, starting at the tissue end. (regular craft glue can also be used)
Before finishing the top, place your candy or items into the tube and tape another piece of tissue over the top. Don't worry if the taping isn't pretty. It's not going to show. Continue gluing your fringed pieces all the way to the top.
Attach a small piece of ribbon with glue to opposites sides of the tube. Allow to cool and dry.
I wanted everything to be mini! Well, everything I could think of. I created a mini party banner, because what's a party without a banner?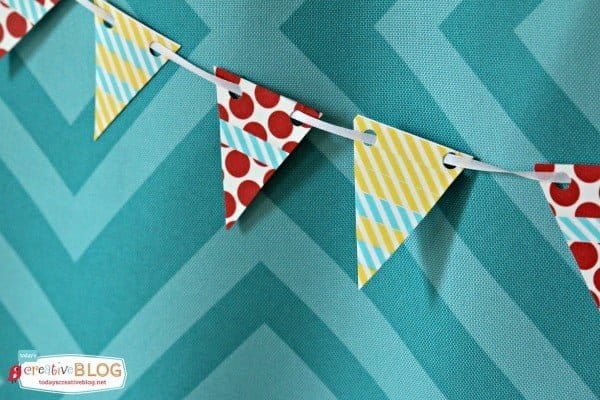 How to Make a DIY Mini Party Banner
Another festive DIY craft.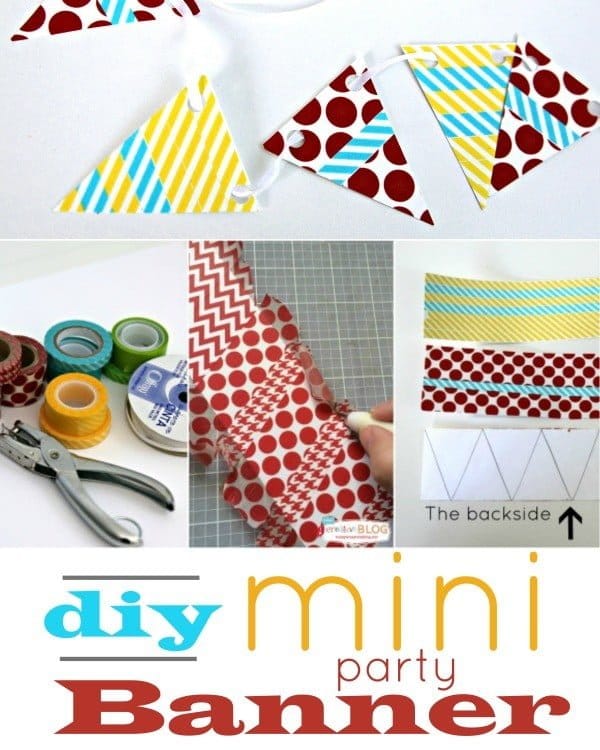 DIY Mini Party Banner Supplies Needed:
Affiliate links for products listed are for your convenience only. This costs you nothing extra. If you happen to purchase anything as a result of clicking, TCL will receive a small percentage. Thank you for your support. This allows me to continue to offer you free content.
Washi Tape – Washi tape is a decorative paper tape found at your local craft store.
Twine or ribbon
Cardstock
Hole Punch
Craft Knife – I love the one that Martha Stewart makes.
Triangle template – draw your own onto cardstock, then cut it out to use and trace.
Pencil
Scissors
Gather a variety of washi tape colors
Cut the cardstock into strips. I made mine about 2 1/2 inches wide.
Tape your washi tape to the cardstock. Be creative by mixing and matching.
Use your craft knife to trim any excess tape from the sides.
Turn your washi taped piece of cardstock over and trace your template on the back side as shown.
Cut each triangle out.
Use your hole punch to create a hole on each corner.
Thread the ribbon through each triangle.
Hang and enjoy!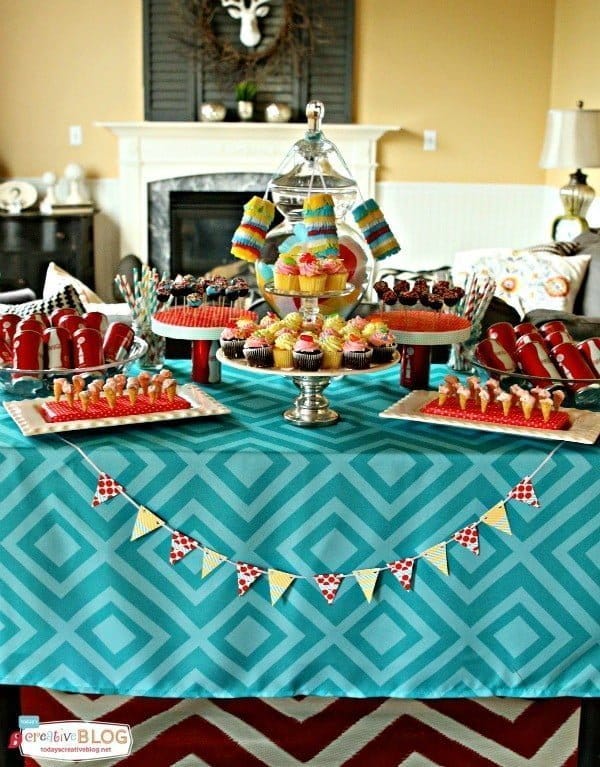 Let's talk about the mini food! If you're throwing a mini birthday party, you have to go all out!
How to Make DIY Mini Ice Cream Cones
The boys really enjoyed the Mini Ice Cream Cones, which weren't even ice cream!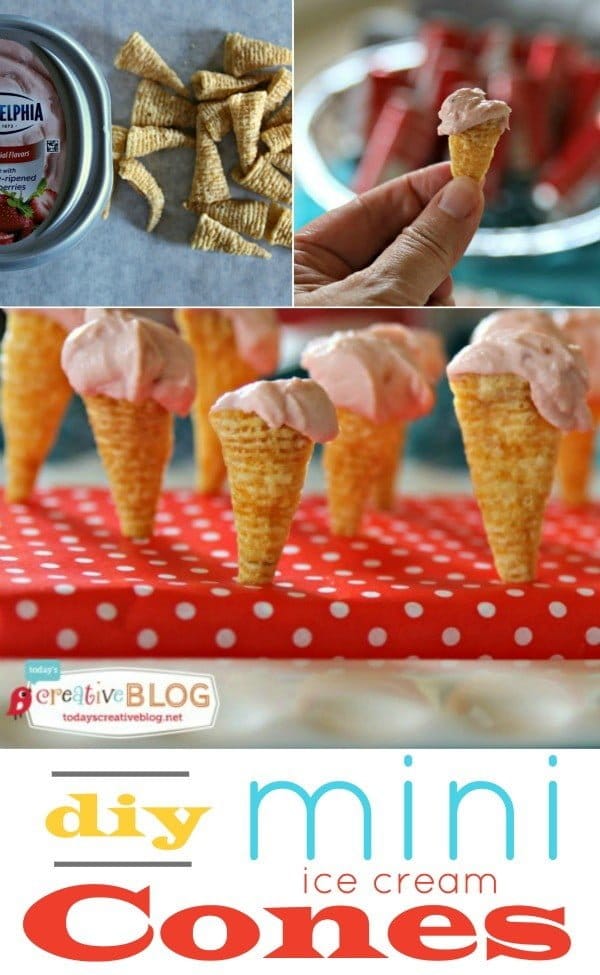 DIY Mini Ice Cream Cone Supplies Needed:
Flavored Cream Cheese
Bugal corn snacks
I simply took Bugals corn snacks and scraped the top through strawberry cream cheese. Not only did they look adorable, but the sweet with salty taste was a hit! I love how they looked like an ice cream cone on a summer day, slightly dripping down the side. If you wanted a more perfect cone, you could use a small melon baller utensil to create a rounder scoop.
How to Make DIY Mini Cookie Pops
Those mini cookies are so cute! I knew exactly how to doctor them up. Is there anything more festive than sprinkles?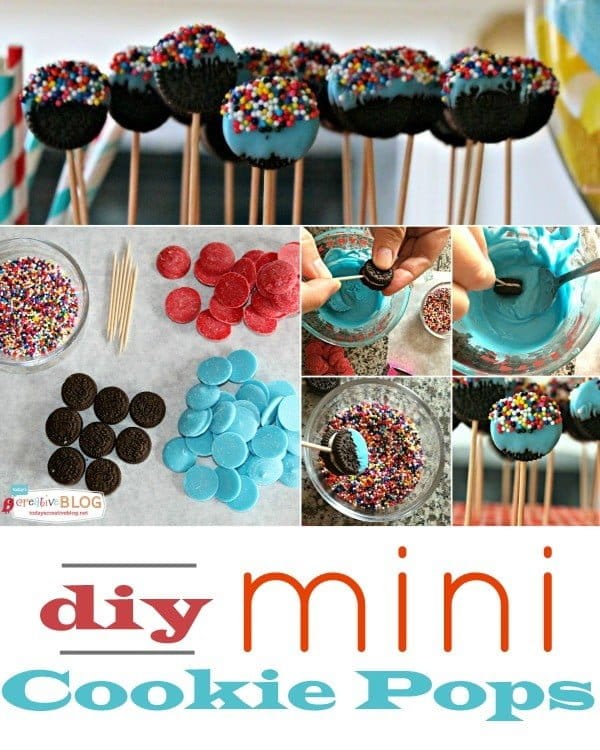 DIY Mini Cookie Pop Supplies Needed:
Mini Cookies with filling
Candy Melt Discs
Sprinkles
Toothpicks
Melt the candy discs in the microwave. I checked at 30 second intervals.
While the candy is melting, gently place toothpicks into the center filling of each cookie.
Dip into melted candy and gently shake off excess.
Dip carefully into the sprinkles
Use a piece of styrofoam to stick the finished pop into.
When you make cookie or cake pops, you quickly realize you need something to stand them into. I used styrofoam rounders. Using washi tape to decorate the side and a piece of decorative paper for the top. Just poke the toothpick or candy stick right where you want it.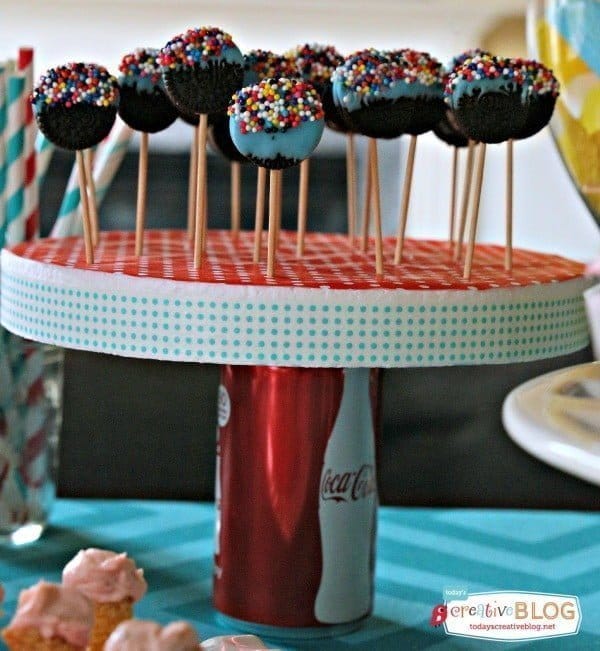 Then I created my own cookie pop cake plate by using one of the Coca-Cola Mini cans. It was party perfection!
How to Make Mini Popsicle's
These were just way to cute to pass up!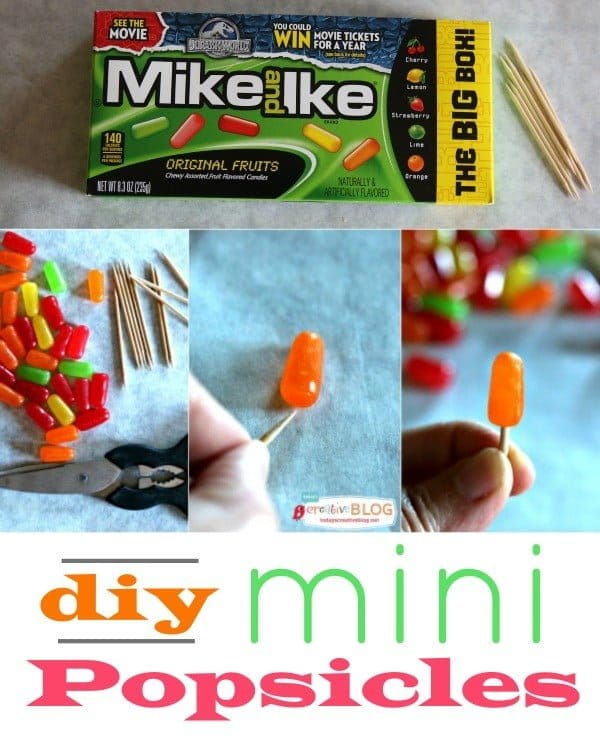 DIY Mini Popsicles Supplies Needed:
Toothpicks
Scissors
Mike and Ike candies – or any gum drop shaped candy
Cut the tips off several toothpicks. Be sure you have strong scissors. Garden trimmers would also work great.
Stick the pointed end into the larger end of the candy.
These were the perfect mini cupcake topper.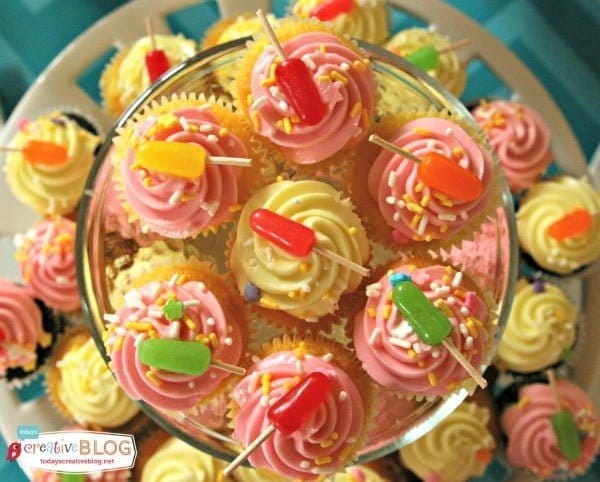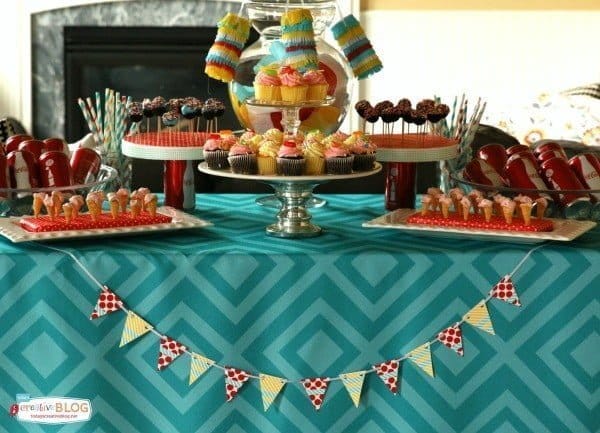 Having a Party Pantry with ready to go paper products really came in handy! It's sad how excited I was to grab and go with the products I needed.
Who's ready for throwing a mini birthday party?
---
More Party Planning Ideas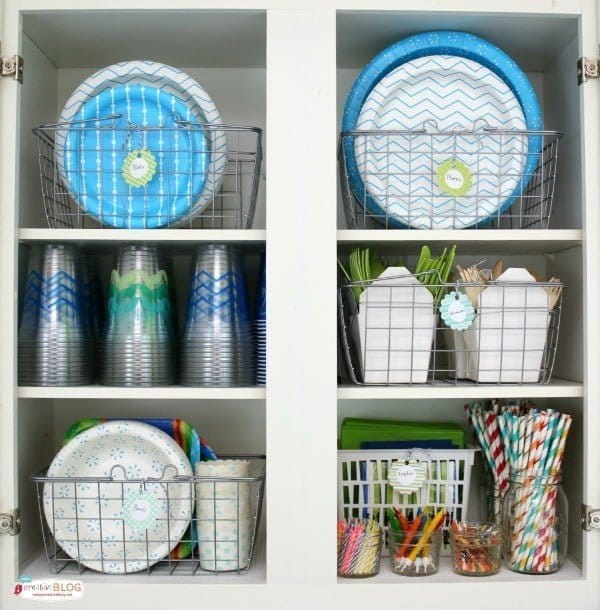 Create a Party Pantry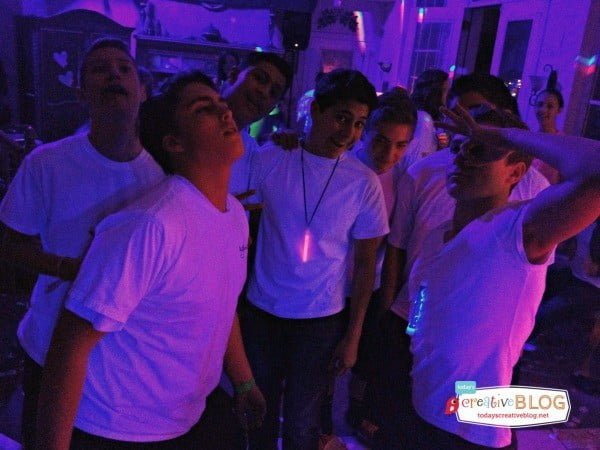 Neon Birthday Party for Teens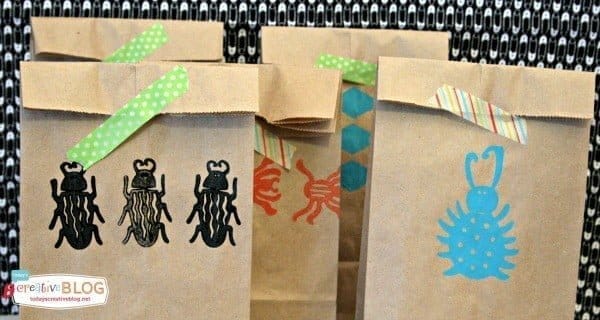 DIY Birthday Party Goodie Bags
This post was sponsored by Coke. All opinions and ideas shared are 100% mine.