Making this Reindeer Food Recipe is easy using oats, sprinkles, and imagination. This Christmas Eve tradition will create memories for a lifetime!
The Reindeer Food Poem is easy to print to go along with this Reindeer Food Recipe if you want to package it up for a gift, or have it sent from Santa.
Of course, once my son was older, we would sometimes make it for the younger neighbor kids. The free printable Reindeer Food poem makes it easy to give away for a fun gift idea.
REINDEER FOOD RECIPE
This is part 2 of my Gifts from the Kitchen series.
For my morning segment on AMNW I'm sharing 5 easy Gifts from the Kitchen. My Magic Reindeer Food Recipe is perfect for holiday parties where children may be. They will be so excited! I mean who doesn't want to feed the reindeer?
This recipe couldn't be easier and the poem is darling! Marlynn, one of my Printable contributors created the cutest tag with the poem. This looks adorable!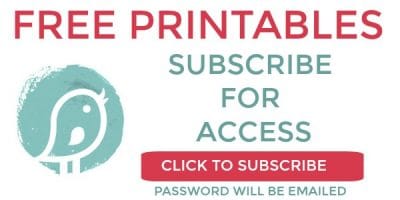 Grab your free printable reindeer food poem located in the Subscriber Only password-protected Printable Vault. Sign up here.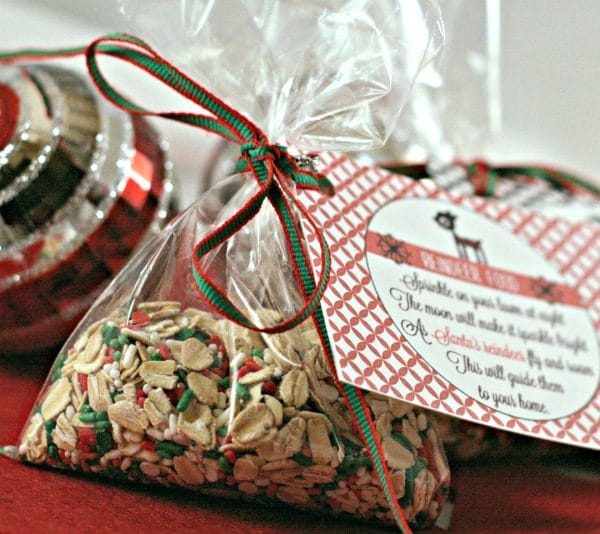 Sprinkle on Your Lawn at Night
The Moon will make it Sparkle Bright
As Santa's Reindeer fly and Roam
This will guide them to your Home
HOW TO MAKE REINDEER FOOD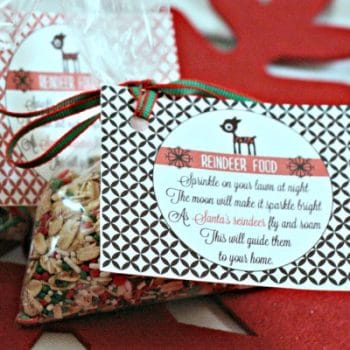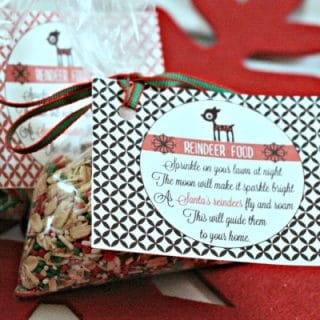 Reindeer Food Recipe
Yield: 6
Prep Time: 5 minutes
Total Time: 5 minutes
Create a holiday tradition by making Reindeer Food for Santa's Reindeer!
Ingredients
2 Cups Oats
1/4 Cup Green Sprinkles
1/4 Cup Red Sprinkles TWO
1/4 Cup Shaped Sprinkles
Instructions
Mix all ingredients together in a ziplock bag. Spoon into smaller bags, tie with a twist tie or ribbon. Add your Poem Tag.
Have children sprinkle on the lawn Christmas Eve! The sprinkles will catch the attention of Santa's reindeer.
Notes
Make up a larger batch, along with the printable poem for easy gifts for neighborhood kids.
What is Magic Reindeer Food?
This reindeer food recipe is to bring Christmas magic to every child's life. Made with oatmeal, glitter or sprinkles to be sprinkled on the lawn on Christmas Eve. The shine from the sprinkles helps grab the attention of Santa's reindeer as the oats bring them nourishment for the long night workload.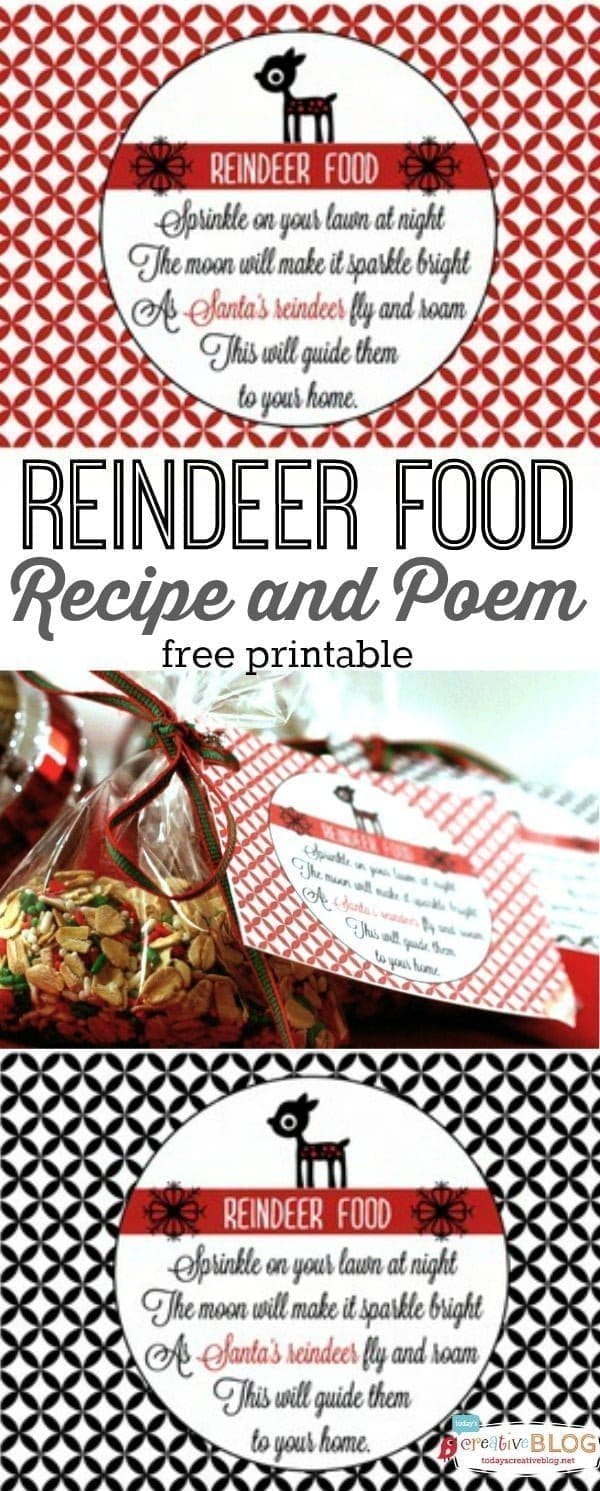 Find this free printable reindeer food printable here.
---
Easy Homemade Holiday Gift Ideas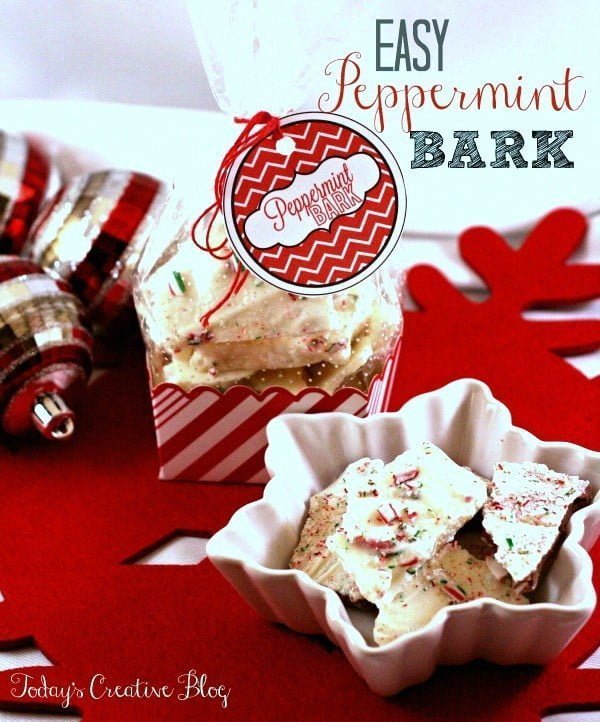 Peppermint Bark Recipe & Printable Label
This is a super simple holiday gift idea for office friends, neighbors or even your mailman.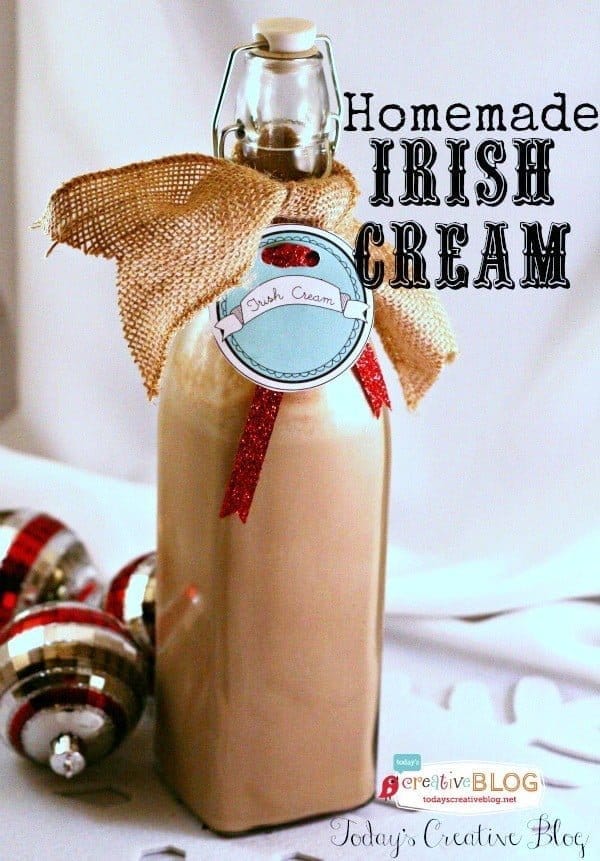 Irish Cream Recipe & Printable Label
This is DELICIOUS! Pour it into smaller bottles for quick holiday gifts. The printable label makes it perfect!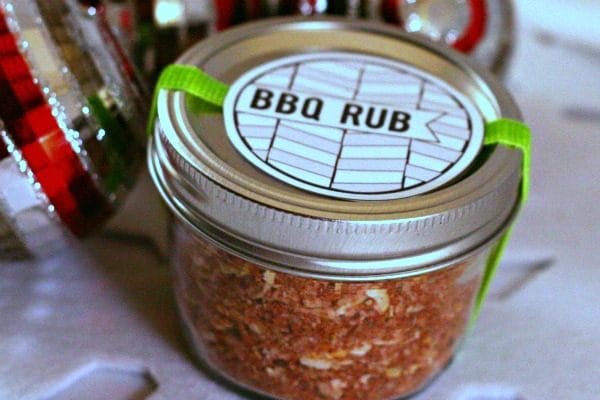 BBQ Rub Recipe & Printable Label
Great homemade gift idea for the men in your life! Use it year round!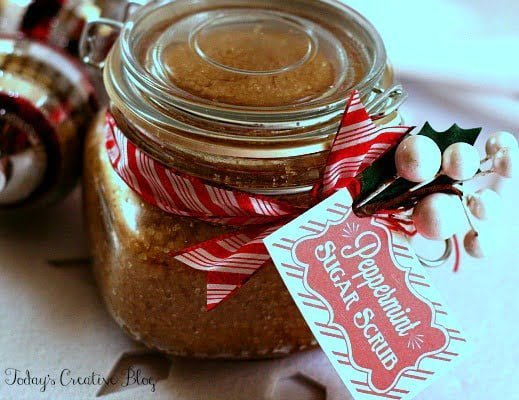 Peppermint Sugar Scrub recipe & Printable Label
Who doesn't love homemade spa recipes? Another quick and easy homemade holiday gift!