Grab this reindeer food recipe to feed the reindeer! Feeding the reindeer was something my son looked forward to every Christmas Eve. As soon as we would get home from Christmas Eve dinner, he would set out Santa's treat and then head out to the yard and sprinkle the reindeer food that came with his Santa Letter.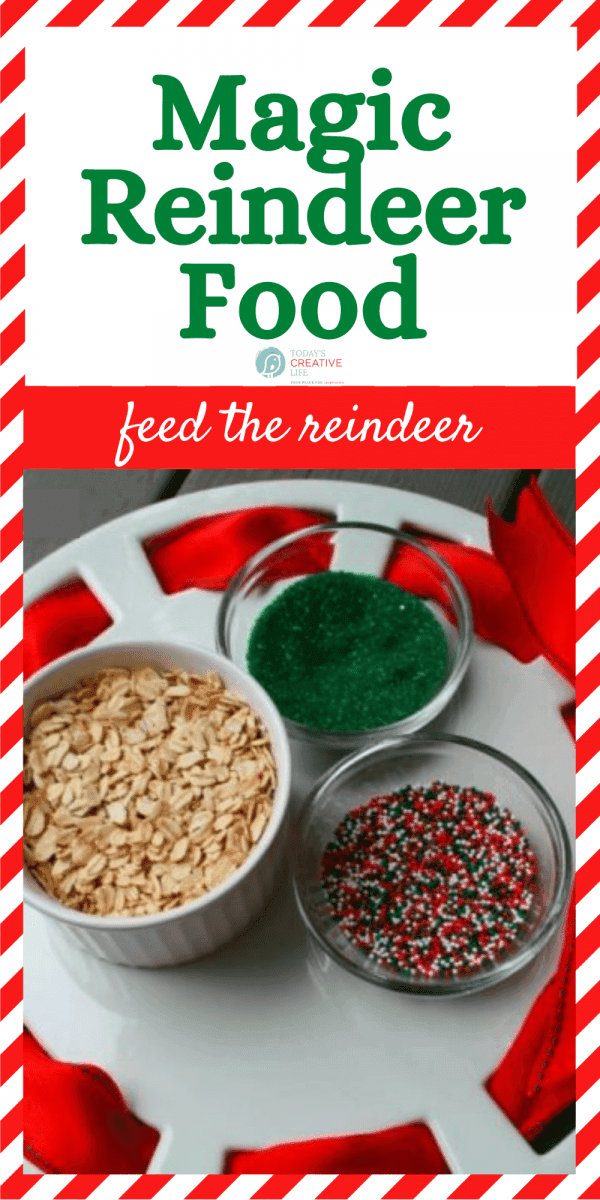 Feed the Reindeer
We would also make up some extra reindeer food just in case they were really really hungry. Sadly, my son is now 12 and no longer thinks about the poor little reindeer. But I still like to make it and place in a jar for decoration or for younger children to see. I may attach the cute poem below and give some to my neighbors with little ones. It's so easy to make!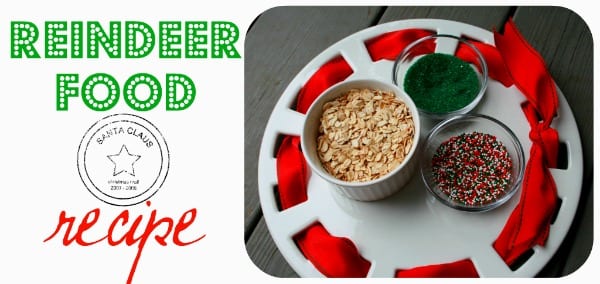 How to Make Reindeer Food
Making reindeer food is very easy. You will need just a few ingredients you probably already have.
Oatmeal – instant or rolled oats
Sprinkles – I use 2 or 3 different varieties.
Just mix everything together and then store it in an airtight container. For gifting, pour into small baggies and attach printable reindeer food poem. Find the printable in The Printable Vault.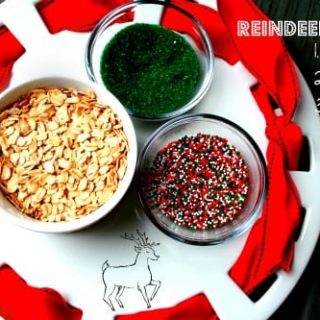 Reindeer Food Recipe
Yield: 1
Prep Time: 10 minutes
Total Time: 10 minutes
Homemade Reindeer Food for feeding the reindeer on Christmas Eve. Bring all the reindeer to your yard.
Ingredients
1 cup rolled oats
1/2 C. Colorful sprinkles in holiday colors
1/2 C. Glitter or sugar sprinkles
Instructions
Combine all ingredients together in a small bowl.
Fill individual small baggies and attach reindeer food poem.
Nutrition Information
Yield 3
Serving Size 1
Amount Per Serving
Calories 401
Total Fat 11g
Saturated Fat 1g
Trans Fat 0g
Unsaturated Fat 9g
Cholesterol 0mg
Sodium 3mg
Carbohydrates 74g
Fiber 3g
Sugar 50g
Protein 4g
We do our best to calculate, however, nutrition information may not be accurate.
I originally found the poem from friend Kim at TomKat Studios.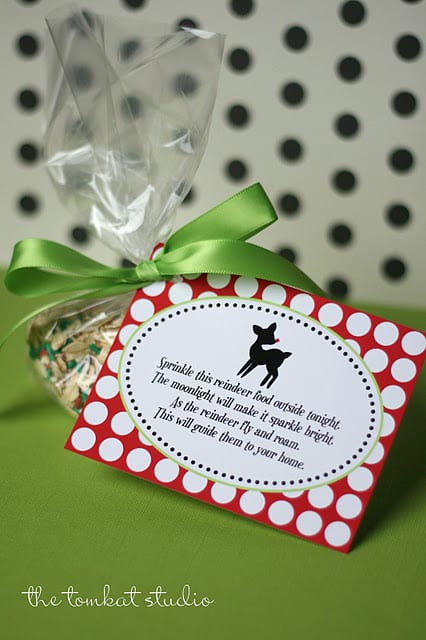 Sprinkle this reindeer food outside tonight,
The moonlight will make it sparkle bright,
As the reindeer fly and roam,
This will guide them to your home.
Sprinkle on the grass at night before bed. The reindeer love the Oats and the glitter gets their attention and gives them their magic!
DIY Holiday Ornament Ideas
Easy to make homemade Christmas ornaments for all ages.
Easy cutout clay ornaments using polymer clay and cookie cutters.
Simple balsa wood star cutouts dripping in glitter.
Drying orange slices can be used for DIY Christmas ornaments or any holiday decor.
Recycle sweaters or socks for this cute idea.
This Etsy seller has some great ideas!
This is one of those Christmas ornaments that kids can easily make.
One of my favorite holiday crafts! Make custom colors!
Simple for young kids to make a beginner sewing project.