We MUST feed the reindeer! Feeding the reindeer was something my son looked forward to every Christmas Eve.  As soon as we would get home from Christmas Eve dinner, he would set out Santa's treat and then head out to the yard and sprinkle the reindeer food that came with his Santa Letter.
Reindeer Food
We would also make up some extra reindeer food just in case they were really really hungry.  Sadly, my son is now 12 and no longer thinks about the poor little reindeer.  But I still like to make it and place in a jar for decoration or for younger children to see.  I may attach the cute poem below and give some to my neighbors with little ones.  It's so easy to make!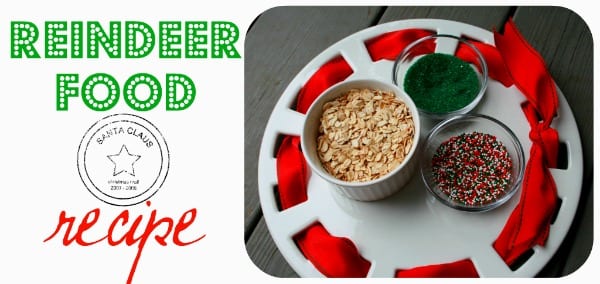 Reindeer Food Recipe
Items needed:
1 C. Rolled oats
1/2 C. Colorful sprinkles in holiday colors
1/2 C. Glitter or sugar sprinkles
Mix all ingredients together in a ziplock bag or bowl.  If your giving away, separate into smaller bags, attach the poem from TomKat with a cute ribbon.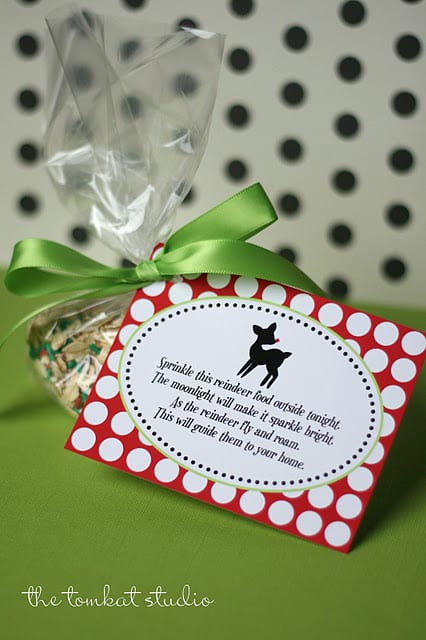 Sprinkle this reindeer food outside tonight,
The moonlight will make it sparkle bright,
As the reindeer fly and roam,
This will guide them to your home.
Printable Recipe and Poems Here.
You can download these adorable tags for FREE from Kim's site, The TomKat Studio.
Sprinkle on the grass at night before bed.  The reindeer love the Oats and the glitter gets their attention and gives them their magic!
linking to tidymom, I'm lovin it!