This DIY Homemade No.2 Poo Spray is like store-bought Poo Pourri Toilet Spray, but customizable. Learn how to make your own DIY Poo Pourri with essential oils, glycerine and a couple of other household ingredients. Add this free printable label with simple instructions as to how to use it and you're set! Speaking of free printables, you may also like this printable bathroom wall art if you're looking to add inexpensive decor.
Homemade No.2 Poo Spray
Even though everybody does it, we all ignore that it happens, but…. everybody poops. That's why it's brilliant to have a bottle of this Homemade No.2 Poo Spray in your guest bathroom.
With the holidays coming up, you're bound to have a house full of guests at some point. Heck, it doesn't even need to be a household full, it could just be a couple of friends and believe me, you'll be thankful you have this. We all want our homes to smell nice with no offensive odors coming from the bathroom.

Poo Pourri DIY
It not only saves embarrassment for your guests if the need presents itself, but it also prevents embarrassing smelly smells from wafting through your home that you'd be forced to ignore.
Why pay for it when you can make your own Poo Pourri toilet spray? Follow my easy step-by-step tutorial on how to make homemade poo Pourri. Don't forget your free label too! Find all free printables in The Printable Vault. You can subscribe if needed by clicking the image below.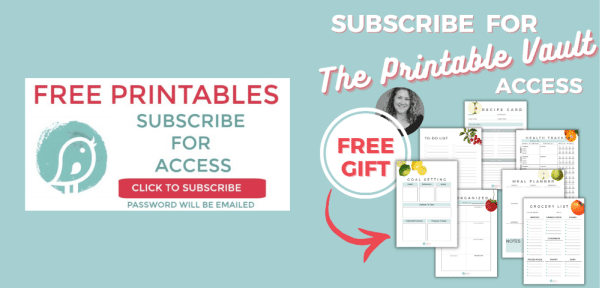 We have 4 bathrooms. (I know! Who really needs 4?) We have the teen bathroom downstairs, our master bathroom, the upstairs guest bathroom, and our main floor powder room. Our powder room is the one that's used the most during holiday gatherings. As if it's not embarrassing enough to need to go No.2, the fan in that bathroom sounds like a jet engine, which of course alerts the entire household that you need the fan.
That's when I thought I'd try to make my own "poo spray" to hide embarrassing odors.
Poo Pourri – How to Make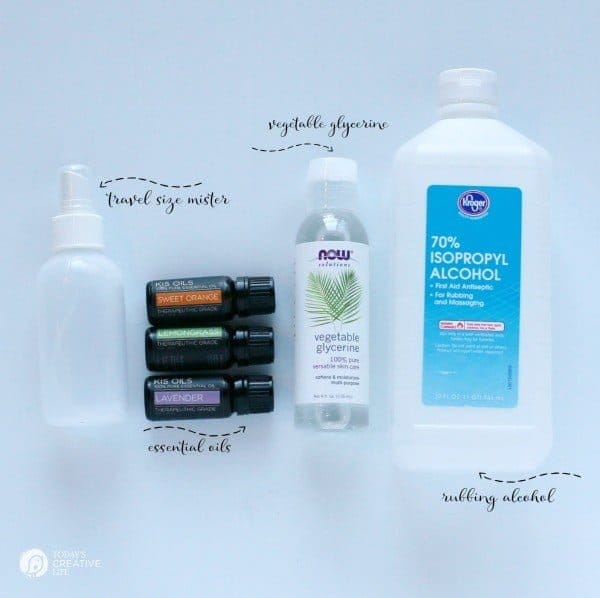 Supplies for making DIY Poo Pourri:
Small travel-size spray mister
essential oils in the scents you like.
rubbing alcohol
water

Use any essential oil blend you love for making DIY Poo Pourri
Additional Items:
Glass measuring cup
funnel
measuring spoons
It only takes 4 ingredients to quickly make up a batch of homemade Poo Pourri. Store in a small spray bottle and keep it in your bathroom where people can see it if needed.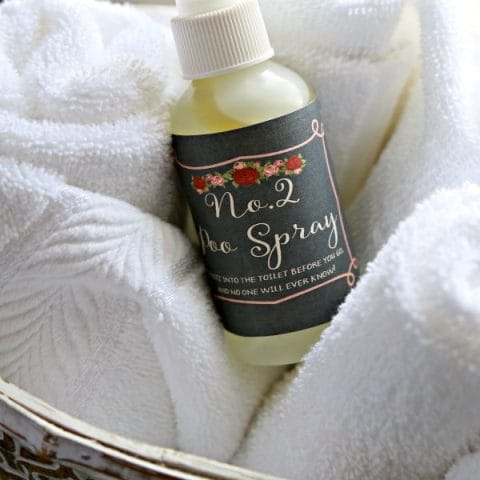 Recipe for Poo Pourri
Yield: 1
Prep Time: 5 minutes
Active Time: 10 minutes
Total Time: 15 minutes
Difficulty: Easy
Estimated Cost: $10
How to make your own DIY Poo Pourri toilet spray with only 4 ingredients.
Materials
Vegetable Glycerine
Isopropyl Rubbing Alcohol
20-30 drops Essential Oils or Fragrance oils- any scent you love. Combine for more variety.
Water
Small travel size spray bottle (4 oz.)
Funnel
Liquid measuring cup
Measuring Spoons
Instructions
Gather your supplies.
Add 1 teaspoon rubbing alcohol. Vodka works too.
Add 20-30 drops of essential or fragrance oils to the bottle. If you're using more than one scent, add 10 from each.
Add 1 teaspoon vegetable glycerine.
Fill the rest with water.
Replace the lid and give it a good shake.
For best results, spray a few pumps into the toilet bowl before doing your business.
Notes
Variations for Poo Pourri Recipe:
Use dish soap if you don't have any vegetable glycerine.
Use witch hazel instead of both water and rubbing alcohol.
No rubbing alcohol? Use vodka!
Recommended Products
As an Amazon Associate and member of other affiliate programs, I earn from qualifying purchases.
How to Use Homemade Poo Pourri Toilet Spray
All you do is spray 3 or 4 times into the toilet bowl before you go. This creates a barrier film on top of the water and magically keeps the odor from escaping the bowl.
My new toilet spray will provide the perfect finishing touch to my bathrooms! I'll be making my guests SO comfortable, they'll forget any embarrassing thoughts that may occur.
How Does Poo Pourri Work?
Spraying the toilet bowl 3 or 4 times before you go, creates a film and barrier on top of the toilet bowl water. The barrier then traps odors as you do your business.
Printable Label for Homemade Poo Pourri
You can find this free label in the Printable Vault. All printables in the Vault are free to subscribers to TCL. You can subscribe here and your password will be sent to you. Please check your spam folder if you don't see it right away.
You can print using sticker paper or the pre-cut adhesive Avery 22806 square label sheets.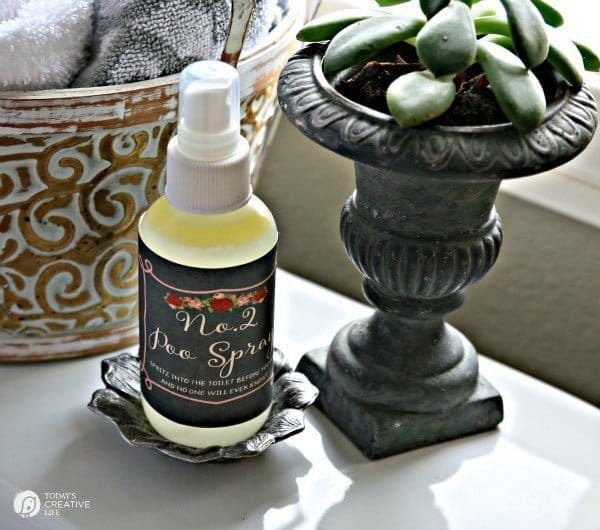 You can also use tape if you're in a hurry or use the Xyron machine that creates a sticker from any image.
Once you're finished, just place it in your bathroom in plain site so people will use it when needed.
There are two-sized labels to choose from. I have included the ones that are fitted with the square Avery 22806.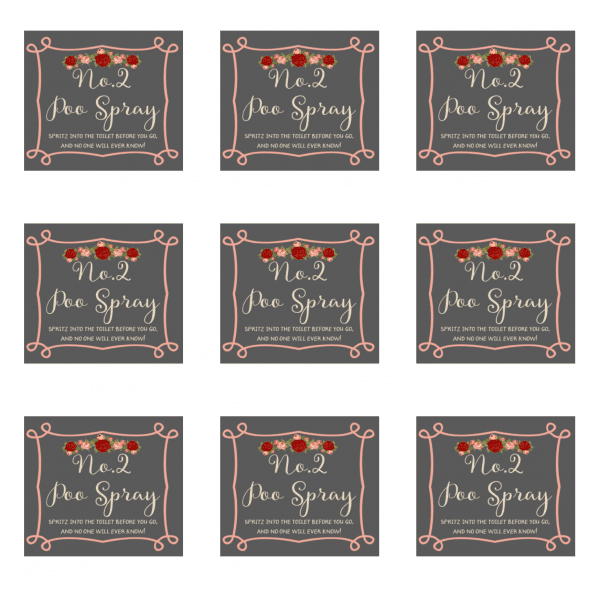 If you're not into making your own, you can always purchase. I have a small purse size that comes in handy when needed. You can also find Poo Pourri on Amazon. They have a great variety pack.
Poo Pourri Recipe Blends
If you're using 3 scent varieties, you can keep it simple and just use 10 drops each. You can of course use more of one scent and less of another if you're wanting one scent to overpower the others a bit. You can also use 1 or 2 varieties. You're not stuck with 3. You can even use 4!
Lavender, Lemongrass & Orange
Bergamot, Orange, Lemon
Peppermint, lime, lemon
Rosemary, Lavender, Bergamot
Jasmine, Orange, Lime
Rose, neroli, vanilla
I love using fragrance oils too. Like a copycat of the Volcano Candle scent. I use it in my diffusers as well.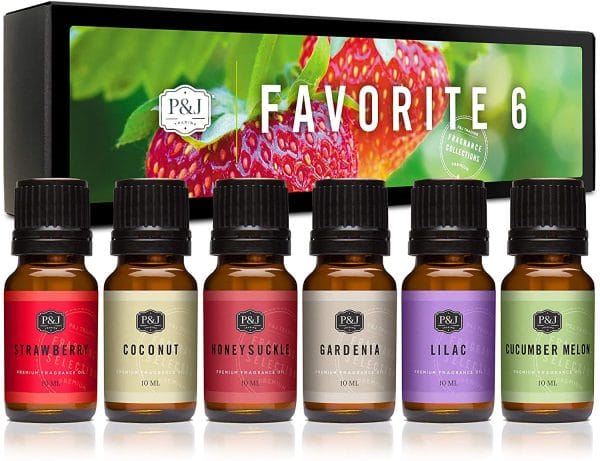 Follow along on Instagram | Pinterest | Facebook
Homemade Beauty Recipes
Make your own beauty recipes for a homemade spa! Simple non-toxic ingredients.
Fresh homemade body scrub with grapeseed oil and oranges.
Remove and clean hands after gardening with this easy-to-make hand scrub.
Homemade body scrubs with cocoa butter and coconut oil are the main ingredients for smooth skin.
Homemade body wash is simple to make and healthy for your skin.
This soaking recipe is great for homemade gifts too.
Easy to make body sugar scrub with vanilla. The scent will be your favorite.
Get ready for fall with this homemade sugar scrub recipe. Makes a great gift too!
Essential oils give this body scrub that invigorating scent!