Easy to make homemade beauty products like this Warm Vanilla Sugar Scrub make great DIY gifts for birthdays, Christmas, or for yourself! Exfoliate and moisturize with turbinado sugar and coconut oil.
Please welcome my friend Melissa from No.2 Pencil. Her talent amazes me and it looks like she loves sugar scrubs as much as I do! I made Peppermint Sugar Scrubs last year for Christmas and of course my Gardening hand Sugar Scrub. So easy! This Warm Vanilla Sugar Scrub looks divine!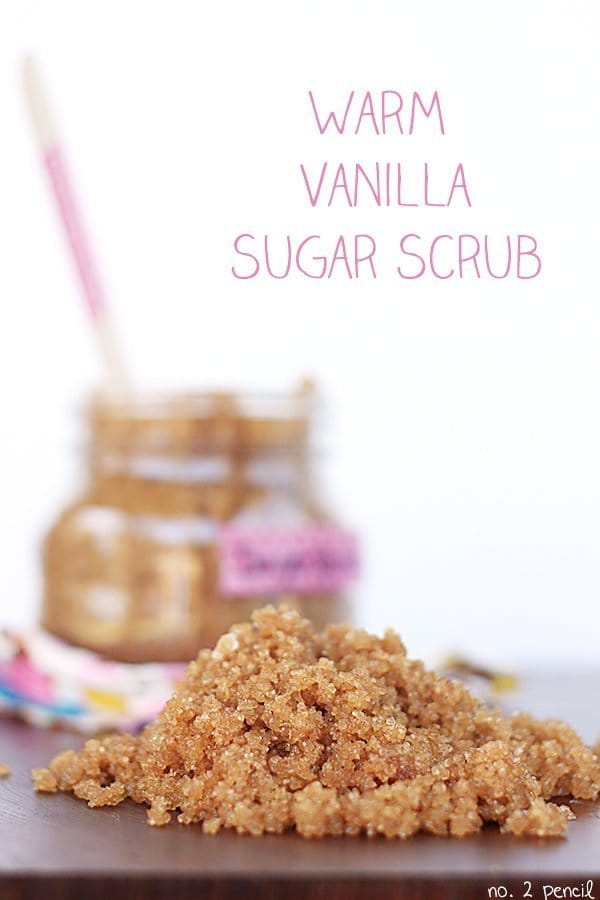 Warm Vanilla Sugar Scrub Recipe
Hello Today's Creative Blog friends! I'm Melissa from No. 2 Pencil, and I am so honored to be here today. Over at No. 2 Pencil, I share creative recipes, crafts, and DIY projects. Today, I'm sharing this fun and easy recipe for warm vanilla sugar scrub. This skin scrub smells wonderful, and it leaves your skin feeling incredibly soft and smooth. For this scrub, I started with extra virgin coconut oil. It's really the perfect ingredient because it is affordable and so great for your skin. I combined it with turbinado raw cane sugar and a splash of vanilla extract. I found my turbinado raw sugar cane in the baking aisle of my local grocery store. The sugar crystals are very large, which is ideal for a body scrub. It also has a lovely deep and warm scent that pairs wonderfully with vanilla. If you can't find turbinado sugar, you can use brown sugar or granulated sugar. I used granulated sugar in my lemon sugar scrub, and it works beautifully!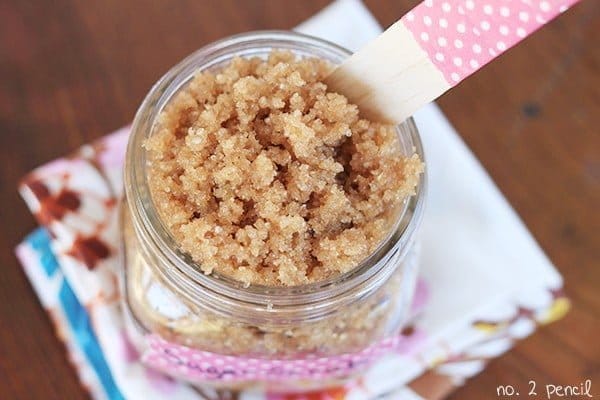 Warm Vanilla Sugar Scrub Ingredients 3 cups of turbinado raw cane sugar 1/2 cup of extra virgin coconut oil 1/2 teaspoon of pure vanilla extract or a few drops of vanilla essential oil Directions Stir all ingredients together until well combined. To use, splash water on skin and gently scrub. Rinse and pat dry. Enjoy your super soft and silky skin! Note: If you are using this sugar scrub in the shower, take care. Coconut oil can make the shower floor slippery. Homemade sugar scrubs make great gifts! I like to package mine in mason jars and use washi tape to make a cute label. A large popsicle stick or a small wooden spoon makes a great scoop for the scrub.
HOW DO YOU USE A BODY SUGAR SCRUB?
Sugar scrubs are used to moisturize and exfoliate the skin. If using while showering, after washing your body, simply rub a bit onto wet skin and rub in a circular pattern, then rinse. Your bathtub or shower flooring will become very slippery. Pat dry so you don't rub the oils off. If using as a hand scrub, apply to wet hands and rub hands as you normally would while washing hands. Rinse and pat dry.
CAN YOU USE REGULAR SUGAR?
You sure can! This Citrus sugar scrub is made with white sugar. The smaller granules will be less exfoliating and are great for sensitive skin.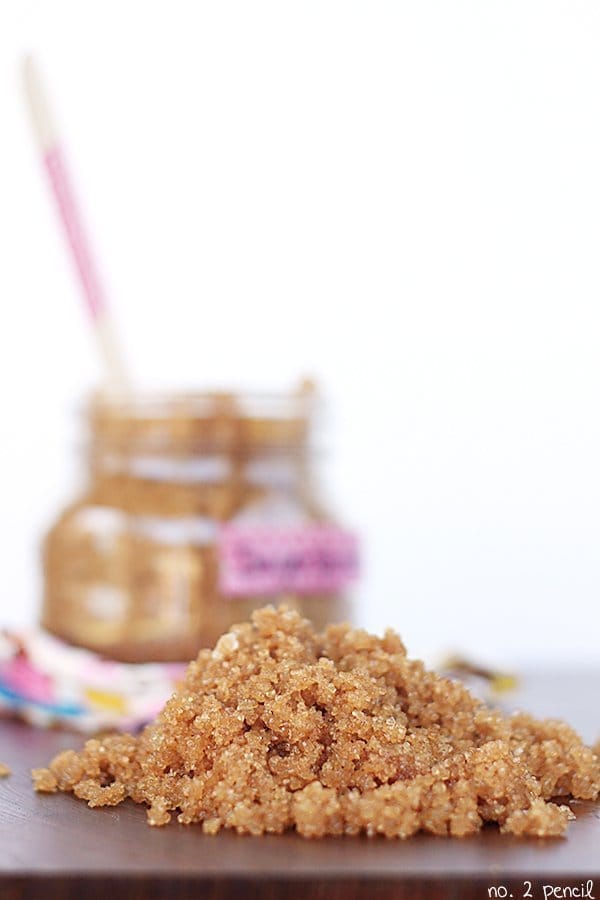 I'd love for you to keep up on my new projects and recipes. Thank you for letting me share this Warm Vanilla Sugar Scrub, Kim! I am so thrilled to be here on TCL!
HOW TO MAKE SUGAR BODY SCRUBS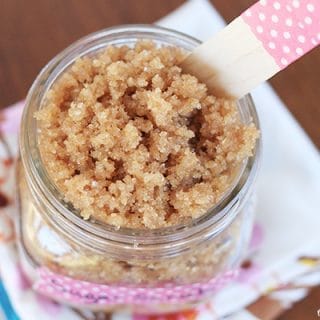 Warm Vanilla Sugar Scrub
Yield: 3.5 Cups
Prep Time: 10 minutes
Total Time: 10 minutes
Difficulty: Easy
Estimated Cost: $5
Exfoliate & glow with this homemade body sugar scrub.
Materials
3 Cups Turbinado Sugar
1/2 Cup Extra Virgin Coconut Oil
1/2 teaspoon vanilla extract or a few drops of vanilla essential oil
Tools
Medium Mixing Bowl
Electric Mixer or Wooden Spoon
Jar or container to put sugar scrub into. 
Instructions
Stir all ingredients together until well combined.
To use, splash water on skin and gently scrub. Rinse and pat dry.
Notes
- Other essential oil scents can be used.
- Use caution while using in the shower, as the floor can because very slippery.
Recommended Products
As an Amazon Associate and member of other affiliate programs, I earn from qualifying purchases.
CAN YOU USE OTHER ESSENTIAL OIL SCENTS?
Yes, of course! Experiment or use your already favorite essential oil blend. This is a great way to create seasonal blends year-round.
CAN I USE OTHER OILS WHEN MAKING SUGAR SCRUBS?
I also like using a mixture of almond oil and coconut oil. I've also added cocoa butter or shea butter. Depending on the outcome, you can add different oil blends depending on how dry your skin may be.
Homemade Beauty Recipes
Simple ingredients for homemade beauty recipes.
Feel free to add essential oils along with this mixture at bath time.