Move over tacky bright colored Easter decor, we're replacing you with this moss rimmed woven Easter Basket Idea. It's fresh and looks great for spring and Easter home decorating. I love the natural botanical style with its rim covered with fresh deer moss. Add a plant or use it to collect eggs, it's perfect either way.
Easter Basket Idea
If I'm being honest, I wanted something spring, that could transition into Easter. Something that didn't scream Easter or have the hint of tacky. I wanted something more natural and organic looking that would blend well with my home decor. So when I saw the cute woven basket at my local craft store, I instantly knew I wanted to add that layer of moss. I love the color, the texture, and the smell. I only added a top rim of moss, but you can also cover the entire basket with moss if you'd like.
If you don't have a basket, you can use a juice bottle as she did here to make a moss basket.
Easter Basket Idea with Moss
Baskets decorated with moss really can be used for any time of year, not just the Easter holiday. It was very quick to make with just a few items.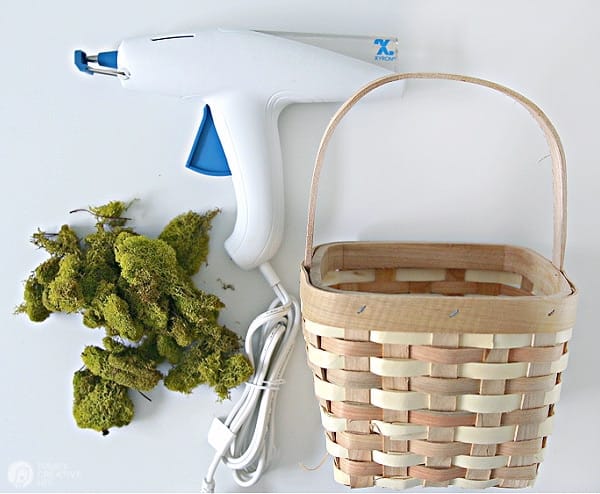 Basket – I used a wood woven basket. Any wicker basket will work. Just choose one you love.
Glue gun & glue sticks – Because I'd be pressing the moss into the hot glue, I used silicone finger protectors. They saved the day!
Moss – I used Deer Moss. Some call it reindeer moss. You can use whatever you have or prefer.
Option: Wrap a ribbon around the handle to dress it up.
Option: Add small fairy garden embellishments like small little red-topped mushrooms.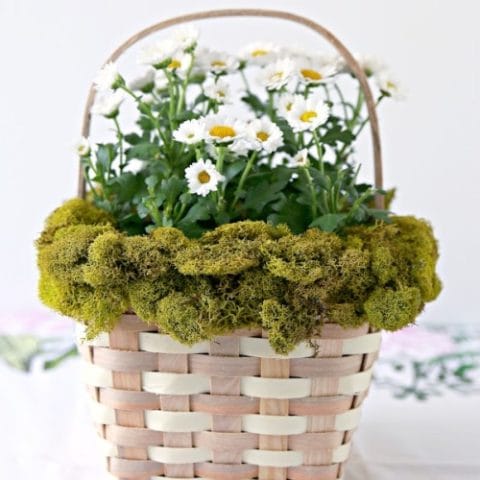 How to Make a Moss Rimmed Basket
Yield: 1
Prep Time: 5 minutes
Active Time: 15 minutes
Total Time: 20 minutes
Difficulty: Easy
Estimated Cost: $10
Learn how to add moss to any woven basket.
Tools
Hot Glue Gun
Glue Sticks
Silicone finger protectors - optional
Instructions
Gather your supplies: Glue Gun, Glue Sticks, Deer Moss and Woven Basket.
Once the glue gun is hot, start by adding a small section of glue to the upper rim of the basket. Apply moss immediately.
I use silicone finger protectors when applying the moss to the hot glue. This saves my fingers from getting burned.
Work your way around your basket.
I adding moss to the top edge as well.
Fill in any spots that look less full.
Notes
Any moss you can glue will work. Deer moss seems to be in clumps that is easy to work with.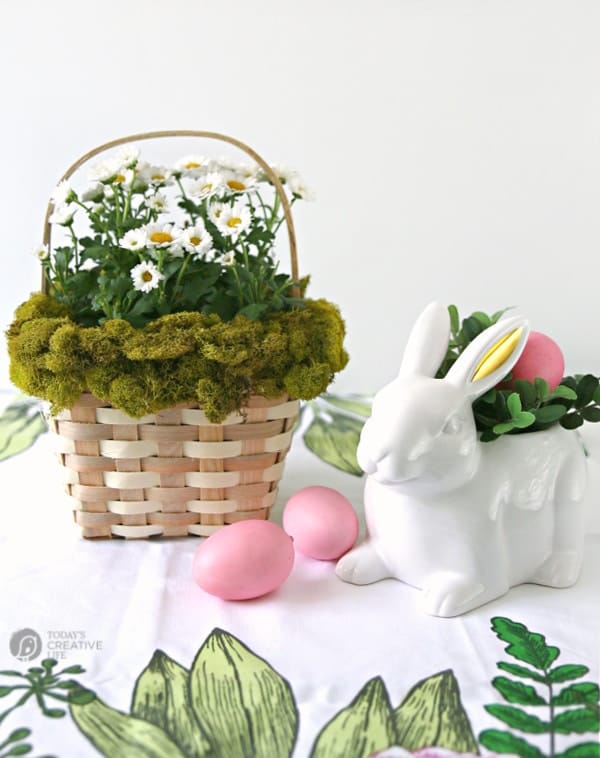 What Moss Is Best for this Easter Basket Idea?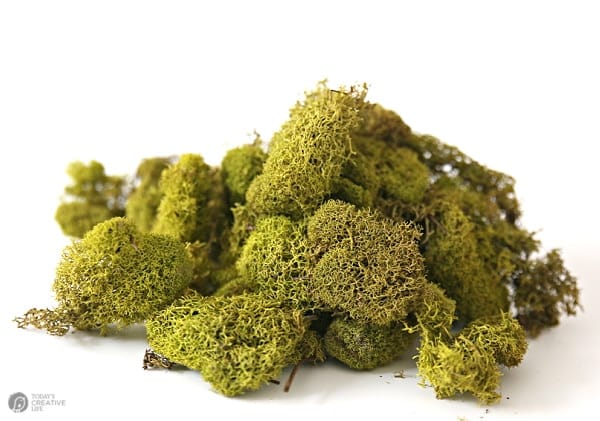 I have a stash of different types of moss. Spanish moss, Deer Moss (sometimes called reindeer moss) Preserved Forest Moss, Pillow Moss etc…
I used deer moss. It looks fluffy and easy to work with for this project and I liked the color it was. That's what it really boils down to for me, how it looks and how easy it is to work with. As long as you can glue it to the basket, that's all that matters.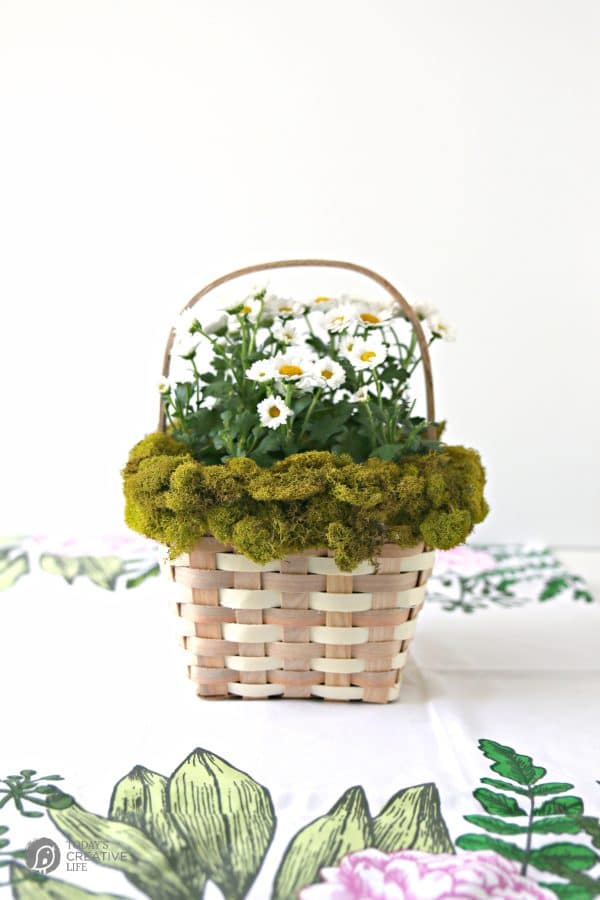 How Long do Moss Decorated Baskets Last?
Moss will dry out after a while, but a lot of store-bought moss is treated to stay fresh longer. If you're worried, you can mist it if you want. That's what I do when I make my Moss Succulent Wreath. If it does dry out, it's still going to look nice, it may just be a little more fragile when touched.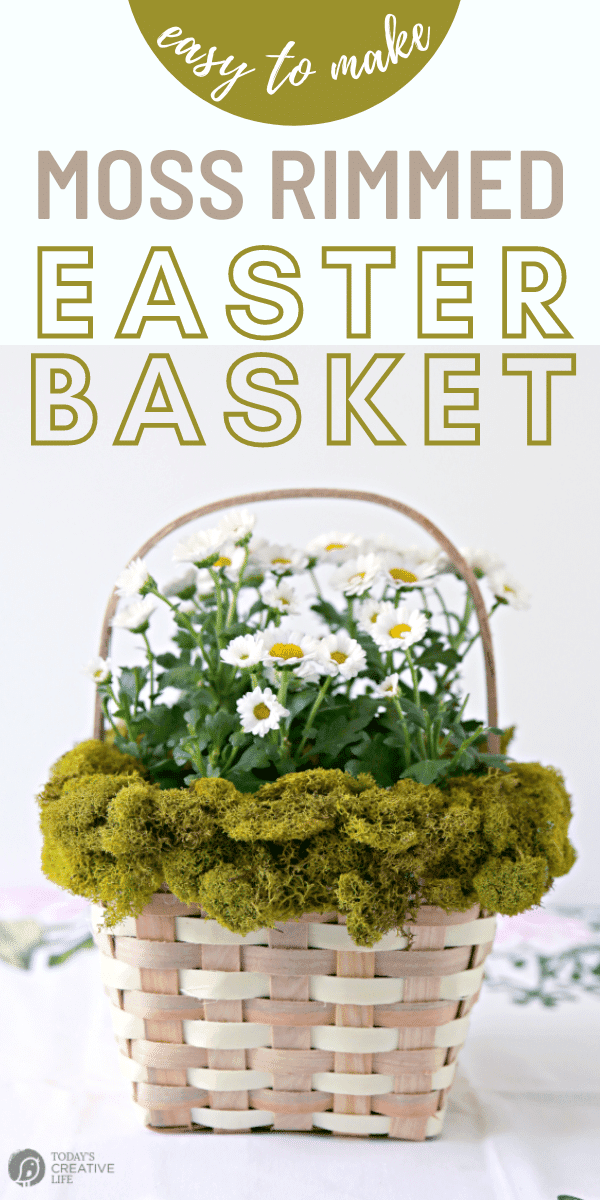 DIY Easter Ideas
Easy DIY Ideas for the Easter holiday.
Use candy to decorate for Easter.
Simple decoupage technique for beautiful eggs.
Add that extra touch to spring bouquets.
Another easy and fun treat bag for Easter.
This printable pillow box is great for quick Easter gifts.
Simple table centerpiece with plastic eggs.
Printables for easy gift giving.
How to make the golden egg.
Make this sugar cookie fruit pizza anytime of year! Just change the shape!
Simple, Fresh and beautiful for any spring table.
Simple Easter craft that is great for decorating.
Easter morning is better with paper egg holders.