I love easy DIY Centerpiece Ideas, especially this 5-minute citrus centerpiece with sliced citrus and floating candles. It's the perfect table decor for spring and Easter.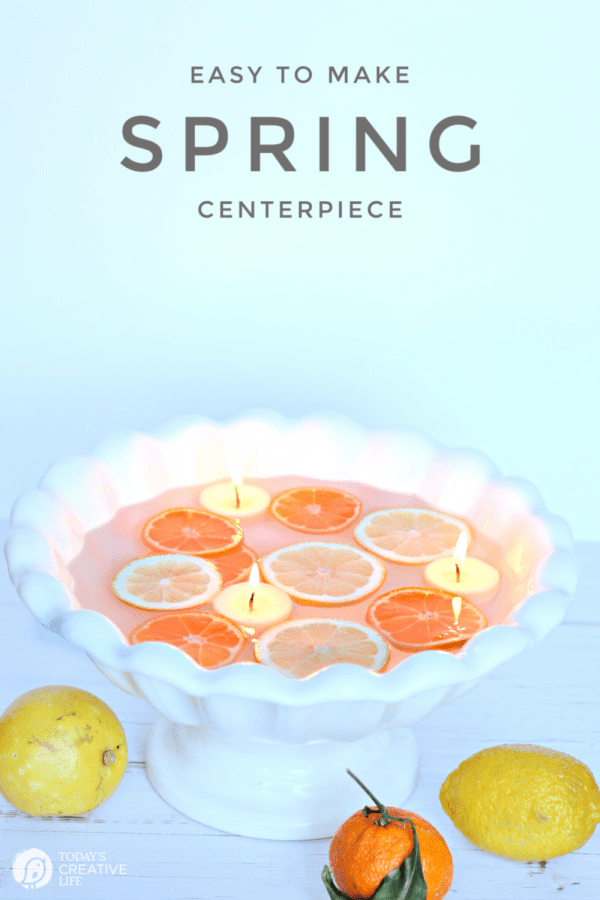 DIY Centerpiece Ideas for Spring
Nothing screams fresh and spring-like more than oranges and lemons! Sometimes just placing a bunch in a large white bowl is all you need. Fruit and vegetables are one of your secret weapons for a quick DIY centerpiece when you're in a pinch.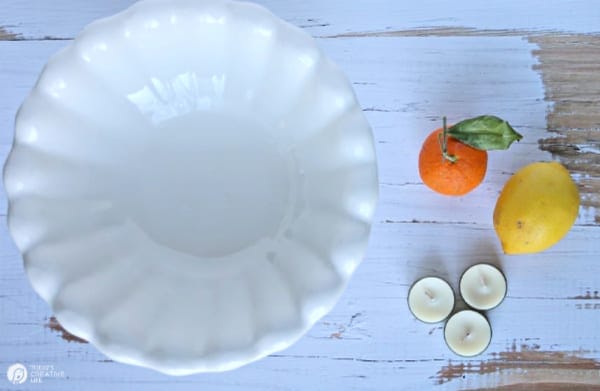 For times you still need a quick but want to jazz it up, centerpiece idea, my first go-to is water and candles. Like my 5-minute cranberry and cedar luminaries, simple ideas are often the most beautiful.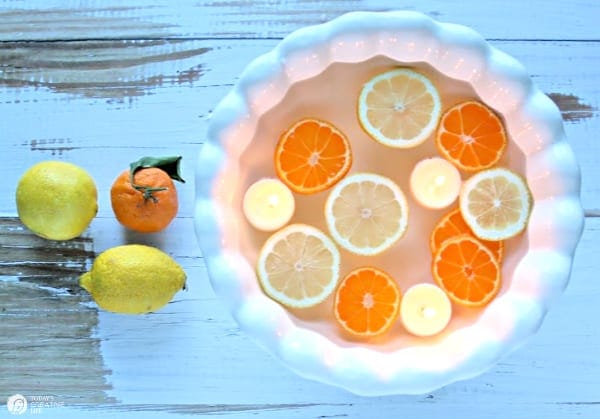 How to Make a Citrus Centerpiece for Spring
Grab a couple of lemons and let's get to it!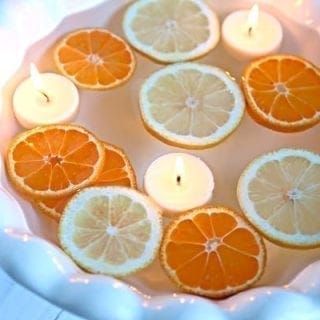 DIY Spring Centerpiece
Yield: 1
Prep Time: 5 minutes
Active Time: 5 minutes
Total Time: 10 minutes
Difficulty: Easy
Estimated Cost: $10
Simple, Fresh and beautiful for any spring table.
Materials
1 or 2 Lemons
1 or 2 Oranges or tangerines
Shallow Bowl - White is great for this.
Floating Candles
Water
Tools
Knife
Cutting board
Lighter
Instructions
Gather your supplies and choose the citrus you're using. I purposely chose fruit that varied in size. I thought it would be prettier while floating.

Slice into thin slices.

Remove any seeds.

Fill the bowl with cool water.

Place each slice on top of the water.

Carefully place the candles strategically where you want them. They will float around and move, so space them with enough space. I used 3 candles.

Carefully move the bowl to where you need it and light the candles.
Notes
No floating candles? No problem. I just used the small votives that are surrounded by aluminum tin. I took the candle out and gently placed them in the water. They still float if you place them deliberately.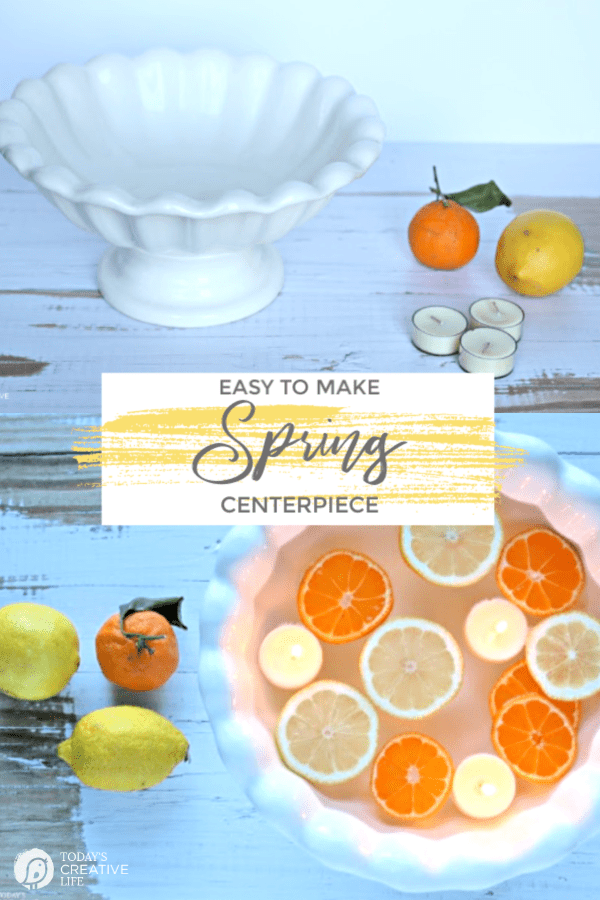 Citrus DIY Centerpiece Ideas & Options
Add sliced limes too.
Add clear or colored glass beads to the bottom of the bowl first.
Add a couple sprigs of mint or rosemary to the water.
Add a couple of flower heads like daisies.
Instead of a bowl, use clear glass vases or jars with one candle instead of several.
When you need quick DIY Centerpiece Ideas for spring or any time of year, don't overthink it. Sometimes the simplest ideas are the prettiest.
Show me what you come up with! Tag me on Instagram @TodaysCreativeLife or submit it to the Your Creative Life FB group.
Simple DIY Centerpiece Ideas
Quick, simple and stylish centerpiece ideas for holidays and every day.