If you love chocolate, then you'll love dipping into this easy to make Chocolate Fondue Recipe! This chocolate marshmallow fondue is rich, creamy and delicious. It's the only fondue recipe you'll ever need.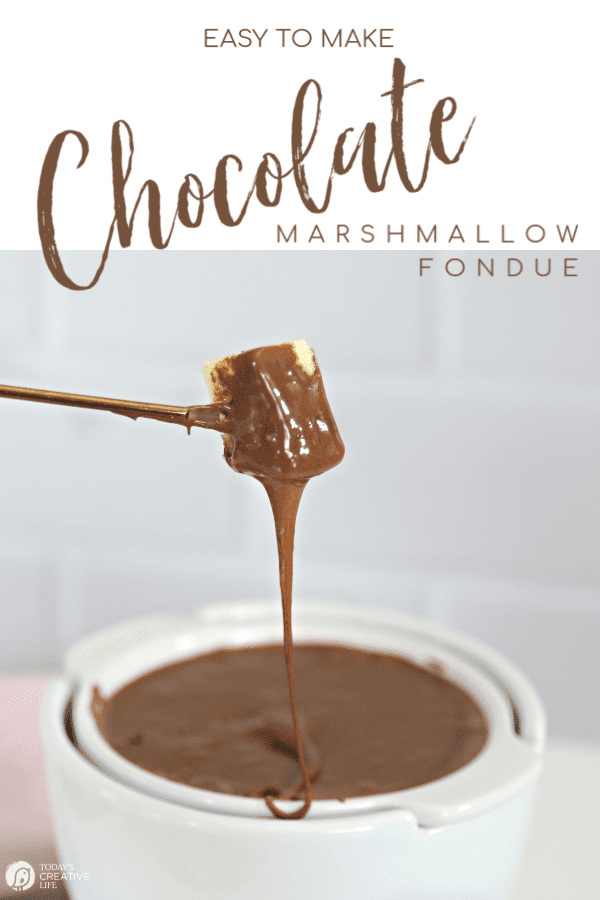 Easy Chocolate Fondue Recipe with Marshmallow Creme
This recipe is shockingly quick. It's ready as quickly as you can melt the ingredients.
Kids love the idea of fondue. If you're trying to get them to eat more veggies, you should try my cheese fondue recipe (sub out the beer with apple juice) and they'll be eating cauliflower and broccoli in no time.
How to Make Chocolate Fondue
Ingredients for Fondue
Unsweetened chocolate
Marshmallow creme
Butterscotch chips
Sweetened condensed milk
Milk
Vanilla extract
What I love most about this fondue recipe is that it's all done in the microwave, although you could use the stovetop. Melt your butterscotch chips and unsweetened chocolate, add in the rest of the ingredients and stir until smooth. Transfer to your fondue pot or bowl and you're ready to dip! A fondue pot isn't necessary but it helps keep the fondue warm, which is best for dipping. I own this fondue pot (affiliate link) and I love the double boiler feature.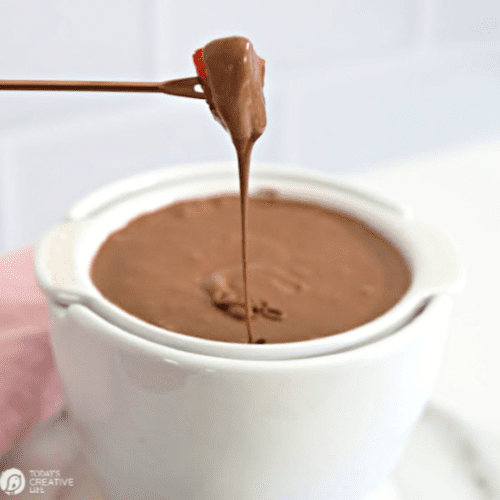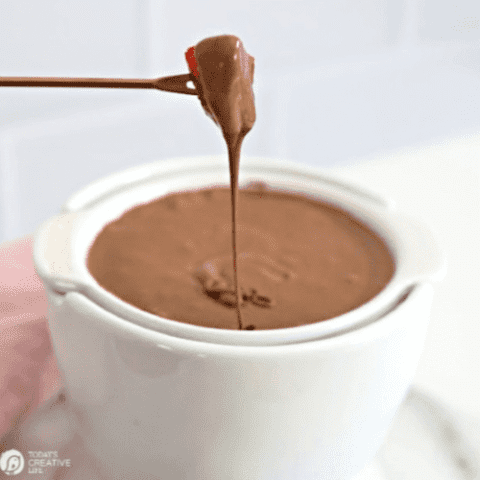 Chocolate Fondue Recipe
Yield: 13
Prep Time: 5 minutes
Cook Time: 10 minutes
Total Time: 15 minutes
This Chocolate Marshmallow Fondue recipe is the only fondue recipe you'll ever need!
Ingredients
1 package (11 oz.) butterscotch chips
4 oz. unsweetened chocolate, chopped finely
1 can (14 oz.) sweetened condensed milk
1 small jar (7 oz.) marshmallow creme
1/4 cup 2% milk
1 tsp. vanilla
Instructions
In a large microwave-safe bowl, melt butterscotch chips and chocolate in 30 second intervals, stirring each time until smooth.
Stir in sweetened condensed milk, marshmallow creme, milk and vanilla.
Microwave in additional 15 second intervals, stirring until smooth.
Transfer to a bowl or fondue pot and serve immediately.
Notes
Chocolate Fondue Dippers
Fruits: berries bananas, oranges, pineapple, cherries.
Cookies, marshmallows, brownies, angel food cake, croissants, pretzels
Bacon
This recipe is inspired by Taste of Home.
Nutrition Information
Yield 13
Serving Size 1
Amount Per Serving
Calories 80
Total Fat 6g
Saturated Fat 3g
Trans Fat 0g
Unsaturated Fat 2g
Cholesterol 2mg
Sodium 19mg
Carbohydrates 6g
Fiber 2g
Sugar 2g
Protein 2g
Nutrition information isn't always accurate.
This chocolate marshmallow fondue recipe is the perfect treat for Valentine's Day or any time of the year!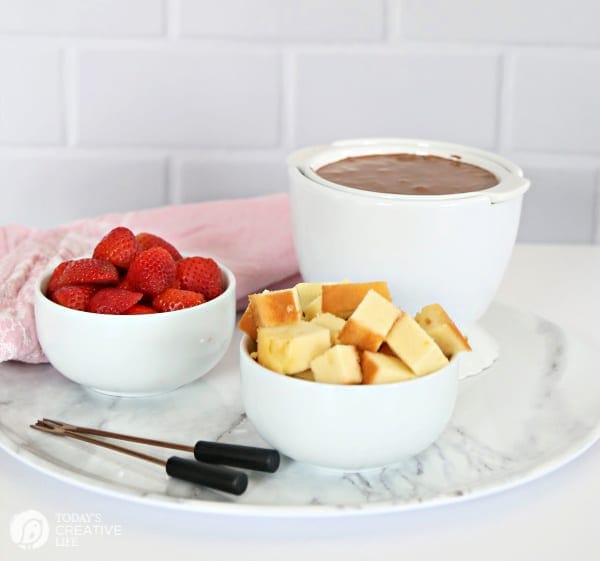 Chocolate Fondue Dippers
There are so many ideas on what you can dip in chocolate fondue! You can keep it simple like I did with only a couple of items, or you can create a full tray full of a variety of items.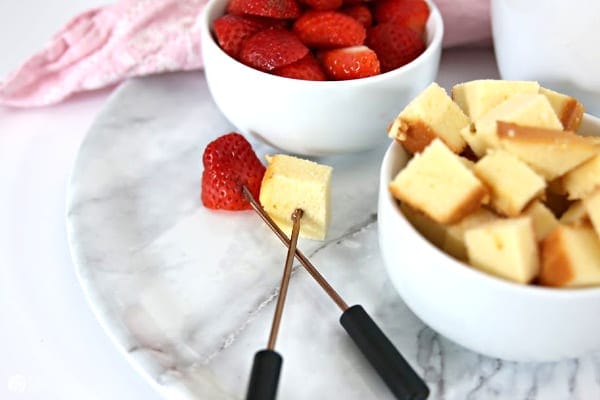 FRUITS
Strawberries
Bananas
Apples
Mandarin oranges
Pineapple
Cherries
Blueberries
SWEETS
Pound Cake
Angel Food Cake
Cookies
Marshmallows
Rice Krispie Treats
Waffles
Caramels
Brownies
Donuts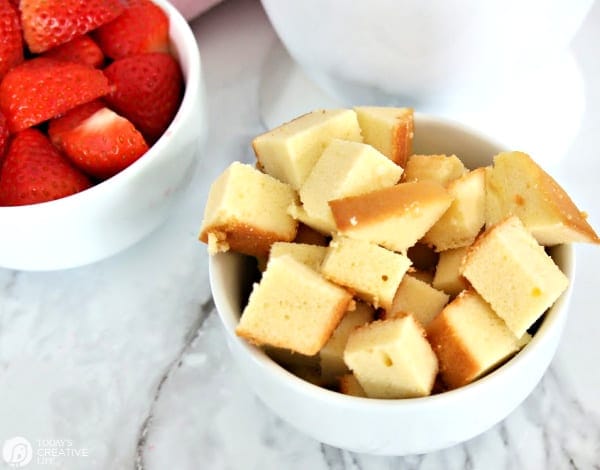 SAVORY
Pretzels
Potato chips
Bacon
Croissants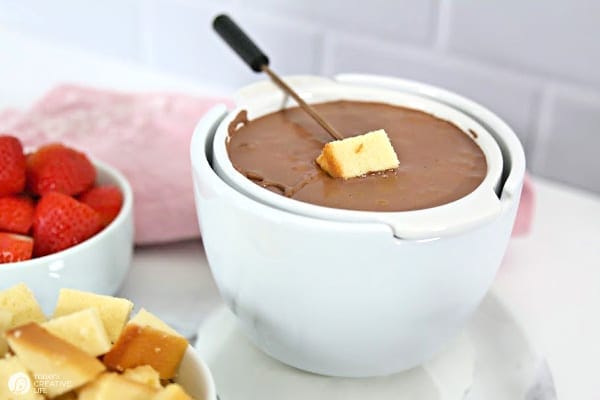 Can you make chocolate fondue ahead of time?
When you're planning a party, it's always nice to have recipes you can make or prep ahead of time. Chocolate fondue can be made ahead of time. Make it up to 2 to 3 days early and store in the fridge in a covered dish.
Can you reheat chocolate fondue?
Yes, you can reheat fondue. I've only used the microwave and it works well for this purpose. Place fondue in a microwave-safe dish and reheat in 30-second intervals, stirring each time. Reheating in a slow cooker on low for about an hour is also an easy way.
Can you make fondue in the crockpot?
Making chocolate fondue in the slow cooker is a great way to save time. Just put all the ingredients inside a buttered crockpot and cook on low for about an hour, stirring every 15-20 minutes. Watch the edges for burning. It's easy and once it's finished, just turn it down to warm.
What's the best chocolate to use for chocolate fondue?
This recipe calls for unsweetened chocolate because the sweetness is coming other ingredients. I've never made any other recipe, but here are a couple of options.
Fondue made with:
Enjoy this sweet treat and let me know if you make it! Tag me on Instagram @TodaysCreativeLife